25 Behind The Scenes Facts About The Show Happy Days
After over 200 episodes and 11 seasons, Happy Days ended its long-standing connection to American family audiences. Do you know these behind the scene facts about your favorite characters and what happened when the cameras stopped rolling? Read on and find out if every day was a Happy Day or a massive illusion from ABC network!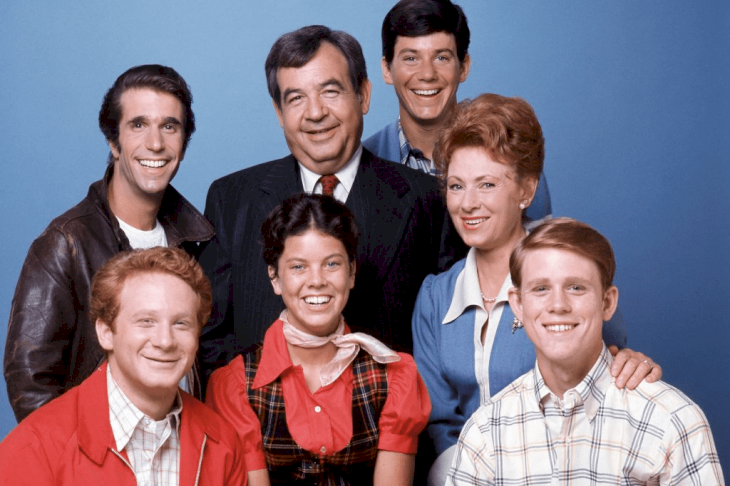 ---
HENRY WINKLER DIDN'T LIKE MOTORCYCLES
The most famous character on Happy Days was the Fonz, played by Henry Winkler. He had many signature expressions like "Jump the shark" and a trademark leather jacket. The big secret was Winkler hated motorcycles and the crew had to pull him while he was on the bike. The first time Winkler tried to drive onset was not very successful so he refused to accelerate again. 
---
THERE WAS ALMOST NO LEATHER JACKET
Would the Fonz really be as cool if he had been wearing a golf jacket instead of a leather jacket? Thankfully we never had to decide but the network originally disliked the trademark accessory. Gary Marshall, the shows original creator, found a loophole and made the scriptwriters put Henry Winkler next to his bike constantly, including notoriously inside!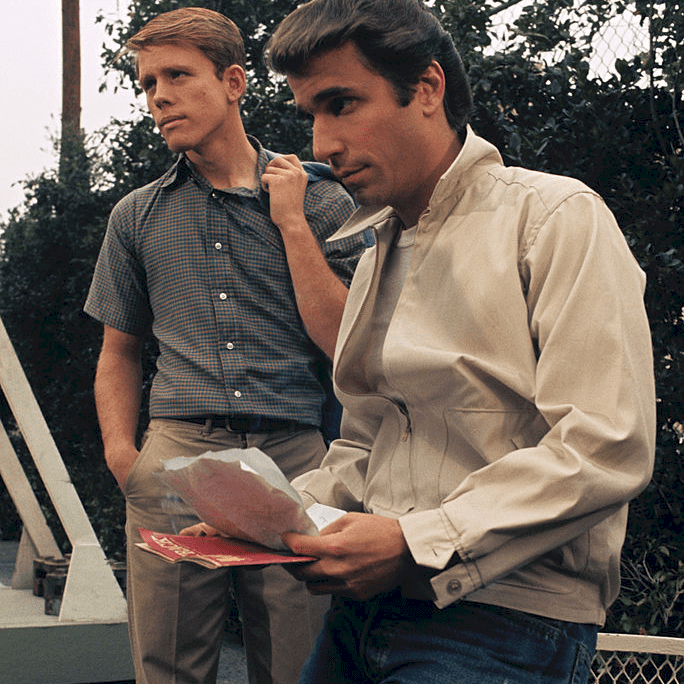 ---
FONZ TURNED DOWN 'GREASE'
When the movie 'Grease' began looking for their Danny Zucko they had the one they wanted, The Fonz! Due to Winkler's popularity on 'Happy Days' and his cool-guy image, it seemed like a no brainer for him to become their leading man. Winkler turned down the role out of fear of getting typecast in the future.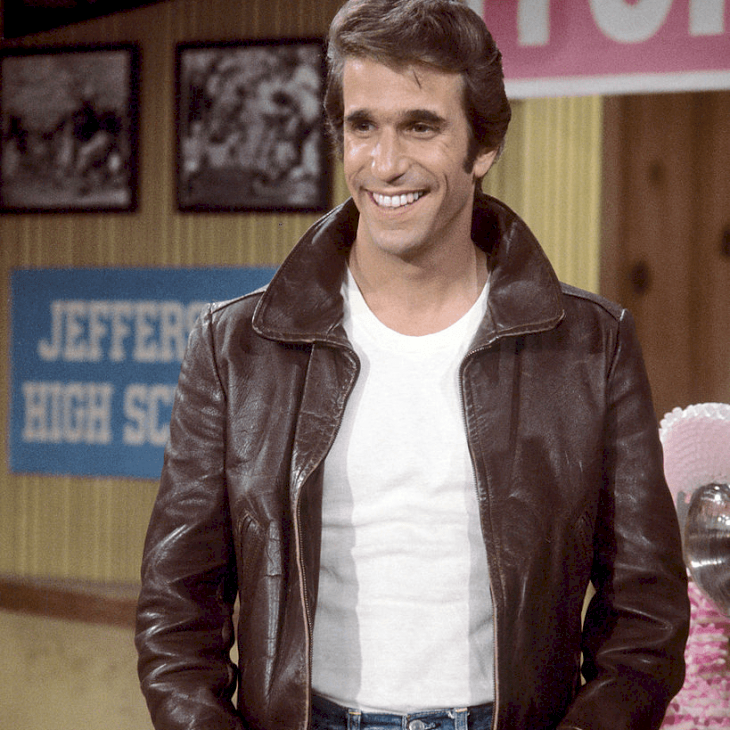 ---
DO YOU KNOW ARNOLD'S REAL NAME?
On the show, the gang all hung out at 'Arnold's Drive-In', run by Arnold himself, or was it. The character played by Pat Morita, explained to the Fonz one day that his real name was Mitsumo Takahashi but went by Arnold because it was too expensive to change the name of the restaurant when he bought it. 
---
PAT MORITA HAD ACCENT ISSUES
Asian representation was not as common in the 1970s and Pat Morita struggled to deliver a stereotypical Asian character on television that could meet everyone's preconceived ideas. Morita did not have an accent and was born in California, and was therefore speaking like an American in real life.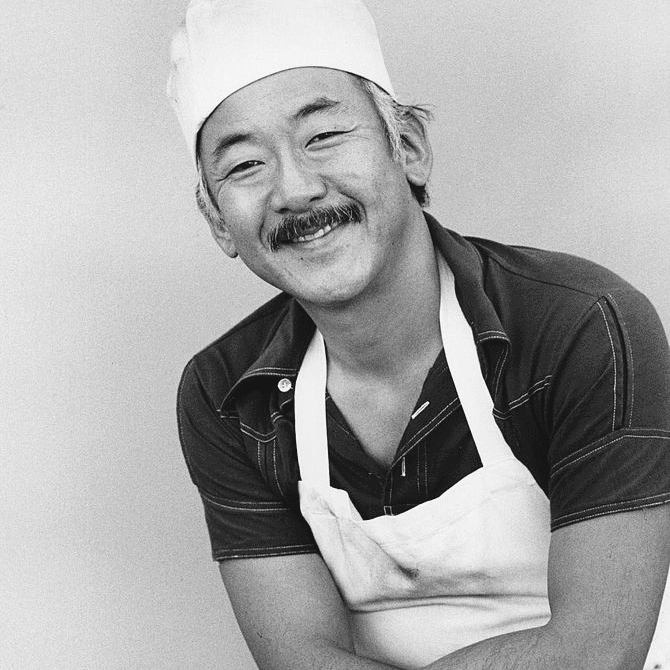 Morita created a backstory for his character that his mother was Chinese and his father was Japanese to ease speculation and criticism. After three seasons Morita left the show to star in the first-ever Asian American sitcom 'Mr. T and Tina', and is also popular for his role as Mr. Miyagi in 'The Karate Kid'.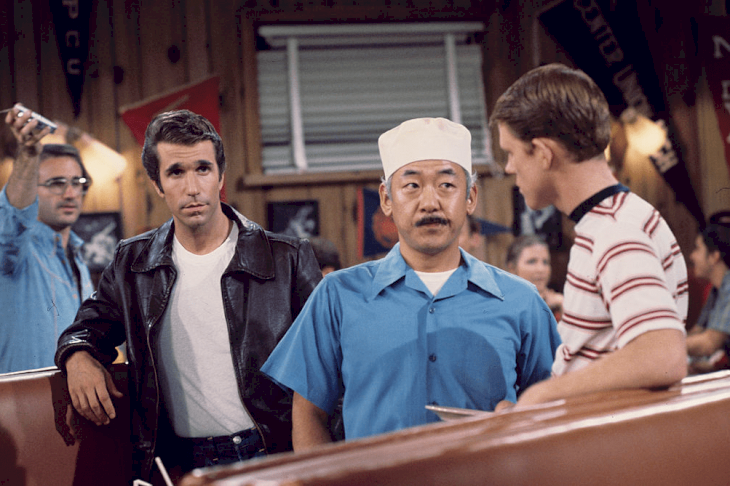 ---
IT WAS ALMOST CANCELLED AFTER ONE YEAR
When 'Happy Days' first aired in January 1974 it was up against stiff viewer competition from 'Good Times' and 'All In The Family'. Audiences struggled to figure out who was the star at first and understand storylines but it became number one on the charts from 1976-177. 1982 saw ratings drop below the top 20 and the show aired its last episode on September 24, 1984.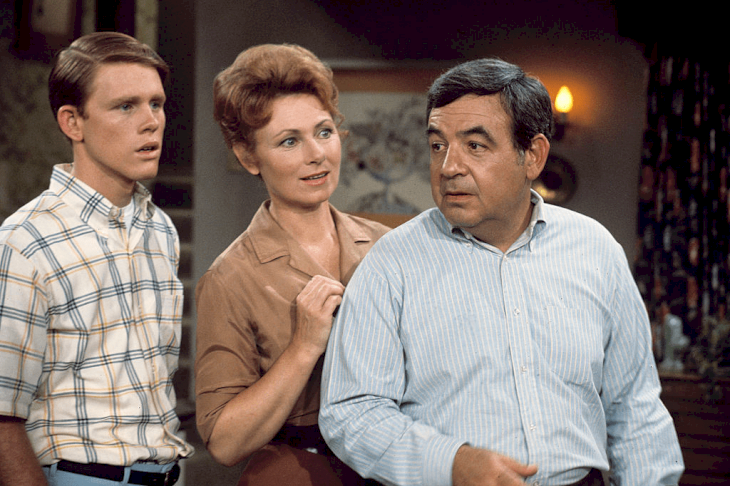 ---
RON HOWARD ORIGINALLY TURNED DOWN THE ROLE
When Howard was originally approached for the role of Richie Cunningham he was hesitant to be typecast as a teen. He was already well known for playing Opie Taylor in 'The Andy Griffith Show' and had also had a leading role in coming of age film 'American Graffiti'. Producers assured him his character would develop and grow, but no one could predict America's reaction.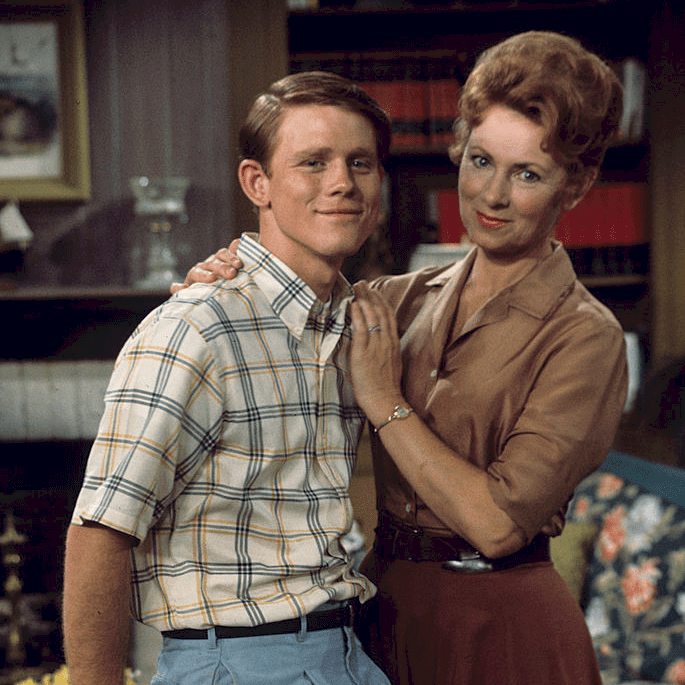 ---
THEY ALMOST RENAMED THE SHOW
Henry Winkler was relatively unknown when he got his big break on 'Happy Days', so it was tough for his seasoned co-star to witness his rise in popularity. In fact, the character of Fonz became so popular at one point they debated renaming the show. Suggestions included 'Fonzie's Happy Days' or 'Fonzie'. Ron Howard and Anson Williams threatened to leave because of this.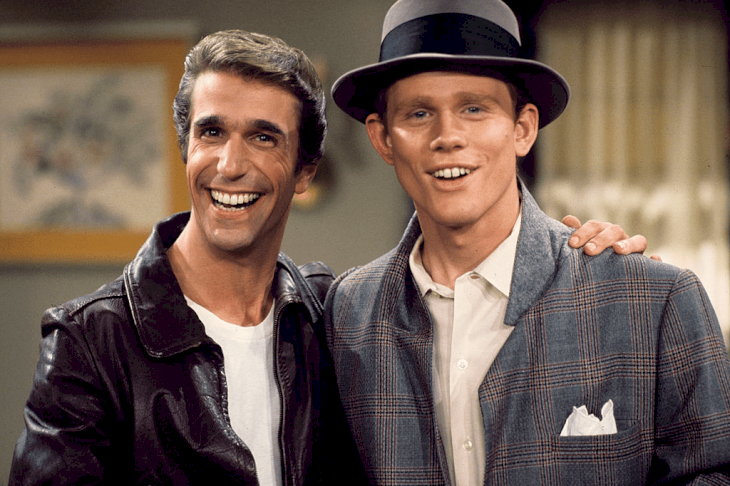 ---
THIS WAS ROBIN WILLIAMS BIG BREAK FROM STANDUP
Williams was a shy stand up comic when he landed his guest appearance as alien Mork from Ork on episode 22 in the fifth season. Fellow actor Henry Winkler remembers the first day Robin's was on set and he knew " that we were in the presence of greatness."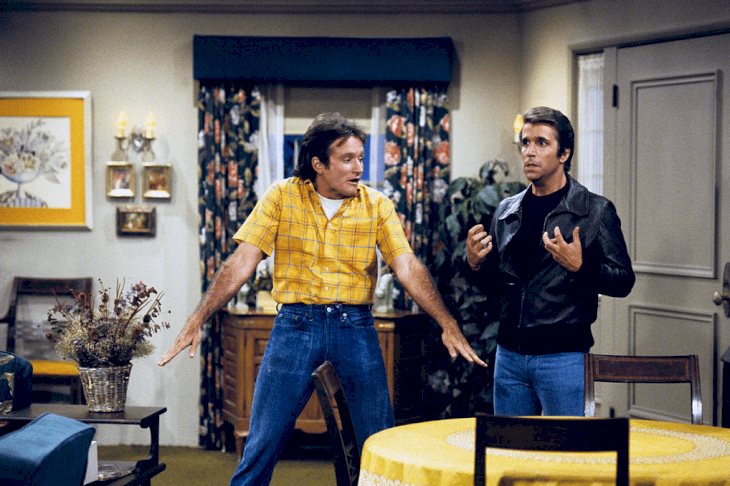 ---
ROBIN WILLIAMS WAS UNSCRIPTED
Even more impressive was that Williams was mostly unscripted. The young comedian thrived off of physical comedy and made his character, Alien Mork, fully defined and far beyond the writer's own description. When thinking about William's first impression, co-star Henry Winkler said, "This man was from another plane. His imagination flew out of him, out of every pore."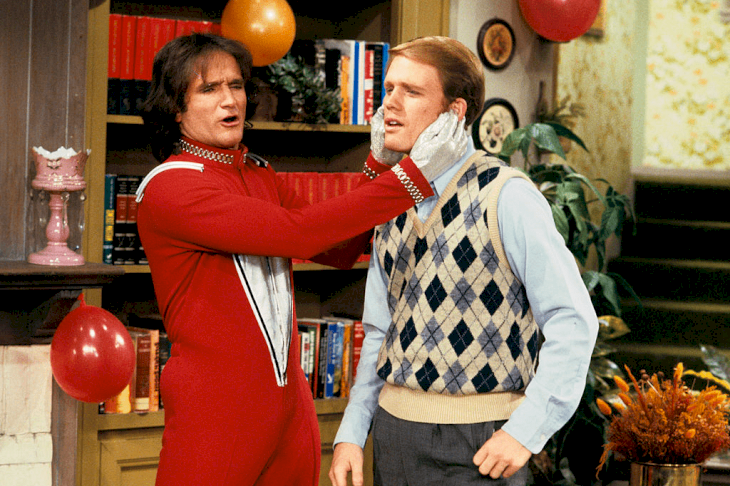 ---
WHAT WAS FONZ'S REAL NAME
Henry Winkler's character Fonz quickly became the star of the show but his back story and personal information is left to the audience's imagination. In fact, only two people call "The Fonz" his real name, which is Arthur Fonzarelli, and we only meet two members of his family which are both cousins. Winkler's character does a full transformation from town rebel to family man.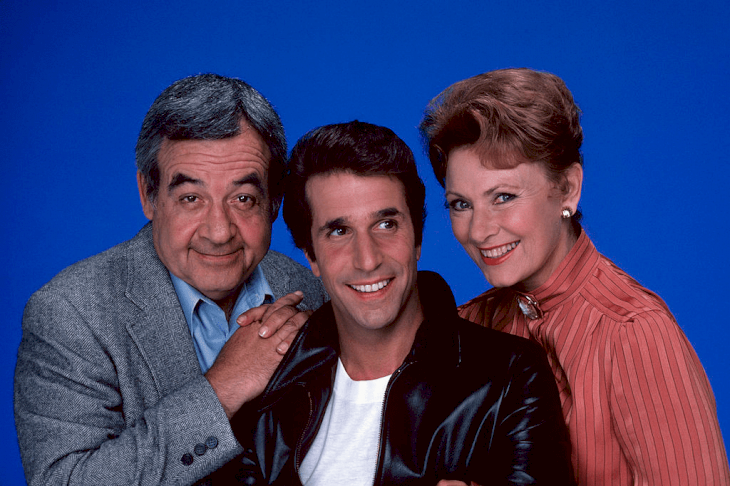 ---
PARAMOUNT ORIGINALLY WANTED A 1920s SHOW
When Paramount Studios originally approached writer Garry Marshall about a new sitcom, they envisioned a 1920's theme. The 1920s represented the flapper style of dressing, which Marshall knew nothing about. He changed the studio's mind so he could write about the 1950s when he was a teenager and pulled from his own experience to create the 'Happy Days' pilot.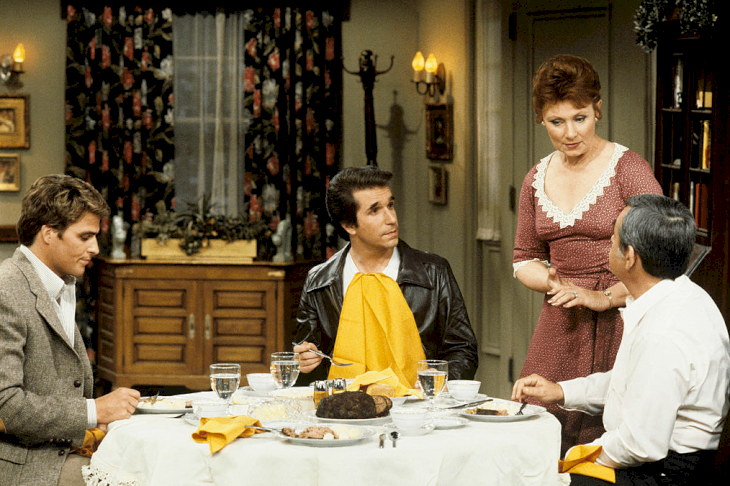 ---
THEY ALMOST NAMED IT THIS
The original name was set to be "COOL" but test group audiences gave negative feedback. Apparently, the younger audiences just thought of the same brand of cigarettes which didn't inspire them to tune in. Producer Carl Kleinschmitt found a solution by telling the team, "How about calling it Happy Days? That's what we're going to show." The rest is 'Happy Days' history!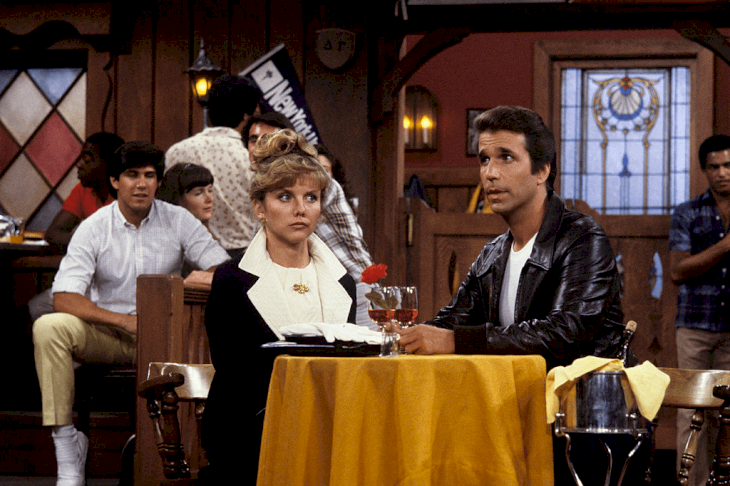 ---
HENRY WINKLER STRUGGLED IN FRONT OF LIVE AUDIENCES
As popular and talented as Henry Winkler was, his learning difficulty with dyslexia made tapings in front of live audiences tortuous. " Being dyslexic, I would stumble and screw up everyone's comic timing. It was humiliating." Winkler powered through and was often learning new lines during wardrobe or makeup.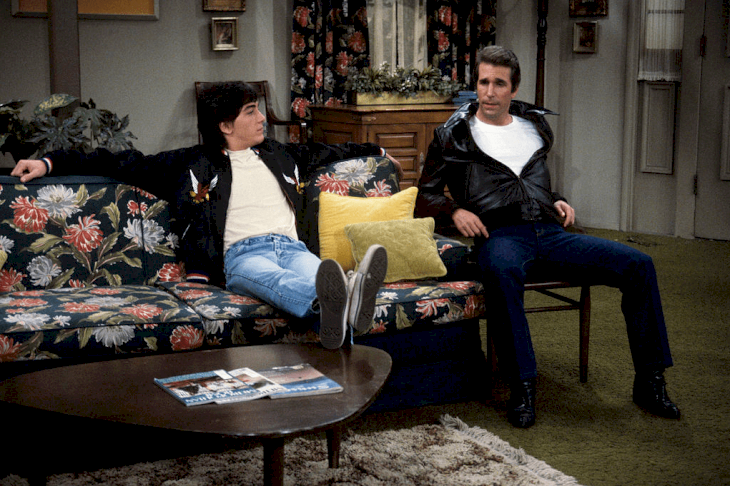 ---
RON HOWARD AVOIDED THE DRAFT
When 'Happy Days' began filming young men across America were dealing with a bigger issue, the Army draft for the ongoing War. When Howard accepted his role on the show, it also provided him with a reason to avoid being drafted. Howard had a very low draft number which made him being called up a guarantee, and the studio agreed to draft deferment.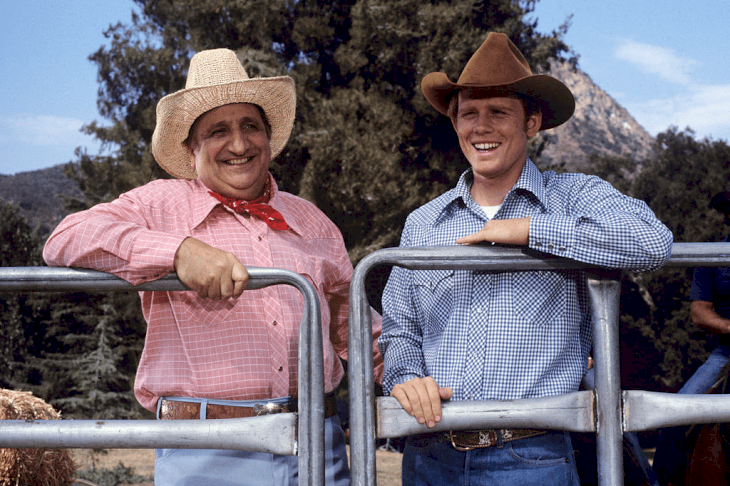 ---
THE MONKEEES DRUMMER AUDITIONED
Can you imagine "The Fonz" played by anyone else other than Henry Winkler? It almost happened when auditions came down to The Monkees drummer Micky Dolenz versus the now-iconic Winkler! Dolenz, who is still friends with the actor, remembers during the audition process Winkler said out loud, "Oh, [no], Micky Dolenz is here. I'll never get it"!
---
THE TRUTH ABOUT FONZIE AND PINKY 
Producers tried to lock down Cassanova Fonz by introducing a love interest, Pinky, played by actress Roz Kelly. The three-episode love affair actually ended because in real life Henry Winkler and Kelly did not get along. Kelly said in an interview years later that "I grew up on welfare, so I don't relate to rich kids."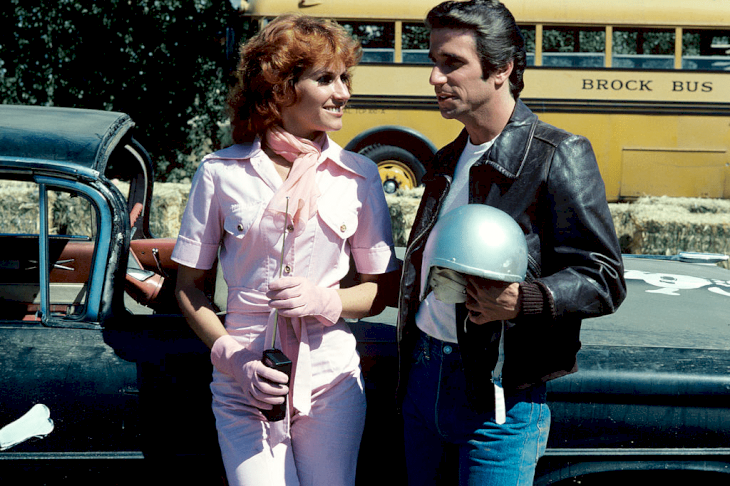 ---
JOHN LENNON VISITED THE SET IN 1975
Can you imagine meeting the famous John Lennon because he was a personal fan of yours? The cast of 'Happy Days' dreams came true when Lennon came to the set and Paramount studios in 1974. Originally from the UK, he had a constant fascination with American pop culture and also sat through a taping of 'The Odd Couple'.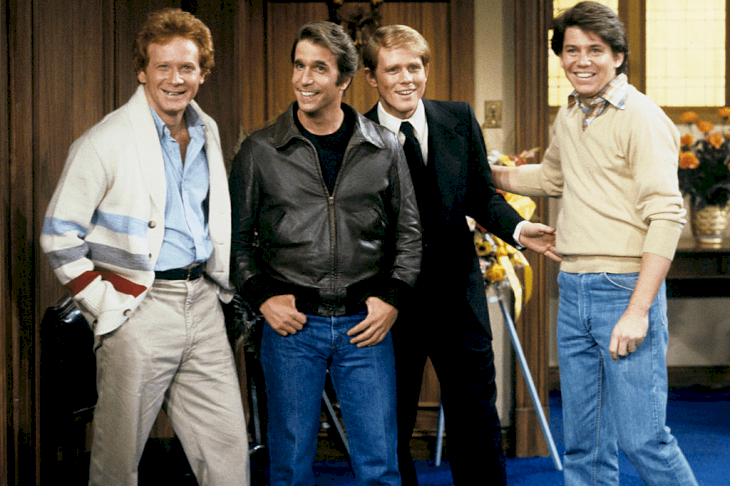 ---
GARRY MARSHALL USED REAL NAMES FOR INSPIRATION
The late director wanted to write the show 'Happy Days' based on his childhood growing up in the 50s and hints of real-life people can be found in his character creation. The biggest real-life similarity was "The Fonz" who Marshall originally wanted to call Masciarelli, his original surname. "The Monz" just doesn't have the same effect so we're glad the director changed it.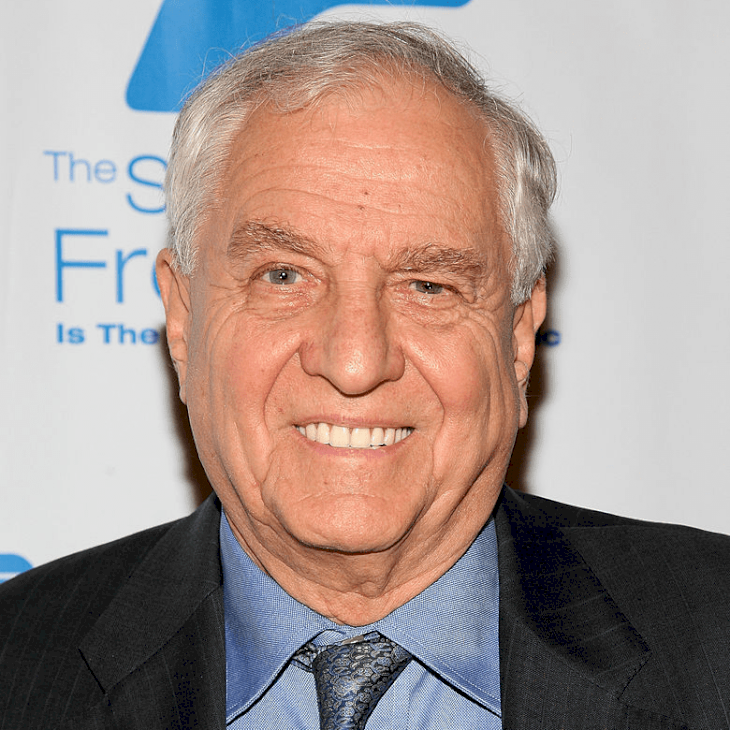 ---
HAPPY DAYS SOFTBALL TEAM
The cast, writers, and crew members got together and played softball competitions against other teams in the studios. They also played in authentic baseball stadiums including Wrigley Field and Candlestick Park. The cast even had the chance to play along with actors Tom Hanks, Robin Williams, and Tony Danza, who occasionally subbed in.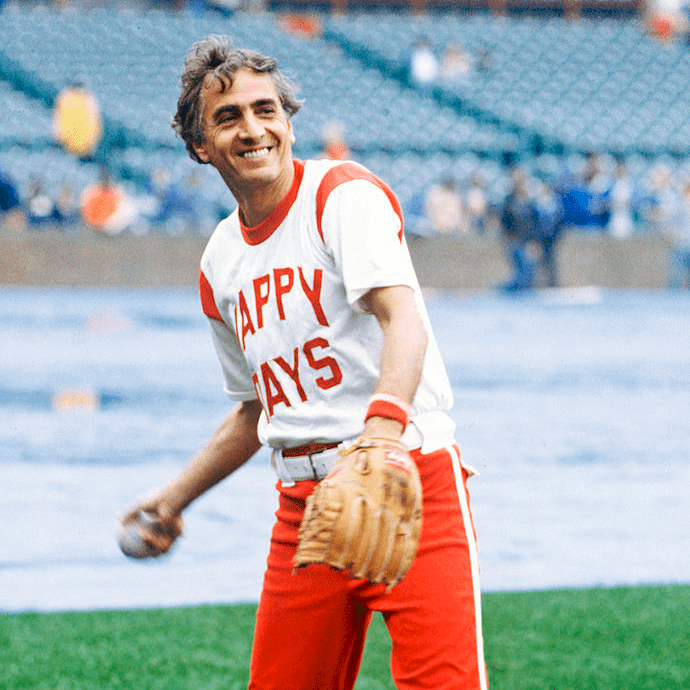 ---
RON HOWARD TURNED DOWN THE CHANCE TO DIRECT
As a young actor, Howard turned down the chance to direct an episode of 'Happy Days' due to his inexperience. When he left the show in 1980 he committed himself to focus on producing and directing and has since been awarded the 'National Medal of Arts' for his contribution to entertainment. His most popular works include 'Apollo 13' and 'A Beautiful Mind'.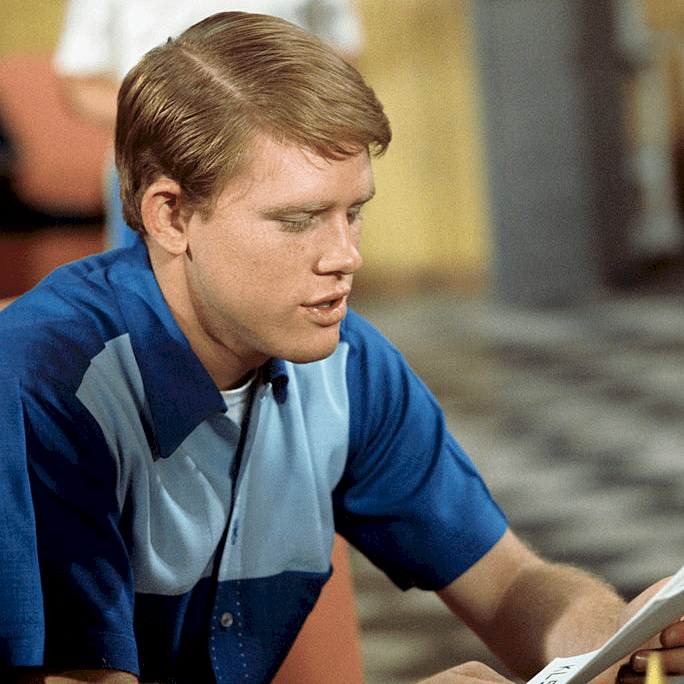 ---
'NIGHT SHIFT' REUNION
The 'Happy Days' co-stars reunited for Howard's second directorial debut in the comedy 'Night Shift'. Previous co-star Henry Winkler stars as Chuck Lumley who works the night shift at his local morgue. The film follows his and colleague Bill Blazejowski played by Michael Keaton, as they get into different kinds of mischief.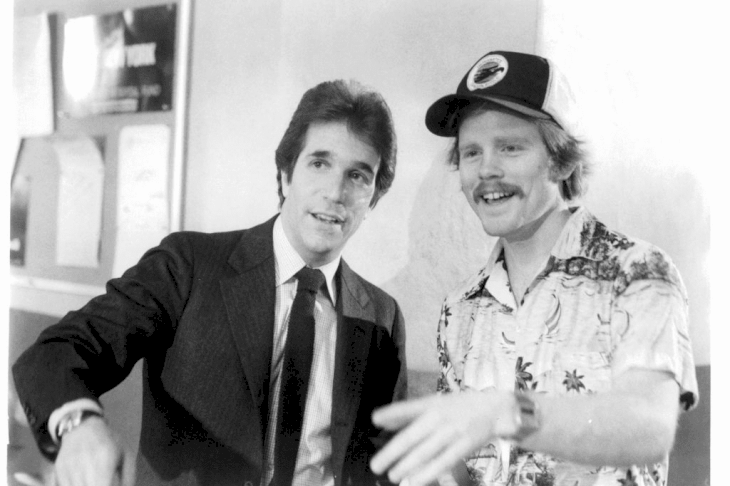 ---
HAPPY RIPPLE EFFECT
'Happy Days' was not only successful by itself but the spin-offs from the show were popular and plentiful! Did you know the show started off as a spin-off from an episode of 'Love, American Style'? The show created classics like 'Mork & Mindy', 'Laverne & Shirley' and 'Joanie Loves Chachi'.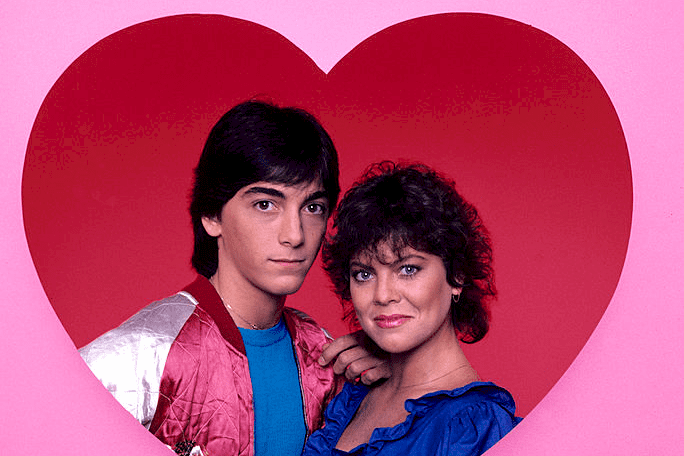 ---
HAVE YOU HEARD OF THE "MCGINLEY CURSE"
Actor Ted McGinley has an unfortunate reputation attached to his name. It would appear whenever he joins a show, the ratings quickly plummet and the show goes off the air shortly. It's been unfortunately proven with his appearance on 'Happy Days', 'The Love Boat' & 'Married With Children'.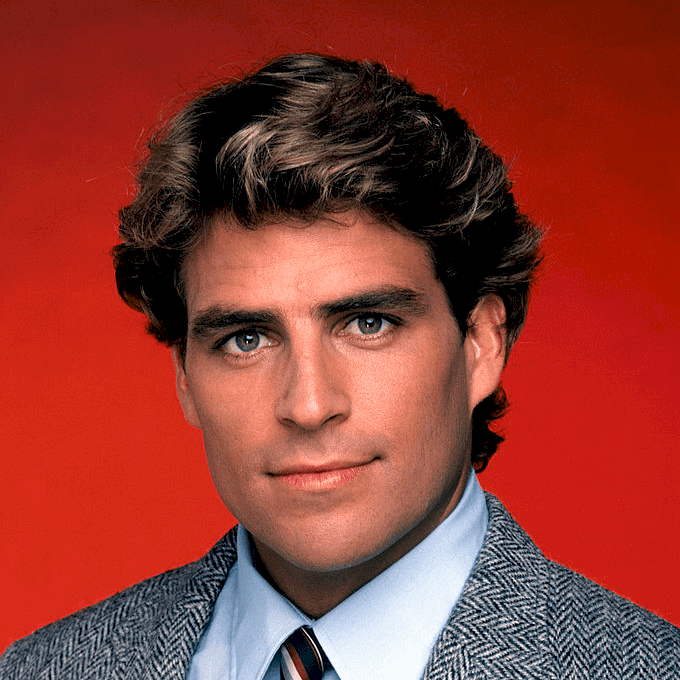 The actor keeps a sense of humor with his "curse". One website has even delegated him the patron saint of failing sitcoms. Per McGinley, "Look, it took me 3 1/2 years to kill 'The Love Boat,' 4 1/2 years to kill 'Happy Days,' 7 1/2 years to kill 'Married With Children." We only wish him success with his new projects in the future!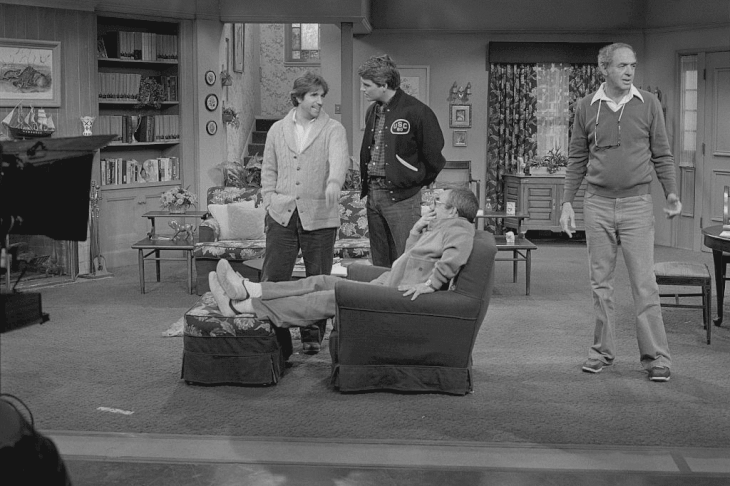 ---
LINDA PURL PLAYED TWO DIFFERENT CHARACTERS
Did you notice this actress make a come-back as a different character? Linda Purl joined the cast of 'Happy Days' in season one as the character Gloria and had five credits. In season ten, she returns as Ashley Pfister, a divorced single mother who becomes Fonzie's serious love interest. Purl's fans will remember her from her recent character on 'True Blood'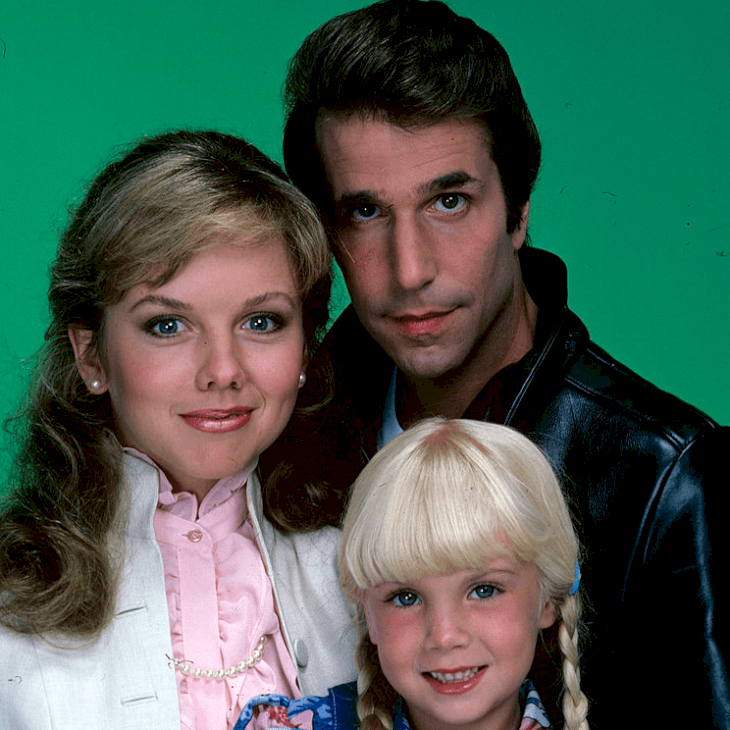 ---
SCOTT BAIO COMPLICATED UNHAPPY VIEWS
Scott Baio joined the 'Happy Days' family in season five as Chachi Arcola, Fonzie's cousin. The character fell in love with Joanie Cunningham, played by actress Erin Moran, and the two starred in a spin-off series called 'Joanie loves Chachi' for one season. It seems that Baio has distanced himself from his old co-stars and has gone on public rants against their views!