Matthew McConaughey - the Ultimate Family Man
He broke onto the Hollywood scene thanks to classic films like Dazed and Confused but did you know about his romantic personal life or his new book, Greenlights? From the love-at-first-sight moment with his wife to his desire for eight kids ... here is a look at the legendary life of actor and family man, Matthew McConaughey.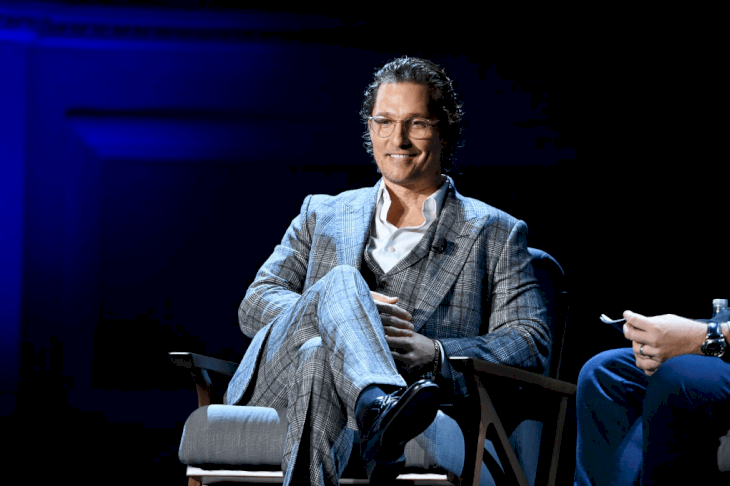 ---
MAKING IT IN HOLLYWOOD & IN HIGH SCHOOL 
It is no secret that Oscar winner, Matthew McConaughey is a legendary actor. From his amazing performances in Dallas Buyers Club to his rom-com days with films like Fool's Gold - we simply cannot get enough of this handsome star. In fact, even in his high school days, he was voted 'Most Handsome.'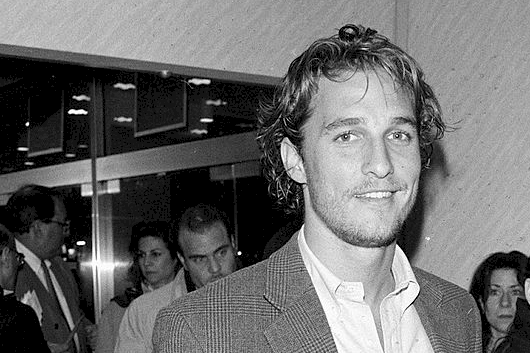 ---
HE BELIEVES IN BEING "SELFISH" 
If you wondered how Matt has gotten to his level of success, it might have something to do with being selfish. The actor shared his wisdom, "I'm a fan of the word selfish. Self. Ish. When I say I have gotten a lot more self-ish, I mean I am less concerned with what people think of me. I'm not worried about how I'm perceived. Selfish has always gotten a bad rap."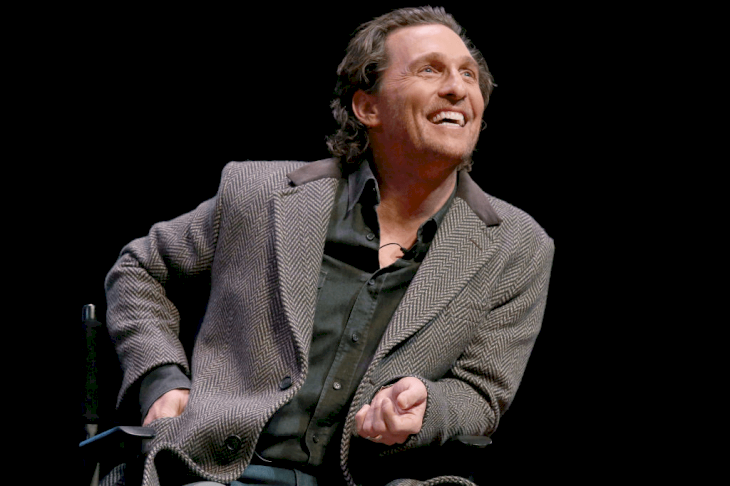 ---
SEEING CAMILA: LOVE AT FIRST SIGHT
If you want a grand romantic gesture, look no further than the story of Matthew and his now-wife, Camila. It happened in the spring of 2006 and once he laid eyes on her he immediately asked, "Who is that? What is that?" He fell for her and didn't waste time or miss out on his dream girl.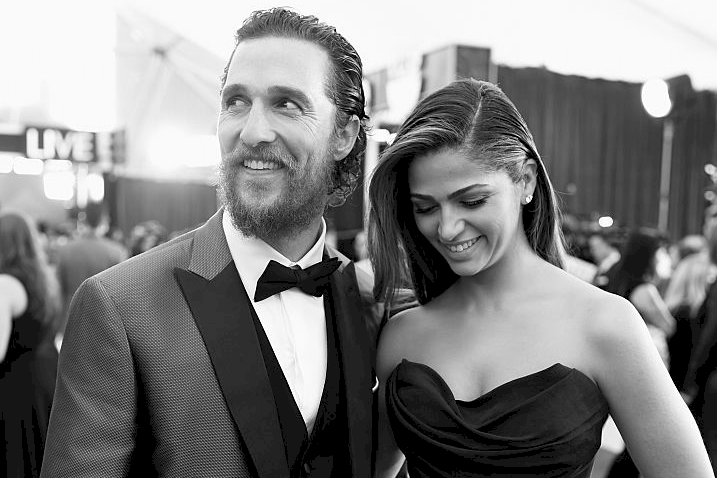 When he asked her to have a drink with him she replied in Portuguese! He was able to reply to her and hold the conversation - maybe this was what caught her attention ... Many may assume that Camila agreed to a drink because she knew he was an actor but this could not be further from the truth!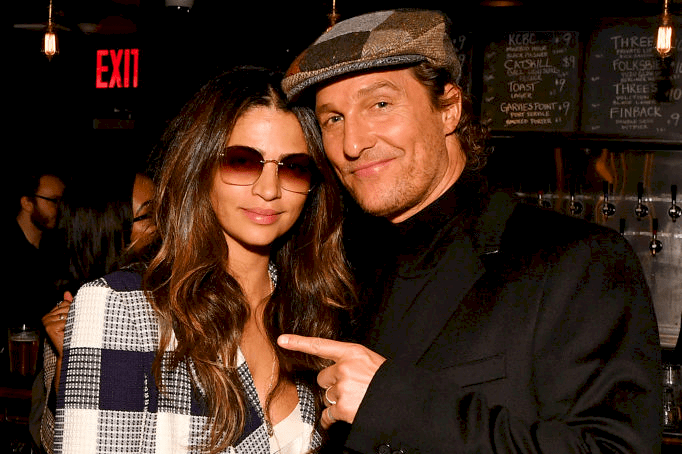 ---
CAMILA DIDN'T KNOW WHO SHE WAS SPEAKING TO 
"The first interaction, I did not know who he was. At the time, he had a really long beard and he had this Rasta hat. He was all covered up, and I didn't really realize who he was," Camila explained speaking about their first meeting. Matthew has added even more magic to their story.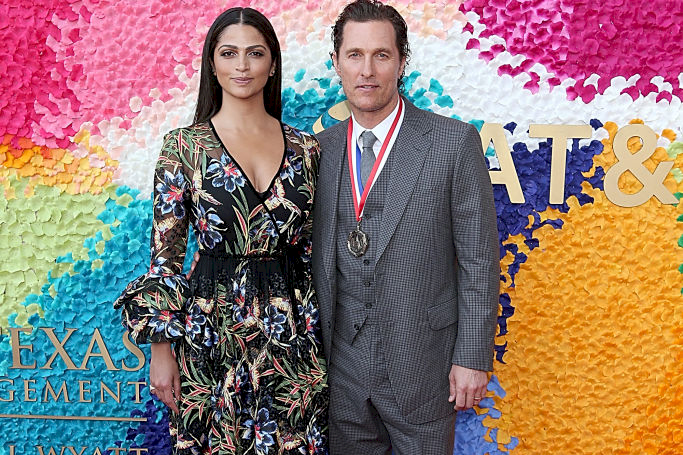 How? Well, he shared that Camila was right on time in his life. He said, "It's gotta be the right person but it has to be the right time." He expressed that after their very first real date he knew that she was the only woman he ever wanted to date for the rest of his life! Aww!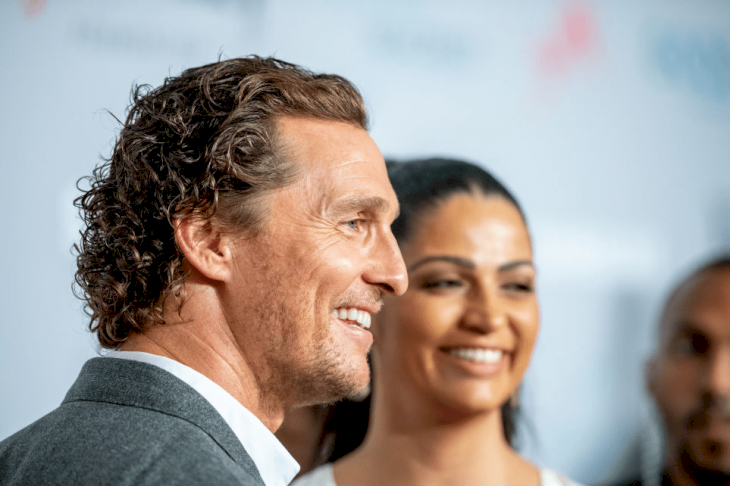 ---
HE BECOMES A FATHER 
Fast forward two years and the happy couple said hello to their first baby. On July 7, 2008, Camila and Matt shared their son Levi with the world. By 2010 they were a family of four. Their daughter, Vida is a stunning little one indeed. Matthew often jokes about wanting more kids.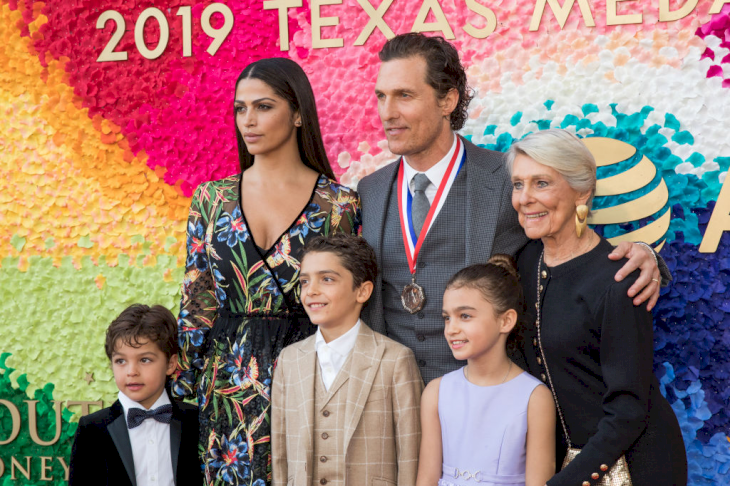 He said, "Well, we had children first. Two of our children before we got married before she handed me the invitation to our wedding." The wedding of their dreams came in 2012 with a sweet ceremony at their home in Austin, Texas. With the dearest friends and family, they said their I Do's. One thing is clear, this actor adores his close-knit clan and is the ultimate family man!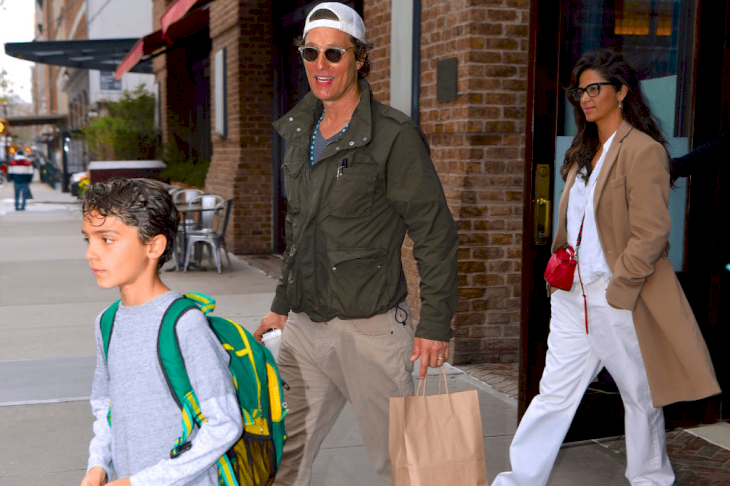 ---
HIS HAPPY FAMILY KEEPS GROWING 
In 2012 of that same year, the smitten newly-weds welcomed a third child, a son named Livingston. In the passing years, the parents have learned their fair share of family knowledge. The actor expressed, "The main thing is that my wife and I have a similar moral bottom line. We can nudge 'em and shepherd 'em ... but they are who they are."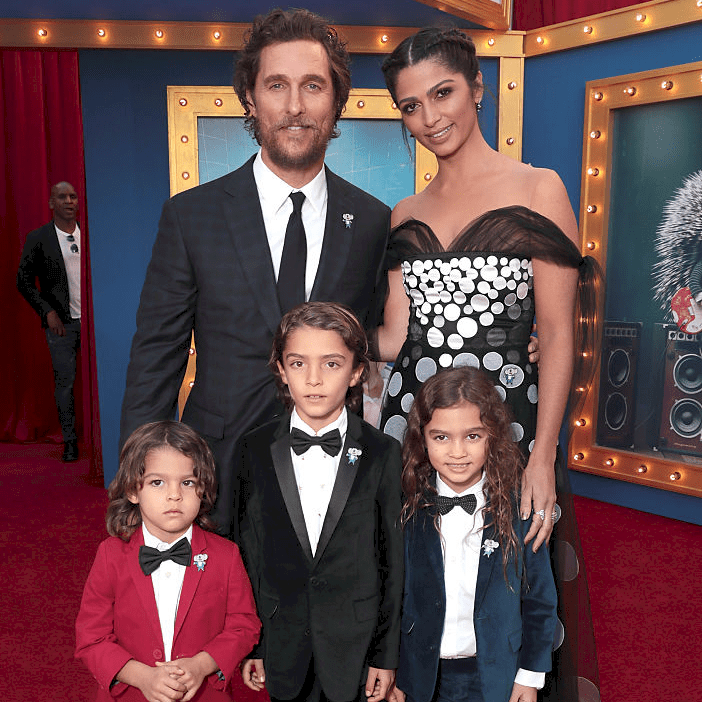 ---
THE ACTOR WANTS EIGHT CHILDREN ...
Whenever Matthew is asked about his family, he expresses one clear sentiment: he would love to expand the clan even more. In 2020 he said, "I'd like to have eight more kids. My wife's not on the same page. I understand that." But we will have to wait and see if they welcome one more cutie.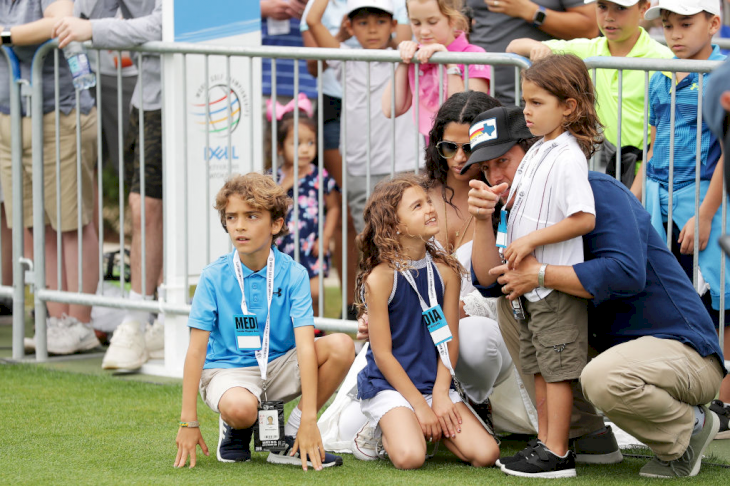 ---
HIS IDENTICAL SON
One of the most exciting developments in the McConaughey household is the resemblance Matt has to his eldest son, Levi. The youngster is the spitting image of his famous dad and we can't wait to see this continue. He is only 12 years old now and fans already love to see their matching features and that gorgeous curly hair. 
Social Media went wild with the image of this resemblance and some said, "He looks like a mini Matthew McConaughey!!" and "Your son looks so much like his daddy." We wonder if mother Camila agrees with them!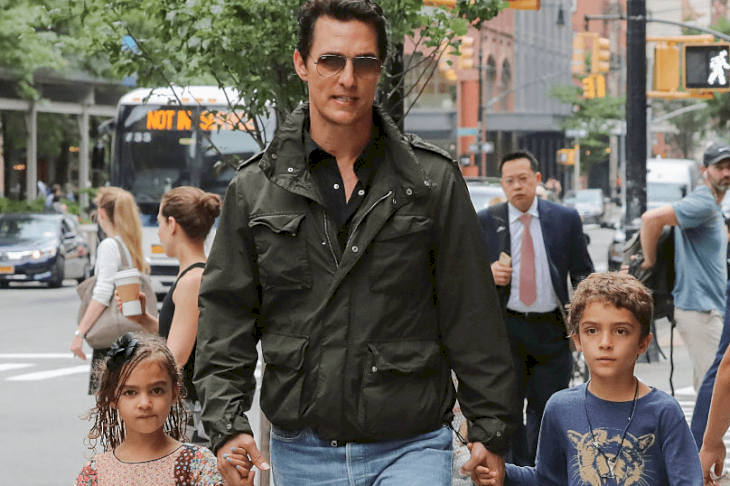 ---
MATTHEW'S DREAM WAS ALWAYS BEING A DAD
If we needed any more proof that Matthew was the best family man and father it is found in these words. He shared, "The only thing I ever knew I wanted to be was a father. And it's remained the pinnacle for me. Being a dad was always my only dream. ... I can't think of anything being more important."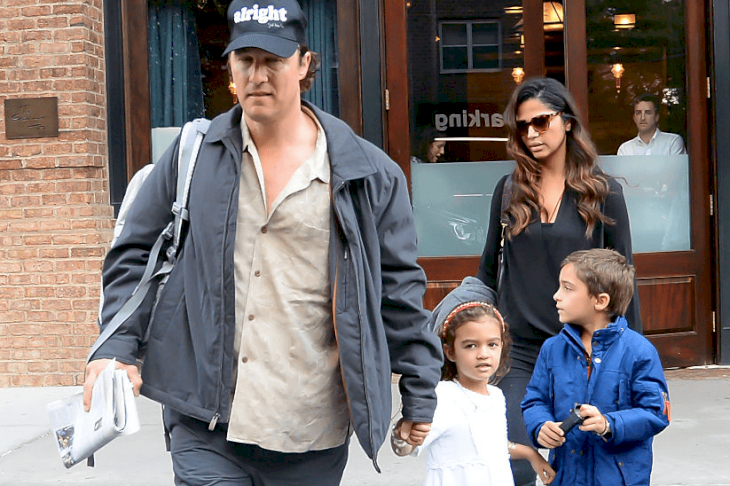 ---
KEEPING THINGS PROFESSIONAL WITH HIS CO-STARS 
As one of the kings of the romantic comedy genre, Matthew McConaughey has certainly been lucky enough to work alongside some of the most talented and stunning co-stars. From the likes of Kate Hudson, Sandra Bullock, and Jennifer Lopez, is it odd that he has never been romantically linked to any of them? Maybe ...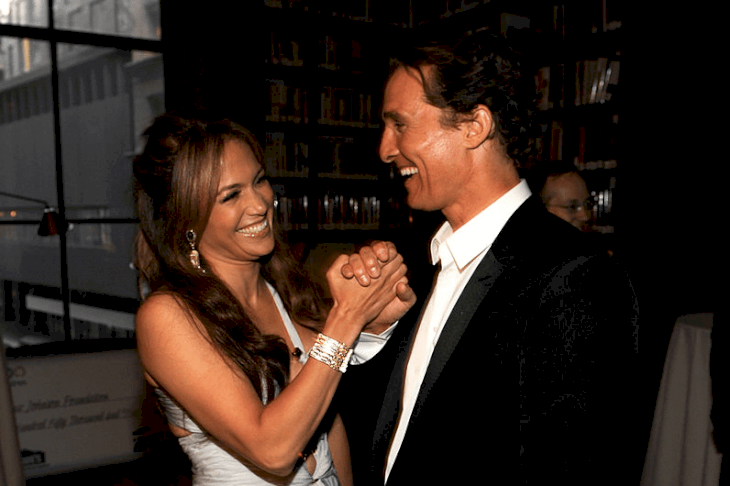 ---
WHY HE NEVER DATED THE WOMEN HE SHARED THE SCREEN WITH 
He did discuss why he never dates his co-stars. He simply shared, "I think it organically just happened. If you look at the history of films, when you see a couple — say they did a movie together and then, later on, they get married, and they make another movie together. Watch the movie!"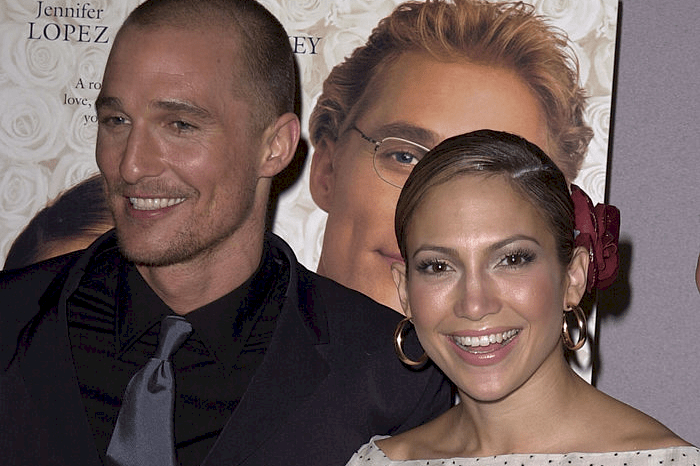 "When they're really good in the movie before it was ever public that they're getting together. But once they get married, you watch that movie, they're not near as good together... It's the movie when they met that you go, 'That's the one [where] this thing is sizzlin'" he continued, explaining that couples work better on-screen if nothing is happening off-screen.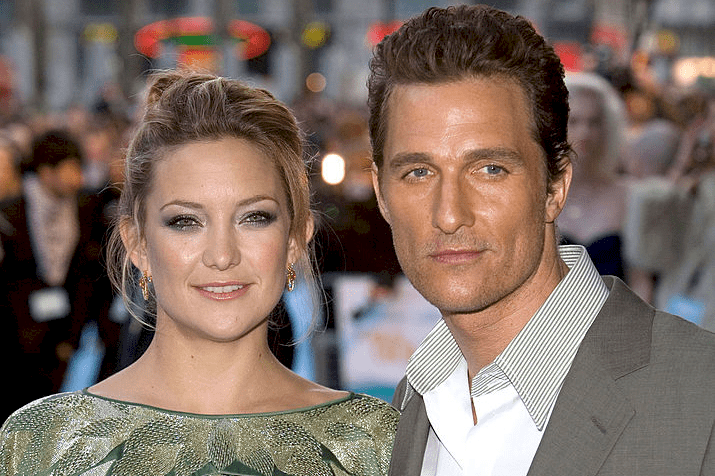 ---
WHO DID HE HAVE A CRUSH ON BEFORE CAMILA? 
Matt did indeed have a few crushes. He shared, "I've always tried to keep it professional and the people I've worked with I must say did as well. Maybe we had certain crushes on each other at certain times, but we always just kind of kept it professional. Or maybe we were dating somebody seriously outside of ourselves at the time and we both respected that for the other."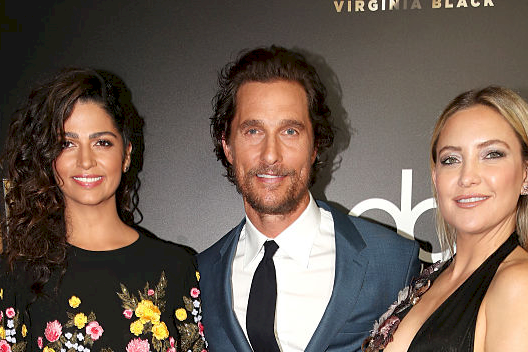 Do we wonder who those crushes were on? Of course! Maybe it was with Kate Hudson? The pair did co-star in tow films; How to Lose a Guy in 10 Days and Fool's Gold! However, they opened up about how awkward the romantic scenes were so it is highly unlikely there were any feelings there.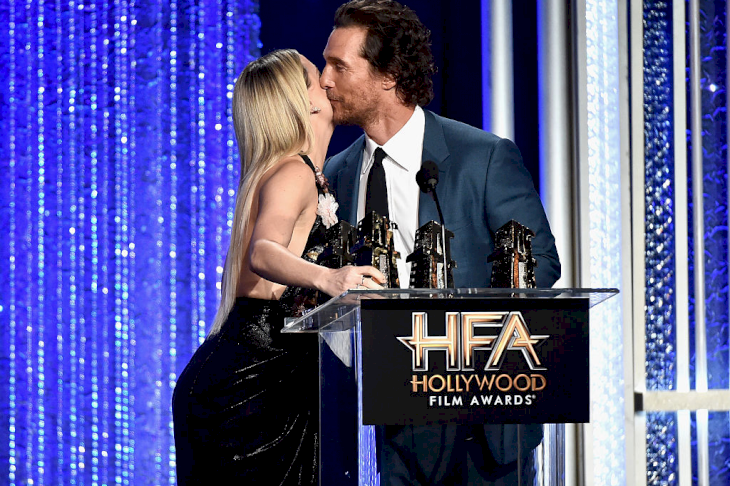 ---
KATE HUDSON SPEAKS ABOUT AWKWARDLY KISSING MATTHEW 
"Honestly, you know, I feel like I kind of [have not] had the best kissers. The thing is, every time I kiss McConaughey, it's like, I mean, it's like there's just something happening and there's, like, snot or wind. Like when we were kissing at the end of Fool's Gold, we're in the ocean, we like had the plane crash — he just had snot all over his face." What an awkward moment!
---
MATT WILL NEVER DO A ROM-COM AGAIN 
If you were holding out any hope that McConaughey might be starring in a rom-com anytime soon, you should give up on those dreams ... Why? Well, in his new book, the actor said he was finished with that style of the film. Even when he was offered $14.5 million he still said no! 
---
HIS IMPRESSIVE NET WORTH 
For all of his fame and films, have you ever wondered just how much Matthew McConaughey is worth? The actor (who also dabbles in producing) has a net worth of $140 million! Now that is impressive ... With his recent book release, Greenlights, he will probably be racking in some more green dollars as well!  
---
WHO IS HIS HERO?
Despite all of his amazing achievements, Matt still doesn't consider himself a hero. He shared, "So, are you a hero?' And I was like, 'not even close. No, no, no.' She said, 'Why?' I said, 'Because my hero's me at 35.' So you see every day, every week, every month, and every year of my life, my hero's always 10 years away."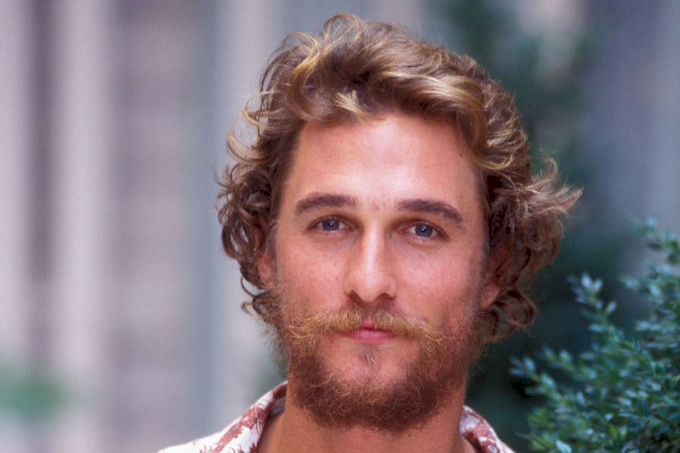 He continued, "I'm never gonna be my hero. I'm not gonna attain that. I know I'm not, and that's just fine with me because that keeps me with somebody to keep on chasing." What an inspirational perspective from an equally inspiring actor! Is he possibly your hero?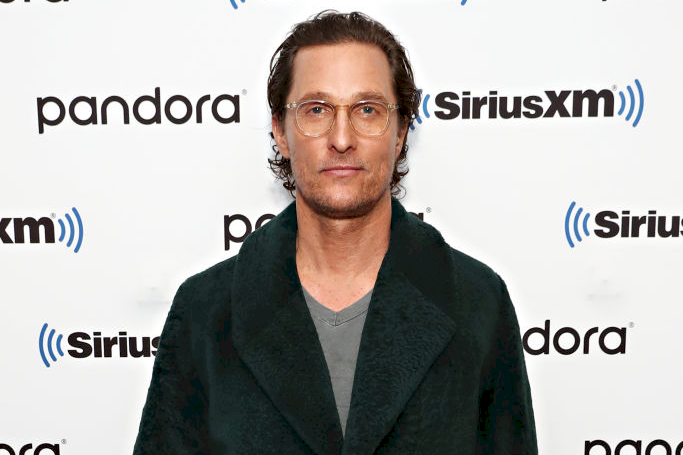 The actor Matthew McConaughey has achieved a lot in both his career and personal life. From his amazing marriage and his adorable little ones, we can't wait to see what his future holds for them. So, tell us, what was your fave McConaughey film? Leave us a comment and be sure to click the share button if you liked this article!