Handy DIY'ers Reuse Wooden Pallets To Make Awesome Creations In Their Backyards
DIY enthusiasts and homemakers will be thrilled to find out some visionary ways to create stunning wooden pallet pieces for your backyard. Not only are these projects pretty cool, but they're also easy on the pockets! From gorgeous backyard lounges to artistic tables, prepare to have your mind blown by 11 spectacular backyard projects.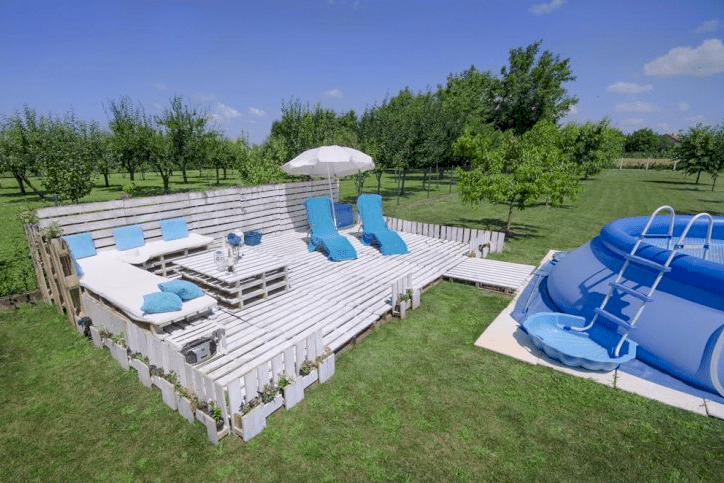 ---
1. A BACKYARD LOUNGE BY ONE ENTHUSIAST 
So what do you do when you've got plenty of garden space and would love to do something creative made from pallets? This woman decided to create a beautiful lounge sanctuary where she can entertain guests or snuggle up with a good book.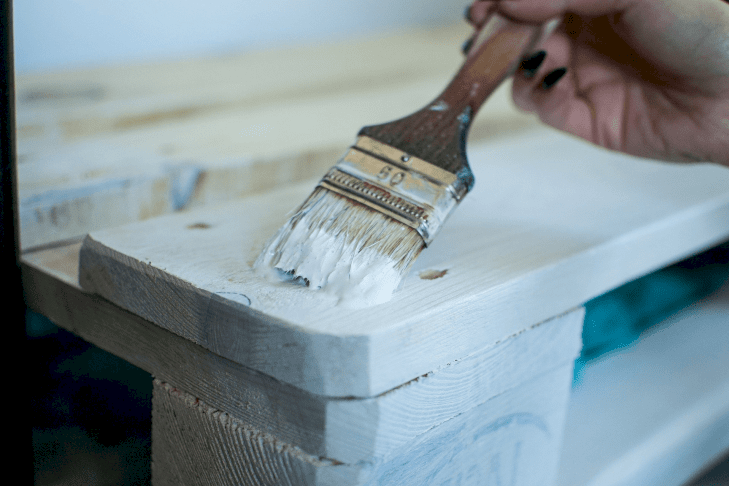 ---
According to her neighbors, she invested in what you may think are useless wooden pallets to make her idea come to fruition. The cherry on top is that she created something amazing all on her own; she was determined to get it done all on her own, despite the tough labor. Let's take a look at how she did it.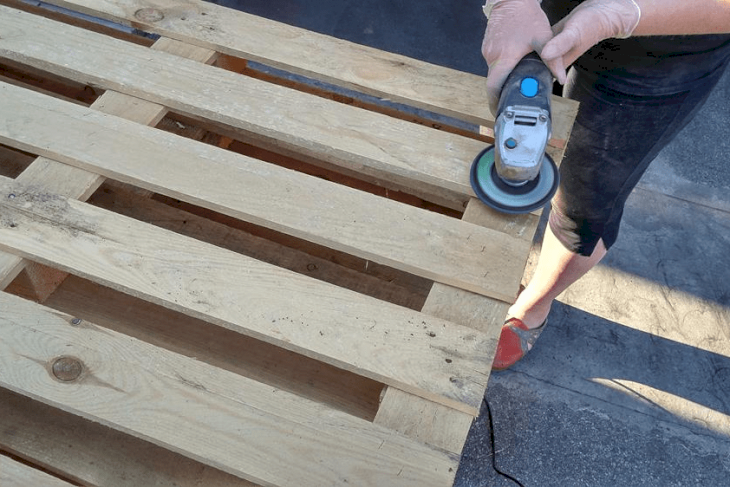 ---
THE BEGINNING OF THE PROJECT
She started with a sketch plan of what she wanted to achieve; it included measurements of the pallets for the floor, table, bench, high fence, lower fence, and terrace. The woman made sure to sand the pallets to ensure that they would be smooth and dirt-free.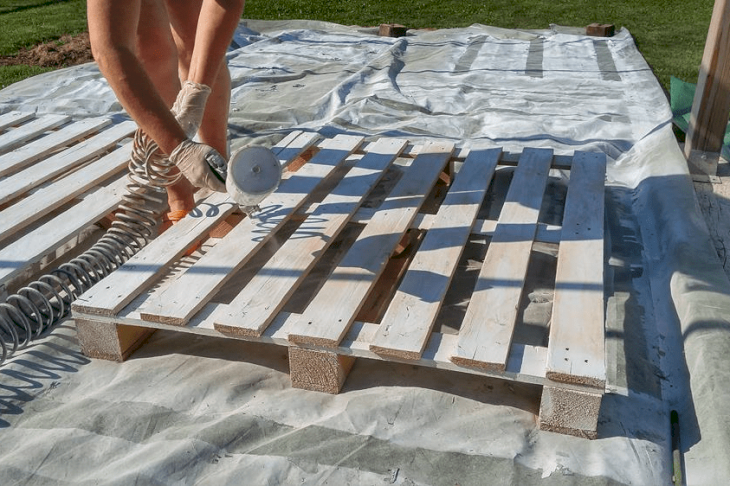 ---
The next step was to paint the pallets with an air painting gun. But first, they had to be covered in primer, then paint so that the paint could absorb better. Of course, the wood needed to be left out to dry before anything else could be done. As a base for the terrace, the woman went with 4 x 6 meters of geotextile fabric to avoid any grass from growing between the wood.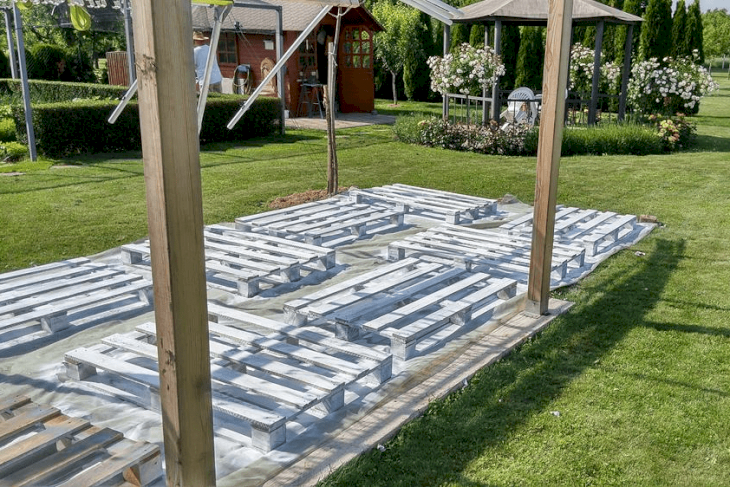 ---
THE BEAUTIFUL END RESULT
The woman then began to build the floor, table, fence, and benches. Before you know, it started to shape up. In efforts of trying to stabilize the fence, she added steel rods and wire. Lastly, she added a lower fence. Then came the fun part - decorations! She fancied the terrace up with some pillows, and the final result was beautiful.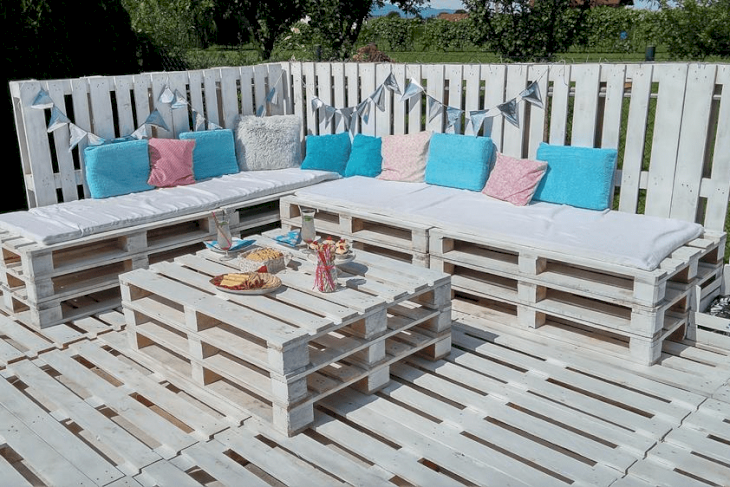 ---
2. A GORGEOUS GARDEN CORNER BY A THRIFTY WOMAN
Lockdown had us all taking on DIY projects, but this lady did it on a tight budget. Lara Batley couldn't afford her dream £1000 rattan sofa, so she built her own for just £123. She also did some investigative work on Facebook to find out where she could get wooden pallets for garden furniture. 
---
Well, she found them at a local pallet company, and it was on. Lara stacked up 14 wooden pallets and secured them with screws and brackets. The Sussex woman then bought some navy water-resistant pallet cushions from eBay. But before the decor, she varnished the furniture.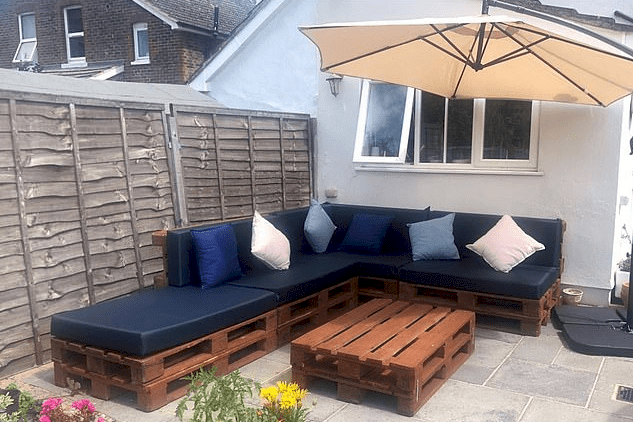 ---
3. COUPLE CREATES A BREATHTAKING GARDEN SEATING AND PLAYHOUSE AT A LOW COST
Danielle Healey and her boyfriend Harry were interested in doing something different with their garden and wanted to avoid anything expensive. So, they bought wooden pallets for $45 at a local pallet store. The duo cut them up and started building an incredible garden seating and playhouse.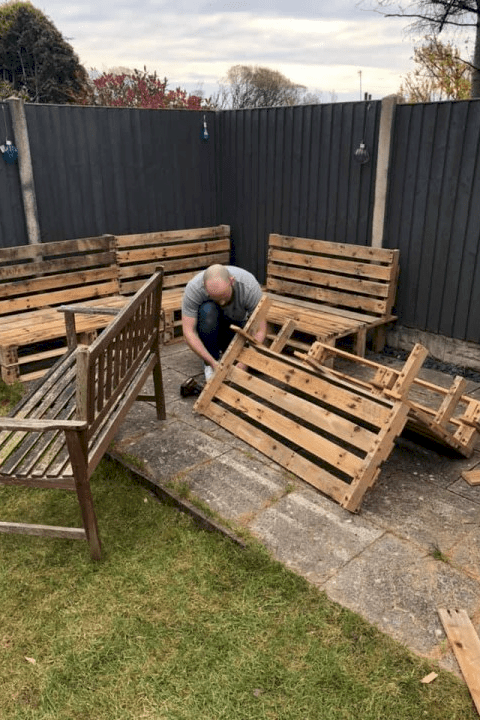 ---
They separated the pallets and used the wood to build the shape, connecting hinges and pallets to create the doors to build the playhouse. Lastly, they painted their innovative creation with some extra paint they had lying around in their home. The playhouse was made for their kids to play in and store their toys.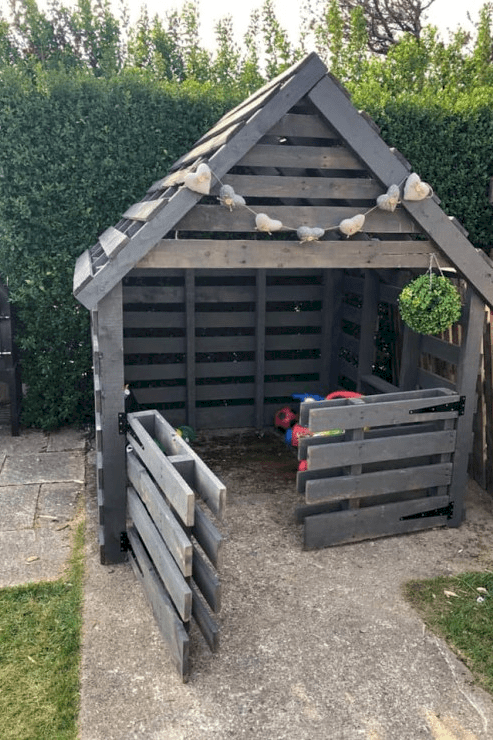 ---
THE AREA IS THE EPITOME OF RELAXATION
The seating area is made for mom and dad to relax. Danielle explained that they placed two pallets on top of each other for the bottom and cut some in half to make the back part. They also stacked two more pallets to create a cute coffee table.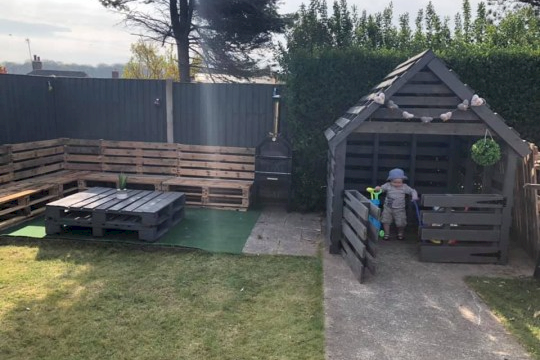 ---
4. WOMAN CREATES A LUXURIOUS LOVE ISLAND-ESQUE BED USING PALLETS
Who said luxury needs to weigh heavy on your pockets? One mom showed us that you can have a hotel quality bed at a super low cost. Tanya Woolston made a beautiful villa type bed for just £70; she shared with her Facebook friends.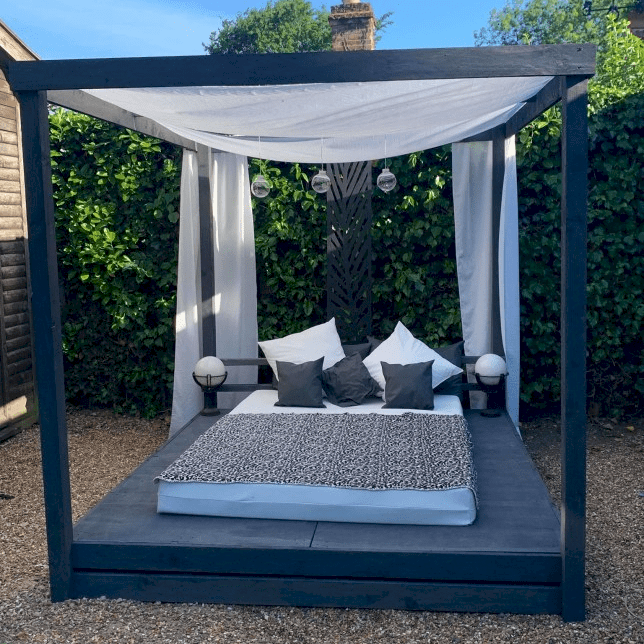 ---
Tanya used 8 pallets to create the bed frame and darkened the color using a wooden stain. In case of rainy days, she covered her pillows and mattress with a waterproof fabric. The finishing touch was adding white cotton draping to achieve a summer vibe. 
---
5. MOM REVEALS HER INCREDIBLE OUTDOOR FURNITURE  
In an inspiring post on the Extreme Couponing and Bargains Facebook group, one woman shared, "Made from pallets, cost me £22 to make and the cushions are from a charity shop, £2 each they cost more than the bench and table." She also found some pallets for £8 and bought paint for £14.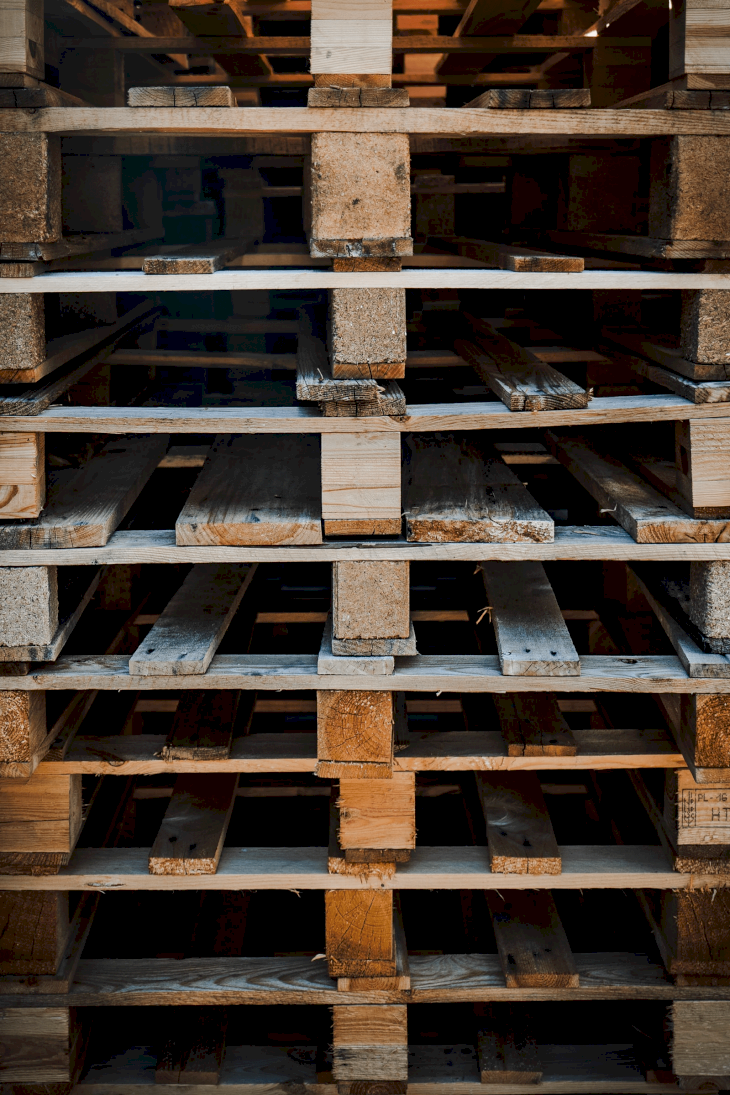 ---
The members of the group were positively stunned by her creativity and handy work. She completely transformed her garden into a relaxing sanctuary. Commenters were so impressed that they asked for a video tutorial. At the time, the post garnered 12 000 likes.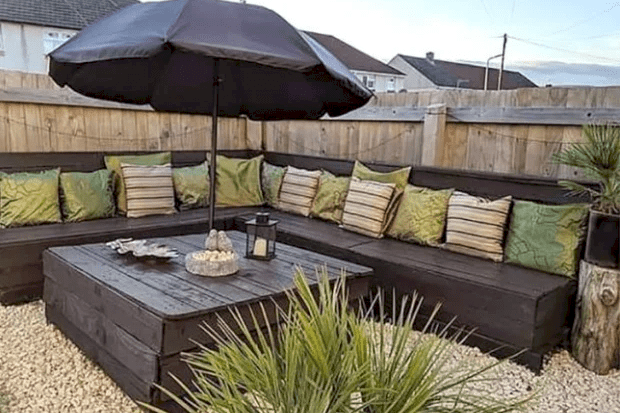 ---
6. KMART SHOPPER MAKES EPIC OUTDOOR FURNITURE FOR FREE
KMart shopper Ashleigh took to the popular store's Facebook to share how she transformed her outdoor area with free wooden pallets from the store. The shopper said she used everyday tools and DIY basics to create an L-shaped couch and an exquisite coffee table. The woman added KMart dog beds and cushions and lastly, a KMart rug to tie the look together.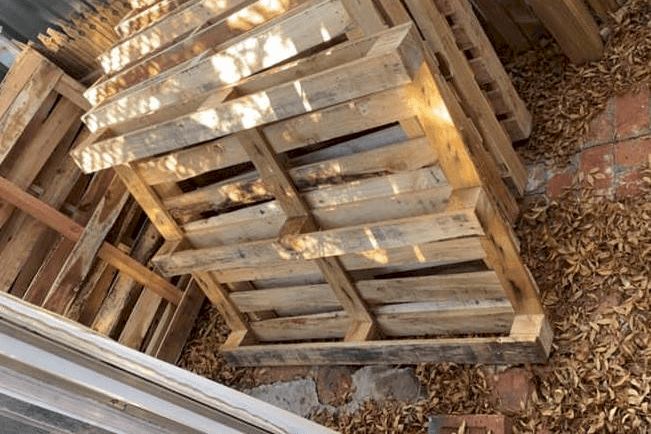 ---
"I bought a house and couldn't really afford outdoor furniture that would fit my big space," Ashleigh revealed on the Kmart Hacks & Decor page. "A couple of free pallets cut to size, some Kmart dog beds, and pillows later and I've got my giant outdoor lounge. Very very happy with myself."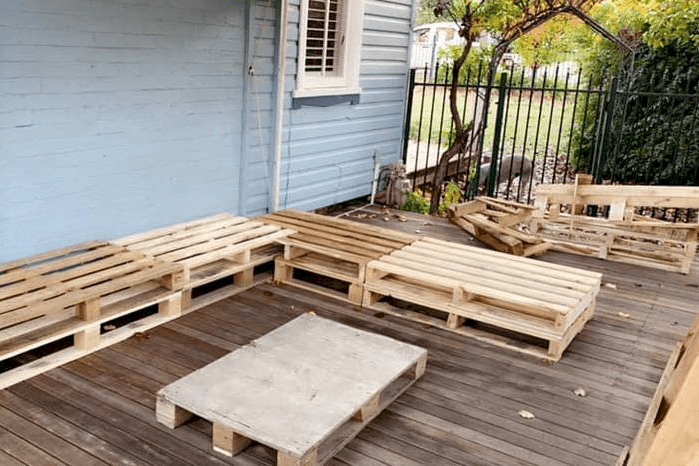 ---
ASHLEIGH ENCOURAGES EVERYONE TO GIVE IT TRY 
Did you know you can grab some free pallets from local businesses that have shipments? Also, check out some Facebook groups and Gumtree ads. Ashleigh went on to encourage everyone to try out a DIY pallet project as she used simple tools and promises anyone can recreate the look.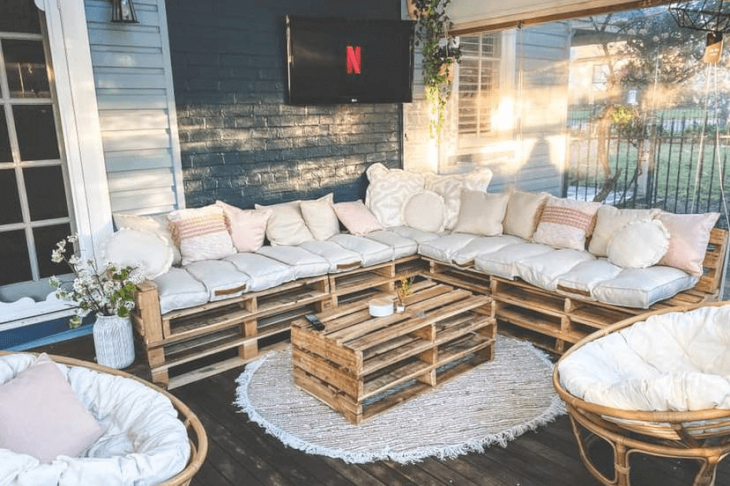 ---
7. DIY MASTERMIND MAKES A REFRIGERATOR USING WOODEN PALLETS 
Don't give up on your broken refrigerator, it can still be salvaged in a savvy way. Matthew Yeomans turned his old refrigerator into a neat cooler for his backyard. It also made for a great aesthetic but how did he do it and how much did it cost him?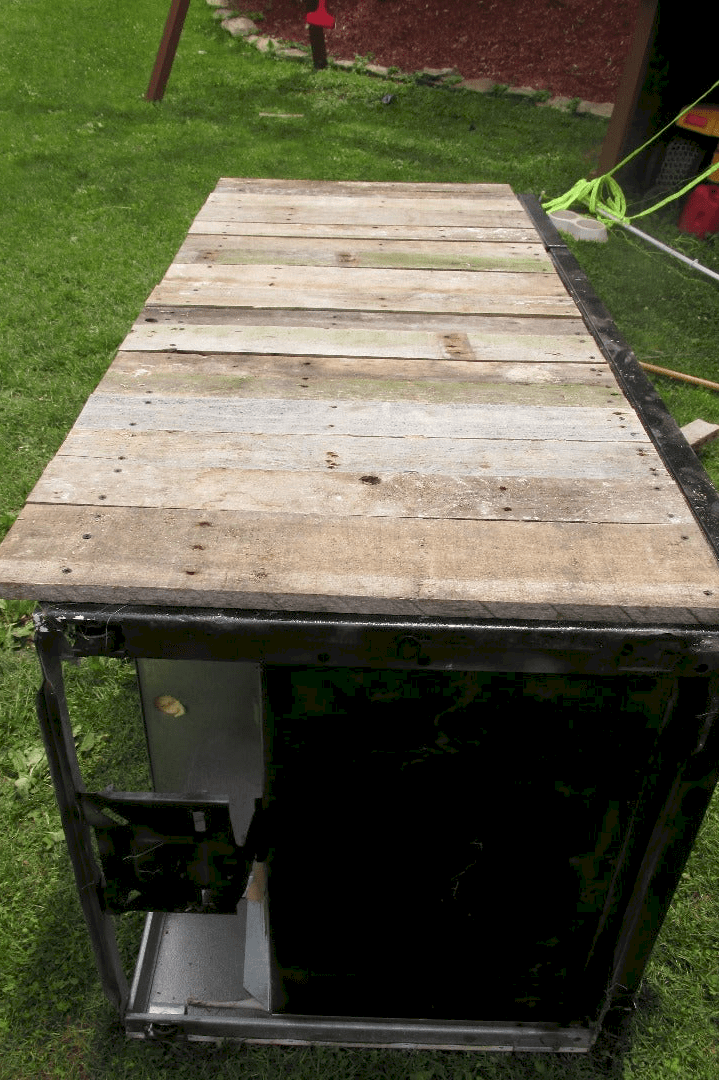 ---
He deconstructed the refrigerator to fix it and ensure that it does not leak. The next step was to disable the pallets, then process the wood by smoothing it out. Matthew also painted his refrigerator before adding the wood onto its sides. He also covered the doors with wood.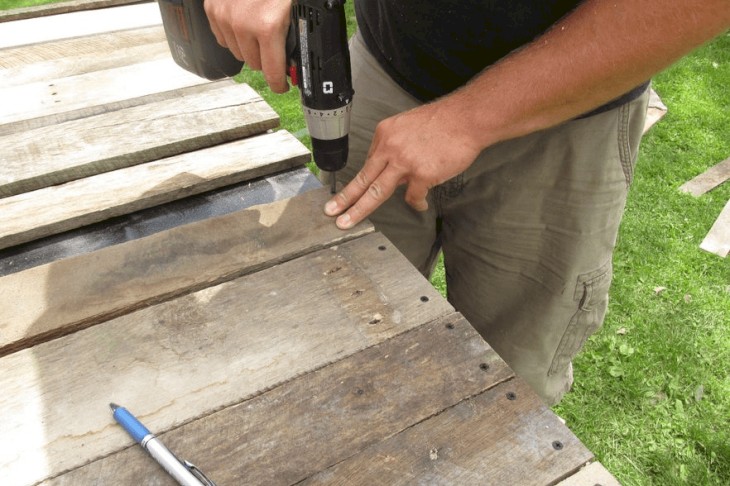 ---
IT DIDN'T COST HIM MUCH TIME, EFFORT OR MONEY
The homemaker added a base to the refrigerator to ensure its sturdiness and then waterproofed the new cooler. The finishing touches included screwing in some handles, a cute chalkboard, and rope lid support. He used wooden pallets, spray paint, and caulking tools to put everything together.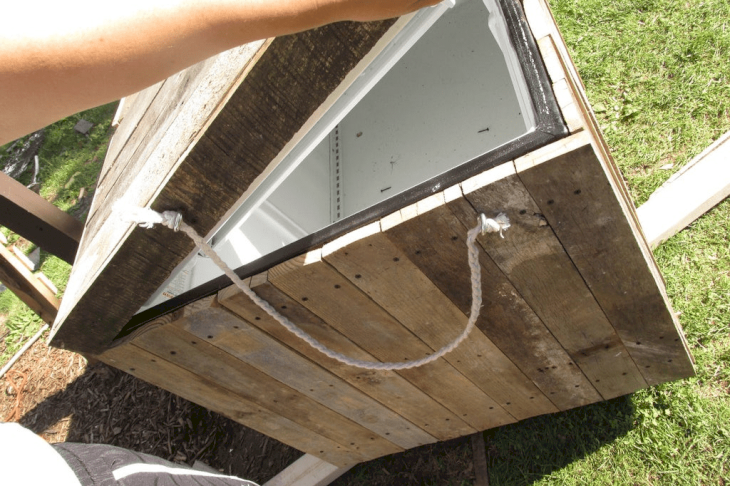 ---
He did it all with the assistance of his sister, brother-in-law, his friend, and his friends' wife. Yeomans already had most of the tools he needed so he used $40 to turn this into a beautiful creation. Another piece of great news is that only took him a week to complete the project.  
---
8. WOMAN STUNS DIY FANS WITH A WOODEN PALLET COFFEE TABLE 
Rachel Boyd impressed Facebook DIY enthusiasts with her creative skills when she shared an image of her beautiful coffee table. The coffee table was made with a herringbone pattern that stole the show. Boyd shared that her family immediately expressed interest to purchase one of a tables specially made with her inventive hands. 
---
Commenters couldn't help but sing her praises. One said,  "That is absolutely stunning I love it. I think you should make & sell them I'd buy one." Another admitted, "Beautiful, wouldn't think it was pallet wood! Well done." 
---
9. 12 YEAR OLD CREATES A BUDGET FRIENDLY OUTDOOR FURNITURE 
One lucky mom applauded her son for saving her some extra cash by making low-cost garden furniture from wooden pallets. Netti Slawson's son Keegan made two pieces of patio furniture all by himself. The 12-year-old created a bench and lounge seat from a used cable reel and wood supplied by VOW land Plasmadoc, a local playscheme for children.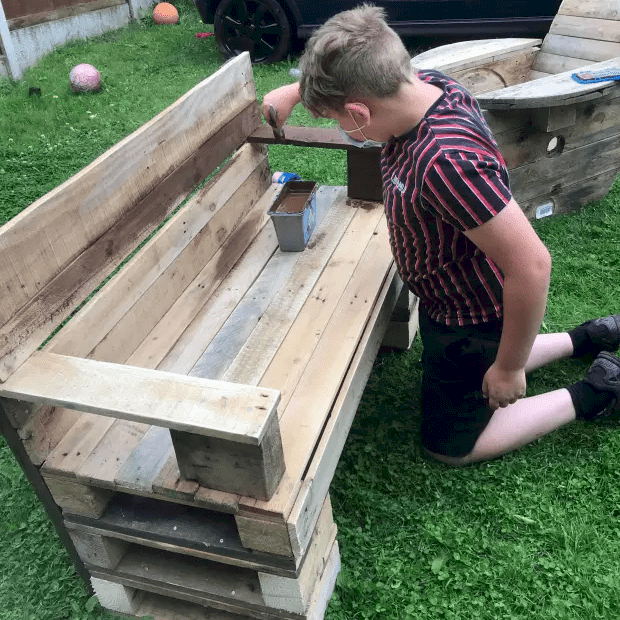 ---
Netti took to the Gardening On A Budget Official Facebook group to show off Keegan skills. The post garnered over 11 000 likes and 1000 comments. The commenters were impressed and envious of Netti having such a handy young man around her home.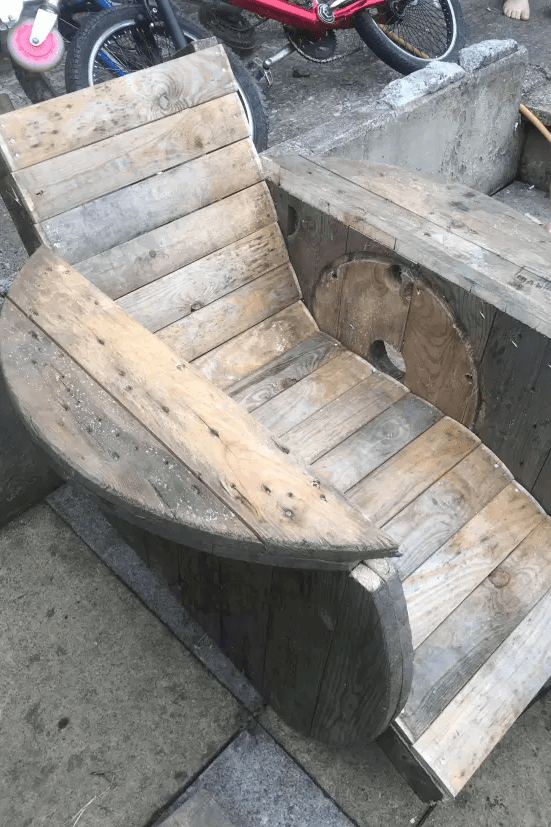 ---
10. COUPLE MADE A GARDEN BED WITH $78 
A couple shared that they created a stylish outdoor bed set for $78 using pallets and KMart dog beds. One half of the couple shared on the Australian KMart fan page, "My partner and I wanted to get a day bed for our deck but didn't want to pay $500+ so we came up with the idea to get pallets which we painted (free) and added Kmart dog beds to it!"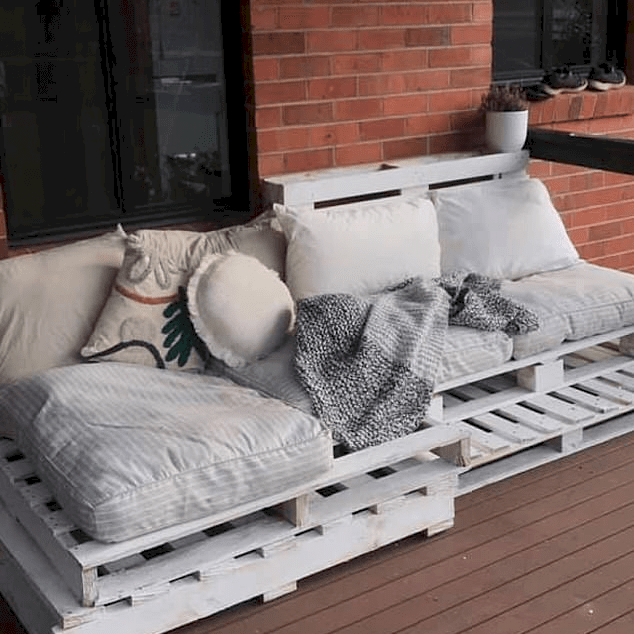 ---
The dog beds cost $20 and they grabbed the store cushions at a steal for only $4 each. The couple used the painted pallets as the base of their bed before they added the pet beds and cushions to the top. In the end, they got a comfy and chic bed set that surely gives their bedroom competition. Even the couple admits that it's their favorite place to hang out.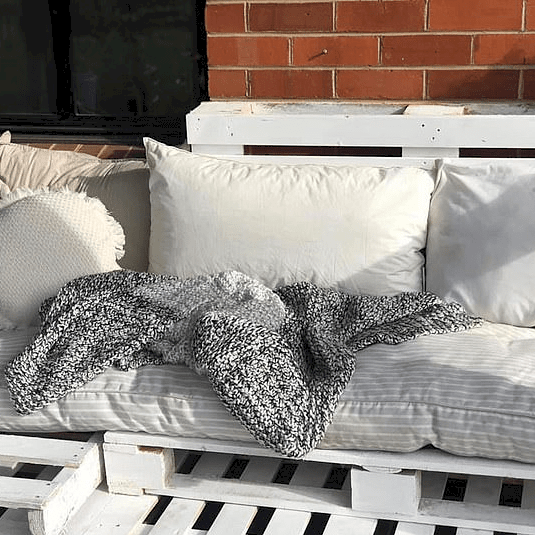 ---
11. DIY COUPLE CREATES A CHIC LOUNGE AREA
This couple made lockdown special by creating an ultra-modern lounge area in their garden. They used second-hand materials they found on a Facebook marketplace. Ben Wright and his partner Roxanne Bianco sourced some wood and accessories from B & Q and The Range to fulfill their seating area creation. They spent around £300.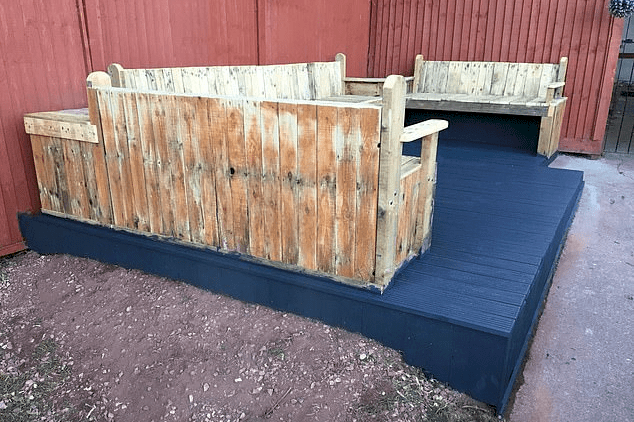 ---
The pair wanted something exquisite for their backyard using pallets. Roxanne loves Pinterest and found some cool pallet ideas on there. Some of their friends donated some bits and pieces as the two aimed to keep things as inexpensive as possible. Ben shared the design was inspired by a chair that was gifted to them by his late mother-in-law.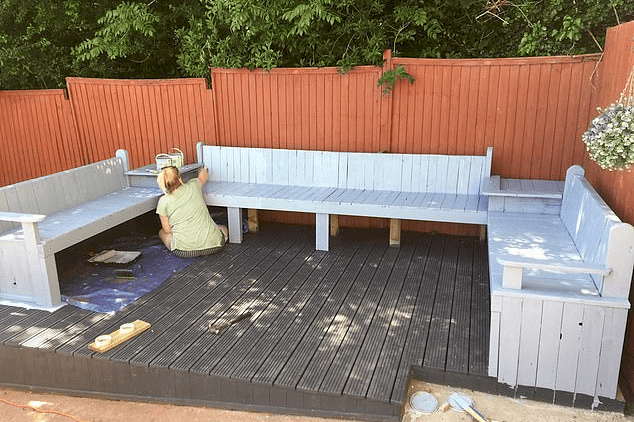 Ben was in charge of building the structure including the chairs and table. His wife took on painting the main deck with a decking stain and the furniture with a grey finish. Of course, they placed some lovely cushions on the chairs and the couple added some fairy lights for the ambiance. 
---
HAVE OLD PALLETS IN YOUR GARAGE? THEN YOU GOT TO TRY THESE MIND-DOGGILING HACKS! 
Typically designed for storage and transportation, wooden pallets are often an underrated source of décor. Stores that unpack loads of deliveries mostly discard after unloading them. Surprisingly, the so-called "useless" wooden pallets pack endless possibilities of décor! Now, do you get the idea?! So, here are some stunning ways to repurpose wooden pallets!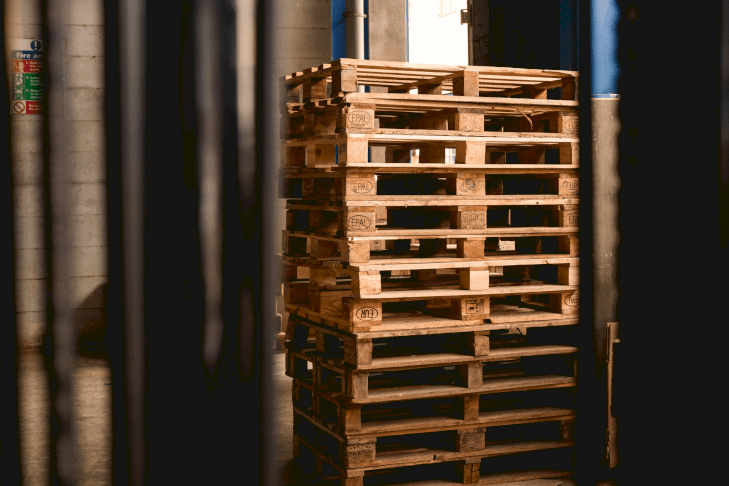 ---
STUNNING WALL DECOR
You can never go wrong when it comes to dipping your hands in a bucket of creativity! Perhaps, you can bring out that old, dusty wooden pallet from your basement and refurbish it into a stunning wall art like this. Sometimes, we have to think out-of-the-box to revamp our ideas with something mind-boggling, and this amazing hack says it all!
---
DIY MAKESHIFT COMFY BED
The stuff that goes into the bedroom needn't always come from expensive stores. Furthermore, wooden pallets are useful materials you could incorporate to get a glam DIY pallet bedroom like the one here. Throwing in posh upholstery in contrasting shades not only complement the idea but also bring the best out of the once discarded pallets.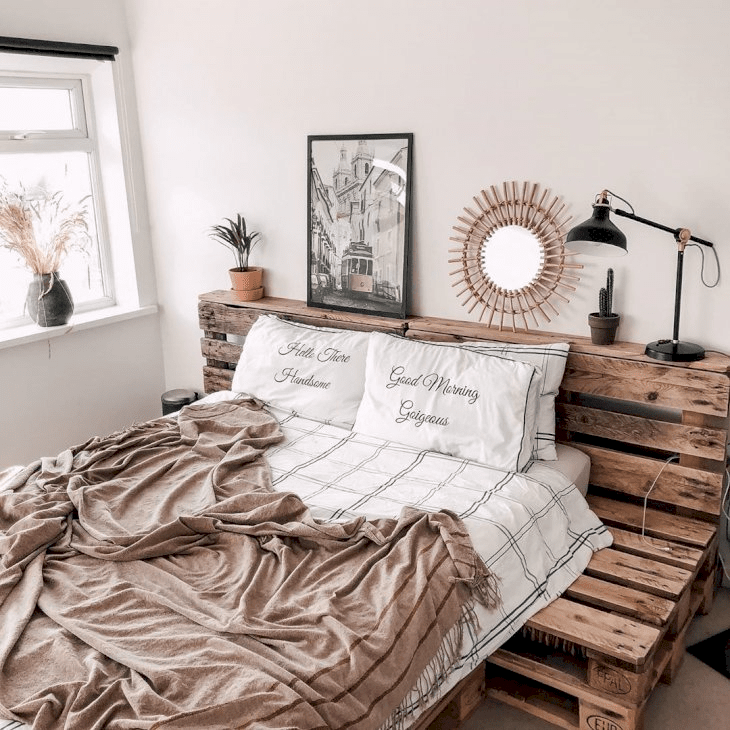 ---
EYE-CATCHING GARDEN UPGRADE
Your garden might house numerous things to absorb some stunning backyard view, but did you know that those old wooden pallets might come in handy here too?! The design and idea are entirely yours! But all you need is a great creative mind to stack the dusty frames and pave the way for a corner garden setting like this. You can also align potted plants around the makeshift pallet garden!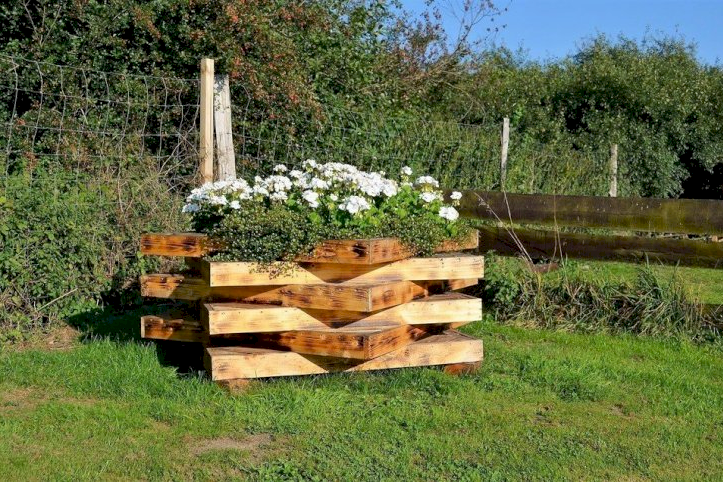 ---
LAVISH CHICHEN COOP VILLA! 
If you have chickens in the house, then it's always necessary to give them the best and comfy shelter they deserve. Did you know that these dusty pallets can be elegantly revamped into a gorgeous outdoor chicken coop like this? Perhaps, this chicken villa is a great idea to flaunt that you always give the best for your feathered friends in the house!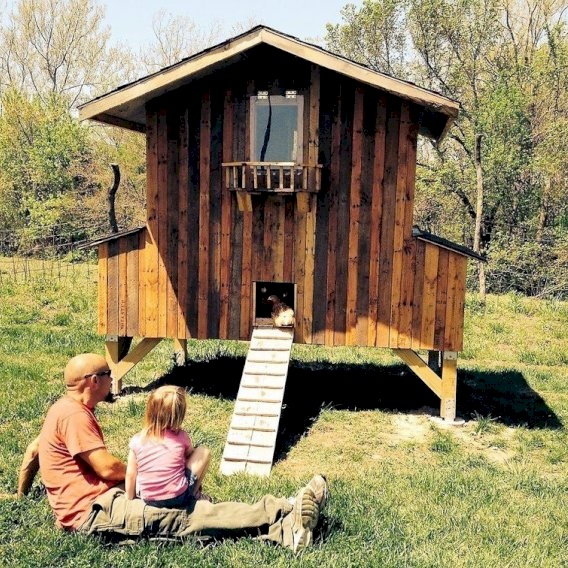 ---
BESPOKE GARDEN PLANTER
A bit of creativity and some effort is all you need to cast a magical spell in your garden. Bring out the old wooden pallets and craft them into something bespoke. Believe us - the stunning pallet train planter could be the next reason that illuminates the style factor in and around your house!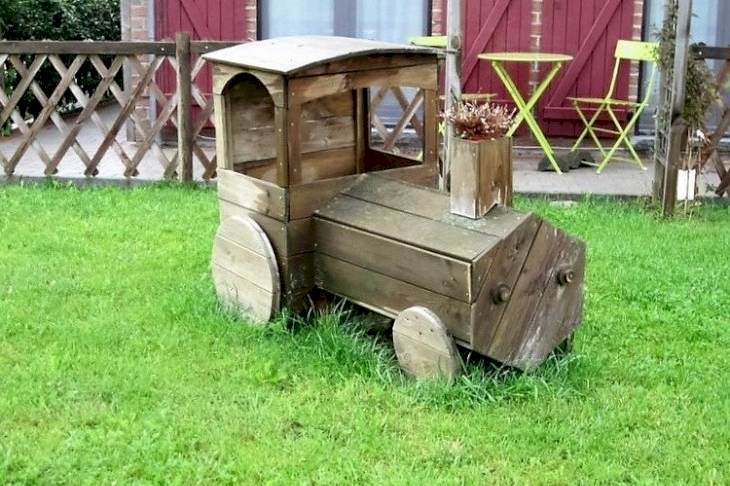 ---
REVAMP YOUR PATIO CORNER WITH A STYLISH UPGRADE
If you feel that your patio needs a stylish upgrade, and if you have some old wooden pallets, then there's no room for worry anymore! From crafting an elegant center table to elaborating the empty alignment with creative DIY furniture, you can highlight your patio with a piece of affordable made-at-home furniture like this. To complete the comfy look, you can add plush cushions.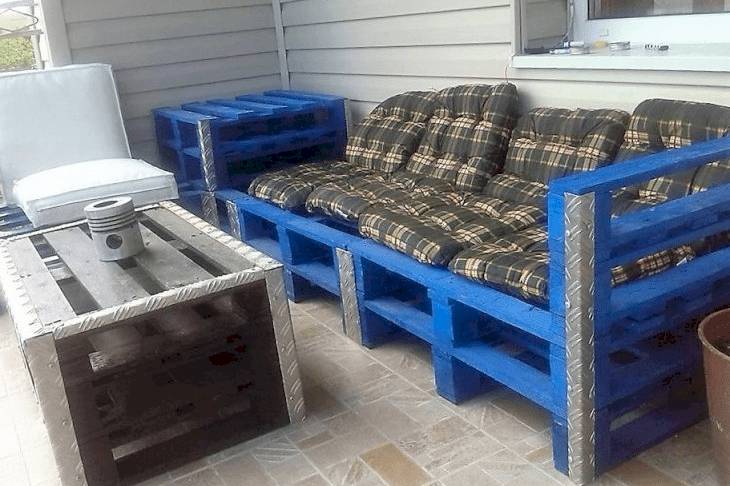 ---
FURNISH A COZY KENNEL FOR YOUR DOGGO!
With endless purposes to theorize, wooden pallets also pack some of the most alluring ideas you could master to highlight your house with a glam finish. For dog owners, crafting a stunning kennel with old wooden pallets is a great idea, especially if you have what it takes with utmost creativity.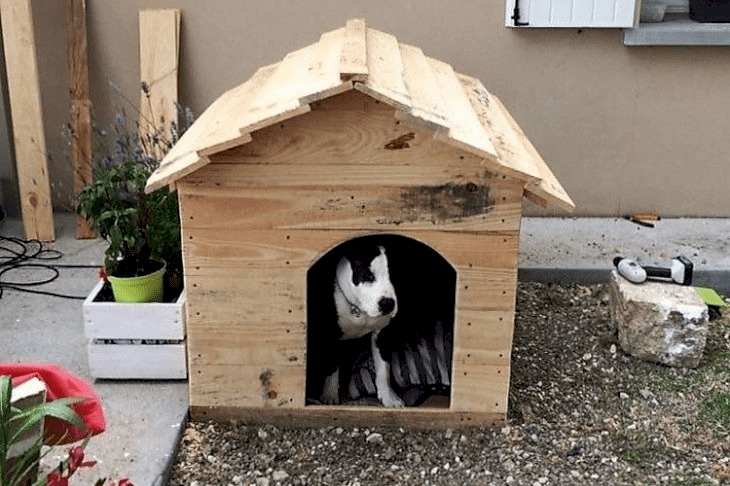 ---
DIY OUTDOOR BARS 
If your garden has extra space, why not spruce it up with a garden bar area made from wooden pallets? They always look stunning and they're low cost. All you need is some wood, paint, and DIY tools. If you're artistic it'll be no hassle for you to decorate with fab colors and unique accessories.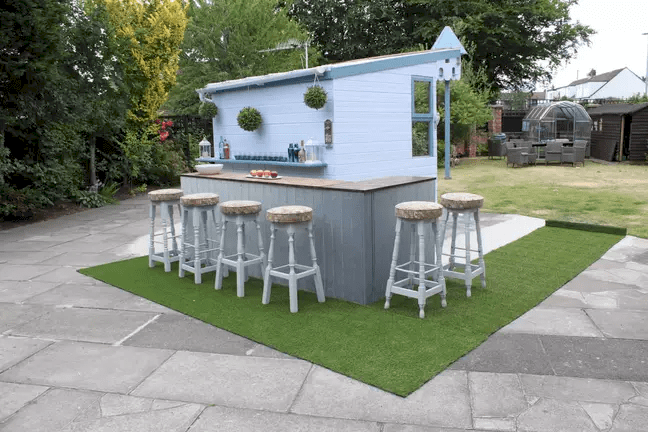 ---
The hack isn't just bespoke, but also gives you the satisfaction of providing your dog with a comfy outdoor shelter! Now that you've had a look at all this inspiration, we'd love to know what you liked most? Anything you're excited to try? Let us know in the comments.