Quirky Winter Photos
If you are from a warm country without the need of experiencing cold winters - good for you, I guess. But I gotta say, you are also missing out. Yes, the wind might chill you to the bone, and the snow can be tall enough to build a tunnel if your hands can still function, that is… but it is also a fun time, all those snow fights and snowboarding… and of course, the funny sights that can only be seen in winter. We have compiled a list of those for you - if you are from a cold country, you might find them familiar, if not - you are in for a good laugh.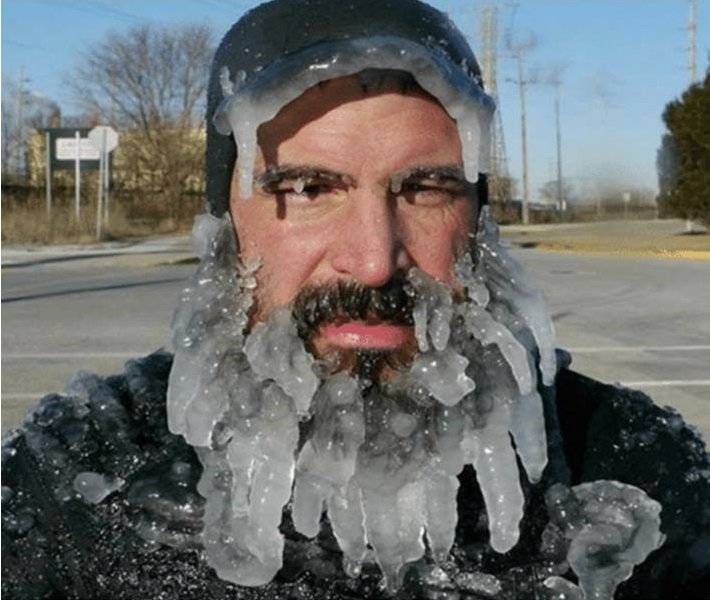 ---
Cold Toilet
People always complain about the toilet seats being cold in the winter. Do you know what else is colder here? The toilet itself! Long story short, it was so cold that the water tank freezes, where it was pressurized and busted the tank itself. While it would be a nightmare when it melts, I am more concerned about the owner's pipes in the house...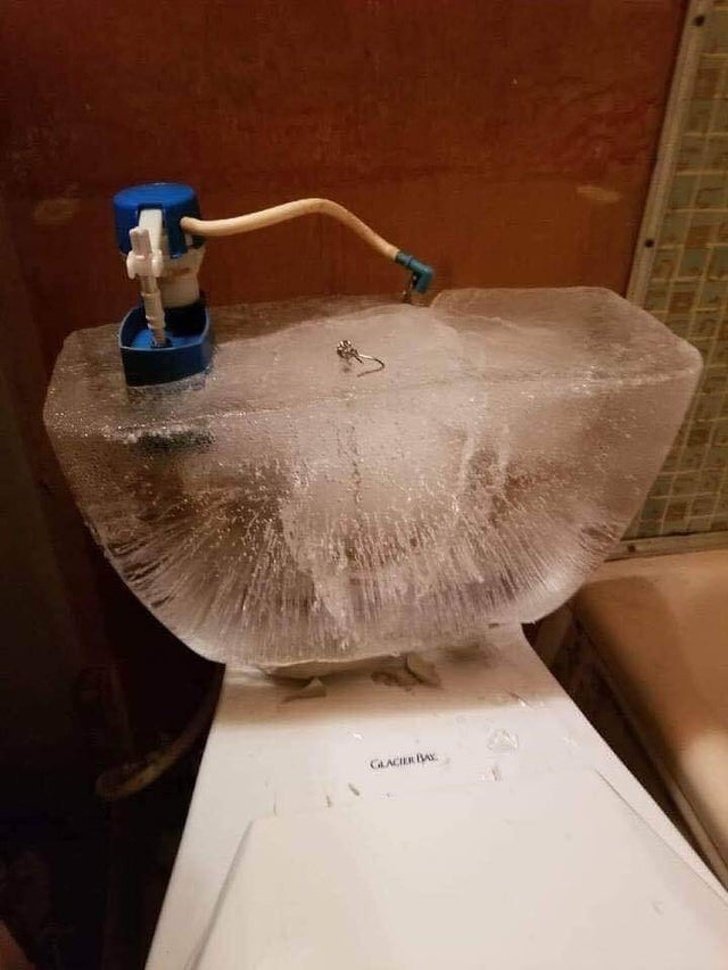 ---
Snowy Burden
We gotta give credits to whoever built this house - that is quite some snow, and we bet it isn't light at all. A poorly built house would collapse in no time. We have to wonder though, how did the snow get there? How heavily did it snow? That snow is at least five to six meters tall! We wouldn't risk living in places like that, to be honest.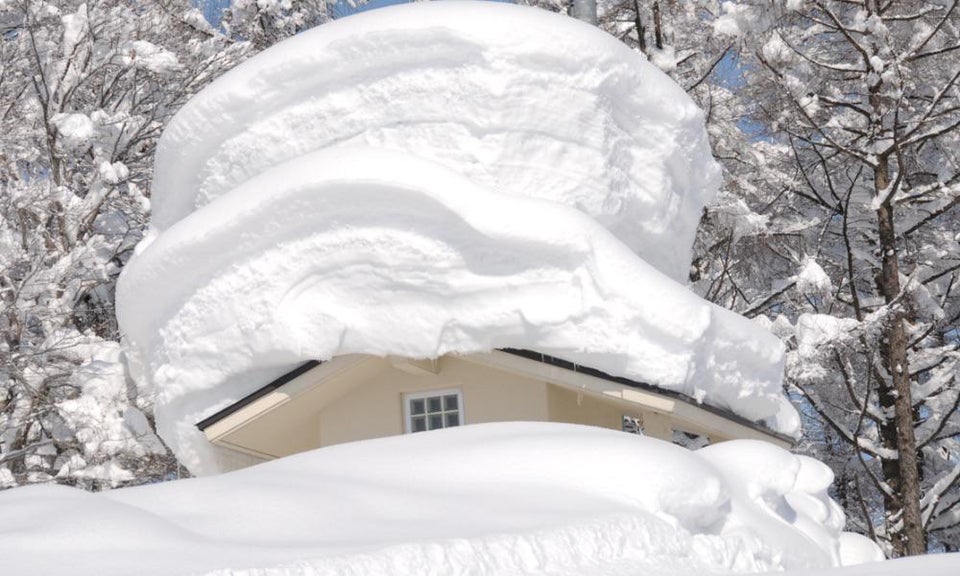 ---
Natural Fridge
When life gives you snow, you can make a lot of things out of it. Apart from snowmen, you can also use them as a fridge. Okay, that depends on how heavily it snows, of course. But it seems that for some countries, it does snow heavily, where the entire window is covered with snow. Solution? Put things there. We hope no one will be plowing the snow though, or else you can say goodbye to those foods.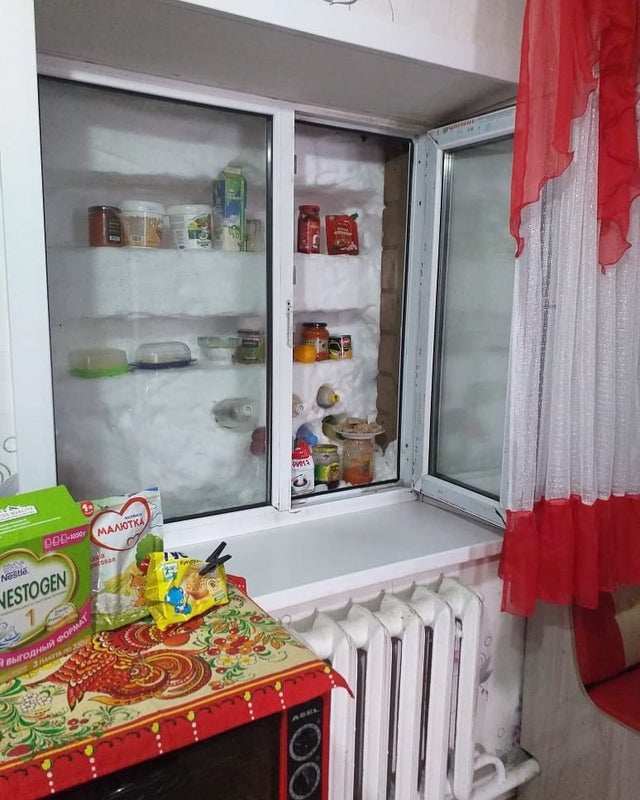 ---
Remember to Put Those Wipers Up!
It is a common habit of car owners to put their wipers up in the winter - there are a few reasons behind it, such as not having them stuck to the windshield, and it also helps clean off the snow. However, one of the functions that have been overlooked is this - if you live in a country with heavy snow - your car can be buried underneath the snow overnight. And this, albeit unintentionally, can help you locate your car.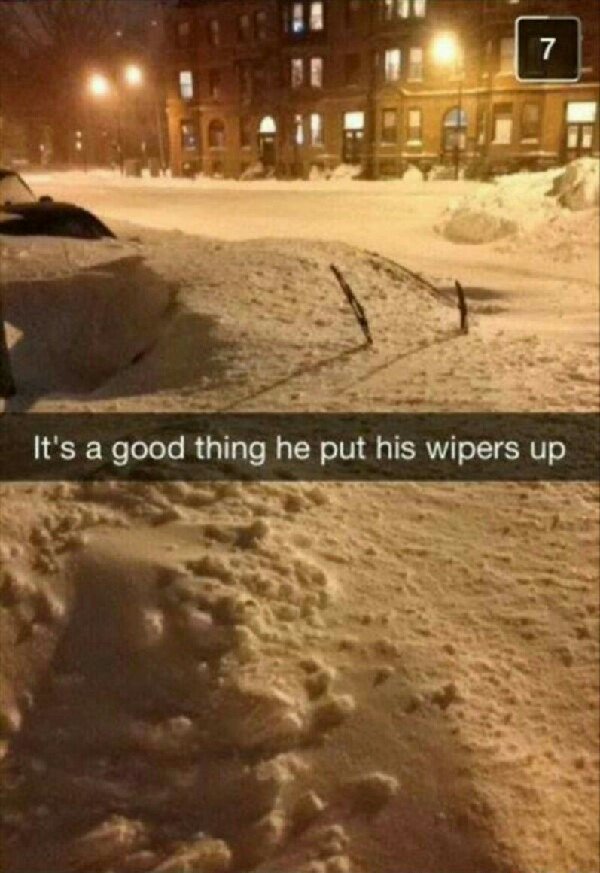 ---
Wall of Snow
Further east in Japan, this picture shows you the power of winter, and of course, the usual Japanese efficiency and dedication. Clearing snow in the winter requires a lot of effort, especially after a heavy snowstorm. Yet the Japanese handled it flawlessly - we are talking about 60 feet of snow cleared, plowed to the side. This is impressive.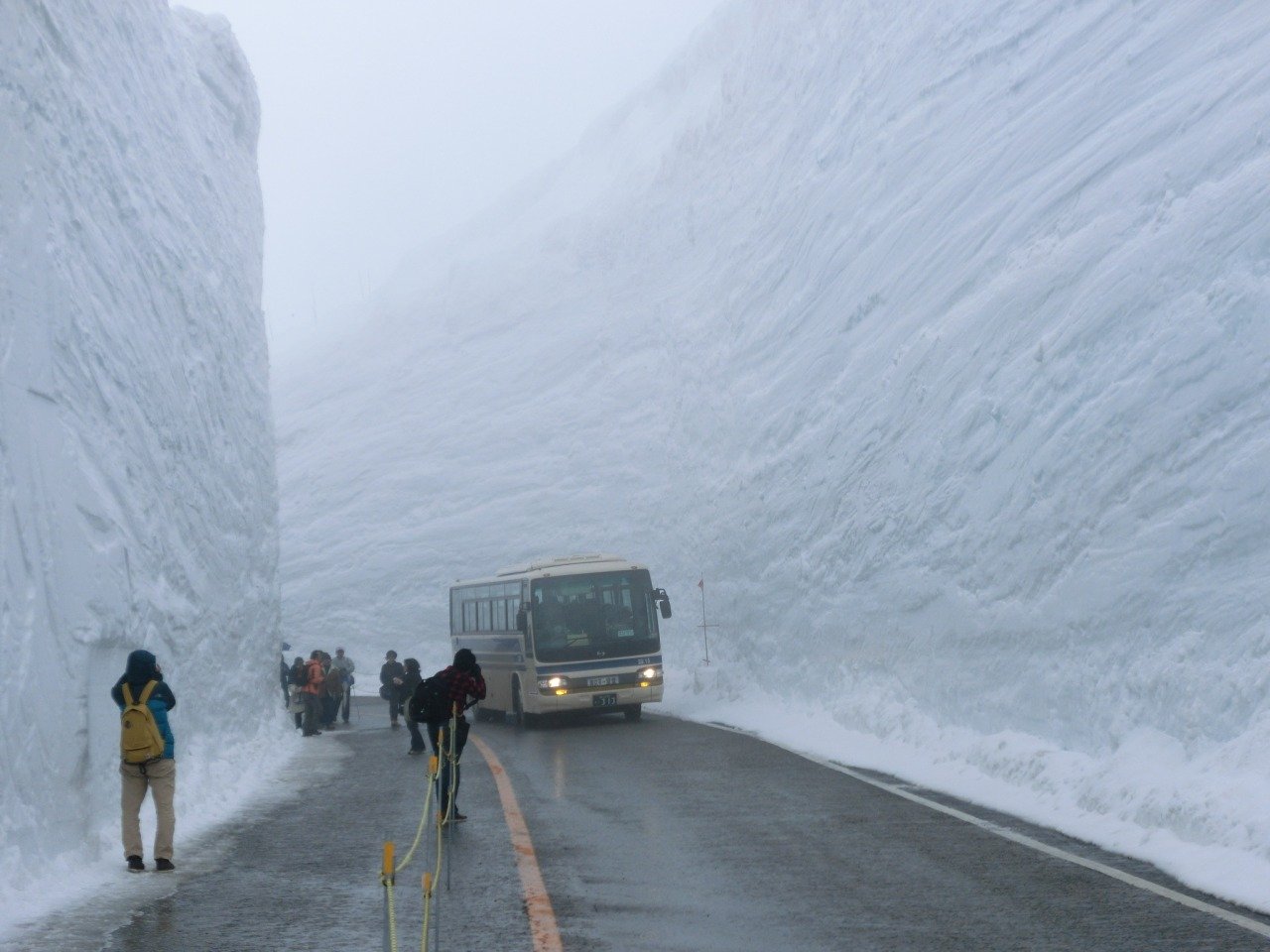 ---
Snow Tunnel
Canada is notorious for the heavy snow in the winter - after all, it is a country up in the north, all the way to the arctic circle. Here is a train going through the plowed up snow. But imagine being on the train - all you see is snow, just a meter away from you… impressive.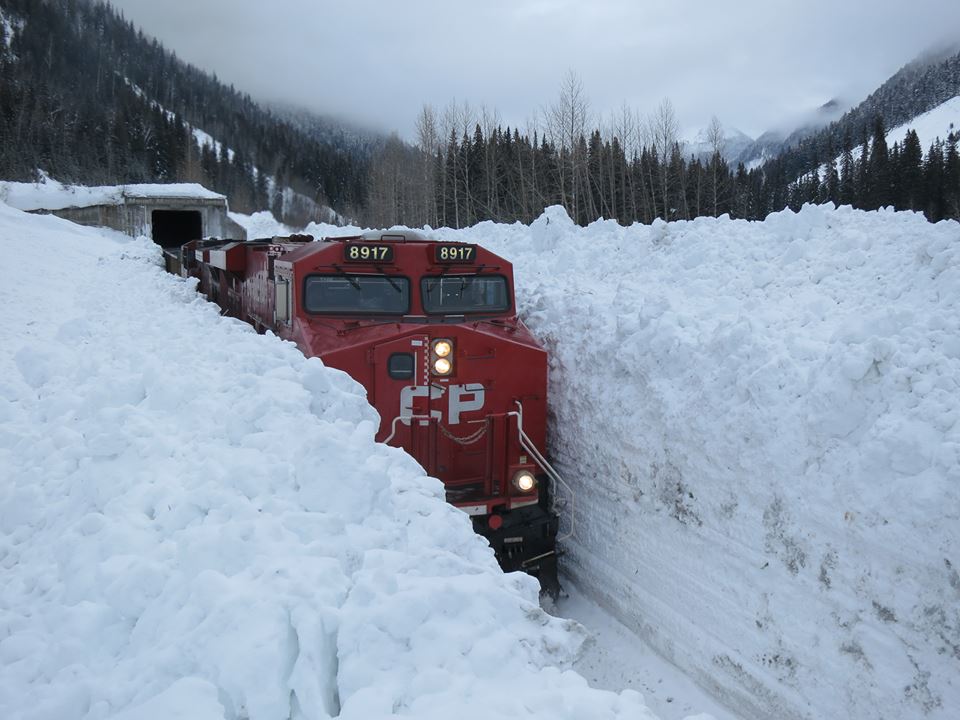 ---
Snow Snail
Warning: this is actually illegal in a lot of places, as it's bound by law to remove the snow on your vehicle if it's more than 3 inches. This also poses danger to other drivers on the road. Honestly, we don't understand why the owner didn't just scrape off the snow before driving - late for work perhaps?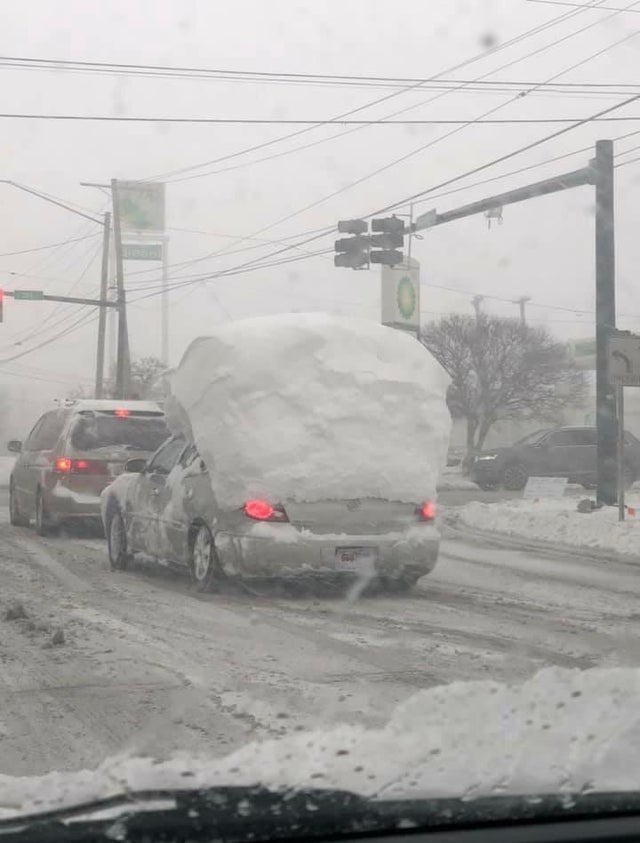 ---
Frozen Beard
If you live in a very, very cold country, you would probably know it is a bad idea to spill your drink. Water might freeze instantly in certain regions if it is cold enough. Here is an example of what can potentially happen if you happen to spill your drink - it will stick to a surface, and turn to ice instantly. Result? You look like an anime character.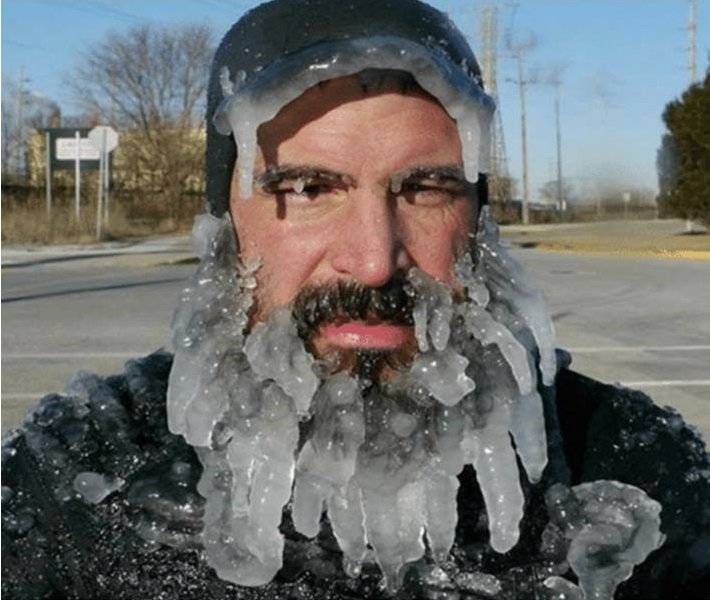 ---
Knock Knock
Knock knock, why's there? It's snow. Not Jon Snow, just snow. In the winter, sometimes you are greeted with snow, literally. However, this is still pretty insane if you ask us, snow covering the entire door. Good news - it's snow, and unless it melts, normally it does not get into the house. It just requires a lot of work to clear it up.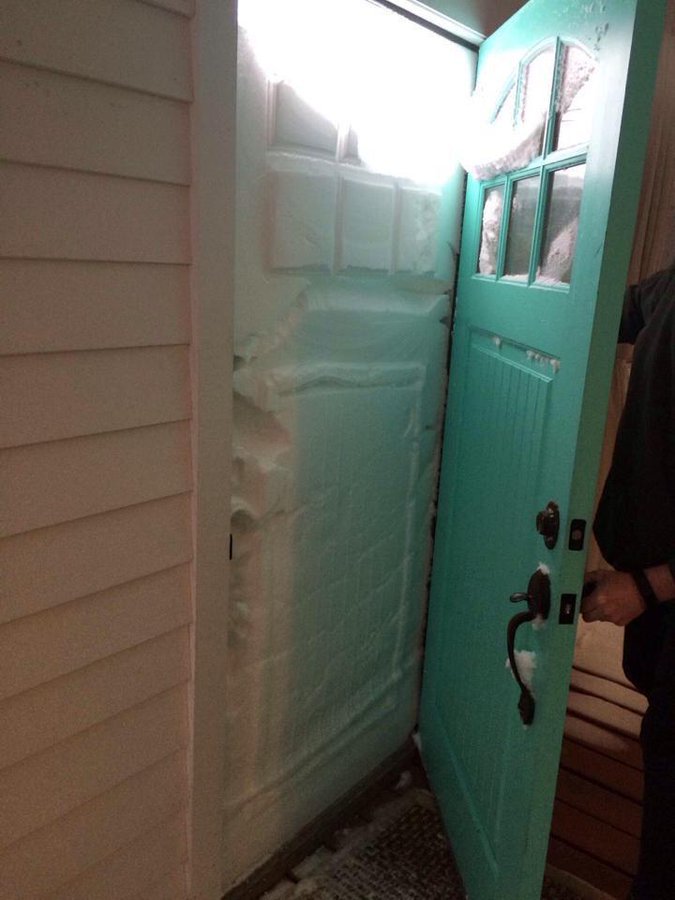 ---
Norwegian Snow
Countries up north will understand this picture. This picture was taken in Norway, after clearing the snow - now, assuming the person is of average height, say… 5 ft 7; the wall is roughly 4 times his height, which means it's probably around 22 feet tall. Well, at least now the cars can go through.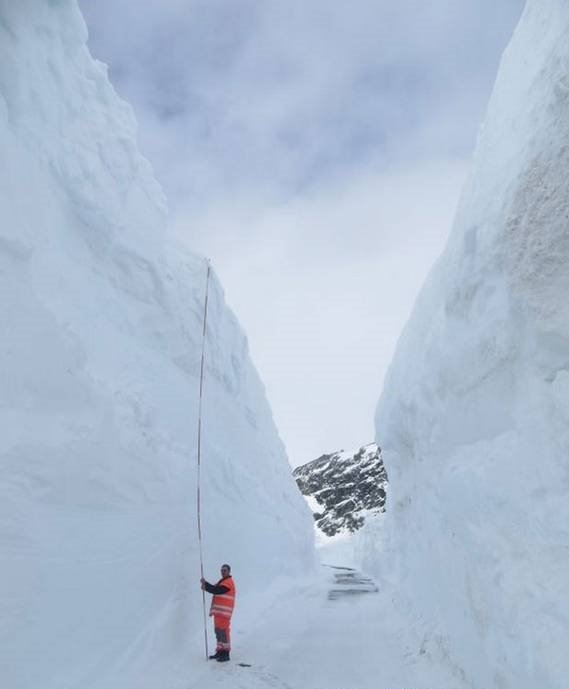 ---
Cat Trap
Rule number one is a cat - if it fits, it sits. Cats somehow really like confined spaces, as you will often see them choosing a box over a comfortable bed. And this poor kitty here ended up in a small snow cave, we hope he is fine though - generally, cats don't like cold weather, and they prefer warm places.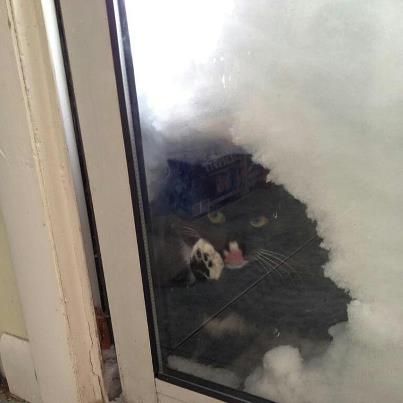 ---
Ice Molds
Another thing about winter in a cold country - once it gets cold enough, the water vapor condenses and becomes ice, which then adheres to the surface of things. Think of it as the ice molds you have in the freezer, but this time, it's outdoor. And you can find something like this everywhere, from telephones to parking meters.
---
Ultimate Dad Joke
Think a dad joke is cringy enough? What about a granddad joke? Yes, apparently they do exist, even manifesting in physical forms. As Reddit user widesupermonkey explained, his/her grandfather has been putting up this sign up during the winter for the last five years. I wonder if anyone actually showed up and asked about the snow.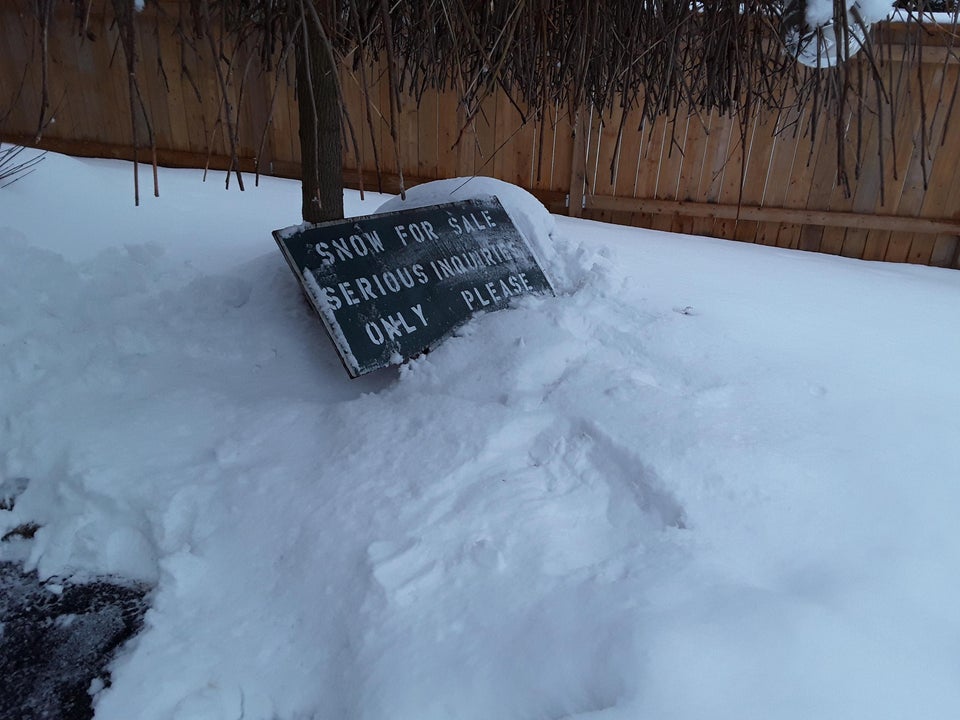 ---
Snow From The North Country
What does this look like? Gorgeous right? Wanna go hiking there? Nope, you cannot do that - because it is not a mountain, but a pile of snow in Minnesota. Ah...Minnesota, where the winds hit heavy on the borderline… where river freezes and summer ends. As Reddit user darktymes pointed out - this is just the parking lot snow pile.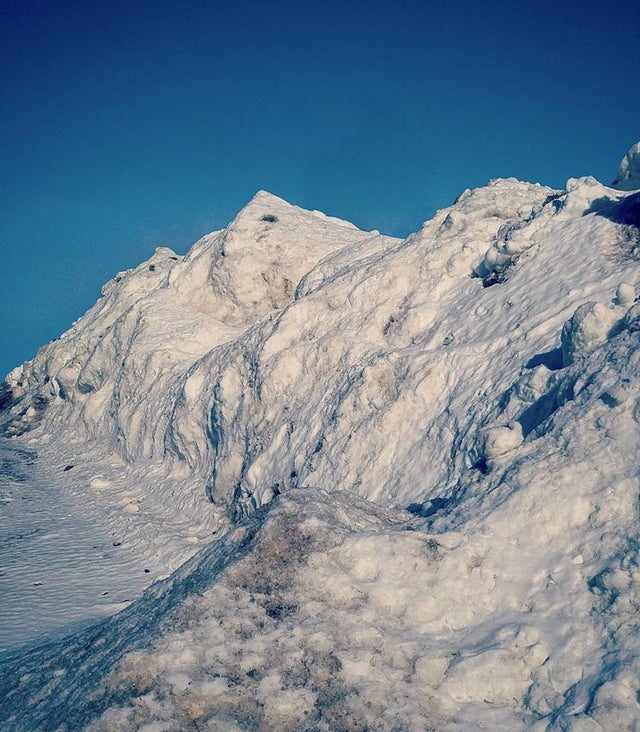 ---
Iced Spongebob
Art is everywhere they say...well, I cannot disagree here. It makes sense if you think about it though, cause when it snows, everything becomes a piece of canvas. I do remember my guilty pleasure of writing different messages on someone else's windshield when it snows...or drawing something on it at times. This time it is Spongebob.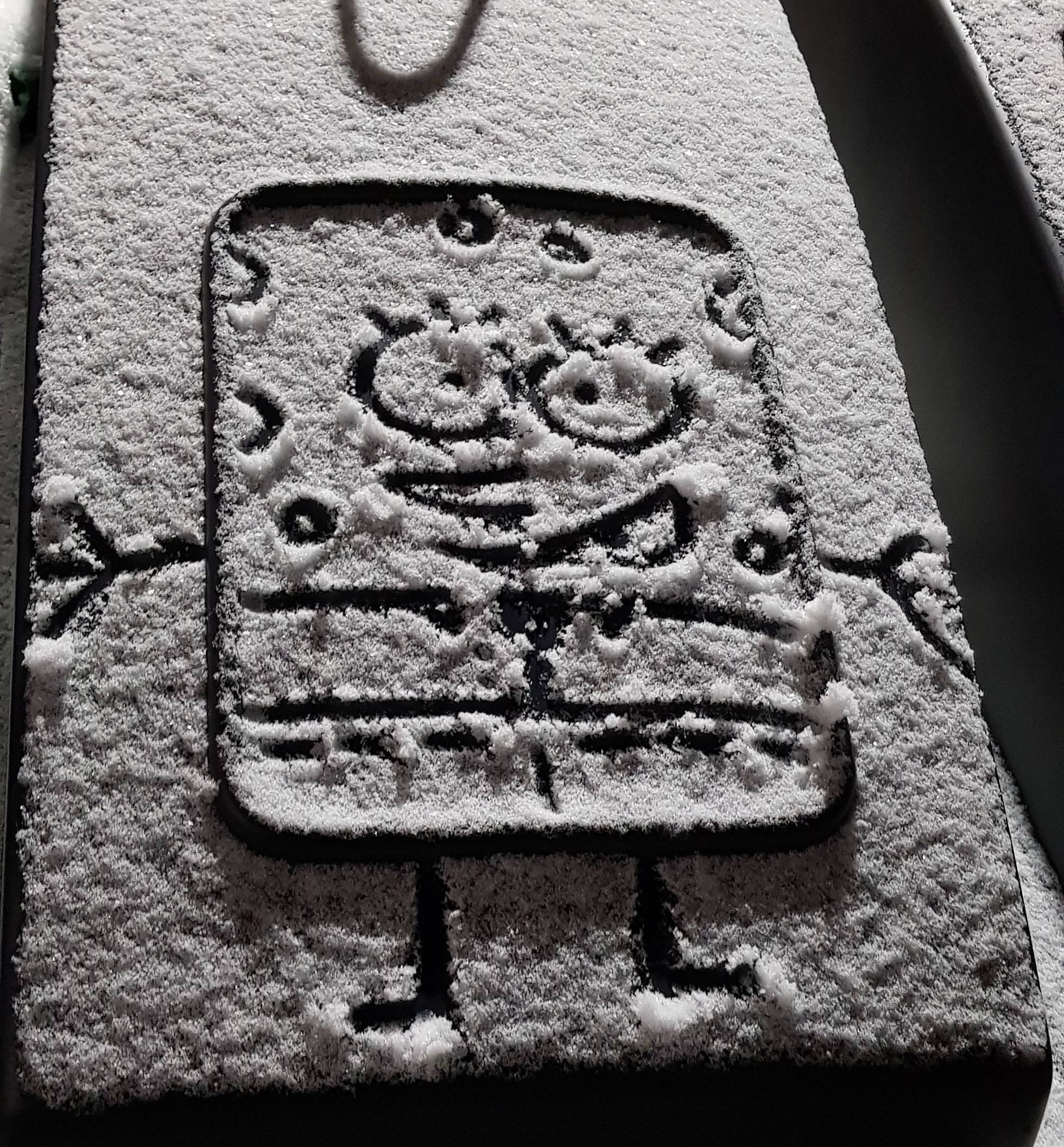 ---
Ripped Snow White
A literal Snow White, and the seven mid...dwarfs I mean. Building a snowman takes quite a bit of effort, and building seven of them requires a lot of effort to be honest. So someone must have spent quite some time building them - however, the proportion of the Snow White is a bit strange - it seems like she's been hitting the gym for the last year.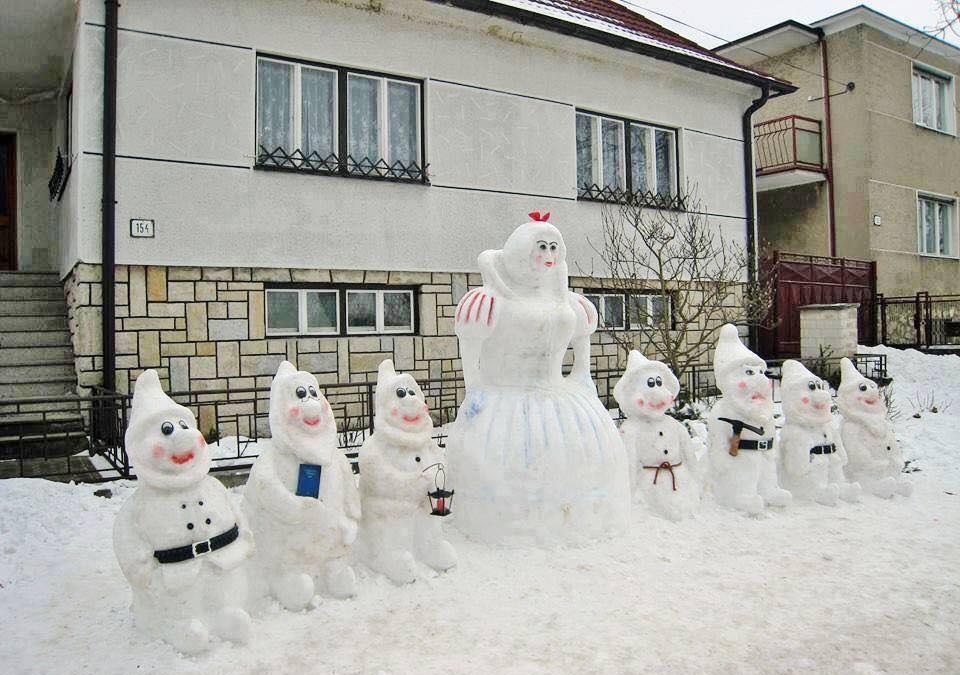 ---
More Minimalism
Snow turns everything into a piece of canvas...but sometimes, less is more, and things are just beautiful the way they are, where you don't even have to spend effort creating something - you just need a keen eye. For example, this. A serene picture that was taken in Krakow, Poland, look at all those contrasts and movements.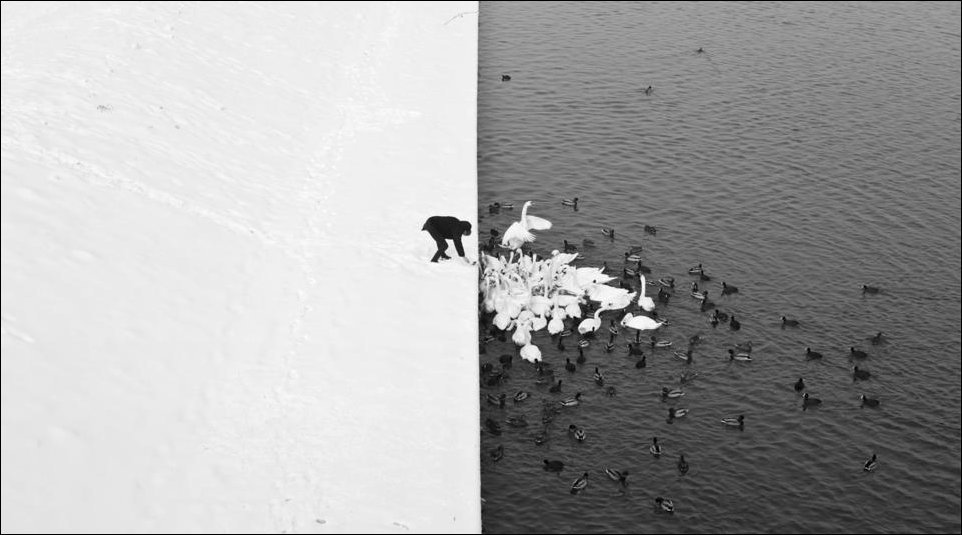 ---
Frozen Ramen
Some people like frozen ramen, but I don't think this is what they are referring to. If you have tried putting ramen in the fridge and take it out, you would realize that it is rock solid and you can't eat it. And this is exactly what happens here, where the temperature outside is so low, the ramen freezes, even able to hold the fork in place.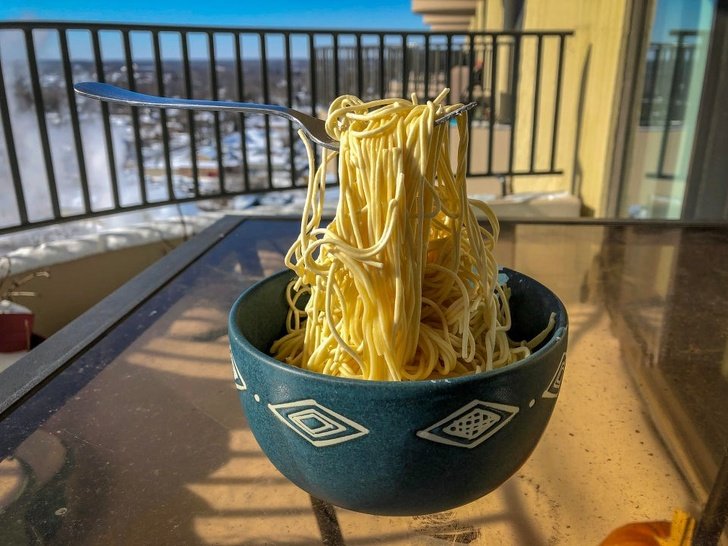 ---
May The Vitamin D Be With You
One of those things that are lacking in cold countries is Vitamin D, where your body produces automatically under sunlight...where there is none in the winter in a cold country. And to receive sunlight to produce Vitamin D, you need to expose your palms and lower legs...I guess?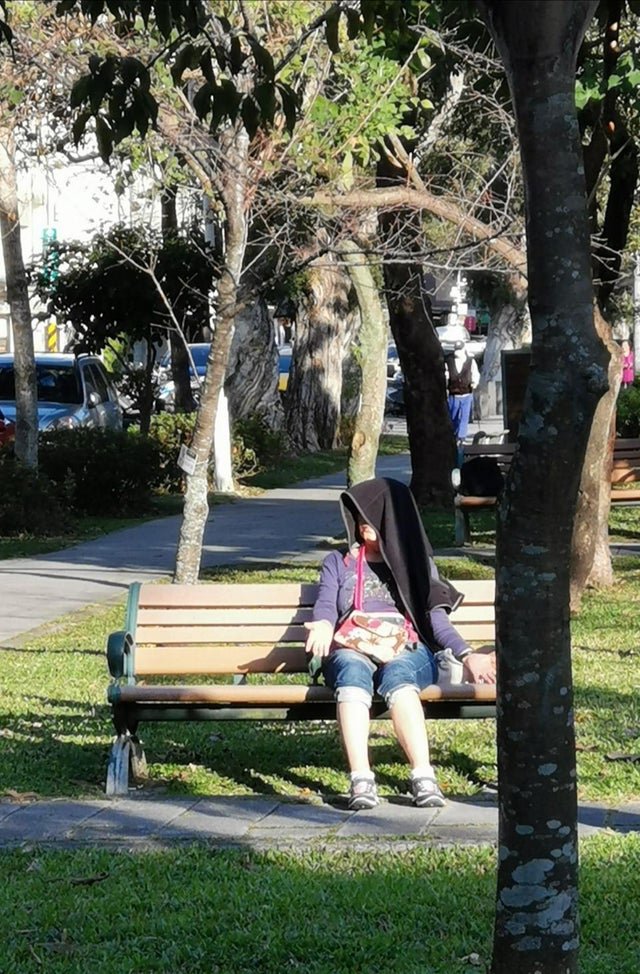 ---
Dad Joke
I will just paste the title from the Reddit user DianWithoutTheE himself. "My dad made this. Sent me a pic and said, "it has snow tires." Dad jokes never get old...but the snow probably does. Still, that is some impressive work though, build an entire car out of the snow - I cannot even build a snowman myself.
---
Accident Happens
Another struggle living in a cold country - for those who live in a cold country, I will just paste the advice here from Reddit user Egobeliever "Ensure that all water fixtures are turned off in the house. Make sure that water comes out of the hose spigot. Do this to ensure there is no ice behind the spigot. If water does not flow freely from the spigot, immediately shut off the water supply to the house." The more you know, eh?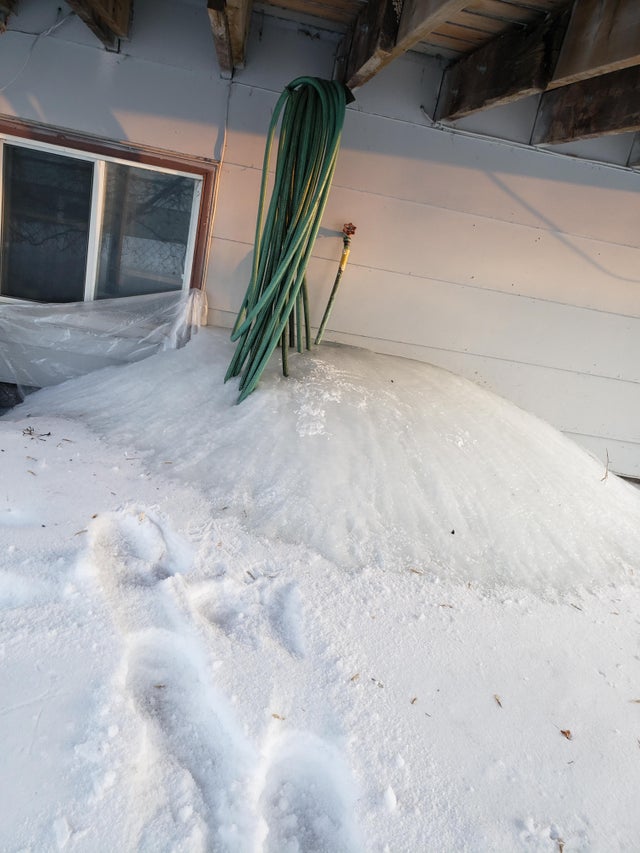 ---
IsCarFace?
The snow sculpture is a piece of art by itself. And this brought it to the next level. I could have never imagined someone being able to create something like that. Imagination is the only limitation, and I guess that is true. Instead of a snowman, you build a snowman out of a car - hey, that's genius.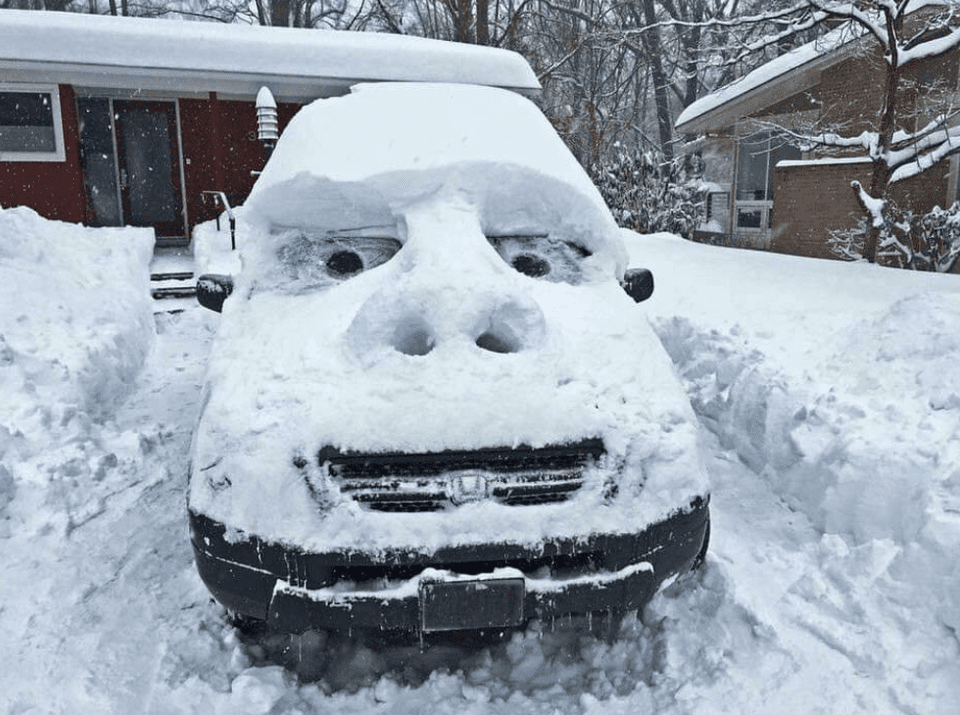 ---
Howdy Neighbor? 
I don't know how I should react if I see a polar bear, scared probably? But the photographer seems to be pretty calm about it. Okay - you don't really see this normally, even if you live in a cold country unless you live in Alaska or something. So good news - next time when you go on vacation, you don't have to worry about polar bears...unless you go to Alaska.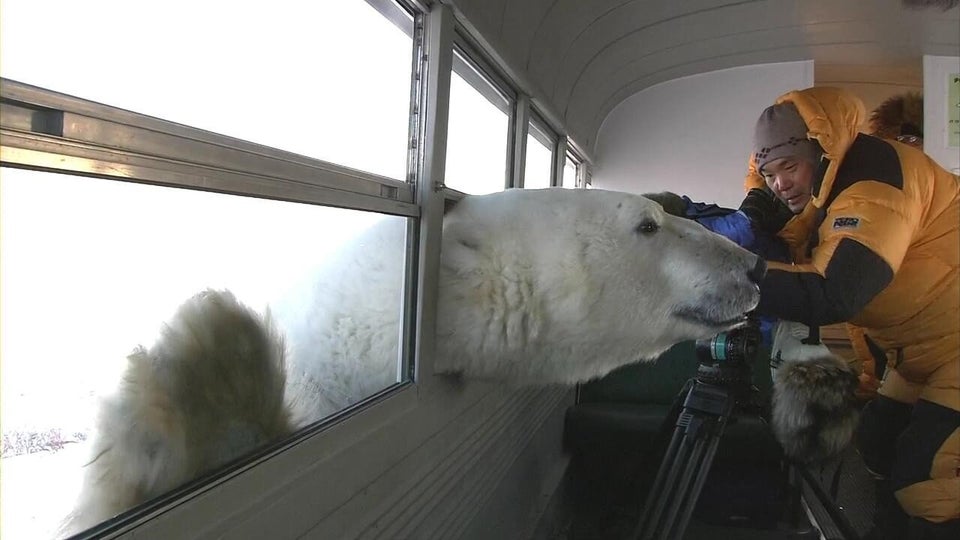 ---
Winter Yogurt
I don't really know what language this is - but that doesn't matter, the point in this picture is that they actually have different nutrient tables for summer and winter, on a box of yogurt. How could that be? As it turns out, cows were fed differently in summer and winter, which contributes to the different nutrients in the dairy products.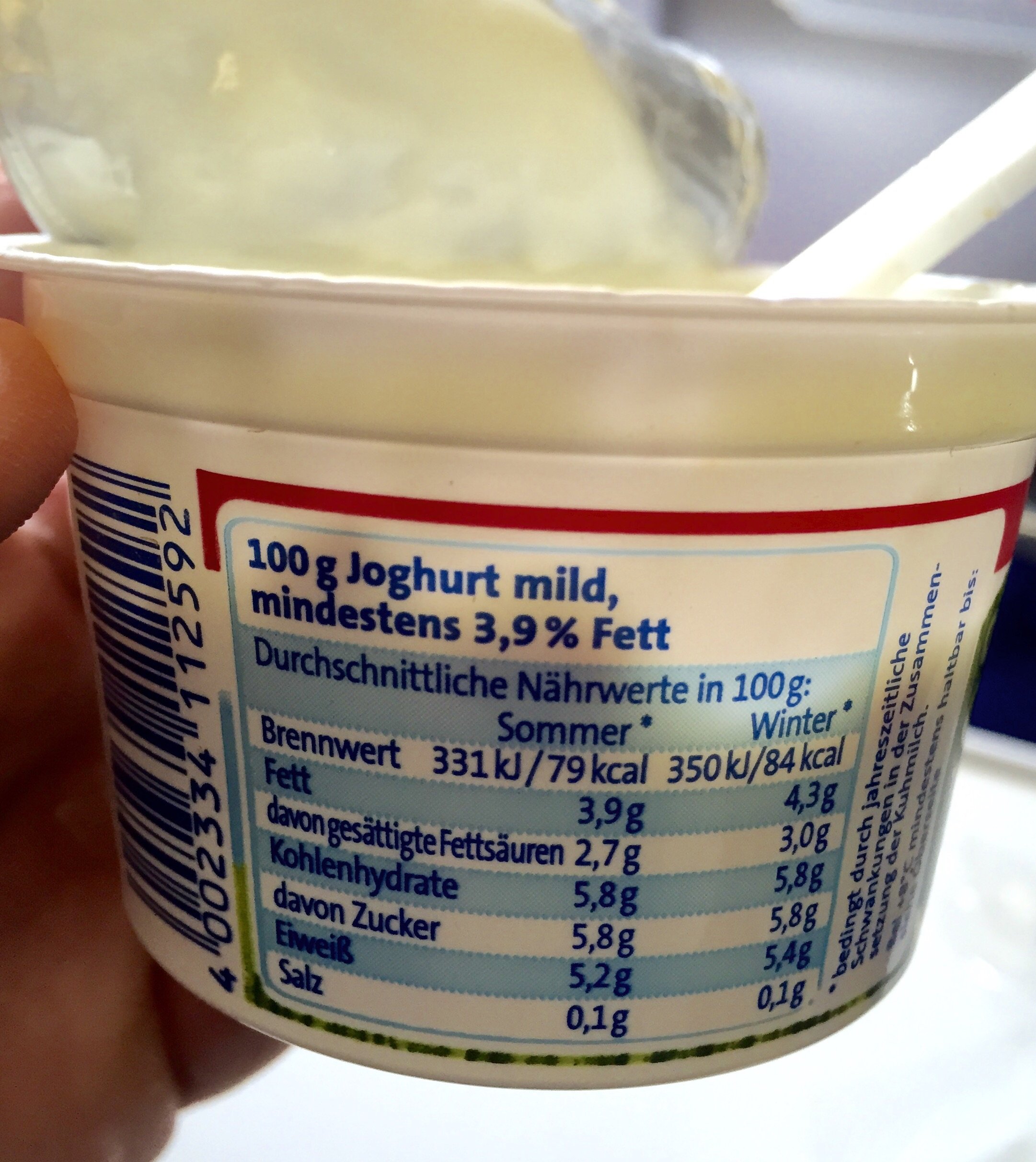 ---
For Strong Winds
What happens when you mix ice and wind together in cold, freezing winters? This. While it is common to see ice spikes coming down from the top of the buildings, give it some strong winds and you will find pieces of art like this. As beautiful as it is, it still poses danger to pedestrians if it was a tall building. On a side note, the cat there doesn't seem all that impressed.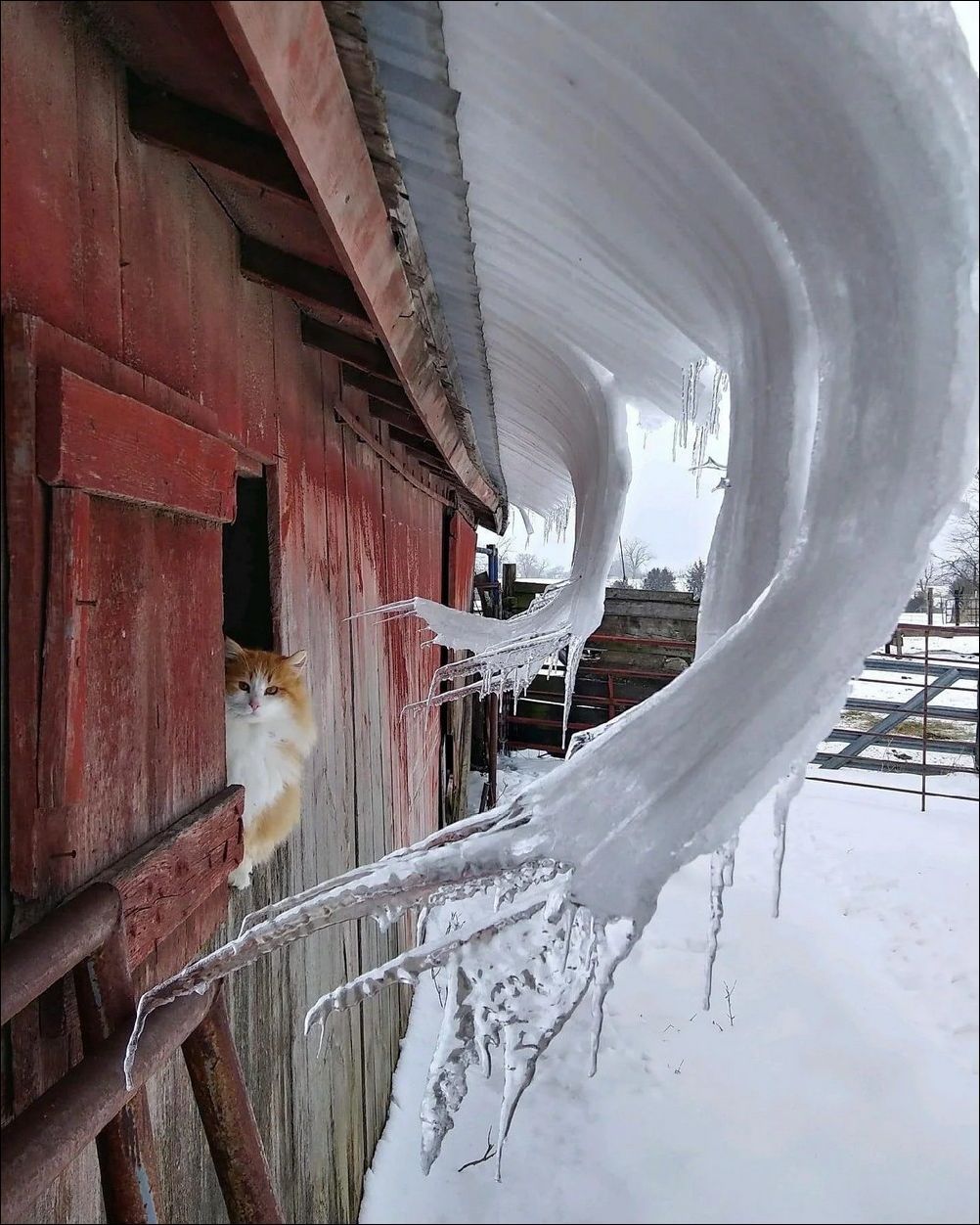 ---
Minimalist Lost
Drawing with snow is a great time to spend the winter - at least you get to get out for some fresh air. Here Redditor brycebaker replicated a piece of art…or more like a meme, to be honest. Does that look familiar to you? It makes sense if it doesn't. If it does, you probably spent too much time on the internet. In case you don't know what it is - it's not a loss really. (Heh heh)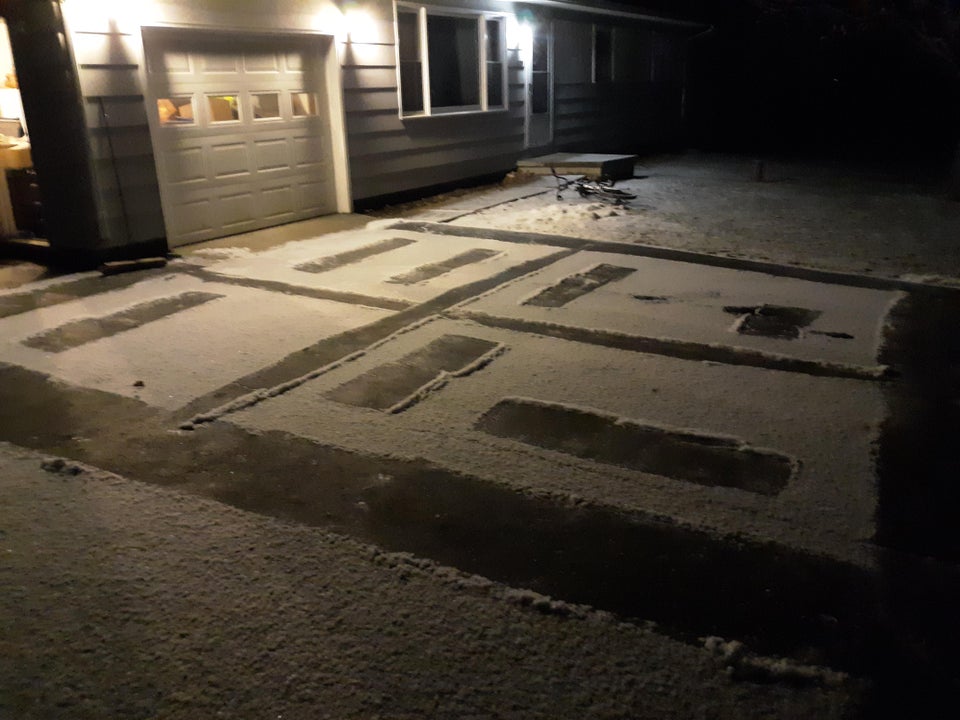 ---
Stuck in the Middle With You
This is literally Iceland, well, like literally. An isolated island nation up north, it can certainly get cold in the winter. To give you a perspective on how intense it is, Redditor Donys1 posted this picture of him, stuck in Iceland. The snow is at least a meter high, with snow blowing all over. We oughta wonder though - who rides a bike in the winter?