Quirky Winter Photos
If you are from a warm country without the need of experiencing cold winters - good for you, I guess. But I gotta say, you are also missing out. Yes, the wind might chill you to the bone, and the snow can be tall enough to build a tunnel if your hands can still function, that is… but it is also a fun time, all those snow fights and snowboarding… and of course, the funny sights that can only be seen in winter. We have compiled a list of those for you - if you are from a cold country, you might find them familiar, if not - you are in for a good laugh.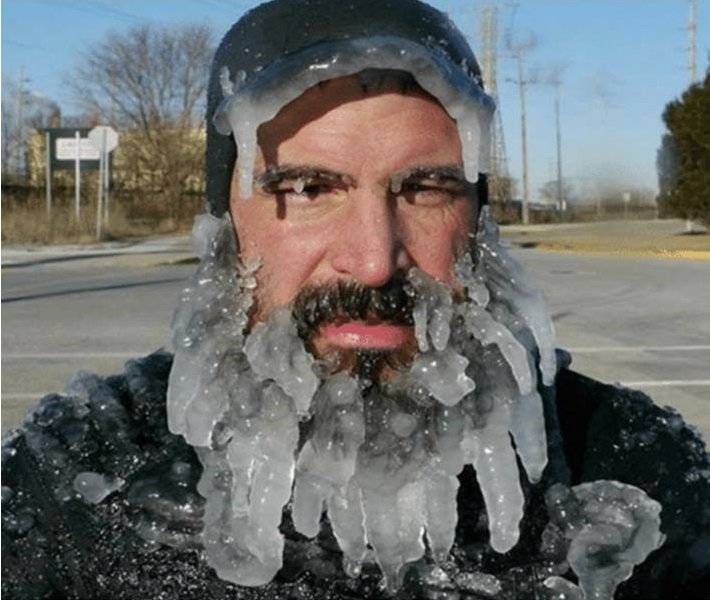 ---
Cold Toilet
People always complain about the toilet seats being cold in the winter. Do you know what else is colder here? The toilet itself! Long story short, it was so cold that the water tank freezes, where it was pressurized and busted the tank itself. While it would be a nightmare when it melts, I am more concerned about the owner's pipes in the house...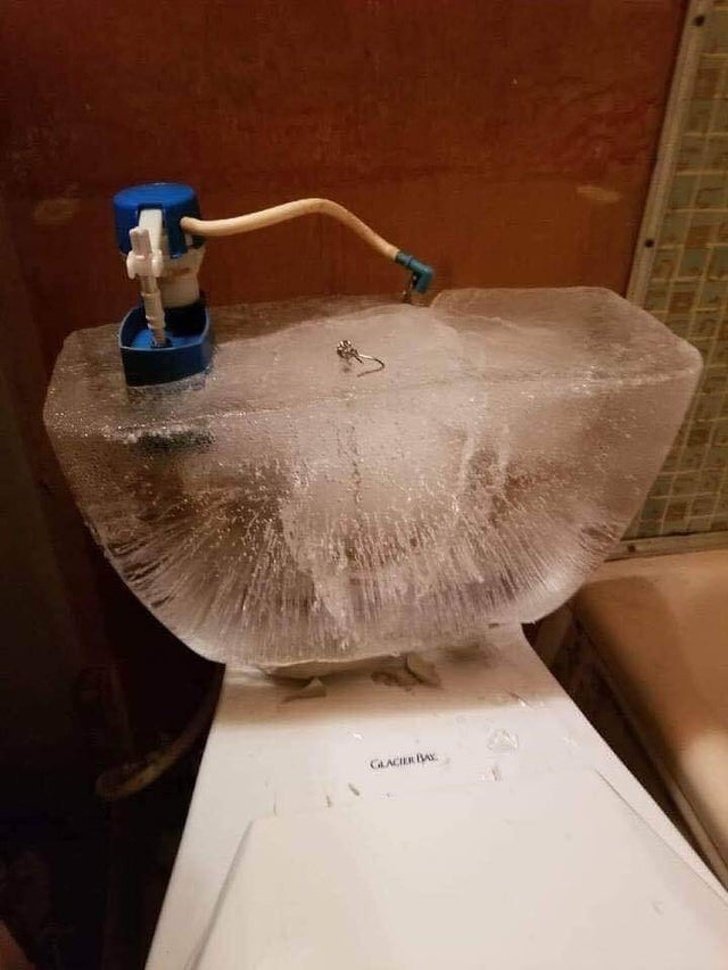 ---
Snowy Burden
We gotta give credits to whoever built this house - that is quite some snow, and we bet it isn't light at all. A poorly built house would collapse in no time. We have to wonder though, how did the snow get there? How heavily did it snow? That snow is at least five to six meters tall! We wouldn't risk living in places like that, to be honest.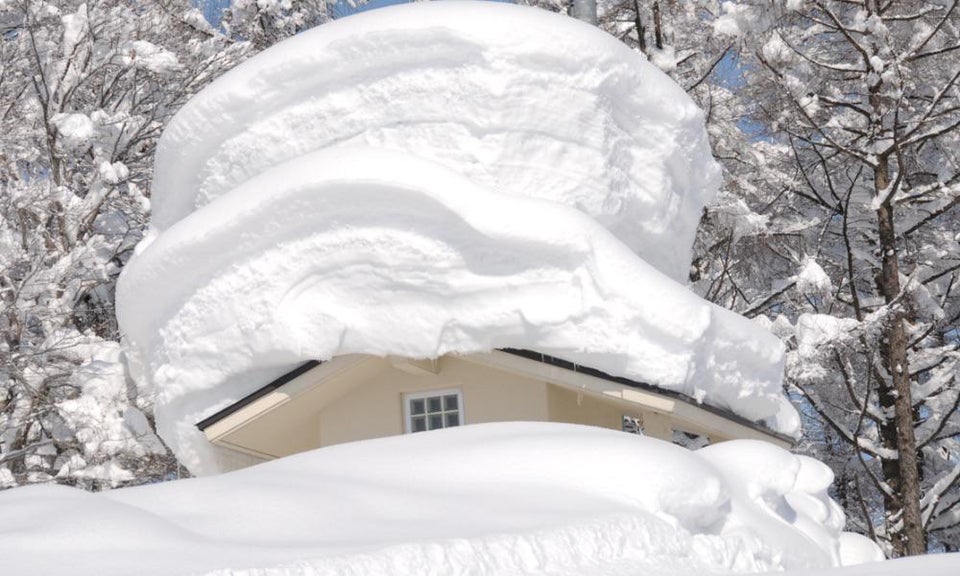 ---
Natural Fridge
When life gives you snow, you can make a lot of things out of it. Apart from snowmen, you can also use them as a fridge. Okay, that depends on how heavily it snows, of course. But it seems that for some countries, it does snow heavily, where the entire window is covered with snow. Solution? Put things there. We hope no one will be plowing the snow though, or else you can say goodbye to those foods.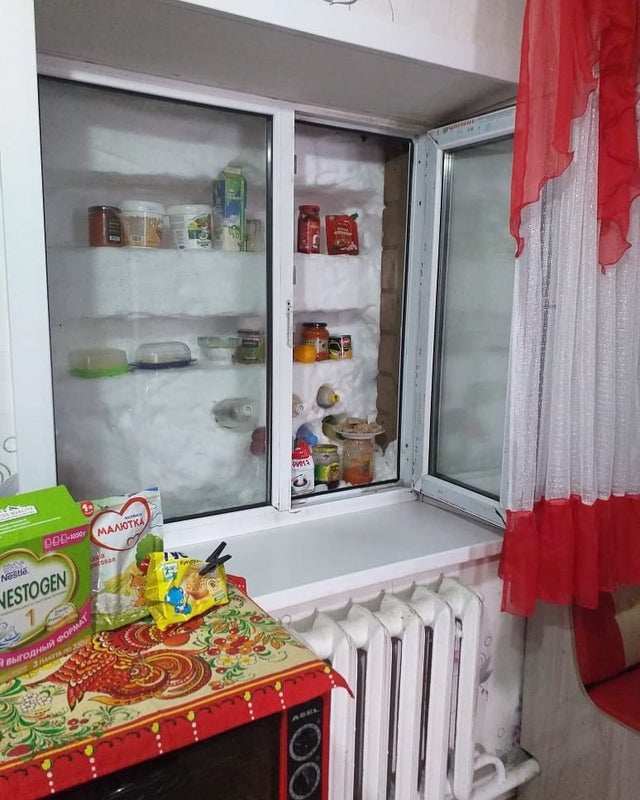 ---
Remember to Put Those Wipers Up!
It is a common habit of car owners to put their wipers up in the winter - there are a few reasons behind it, such as not having them stuck to the windshield, and it also helps clean off the snow. However, one of the functions that have been overlooked is this - if you live in a country with heavy snow - your car can be buried underneath the snow overnight. And this, albeit unintentionally, can help you locate your car.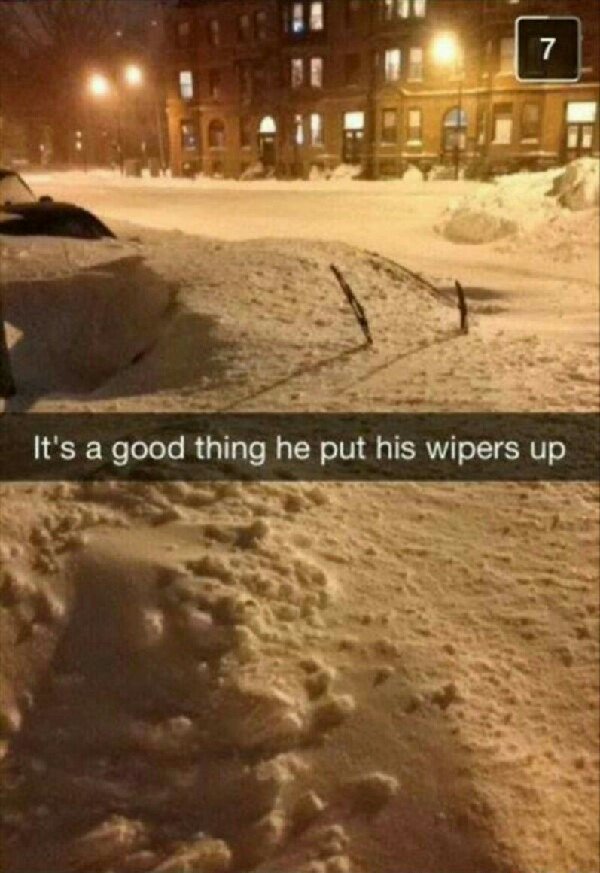 ---
Wall of Snow
Further east in Japan, this picture shows you the power of winter, and of course, the usual Japanese efficiency and dedication. Clearing snow in the winter requires a lot of effort, especially after a heavy snowstorm. Yet the Japanese handled it flawlessly - we are talking about 60 feet of snow cleared, plowed to the side. This is impressive.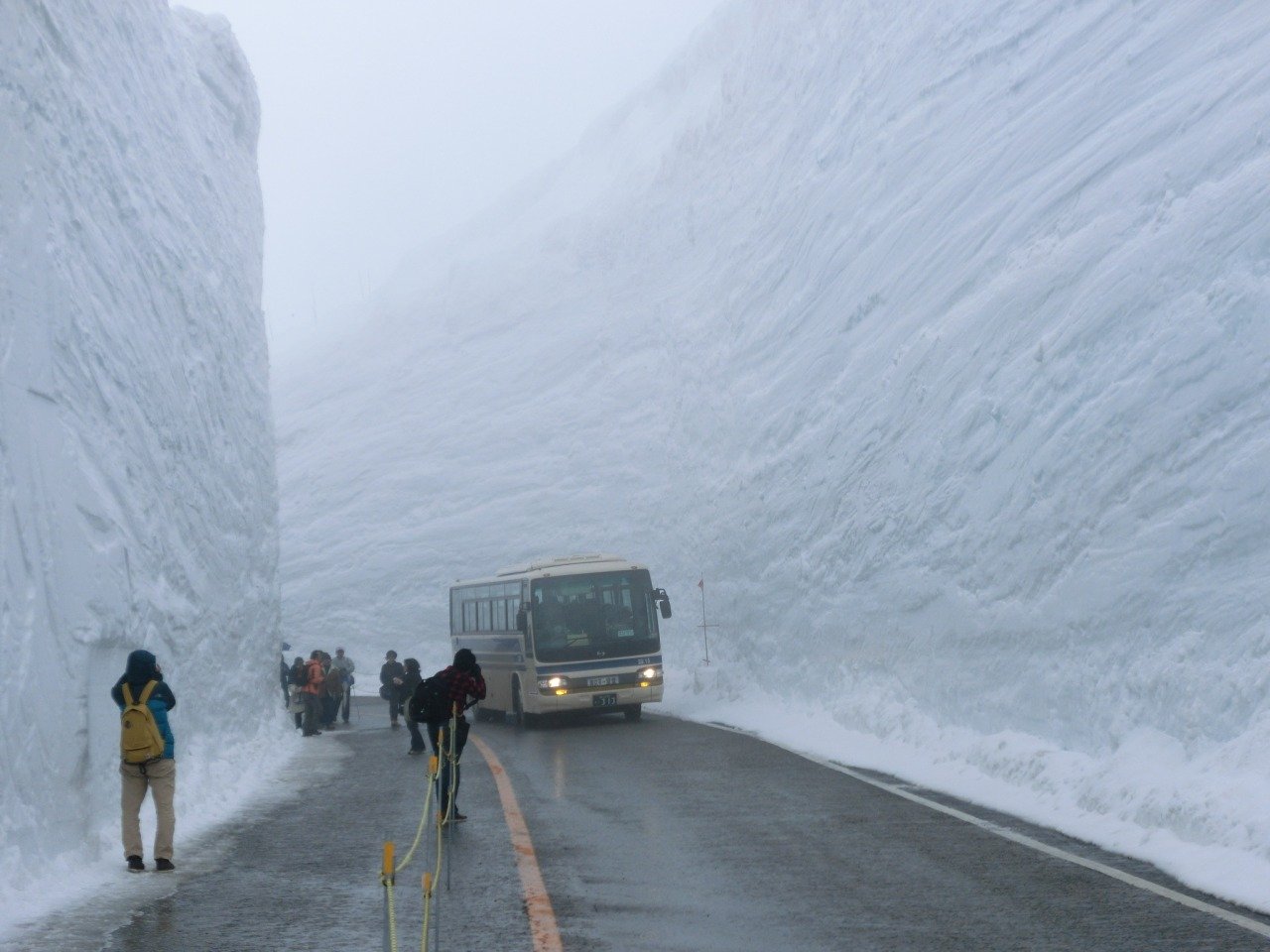 ---
Snow Tunnel
Canada is notorious for the heavy snow in the winter - after all, it is a country up in the north, all the way to the arctic circle. Here is a train going through the plowed up snow. But imagine being on the train - all you see is snow, just a meter away from you… impressive.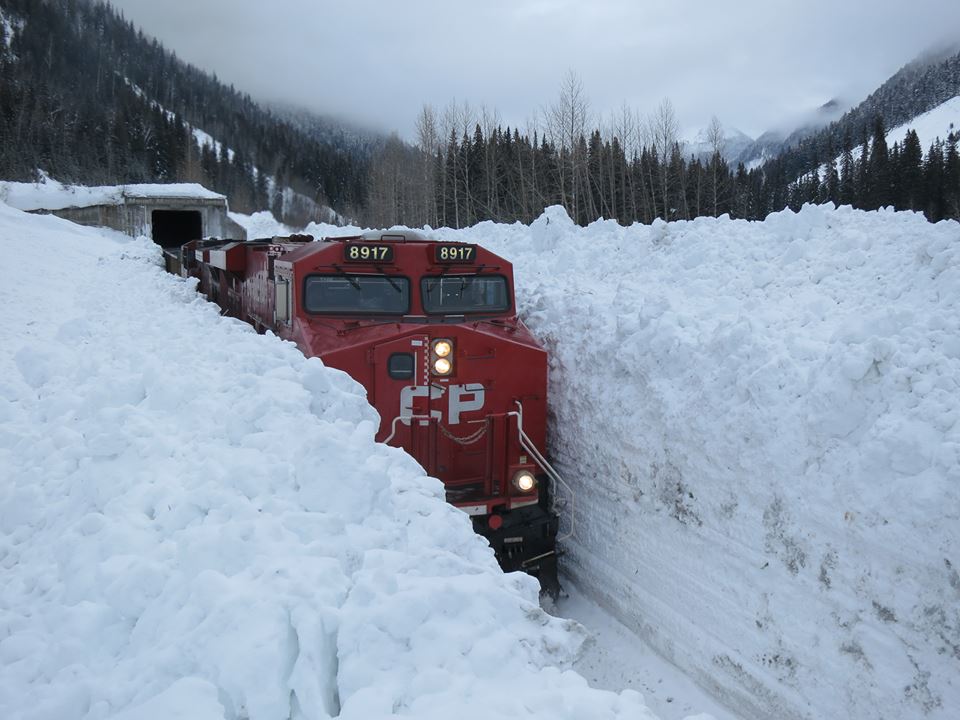 ---
Snow Snail
Warning: this is actually illegal in a lot of places, as it's bound by law to remove the snow on your vehicle if it's more than 3 inches. This also poses danger to other drivers on the road. Honestly, we don't understand why the owner didn't just scrape off the snow before driving - late for work perhaps?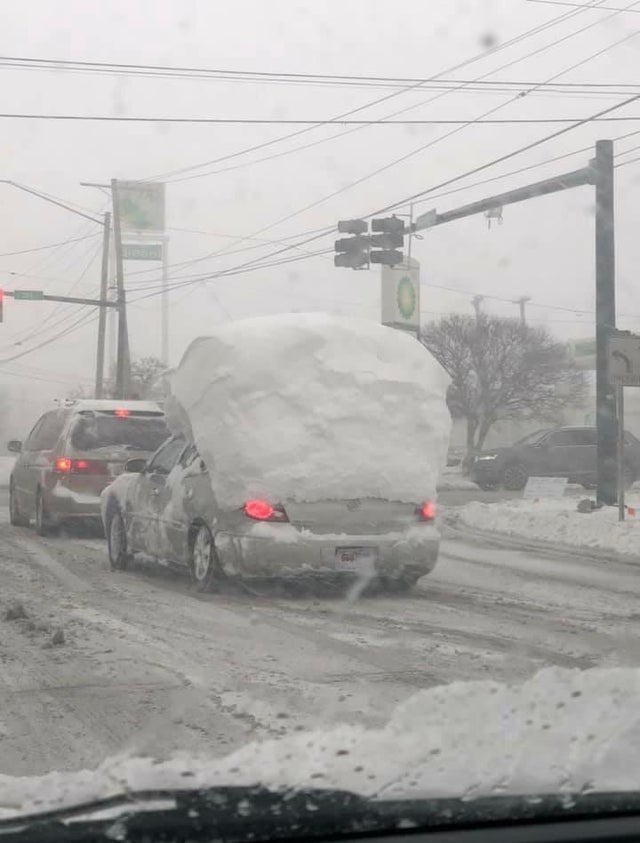 ---
Frozen Beard
If you live in a very, very cold country, you would probably know it is a bad idea to spill your drink. Water might freeze instantly in certain regions if it is cold enough. Here is an example of what can potentially happen if you happen to spill your drink - it will stick to a surface, and turn to ice instantly. Result? You look like an anime character.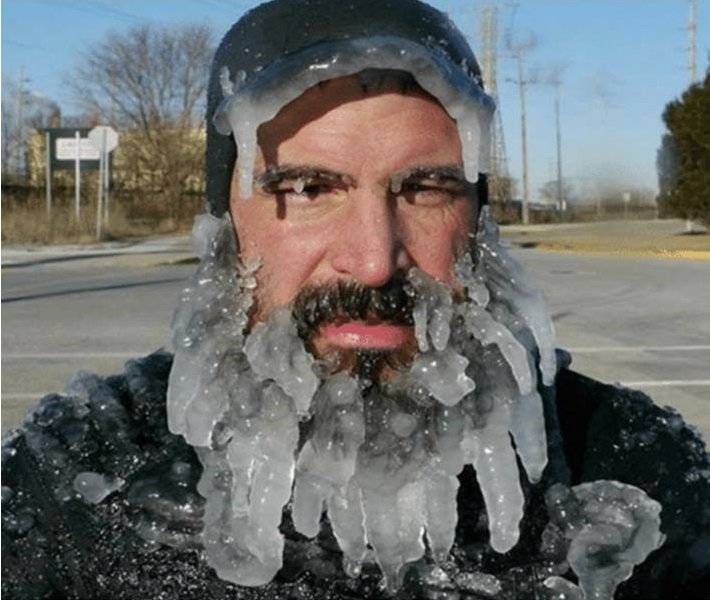 ---
Knock Knock
Knock knock, why's there? It's snow. Not Jon Snow, just snow. In the winter, sometimes you are greeted with snow, literally. However, this is still pretty insane if you ask us, snow covering the entire door. Good news - it's snow, and unless it melts, normally it does not get into the house. It just requires a lot of work to clear it up.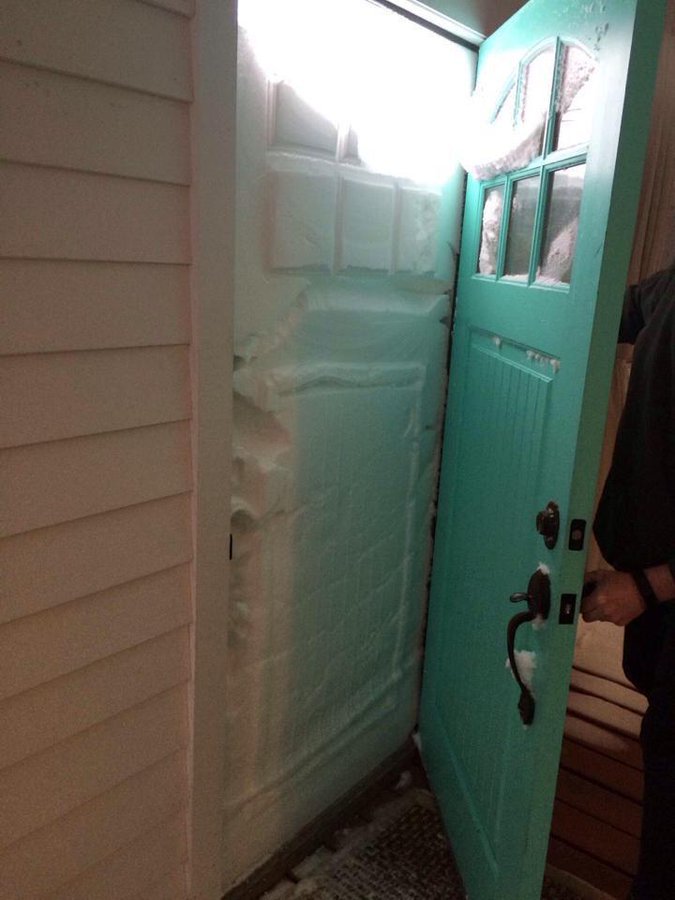 ---
Norwegian Snow
Countries up north will understand this picture. This picture was taken in Norway, after clearing the snow - now, assuming the person is of average height, say… 5 ft 7; the wall is roughly 4 times his height, which means it's probably around 22 feet tall. Well, at least now the cars can go through.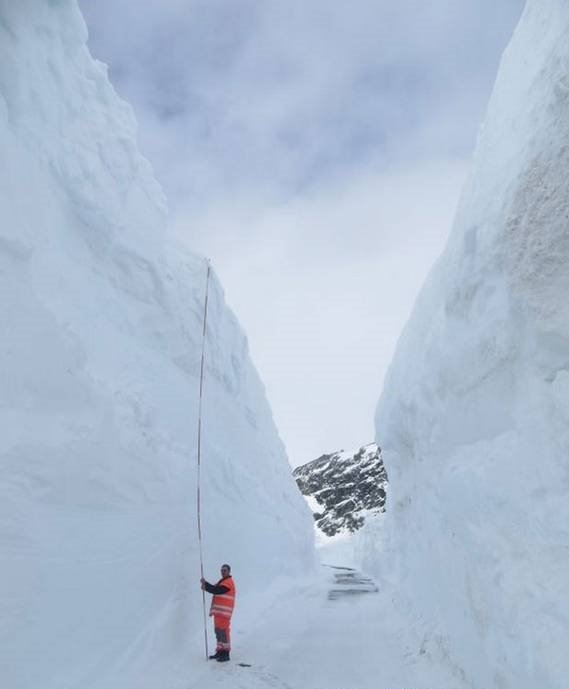 ---
Cat Trap
Rule number one is a cat - if it fits, it sits. Cats somehow really like confined spaces, as you will often see them choosing a box over a comfortable bed. And this poor kitty here ended up in a small snow cave, we hope he is fine though - generally, cats don't like cold weather, and they prefer warm places.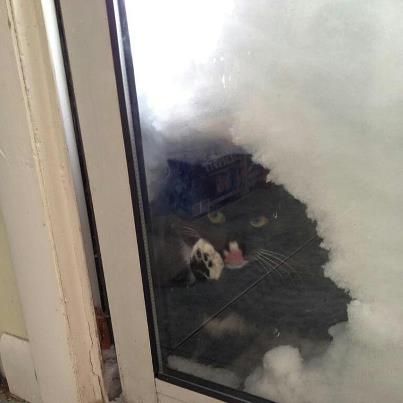 ---
Ice Molds
Another thing about winter in a cold country - once it gets cold enough, the water vapor condenses and becomes ice, which then adheres to the surface of things. Think of it as the ice molds you have in the freezer, but this time, it's outdoor. And you can find something like this everywhere, from telephones to parking meters.
---
Ultimate Dad Joke
Think a dad joke is cringy enough? What about a granddad joke? Yes, apparently they do exist, even manifesting in physical forms. As Reddit user widesupermonkey explained, his/her grandfather has been putting up this sign up during the winter for the last five years. I wonder if anyone actually showed up and asked about the snow.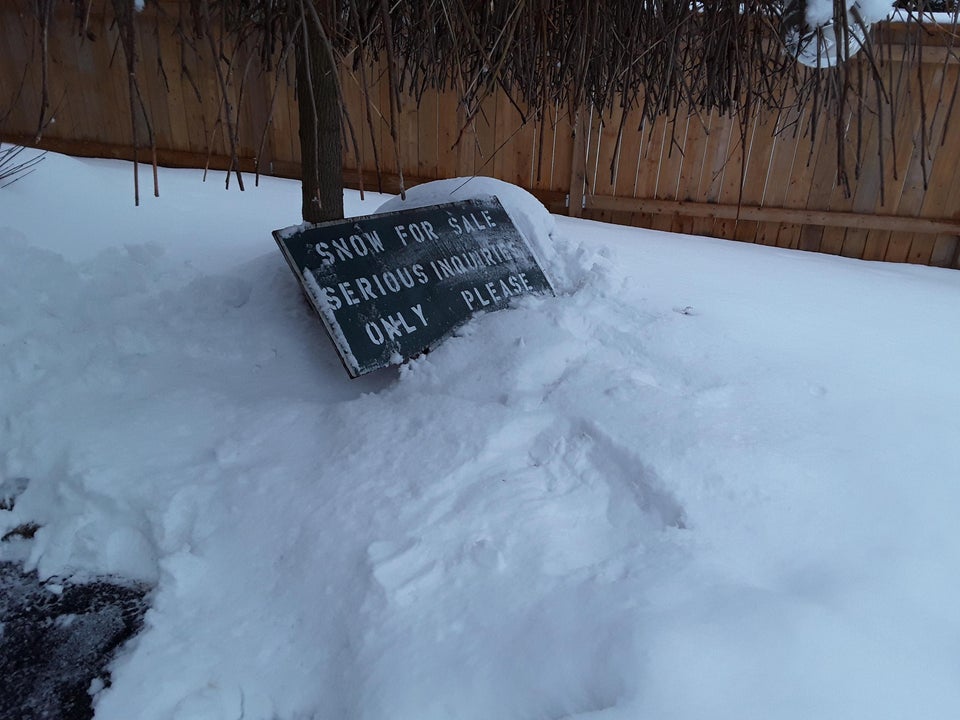 ---
Snow From The North Country
What does this look like? Gorgeous right? Wanna go hiking there? Nope, you cannot do that - because it is not a mountain, but a pile of snow in Minnesota. Ah...Minnesota, where the winds hit heavy on the borderline… where river freezes and summer ends. As Reddit user darktymes pointed out - this is just the parking lot snow pile.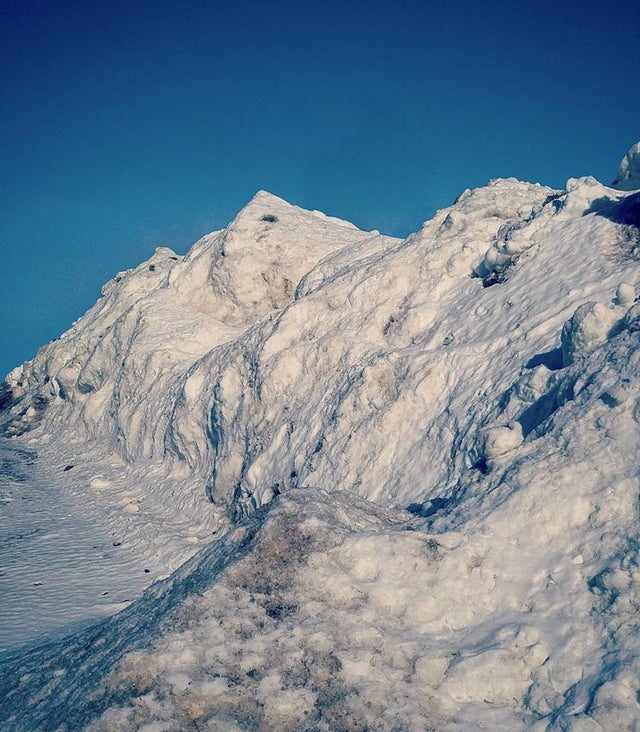 ---
Iced Spongebob
Art is everywhere they say...well, I cannot disagree here. It makes sense if you think about it though, cause when it snows, everything becomes a piece of canvas. I do remember my guilty pleasure of writing different messages on someone else's windshield when it snows...or drawing something on it at times. This time it is Spongebob.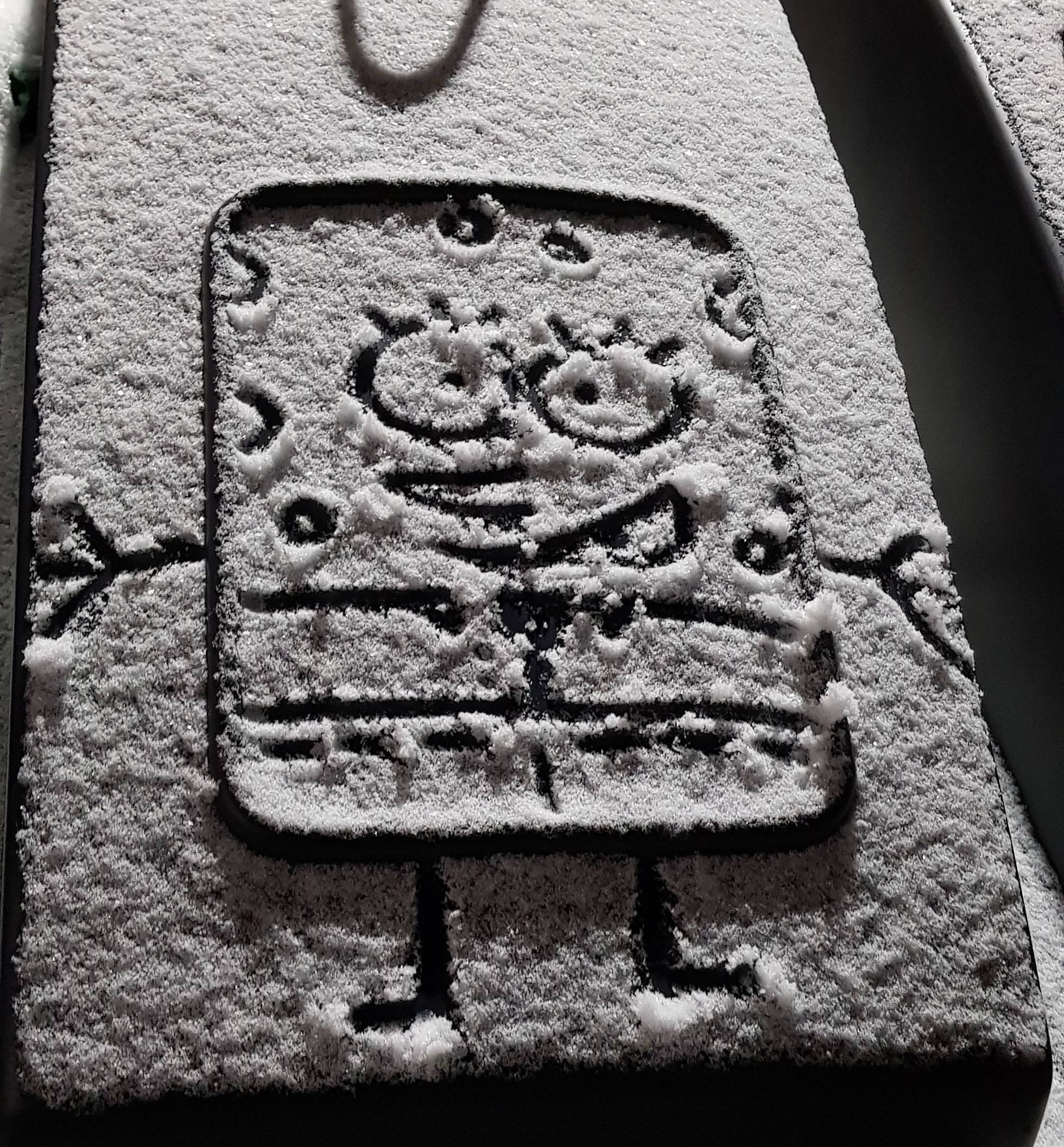 ---
Ripped Snow White
A literal Snow White, and the seven mid...dwarfs I mean. Building a snowman takes quite a bit of effort, and building seven of them requires a lot of effort to be honest. So someone must have spent quite some time building them - however, the proportion of the Snow White is a bit strange - it seems like she's been hitting the gym for the last year.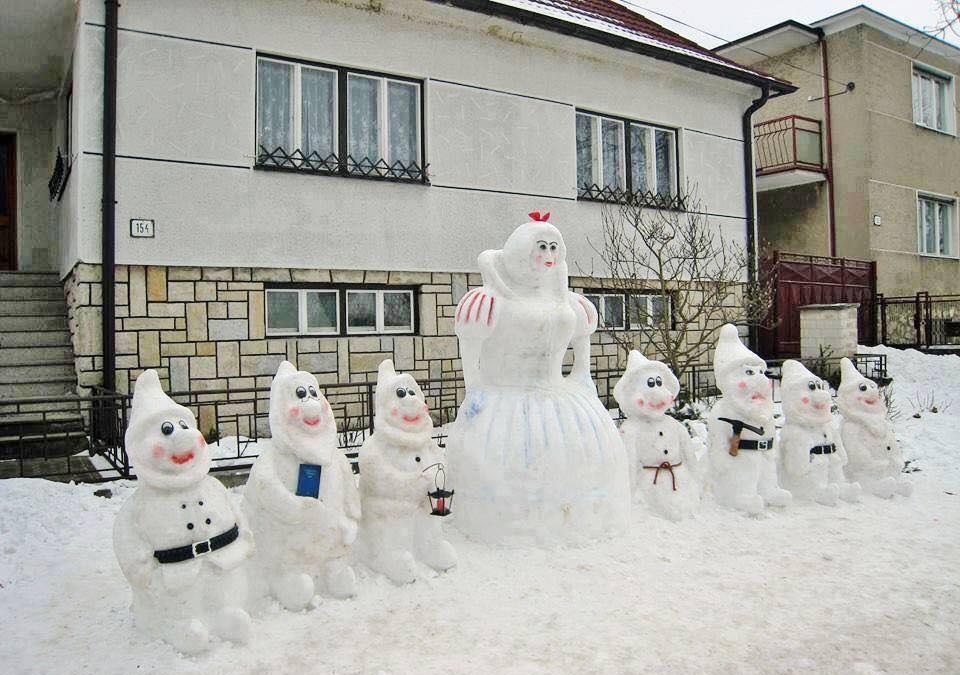 ---
More Minimalism
Snow turns everything into a piece of canvas...but sometimes, less is more, and things are just beautiful the way they are, where you don't even have to spend effort creating something - you just need a keen eye. For example, this. A serene picture that was taken in Krakow, Poland, look at all those contrasts and movements.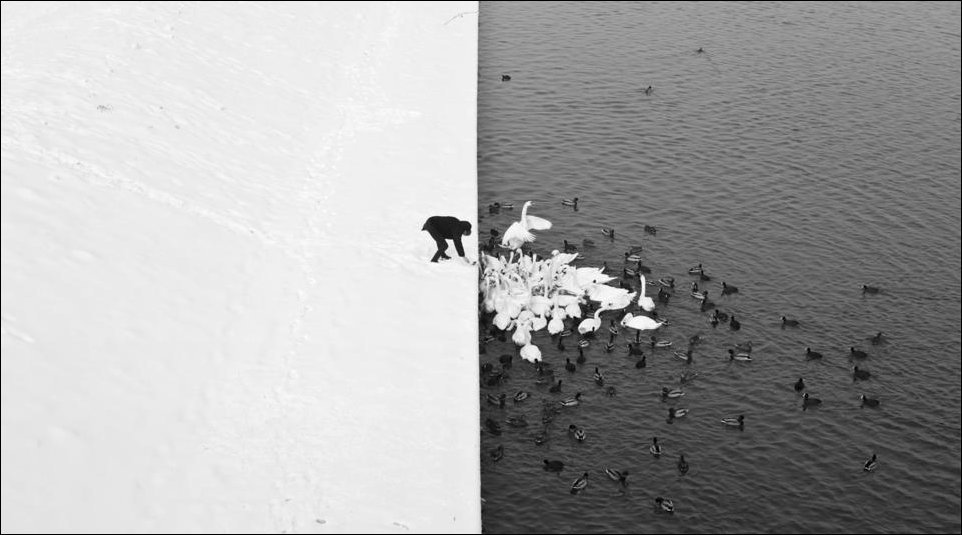 ---
Frozen Ramen
Some people like frozen ramen, but I don't think this is what they are referring to. If you have tried putting ramen in the fridge and take it out, you would realize that it is rock solid and you can't eat it. And this is exactly what happens here, where the temperature outside is so low, the ramen freezes, even able to hold the fork in place.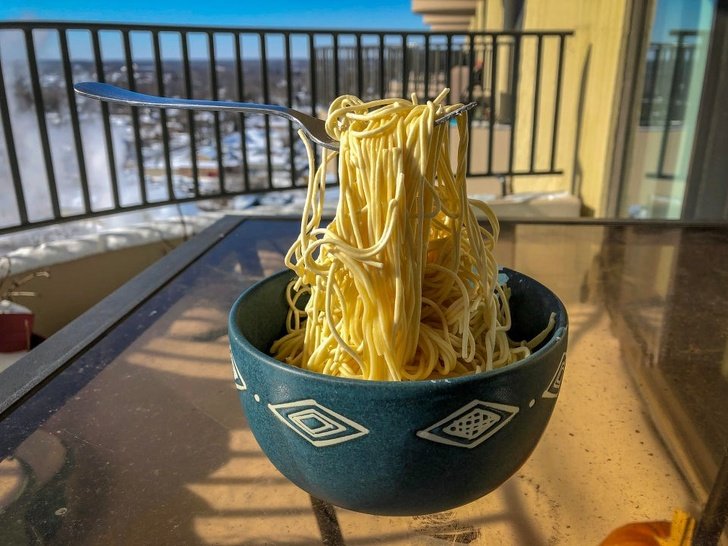 ---
May The Vitamin D Be With You
One of those things that are lacking in cold countries is Vitamin D, where your body produces automatically under sunlight...where there is none in the winter in a cold country. And to receive sunlight to produce Vitamin D, you need to expose your palms and lower legs...I guess?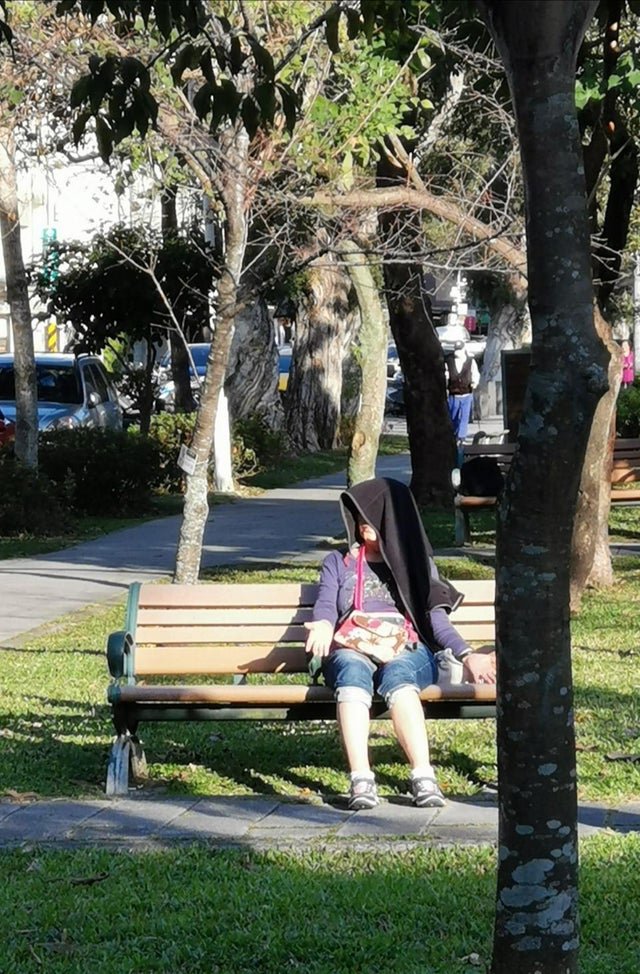 ---
Dad Joke
I will just paste the title from the Reddit user DianWithoutTheE himself. "My dad made this. Sent me a pic and said, "it has snow tires." Dad jokes never get old...but the snow probably does. Still, that is some impressive work though, build an entire car out of the snow - I cannot even build a snowman myself.
---
Accident Happens
Another struggle living in a cold country - for those who live in a cold country, I will just paste the advice here from Reddit user Egobeliever "Ensure that all water fixtures are turned off in the house. Make sure that water comes out of the hose spigot. Do this to ensure there is no ice behind the spigot. If water does not flow freely from the spigot, immediately shut off the water supply to the house." The more you know, eh?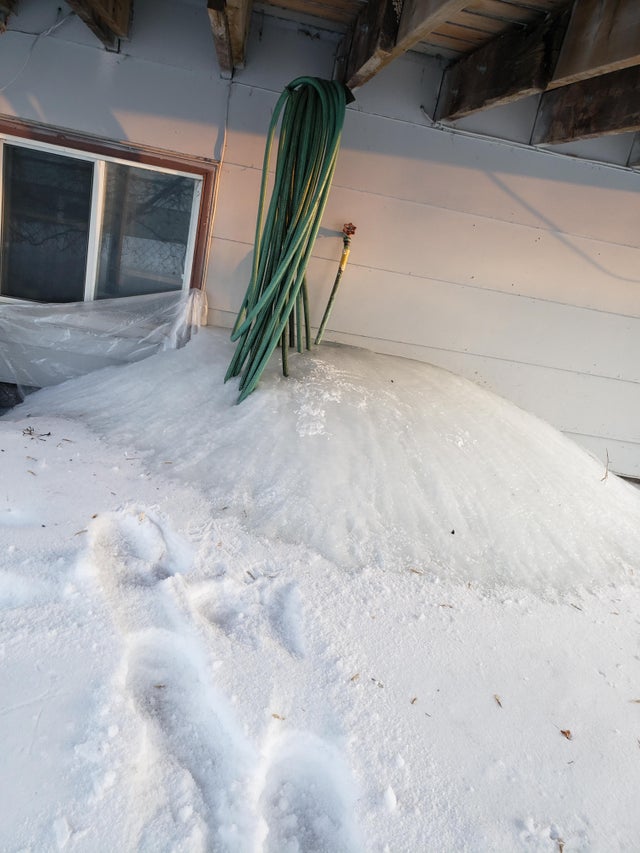 ---
IsCarFace?
The snow sculpture is a piece of art by itself. And this brought it to the next level. I could have never imagined someone being able to create something like that. Imagination is the only limitation, and I guess that is true. Instead of a snowman, you build a snowman out of a car - hey, that's genius.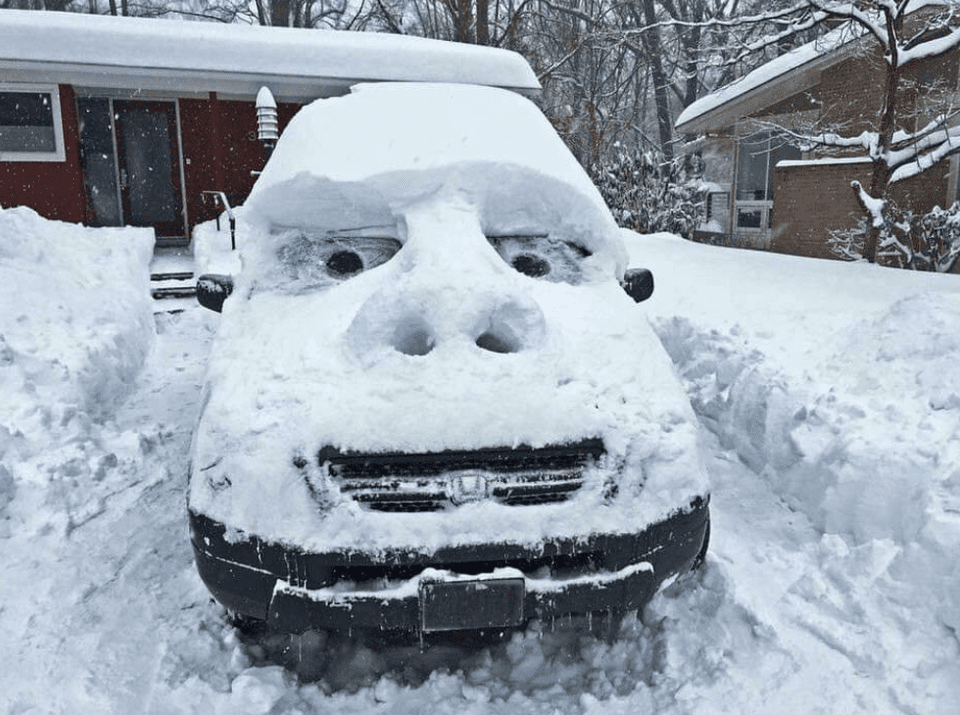 ---
Howdy Neighbor? 
I don't know how I should react if I see a polar bear, scared probably? But the photographer seems to be pretty calm about it. Okay - you don't really see this normally, even if you live in a cold country unless you live in Alaska or something. So good news - next time when you go on vacation, you don't have to worry about polar bears...unless you go to Alaska.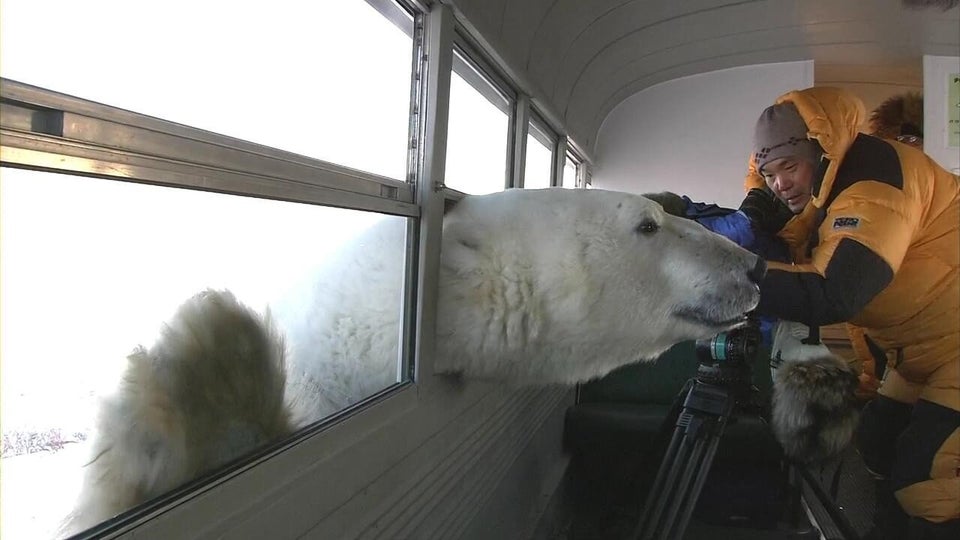 ---
Winter Yogurt
I don't really know what language this is - but that doesn't matter, the point in this picture is that they actually have different nutrient tables for summer and winter, on a box of yogurt. How could that be? As it turns out, cows were fed differently in summer and winter, which contributes to the different nutrients in the dairy products.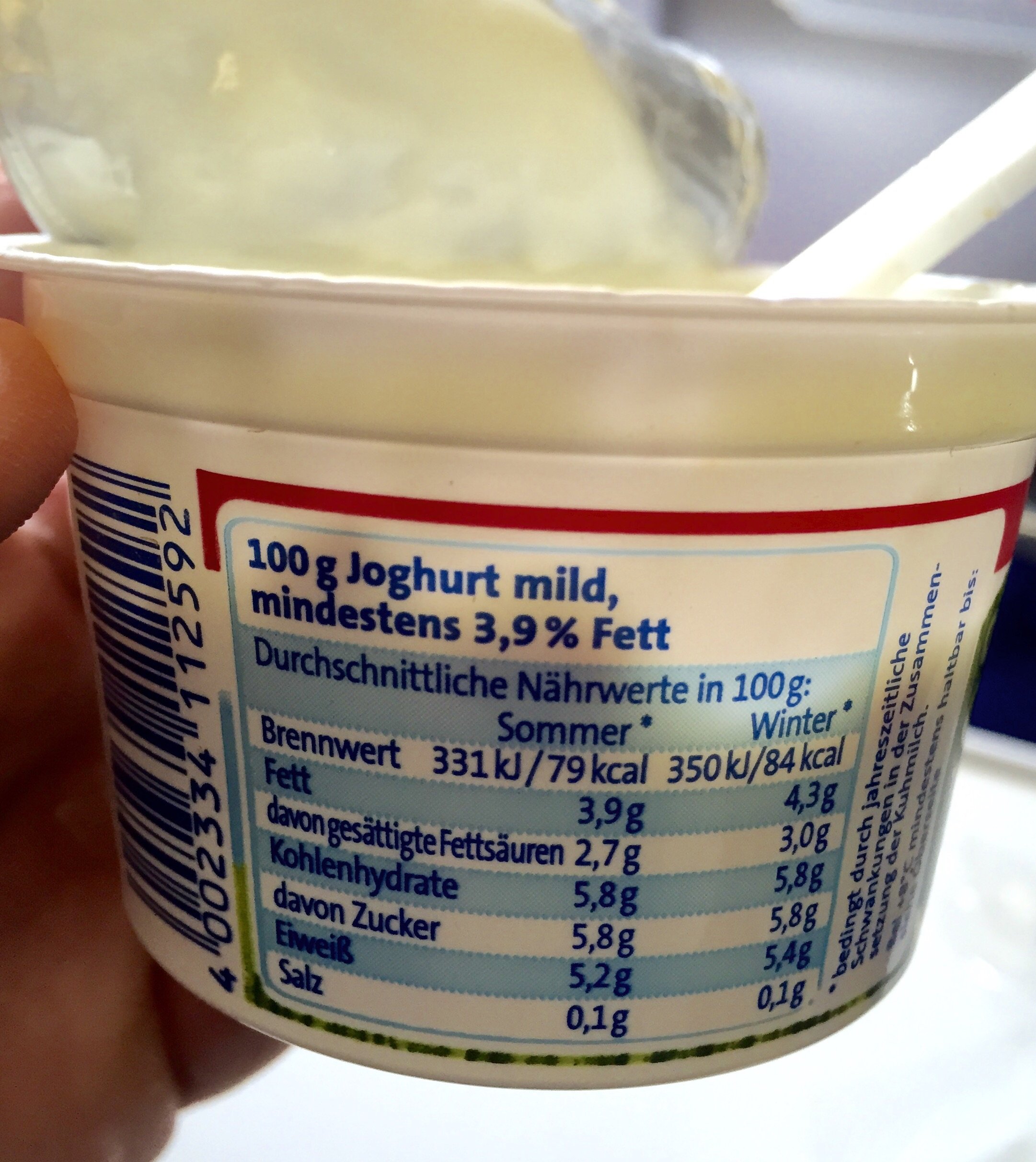 ---
For Strong Winds
What happens when you mix ice and wind together in cold, freezing winters? This. While it is common to see ice spikes coming down from the top of the buildings, give it some strong winds and you will find pieces of art like this. As beautiful as it is, it still poses danger to pedestrians if it was a tall building. On a side note, the cat there doesn't seem all that impressed.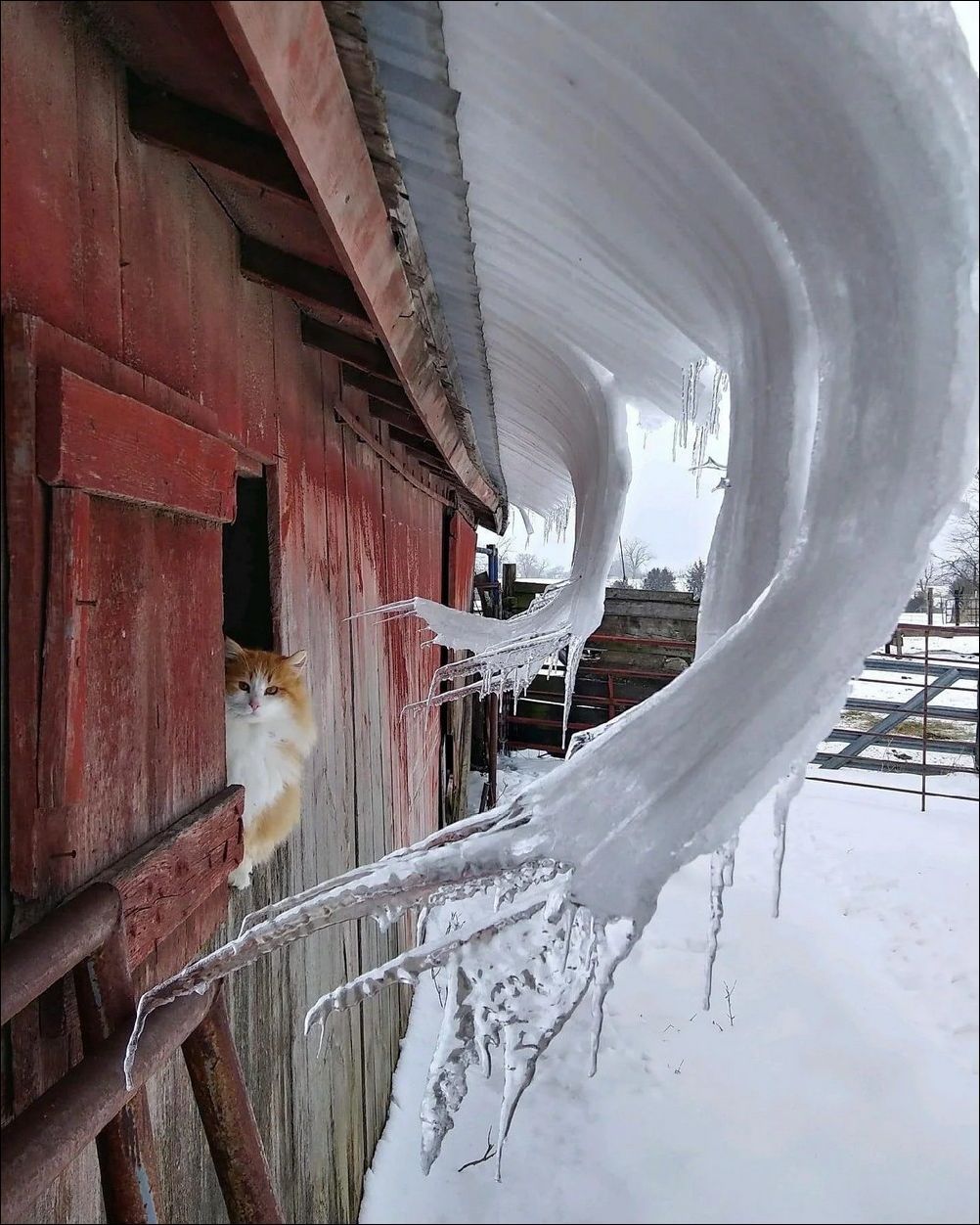 ---
Minimalist Lost
Drawing with snow is a great time to spend the winter - at least you get to get out for some fresh air. Here Redditor brycebaker replicated a piece of art…or more like a meme, to be honest. Does that look familiar to you? It makes sense if it doesn't. If it does, you probably spent too much time on the internet. In case you don't know what it is - it's not a loss really. (Heh heh)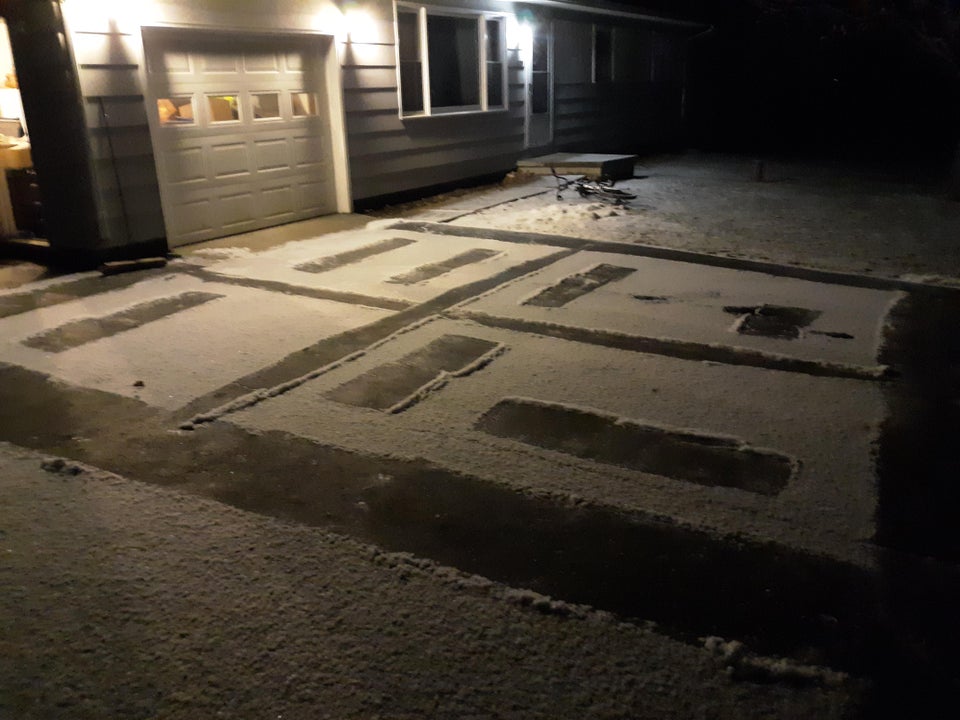 ---
Stuck in the Middle With You
This is literally Iceland, well, like literally. An isolated island nation up north, it can certainly get cold in the winter. To give you a perspective on how intense it is, Redditor Donys1 posted this picture of him, stuck in Iceland. The snow is at least a meter high, with snow blowing all over. We oughta wonder though - who rides a bike in the winter?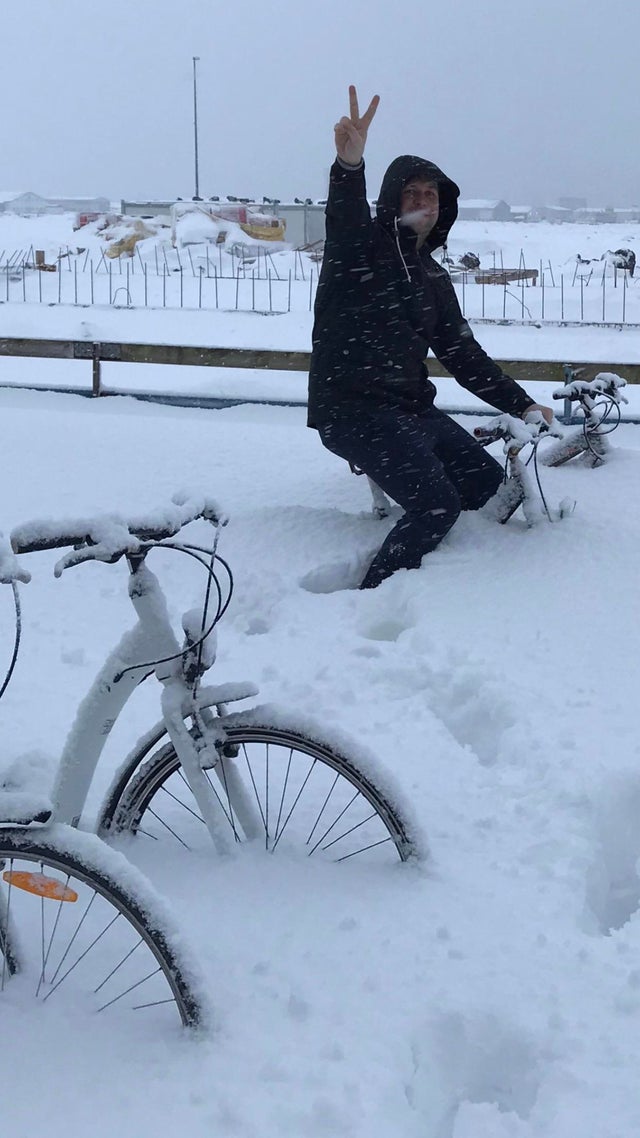 ---
Finnish Ramen
Do Finnish people have ramen? Not really - but doesn't this look like ramen? This is a beautiful picture taken in the Finnish winter when snow didn't melt in the river, and on it goes, flowing in the river like ribbons…or as we prefer, ramens. Or as some might call it - the doomed souls flowing into limbo. Regardless of how you see it, this is mesmerizingly beautiful.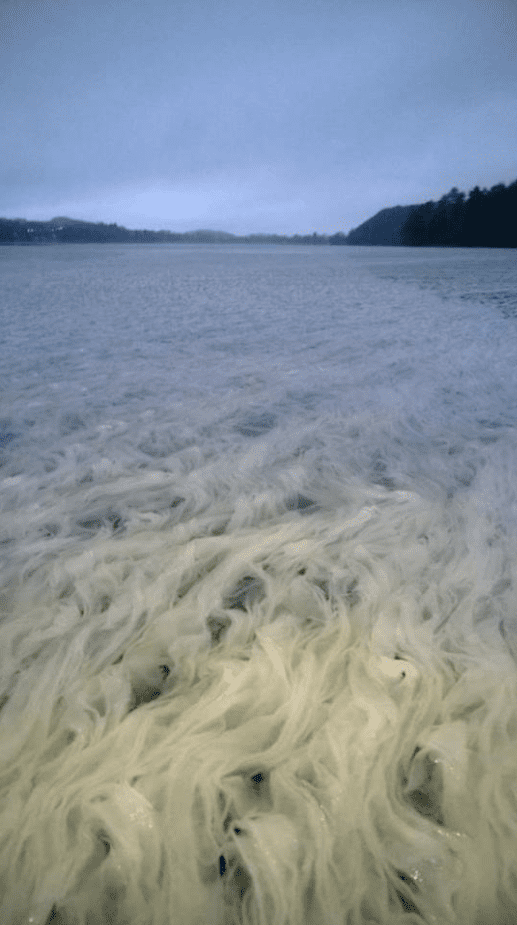 ---
Winter Geometry 
As we mentioned, winters often provided us with a natural canvas made out of snow. And here is another geometrical painting, using snow as the canvas. We are not sure whether this was done intentionally, or it was a mere coincidence. This is a truly amazing feat considering it was done by one car, with that perfect angle.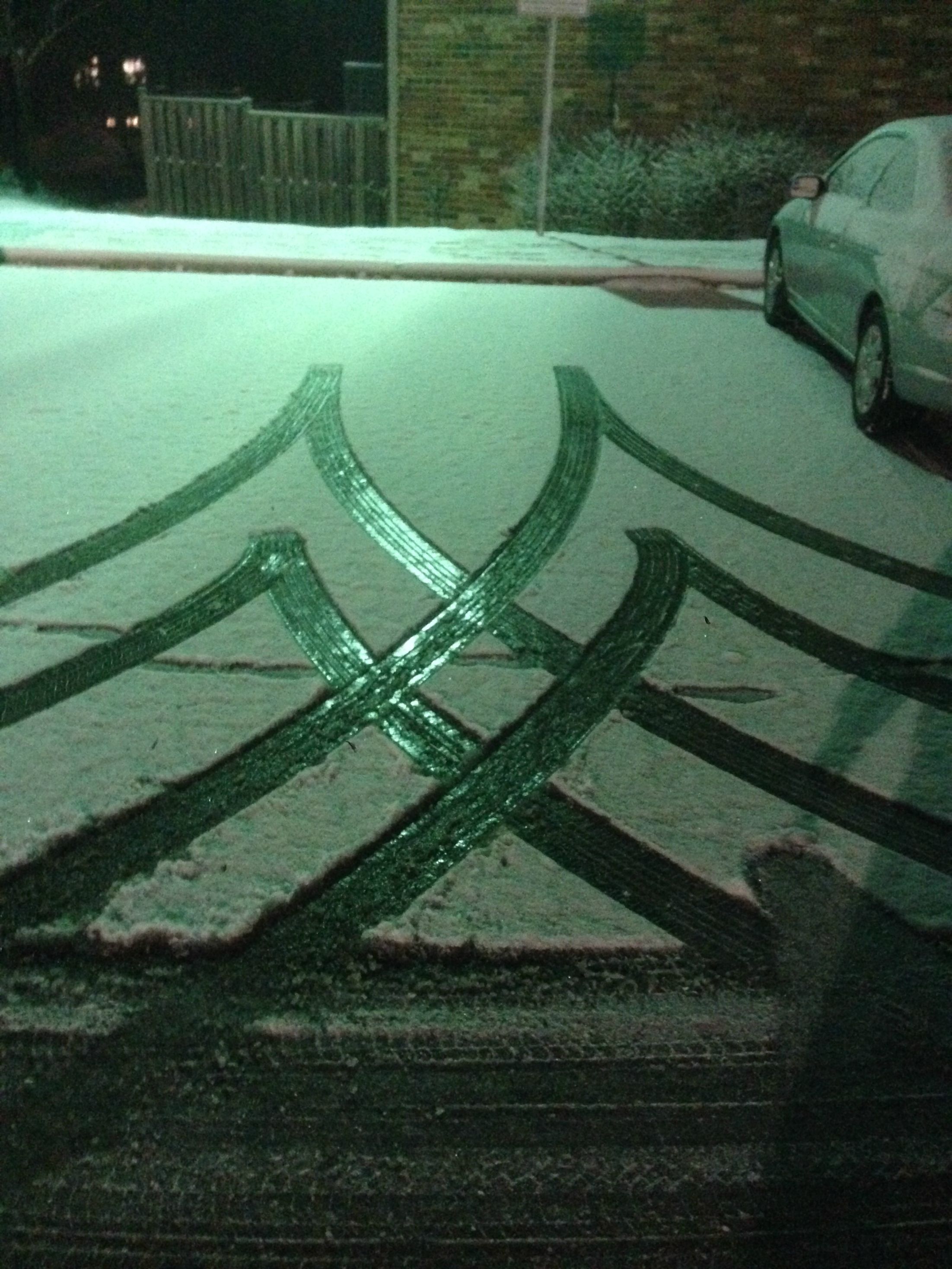 ---
Snow Patterns
Talking about drawing with snow, this here brought the meaning to a whole new level. This is the work of artist Simon Beck, who utilizes snow as canvas and draws astonishing patterns out of it. To ensure the proportion is right, he carefully calculates the distance and steps needed and uses a compass to indicate the right direction.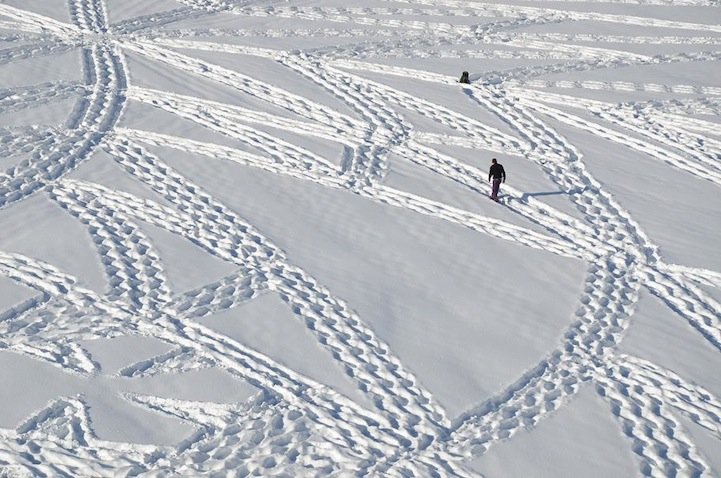 ---
Helix
Unlike some of the entries on our list here, this here was formed naturally. As the wind blew from different directions, the snow formed a specific pattern because of that. And this time, a helix was formed as a result. Sometimes, beauty lies in the smallest details, all we need to do is to pay a bit more attention.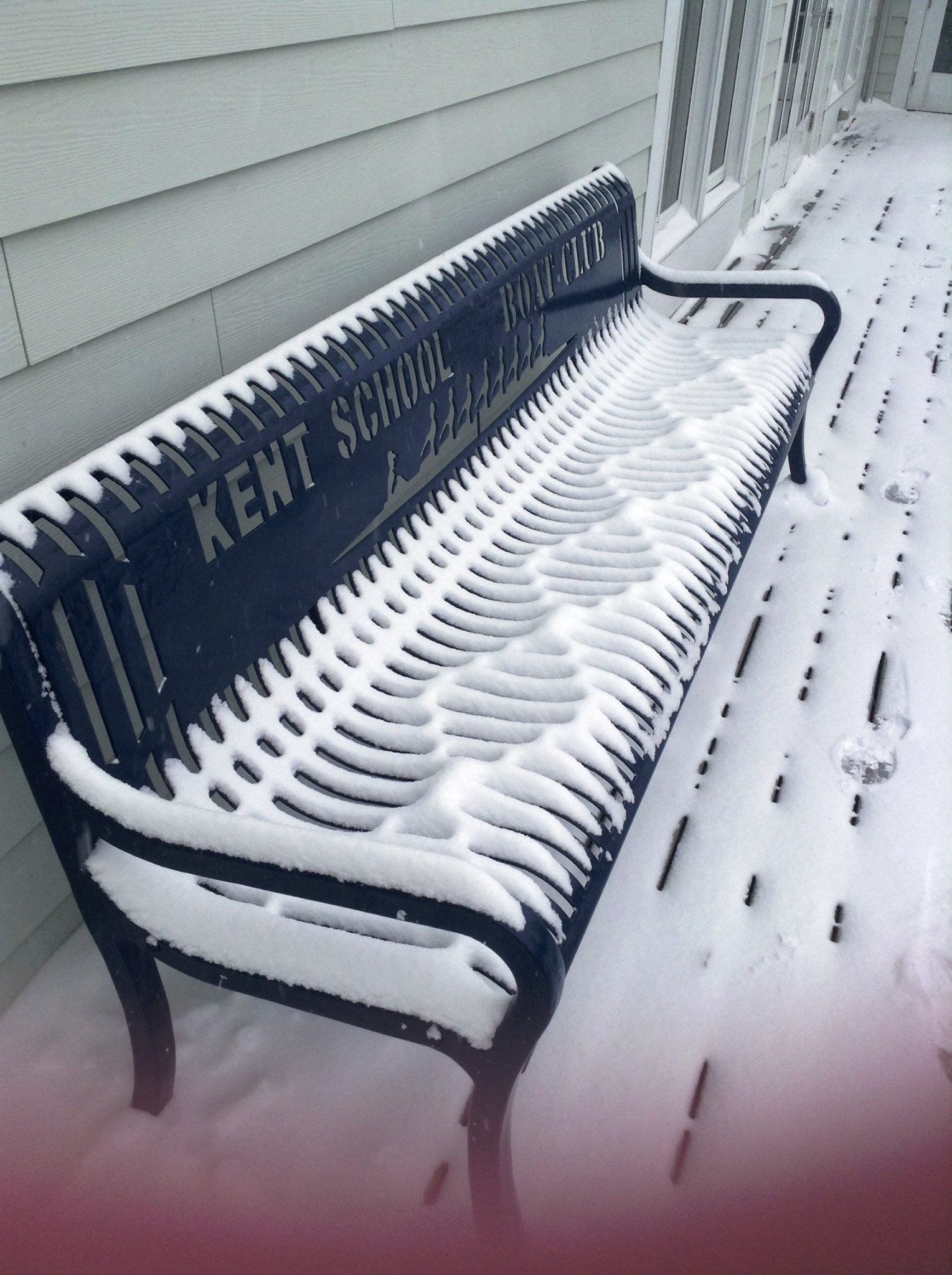 ---
How Many Bananas Deep?
We might have a new measuring unit here - instead of the metric and imperial system, it seems that it is also possible to measure depth and length by using bananas. To illustrate how deep the snow can be in some countries, it is 3.5 bananas tall. What do you think we should call this measuring system though? Bananic system?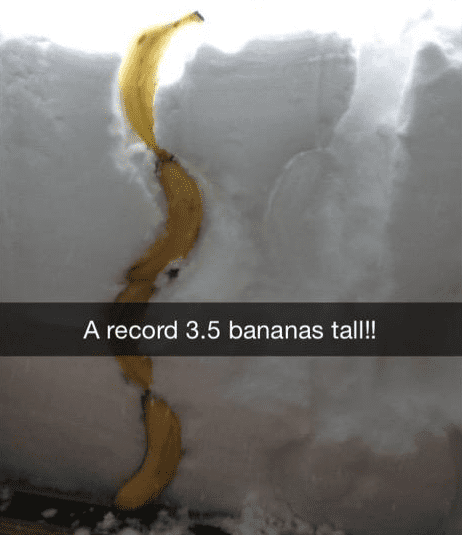 ---
Praying for Snow
Do people actually pray for snow? For some people from warmer countries, perhaps, but probably not for those who are from a cold country, where snow piles up to a few meters tall. Therefore you have something like this - a church putting up a sign asking those who prayed for the snow to stop praying. However, isn't it more efficient for the church to pray for the snow to stop though?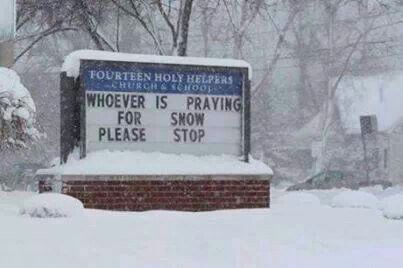 ---
Winter Wonderland
Ever imagined what it's like living in Finland? This is probably a perfect representation of it. Finland can get really cold in the winter, with snow piling up everywhere. However, it seems that locals are accustomed to it. For example, this man who sits on a bench with only a tank top on, with snow all piled up around him.
---
Going South
The grass is greener on the other side - for those from warmer countries, they long for snow, and associate it with all the romantic thoughts; for those from colder countries though, they wish nothing but warm sunny beaches. Someone thought so here and made a snowman hitchhiking to sunny Florida. But hey, at least there are no crocodiles in Minnesota.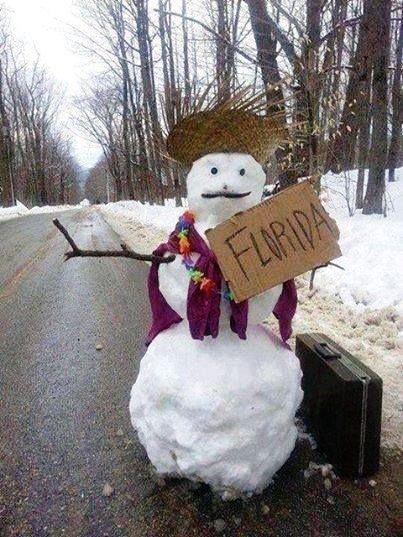 ---
Big Business 
When life gives you snow, you build a snowman. As tough as it can be living in a cold country, there's still a bright side to it. Snow can be annoying, but it is also possible to build snowmen out of it. You get to utilize all sorts of imagination and create someone unique. While this is not something we had in mind… if it works, it works.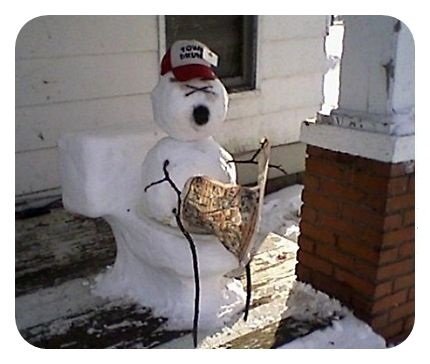 ---
Snow Sign
The hardship of winter - plowing snow. It might seem simple at first, but that's actually very physically demanding, cause snow is not that light at all. Someone is apparently not so happy about it, so he decided to voice out his frustration by painting over the snow. In any case, the message went through, though, at the end of the day, everyone gotta work, and someone has to get rid of the snow.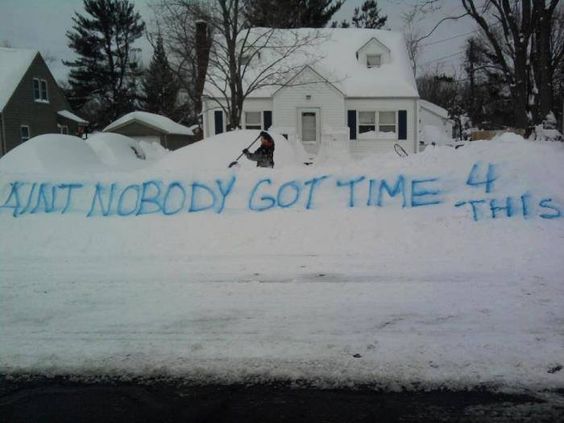 ---
Stop Sign
As Redditor MaybeGermanicFriend pointed out, "the sign cannot resist the will of the snow, it will not stop." And that's a fair point. While everything is covered in snow, somehow the stop sign managed to stand out, amidst the heavy snow. We are glad to see it through, cause that means someone else can see it as well, to prevent accidents from happening.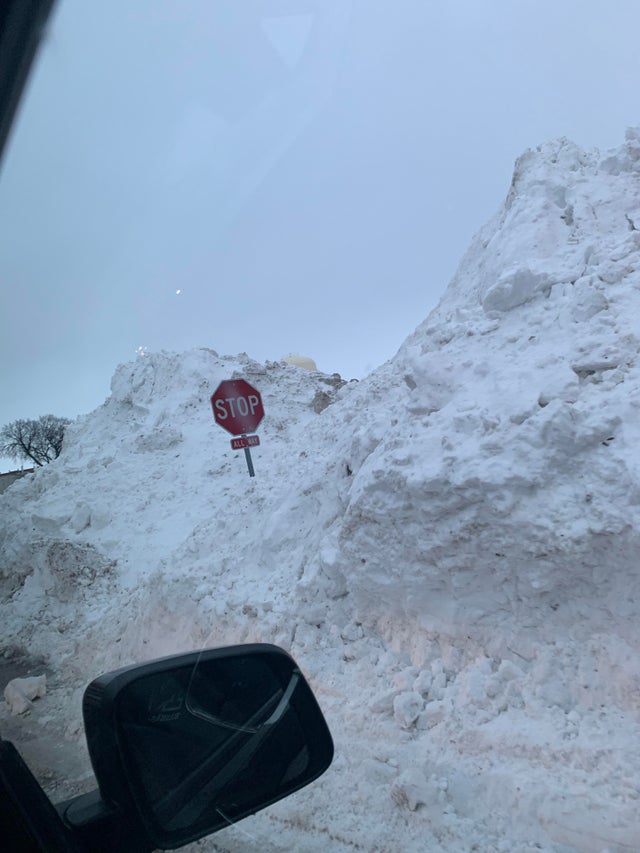 ---
Waves of Snow
We wish it was possible to make a meme out of it - but due to various constraints, we are unable to do so. So, try and use your imagination here - "Me: I want to go surfing with the waves!; Mom: We have waves at home; Snow at home: This.". Okay, we are not really good at that, but we hope you get our point.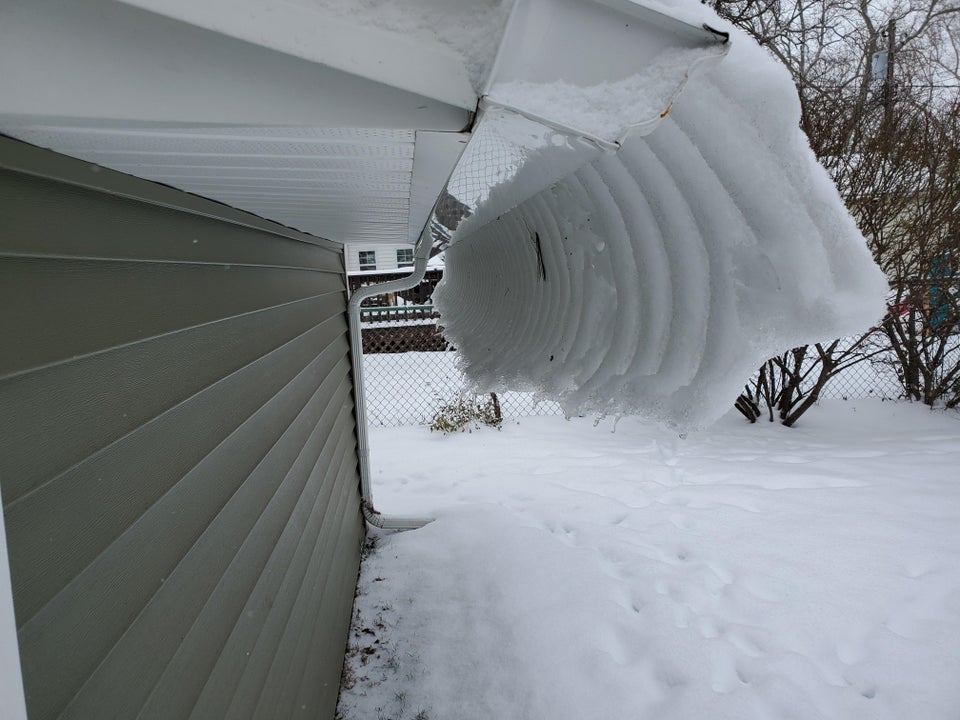 ---
Knitted Duck Hats
Faith in humanity restored. Redditor cara8bishop posted this picture from Boston, where someone knitted little winter hats for the duck statues in the park. Well yes, while it is not a big project, and doesn't require that much effort, it is still heartwarming to see someone putting in the effort to do this.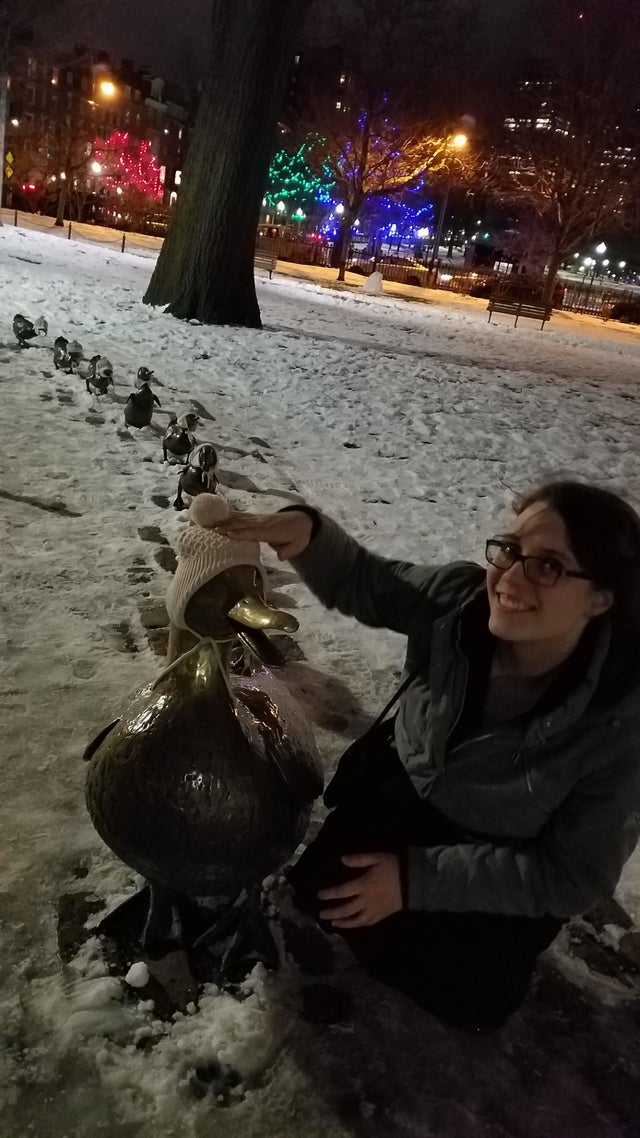 ---
Oymyakon
Oymyakon? Is that some kind of ancient curse? Well...not really. Oymyakon is the coldest inhabited place on earth, located in Siberia. How cold? 88 below zero - that's even colder than Mars. Pictured here is the only shop in the village, and we have no idea how things are still working in such a cold place.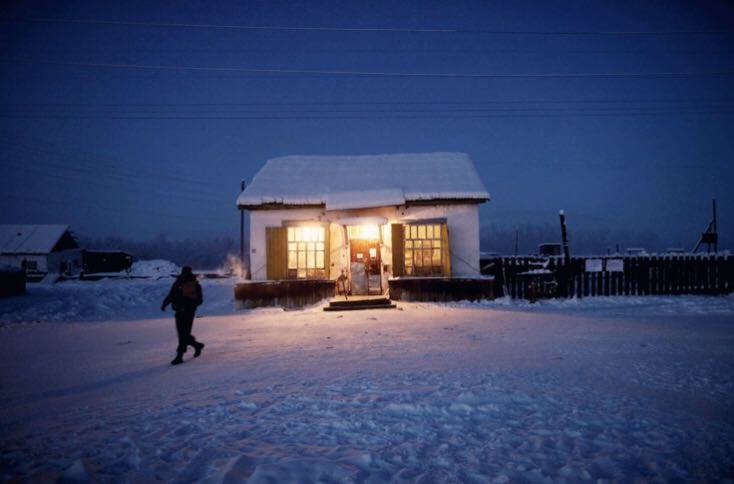 ---
Ice Moss
Now, try and read this in Sir David Attenborough's voice. "Life thrives in the direst circumstances. Here we have a fine sample of nature, surviving the toughest circumstances possibly imagined..." This picture here was posted by Redditor ILuvTheMemes, where a teacher at his school found a piece of ice with moss growing on it.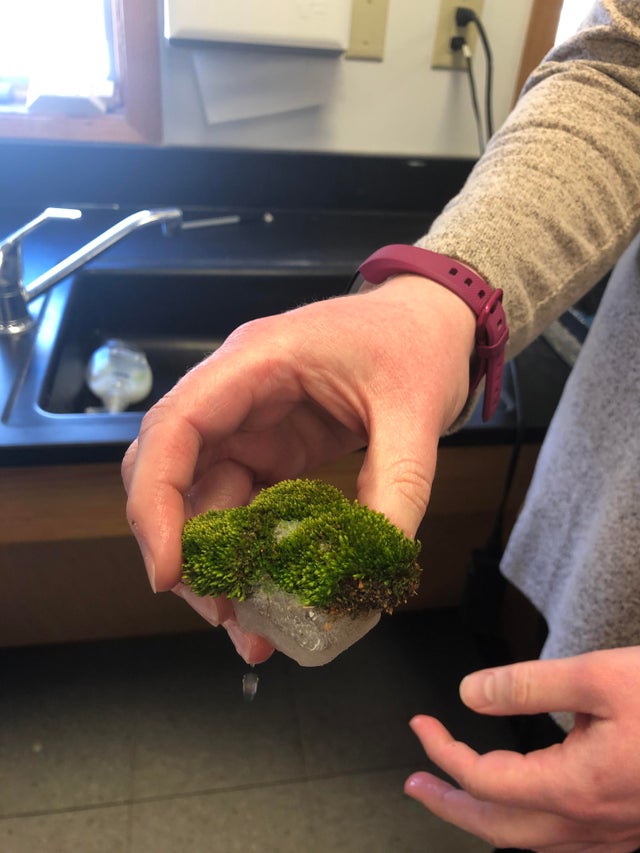 ---
Canadian Winter
In Canada, winter creeps through every aspect of your life - including keyholes. Redditor LOLMUFFINLOL posted this picture, where the ice/ snow can be seen creeping through the small keyhole, while all is well around the area. Whoever needs to open this door, we hope the internal mechanism isn't jammed up because of this.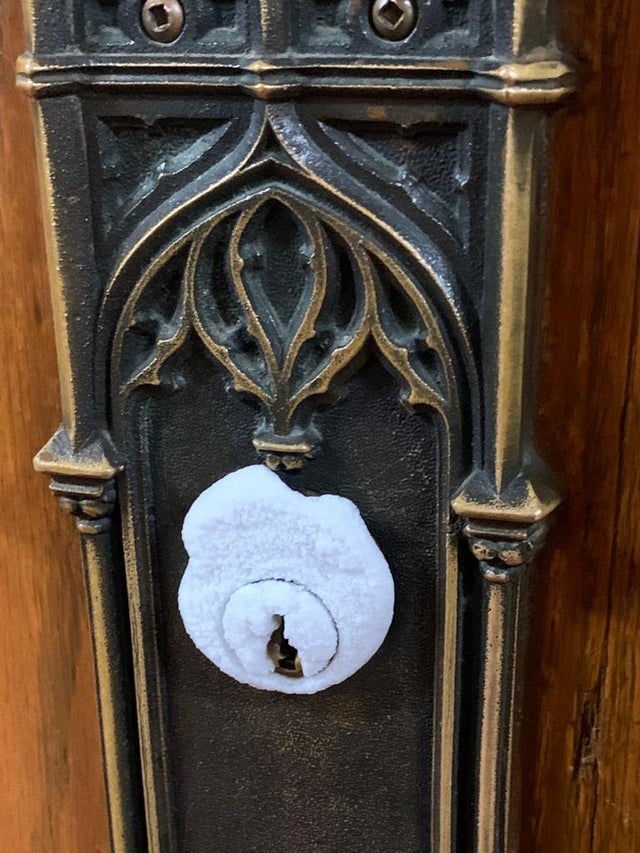 ---
Snow-shark!
Building a snowman is too boring for you? What about a snow-shark? Seriously though, you can build whatever you want, if you have the time and patience. Here the kids from Minnesota decided they want something different, and built a giant snow-shark instead. Next time when it snows, maybe you wanna try building something like this? A snow-whale perhaps?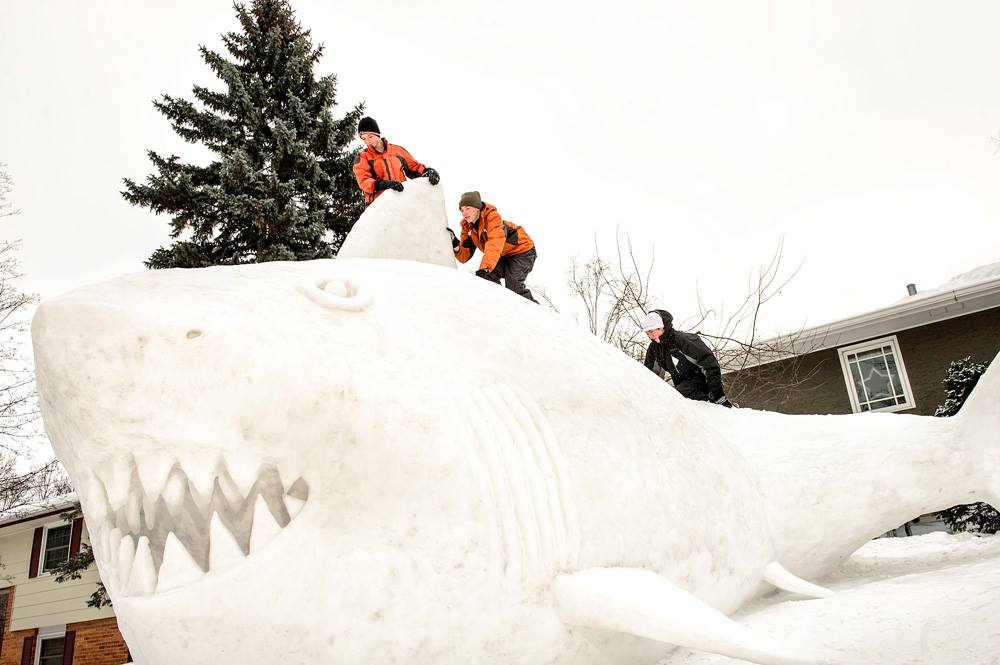 ---
White Walkers
As we mentioned, with a bit of imagination, the sky is your limit - or in this case, the ground is your limit. Instead of building a regular snowman, why not build something special? And build more than one? Here someone made white walkers out of snow, crawling towards the door - that is what we call a good use of imagination.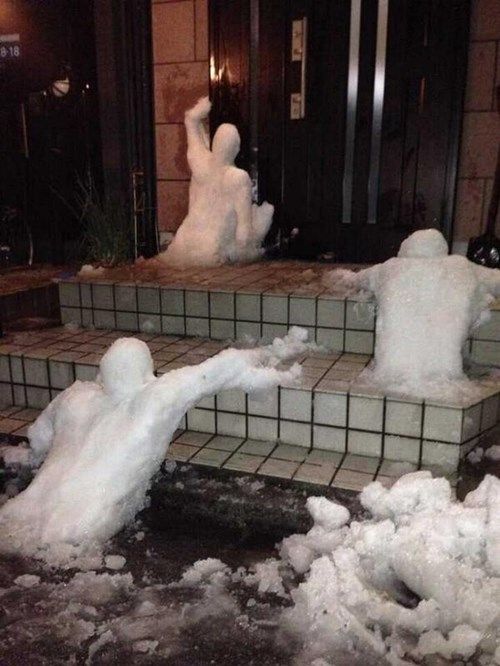 ---
Rage Comics
Does anyone remember rage comics? Only us? Jeez, feeling old now, are we. Rage comics were the highlights of the internet for almost a decade, for us at least. While they slowly faded out on the internet, it did leave a mark on us. And it is so good to see someone building a snowman based on it. Ah, the good old nostalgia.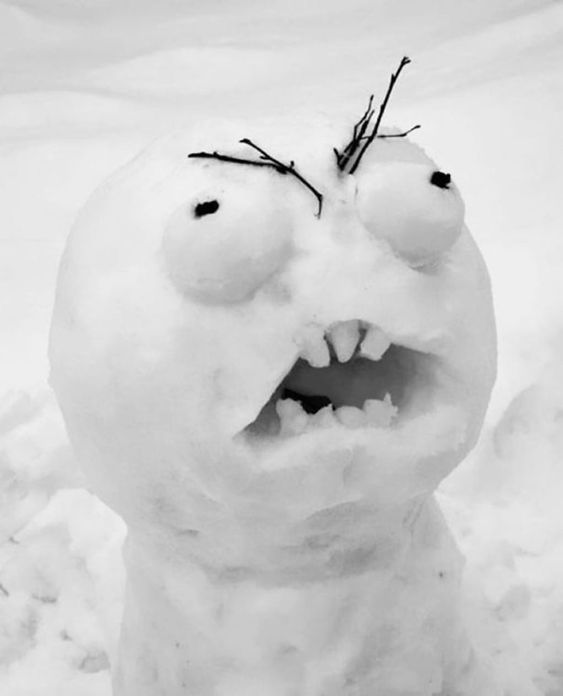 ---
Splash! 
We mentioned that already - when it is cold enough, the water turns into ice almost immediately - and here you can see it in action. Redditor Aargau demonstrated this by throwing a pot of boiling water into the air, which was then instantly frozen, turning into ice/snow in the process. Impressive, eh?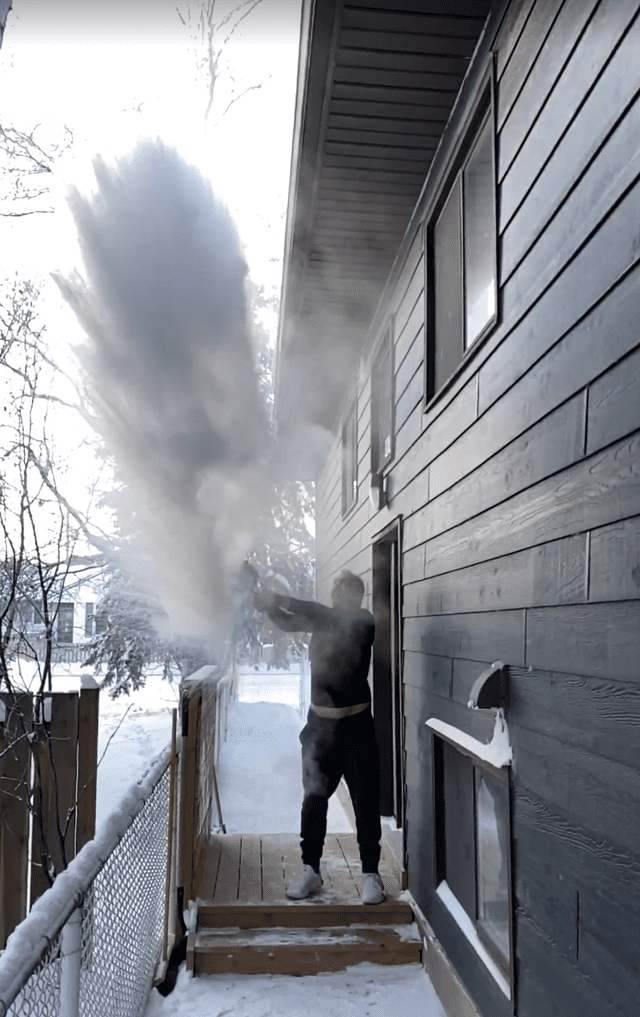 ---
Outdoor Toilet in Oymyakon
Now that we brought up Oymyakon, let's talk a bit more about it. It is a city located in the Sakha Republic, an autonomous republic in Siberia, Russia. But as you might have guessed, due to the extreme climate, traveling there is not easy, the same goes for logistics. The city remains underdeveloped - and this here is a primitive toilet found there. It's probably a daunting task to use it.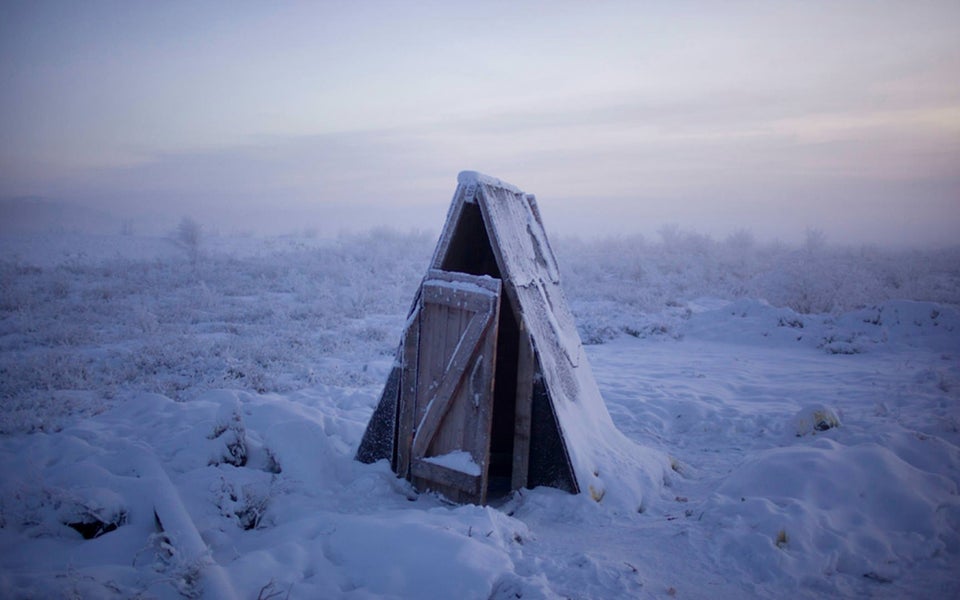 ---
Face Mould 
Apart from building snowmen, the other thing that people do with snow is to dive face down into it, and have their face imprinted onto the snow. Seriously, we don't know why someone would do it, but perhaps some people do enjoy cooling their face down with snow? We don't judge. However, expectations might not always match the reality - in this case, Redditor Michellehas2ls's face turned into monkey faces instead. Ouch.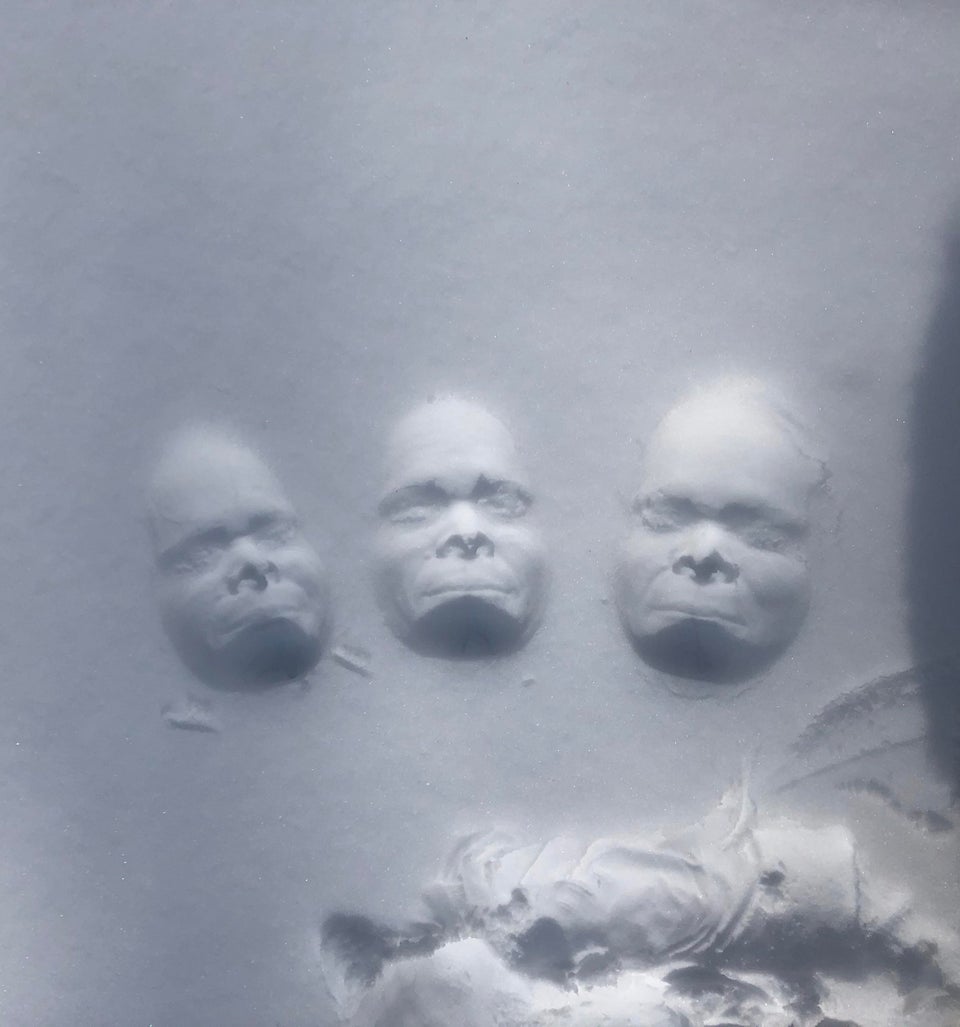 ---
Prius Mustache
How to make a Prius look funnier? Put a mustache on it. Although sometimes if you are lucky, winter does the job for you. Redditor Yourneighborskid shared this picture, where the snow somehow created a mustache on his/her car - this might be the manliest thing we have seen on a Prius.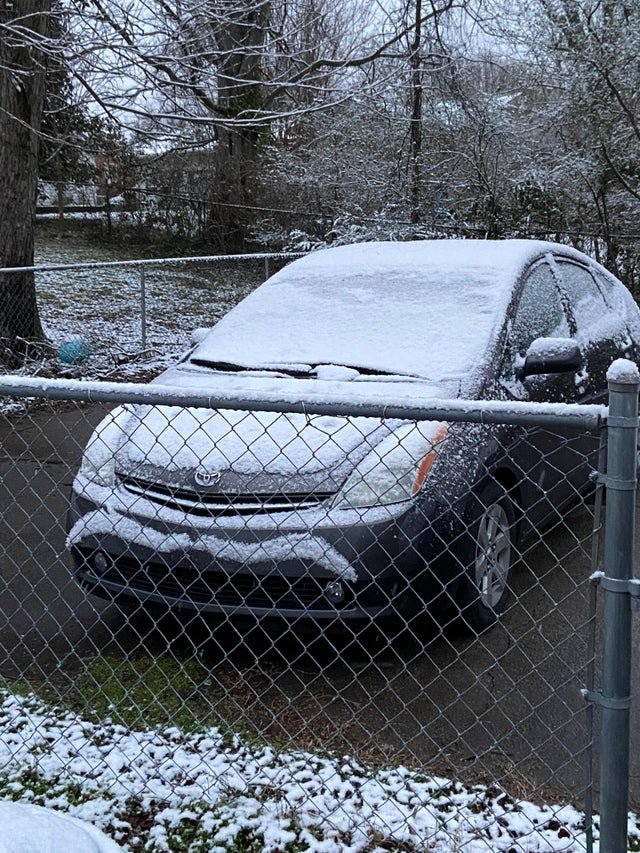 ---
Lego Blocks
Apart from turning the world into a winter wonderland, snow can also turn things into lego blocks apparently. Redditor Thetrg shared this photo, where the cooling system of his company was turned into giant lego blocks by the snow. Too bad it cannot be stacked up on top of one another though. But at least it wouldn't hurt if you step on it, unlike regular legos.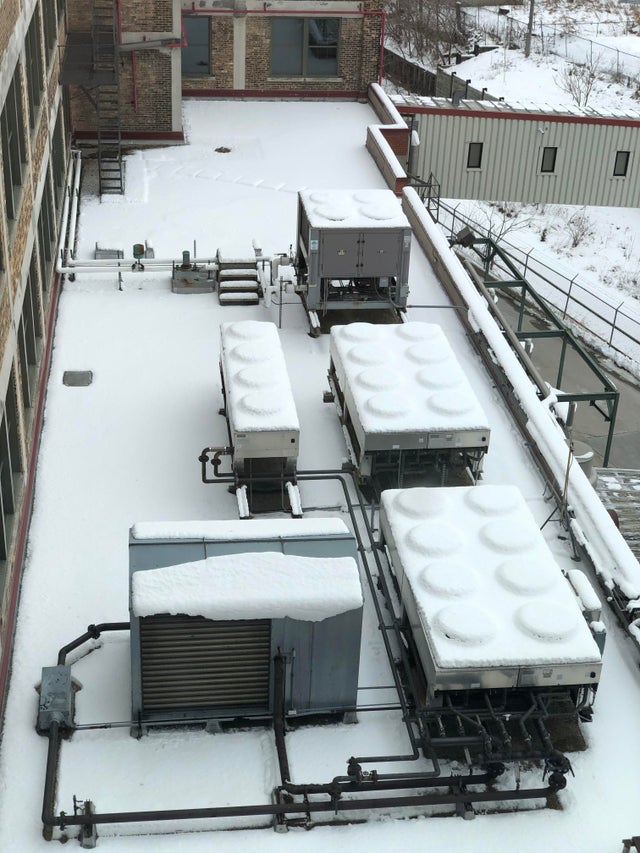 ---
Snow Cloth
As the snow melts and freezes again, along with a bit of air current, sometimes you get weird shapes of snow/ice like this. Redditor DaturaMuril posted this image, where her husband's car was covered in snow, which then turned into this. Too bad it's not possible to actually wipe the car with it though, that could be useful.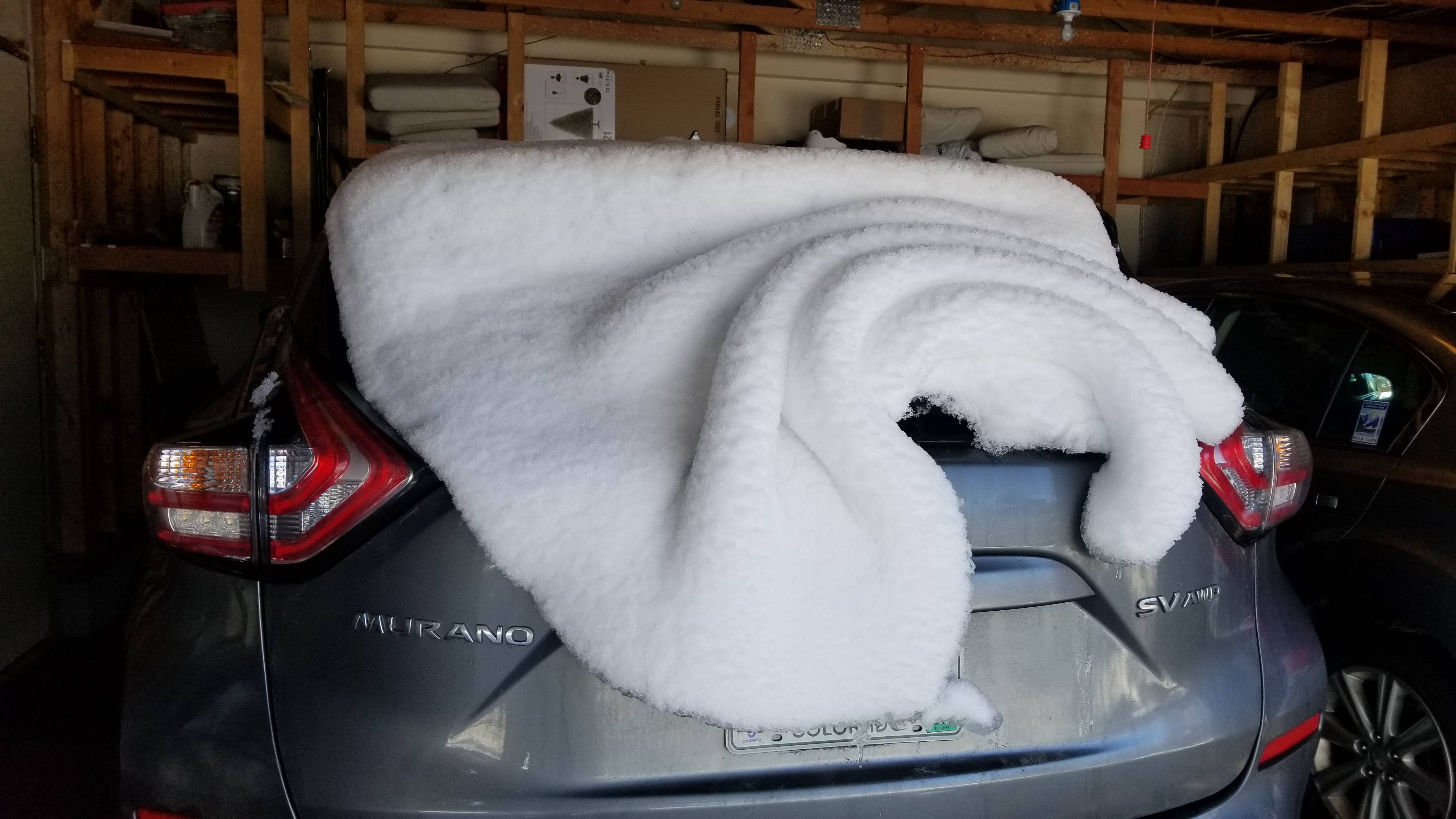 ---
Snow Burrito
Apart from snow cloth, snow can also turn into different shapes based on the wind and temperature differences. And this time, it is a burrito! As much as we love burritos, we can't appreciate cold burritos though - it is like having cold pizza, which should be considered a crime against humanity. It's almost as bad as having pineapples on pizzas.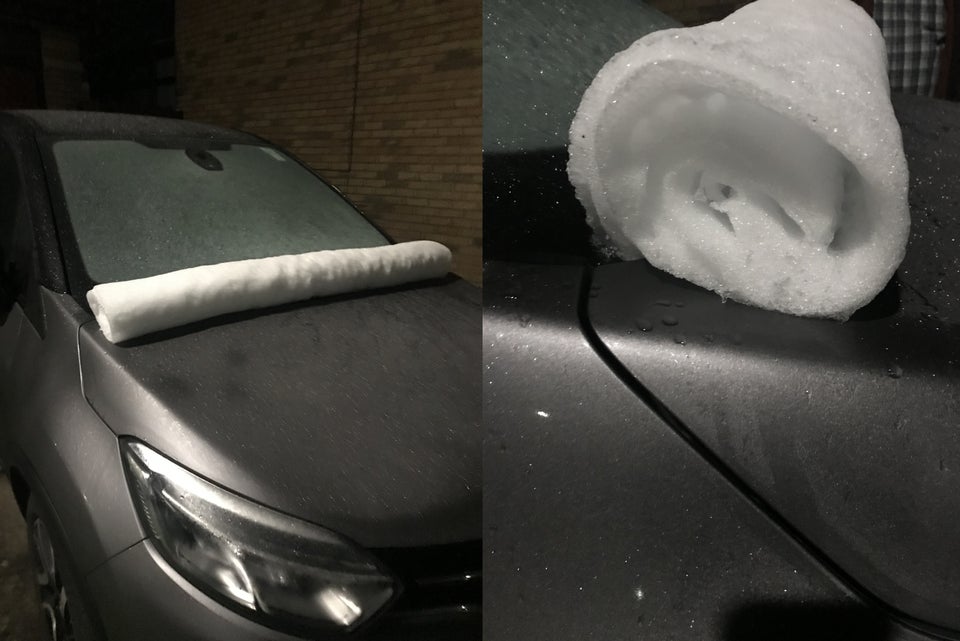 ---
What They Do in the Shadows
For those who live in the country and hate winter, the best thing about it is the end of it. As the sun comes out and the snow melts, things finally return to normal. However, just make sure there's no shade covering it - or in this case, even a shadow is too much. From the picture, you might notice that the shadow of this light post stopped the snow from melting.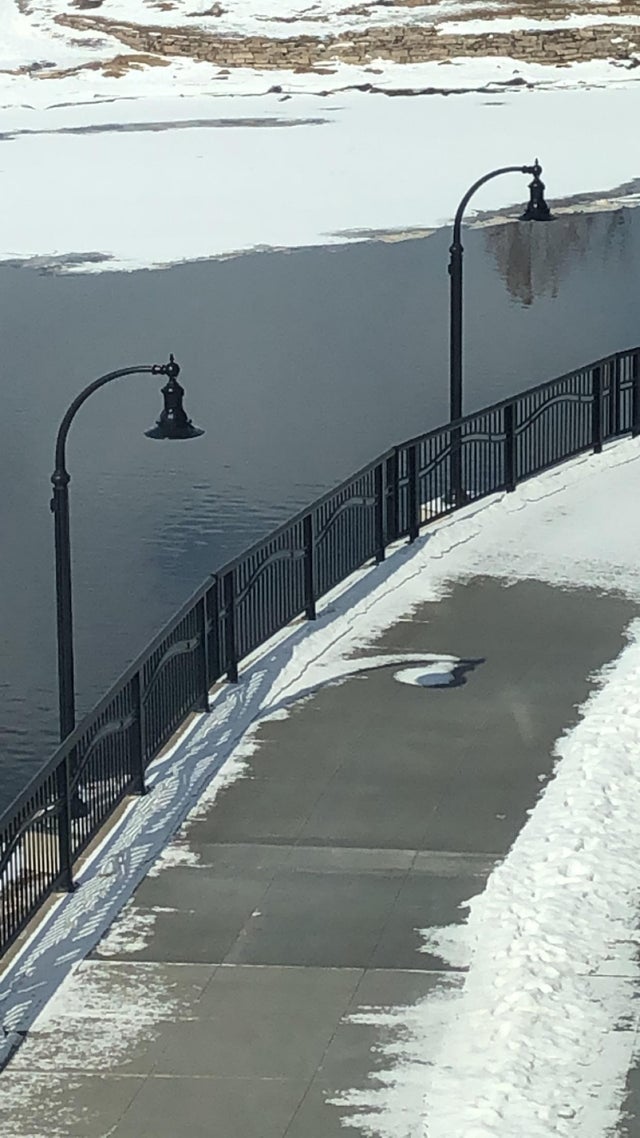 ---
Road Signs
This one is of similar nature to the last picture - with a slight twist. Instead of not melting because it was blocked by a shadow, this one did melt somehow, but because of the color used. Normally road signs have dark fonts, and guess what? They absorb heat better. What happened is that the darker part absorbed the heat and melted, but not the other parts.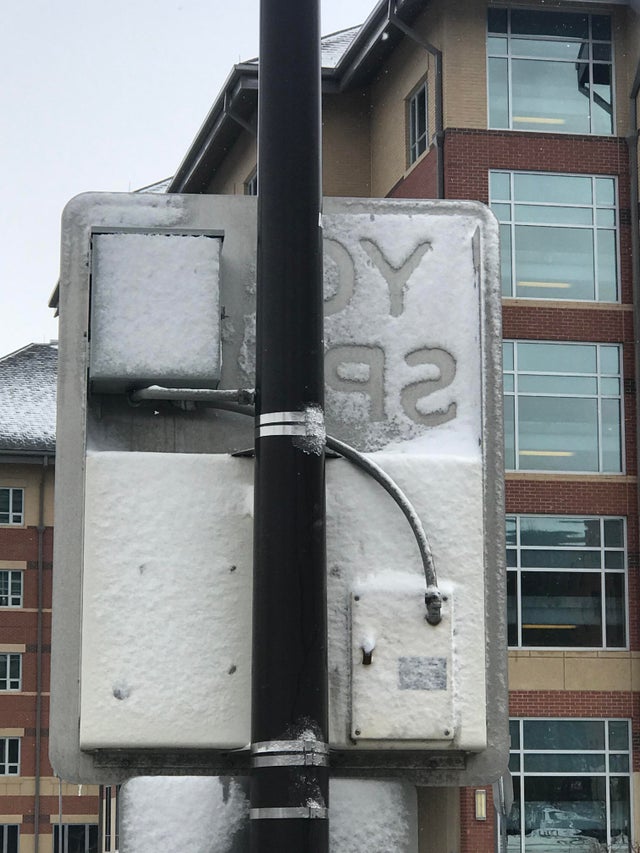 Here they are - some of the quirky photos from winter. How's winter in your hometown like? How cold does it normally get? Have you seen anything more bizarre than this? If you enjoyed reading this, why not share this with your friends and family?