Ridiculous Photos On The Road
Driving can be a frustrating experience, especially if you are stuck in traffic. However, if God takes something from you, he also gives something back (that's what they told me). So even if you are having a long exhausting road trip, or just stuck in traffic, there are always sceneries to keep you amused - and not in an ordinary sense. Here we compiled a list of things people see on the road, and boy, aren't they fun.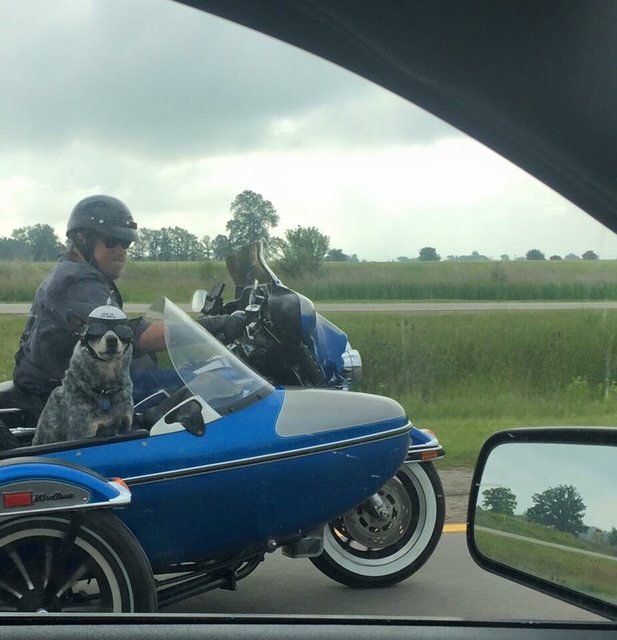 ---
LOOK, MOM! NO HANDS!
Moving furniture around is a daunting task - while normally that involves a truck, or a car at least, this person decided he does not need any of that. I sincerely hope he did not crash, cause that is some circus level stunt. I also get to wonder - did he do that to protect the environment?
---
SNAKE!
People leaving their pets in the car is not an uncommon sight - although it is something we do not suggest, as it can lead to suffocation. However, usually, there are doggos, maybe cats...but a snake? Seeing a snake in the car by itself is strange enough, but a snake roaming freely? We suspect that the snake might not be a pet, but simply sneaked into the car...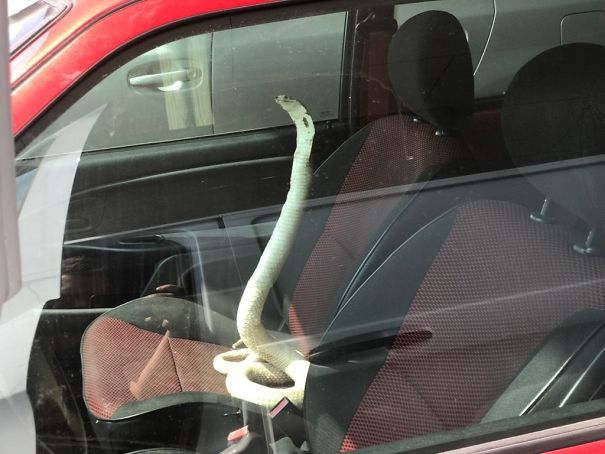 ---
WINGS
At first sight, I thought this is in Eastern Europe - as I have witnessed plenty of similar things in that part of the world. As it turned out it was in Pennsylvania. While normally the ladder would be attached to the luggage rack on the top.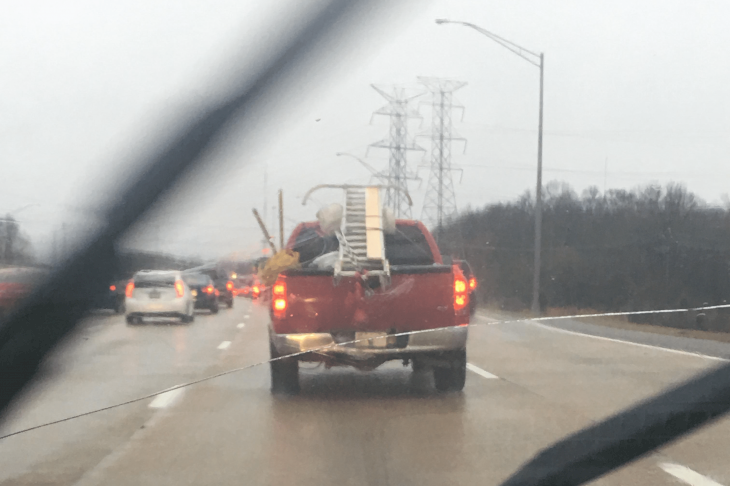 ---
Since there's none on this car, the driver simply slid it over the backseat. Too long? No problem - will let the doors open. This is the time when the line between genius and stupidity gets very blurry.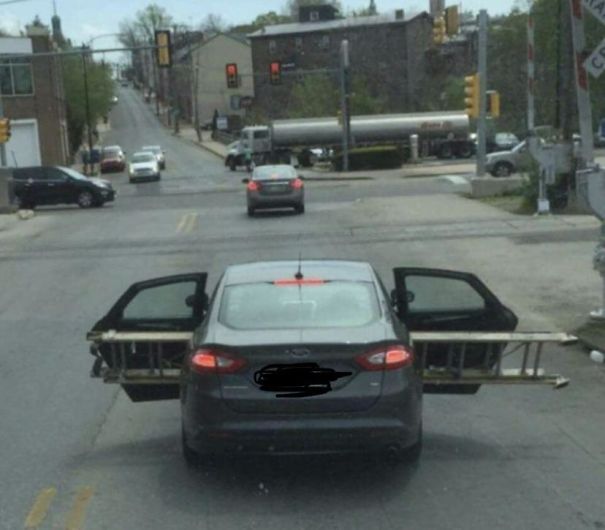 ---
CAPTAIN AMERICA
Now, cosplaying is getting common these days - wearing a costume to Comic-Con is a great way to have fun.  However, normally it is limited to the costume only - yet this man took it to a different level with a matching motorbike. I wonder if he rode it into the venue as well.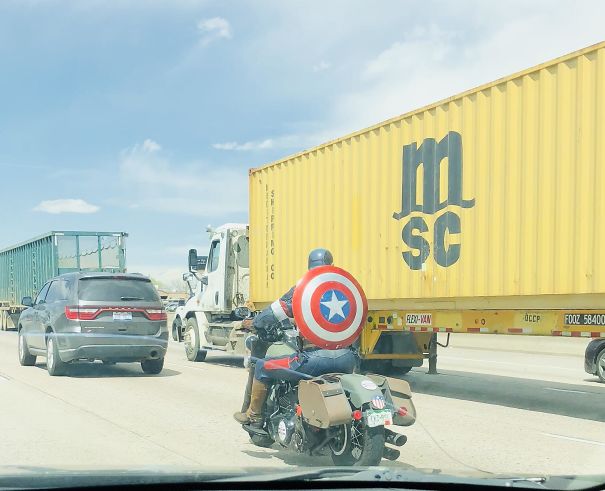 ---
ROCKET?
Despite the fact that Rocket from The Guardian of The Galaxy keeps insisting he is not a raccoon, I personally think he actually is...or was. Here on earth, a raccoon is having a comfy ride with a man on a truck, or van...looking happy and all...perhaps this is what Rocket really needs in life, to be cuddled.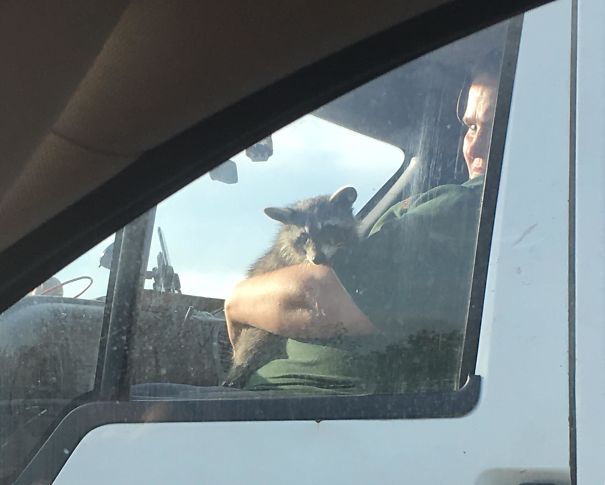 ---
A CHRISTMAS CAROL
The holidays make people experience so many feelings, and often bring the best in them. But they also make people do some weird things. It seems like the Grinch and Rudolph are some of these people. Definitely, these guys definitely helped to spread the festive spirit.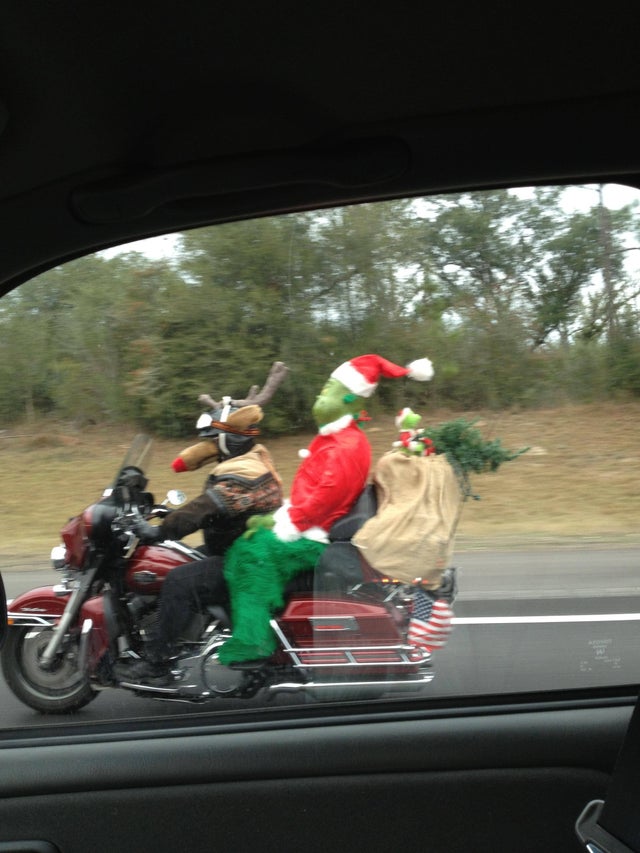 ---
THIS TRUCK WILL ROCK YOU
There are only a few songs that everybody knows. One of them is definitely Queen's iconic song 'We Will Rock You.' Why not write your favorite song's lyrics in the back of your truck? It's even funnier if your job is to transport rocks!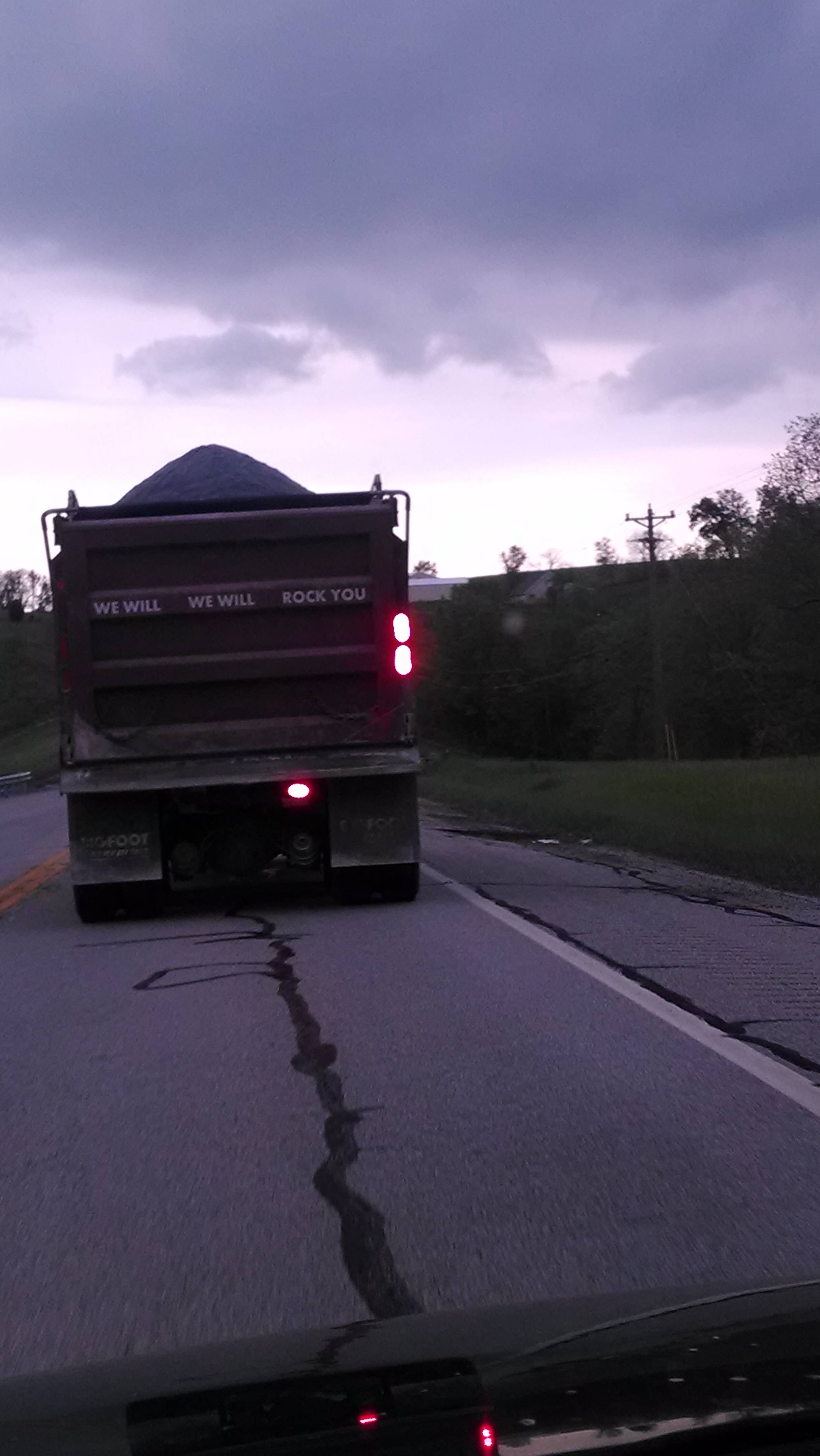 ---
DRIVER, THE VAMPIRE SLAYER
A jeep that is carrying tons of sharp, very thin logs has been spotted on a freeway. It was weird enough to see this amount of stakes in one place. But the funniest thing about it is the message under it. The text below says 'Vampire Slayer For Hire'.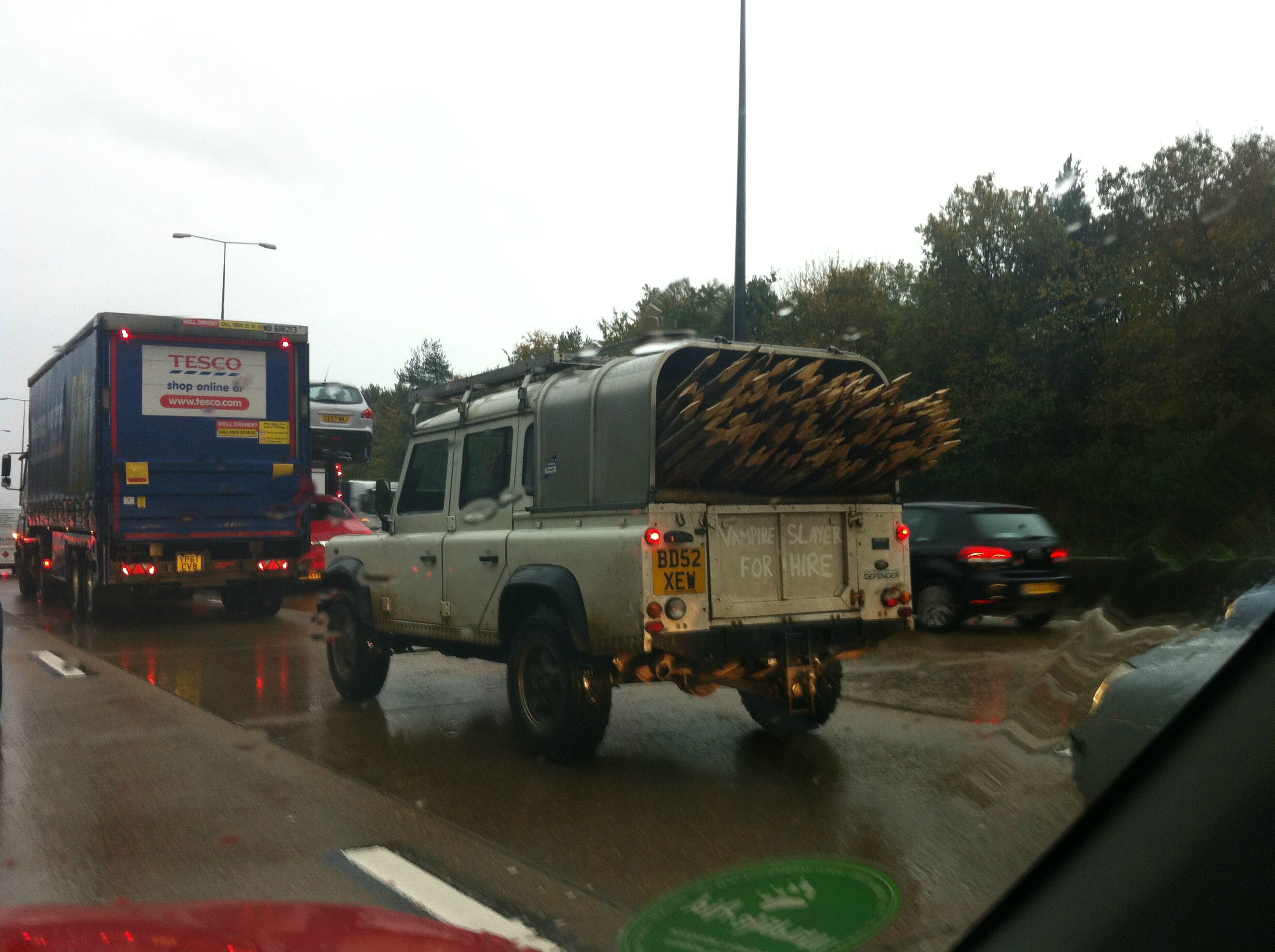 ---
WHAT IS THAT?
We have no idea what went into the driver's mind when he decided that the best option was to modify his vehicle like this. But what is certain is that the result is quite bizarre. But at least the colors match, don't you think?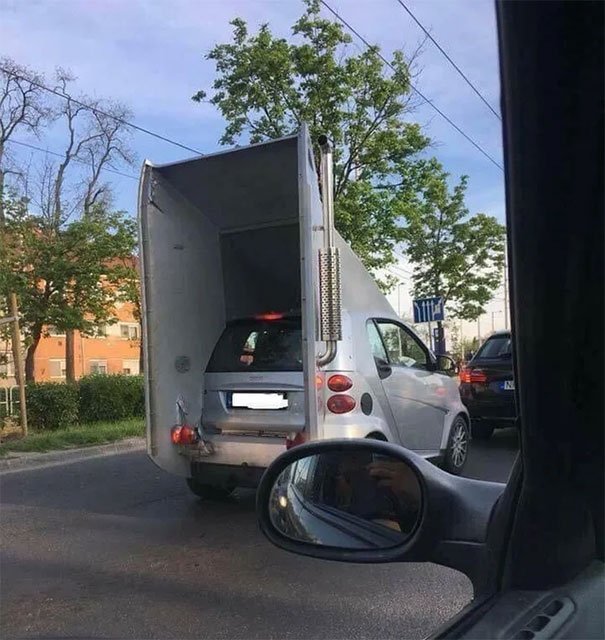 ---
ONE AND A HALF CAR
Everyone knows that anyone who has a convertible loves to show it around. But who doesn't have a car like that? But have you ever thought that you can have a convertible and a half? This driver decided it would be even more incredible. That was the result.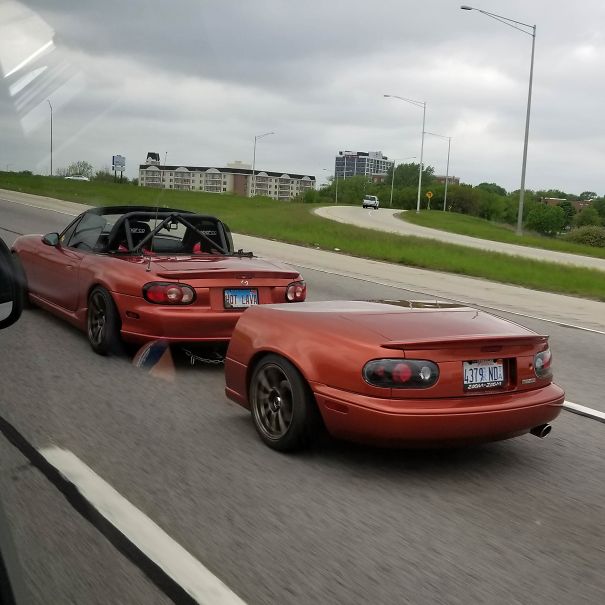 ---
CATS WILL RULE THE WORLD
At first, your focus may be directed to the enormous cat playset attached to the top of the car. It definitely seems like a lot of fun for a cat. But where is the cat? Oh, wait... the cat is behind the wheels! We all know that cats are smart, but driving is just too much!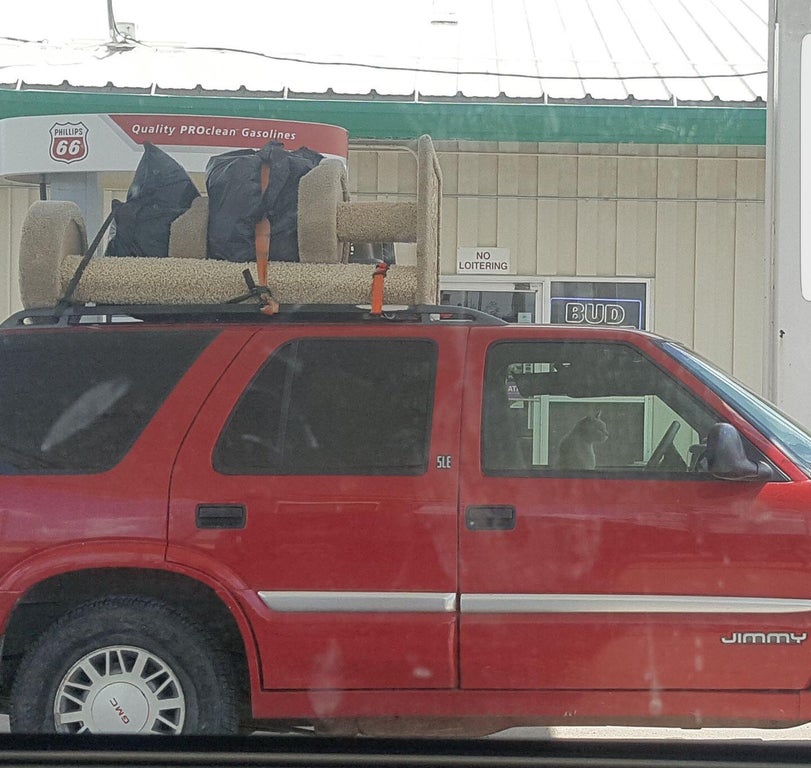 ---
SILLY ROAD PUNS
Most puns make you laugh, even if they are bad. There is just something about them that is so funny. And this one found in Utah is just hilarious and will make every road trip better. Texting behind the wheel? Cell no. Don't text and drive!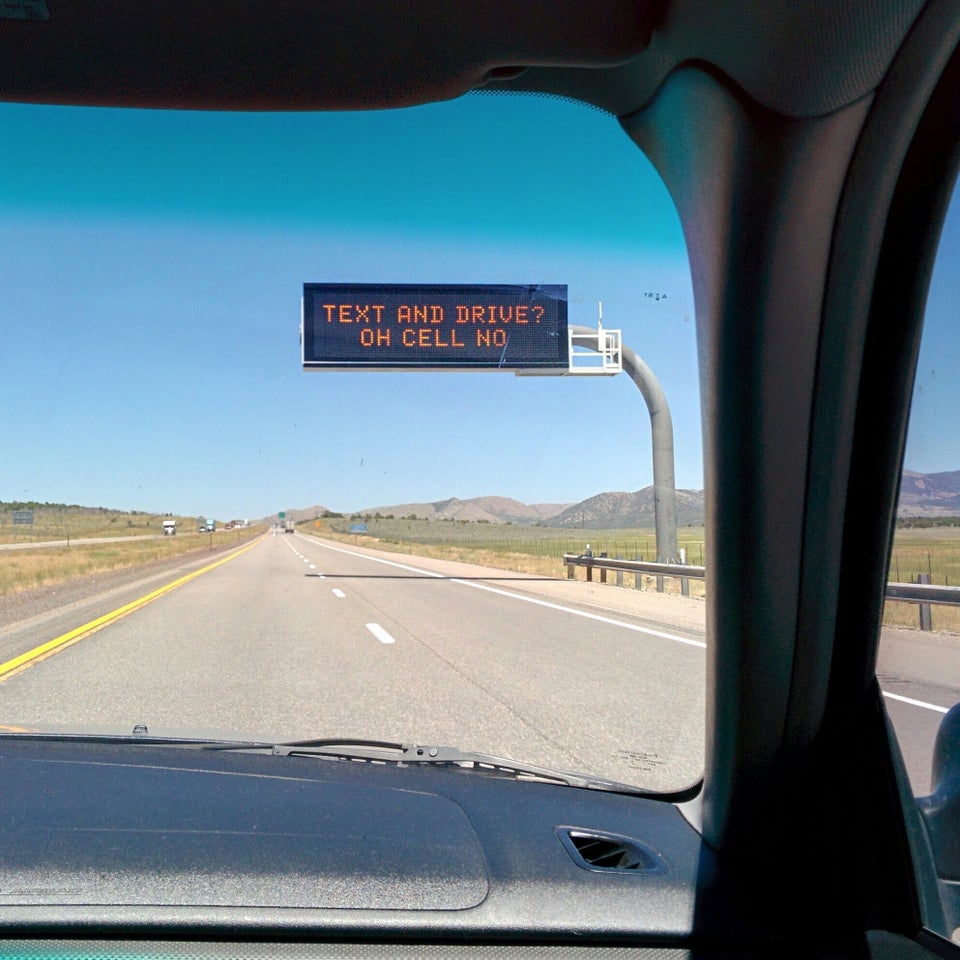 ---
REAL-LIFE TOY STORY
This driver managed to bring one of the most iconic kids' movies of all times to life. Buzz Lightyear and Woody, the two protagonists of the Toy Story movies are also the protagonists of this amazing car accessory. Sometimes life really imitates the movies!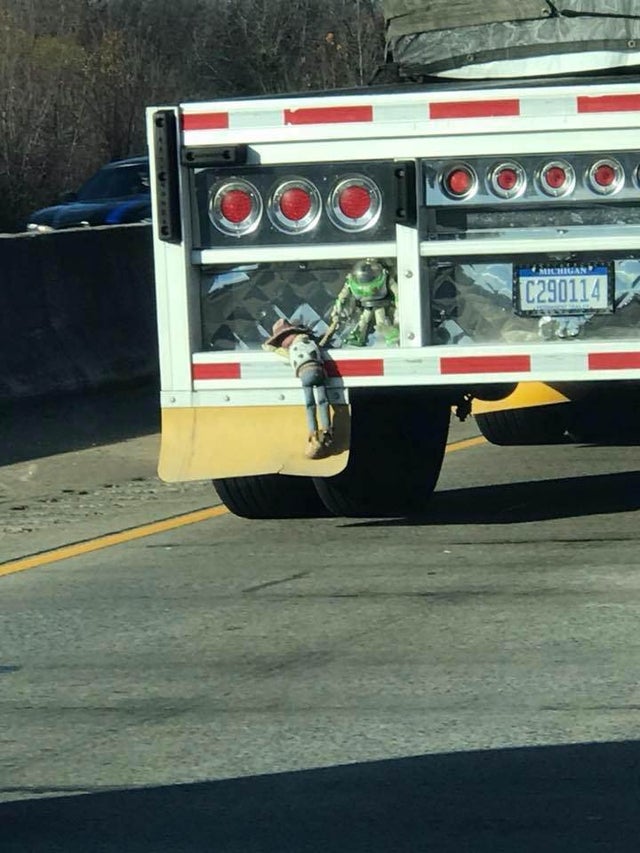 ---
THE TICKLER
This person thought sitting and putting her foot out of the window of a car would be a pleasant idea. But something that she didn't expect happened. A biker riding alongside the vehicle had a brilliant idea: he decided to tickle her! And the thing was so hilarious she had to record it.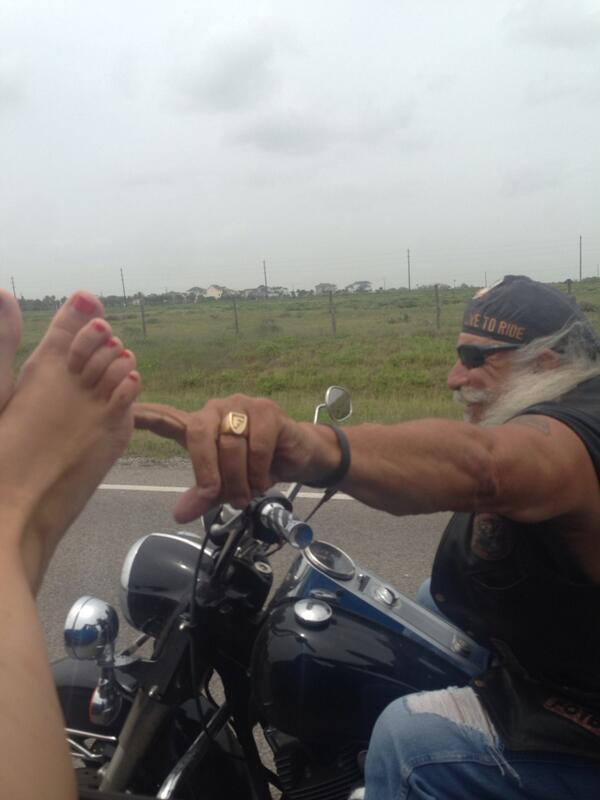 ---
MOTORIZED PIKACHU
Pokemon is one of the most successful franchises ever. And one of its most famous characters is Pikachu. Everyone loves him! But some people take this love a bit too far, such as this car owner who turned his car into one. But it's adorable, right?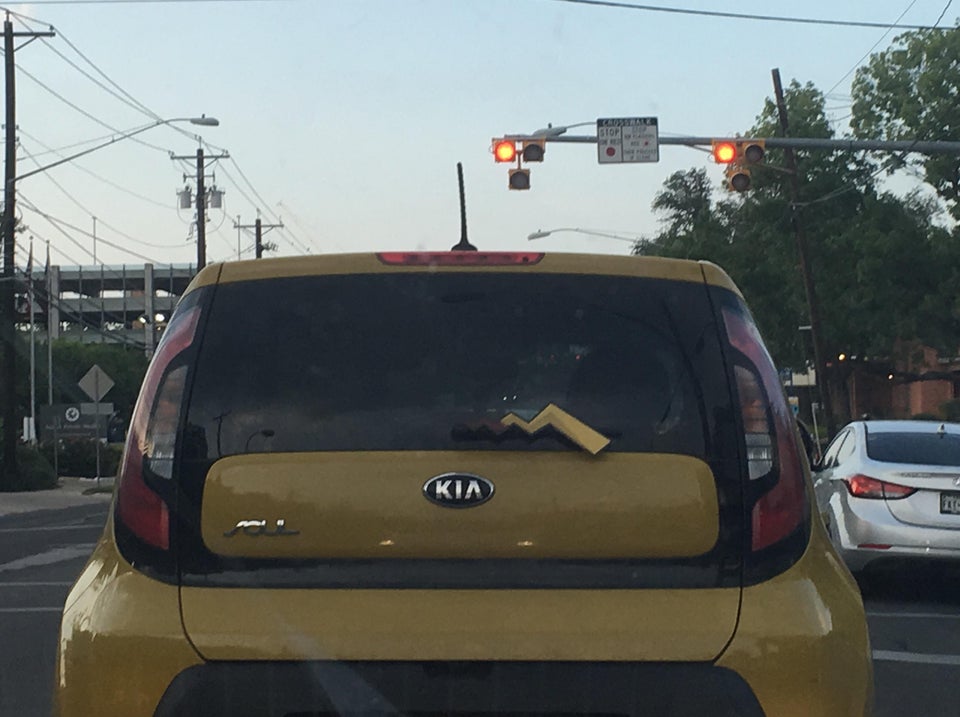 ---
ALIEN INVASION
This mysterious moving vehicle was captured on the road and even had a license plate. Alien invasion? Nothing like that! But certainly, the driver and the two passages are "aliens". Let's hope that this is not the start of an alien invasion!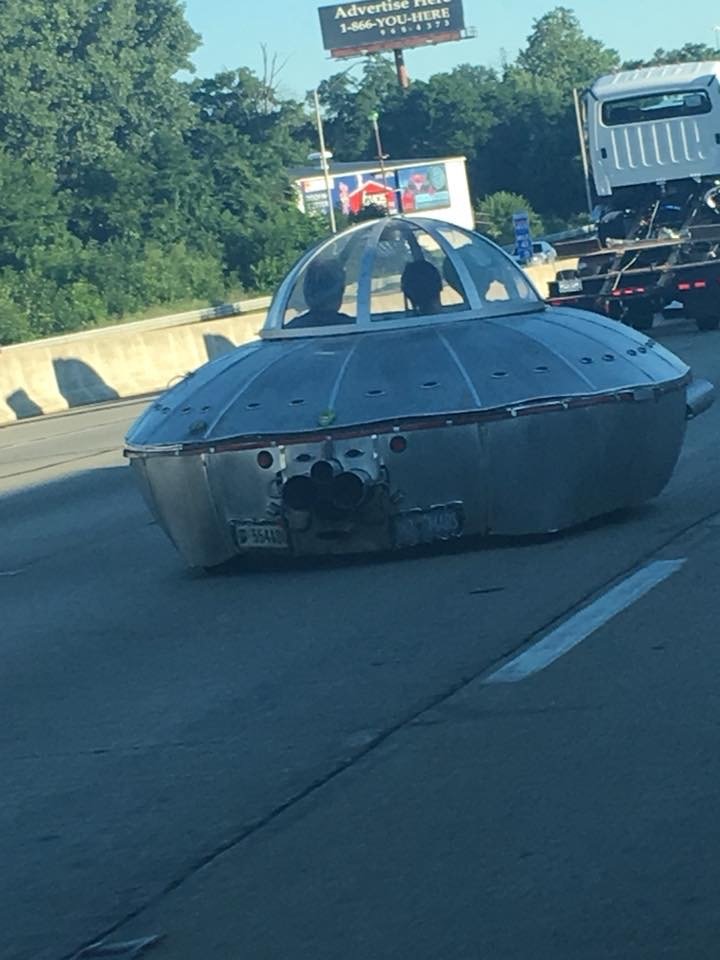 ---
ADORABLE EVIL PASSENGER 
Road trips are boring sometimes. But some things can really spice them up. This particular passenger with a really cool helmet is one of those things. And the best part? The helmet had a sticker on it which said: "Bad to the bone."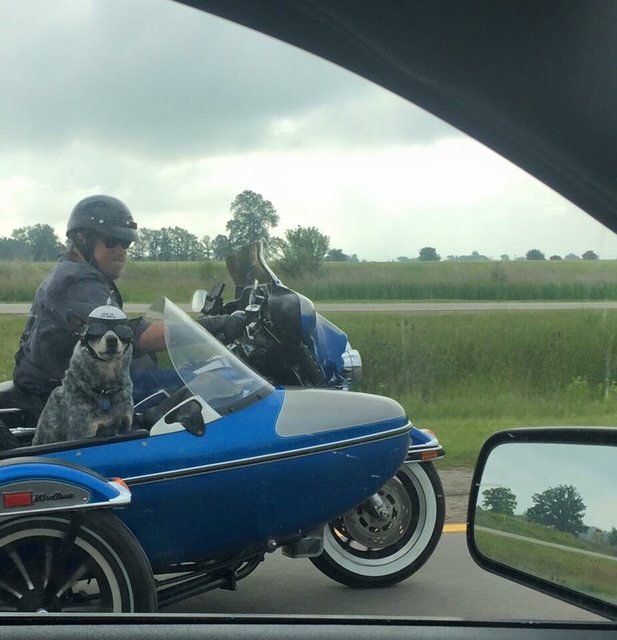 ---
DOGE
Perspective is all that matters - the same thing can be said about life, or simply about this picture. Since it is technically not possible for a dog to legally obtain a driving license, I suppose the driver was actually behind the wheel - he/she simply leaned back while this doggo is peeking out, getting some fresh air. (You can insert any meme or puns if you want to)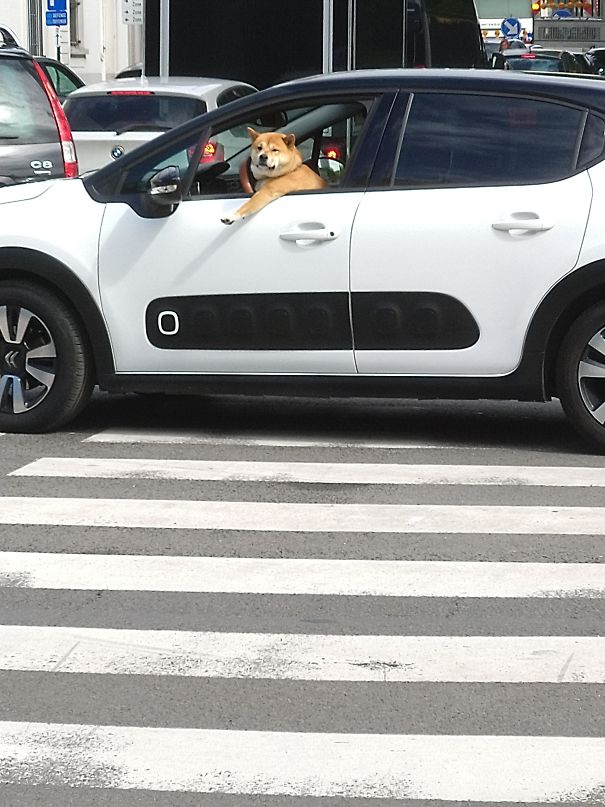 ---
THE SNAIL
This honestly looks like a terrible idea - however, I have personally witnessed things of this sort in Asia...but this one takes the cake. While technically this is a truck... this is a different kind of truck, ones that are not designed to carry this kind of cargo, in this way. But as the motto goes in Asia, if it works, it works...I guess.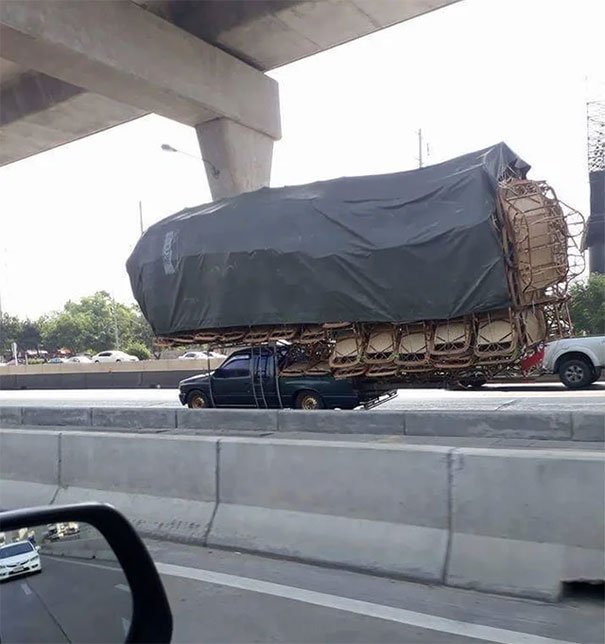 ---
IMPOSSIBLE CHOICE
Driving is hard sometimes, and some things, like these two trucks, make it even harder. The truck on the left says 'Do not follow', but the one the right asks people to 'keep left'. This seems like an impossible decision! Maybe it's better to just park the car and give up driving altogether.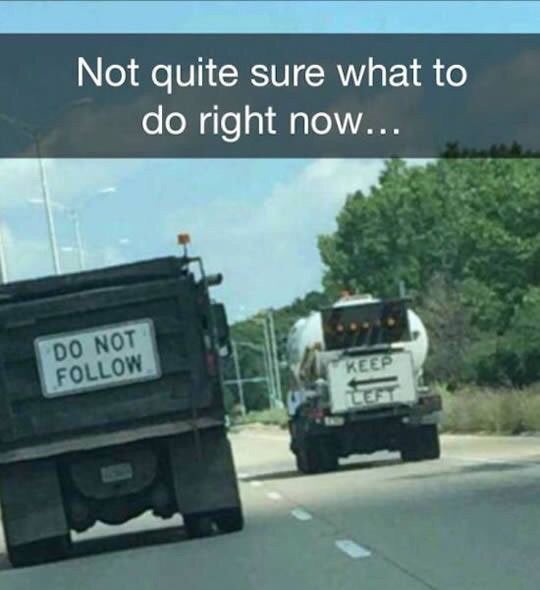 ---
DON'T TALK TO ME OR MY SON EVER AGAIN
Roadtripping is so much much fun sometimes. Especially when you see interesting things along the way. For example, the person who saw this funny scene definitely had a good laugh about it. A tiny truck attached to a big one. It looks adorable!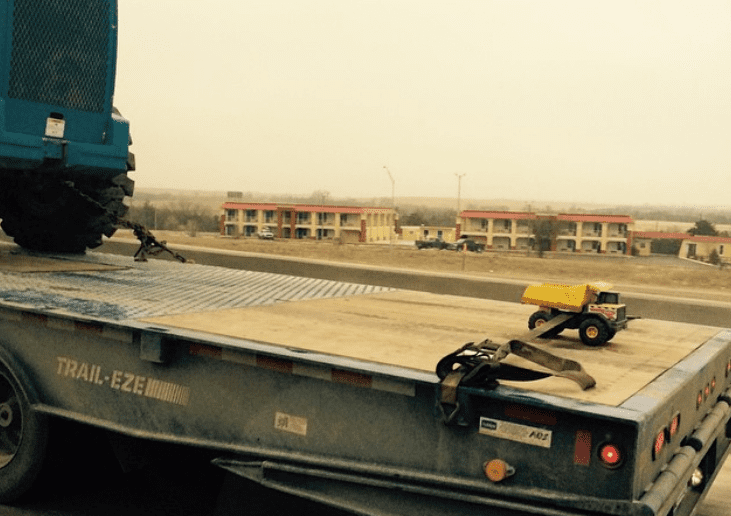 ---
DESPICABLE HIM
If you aren't convinced that the minions are trying to rule the world with Gru, you should think again after seeing this picture. In Dublin, this big minion chose to lie down in the middle of a road making the traffic go crazy. Despicable him!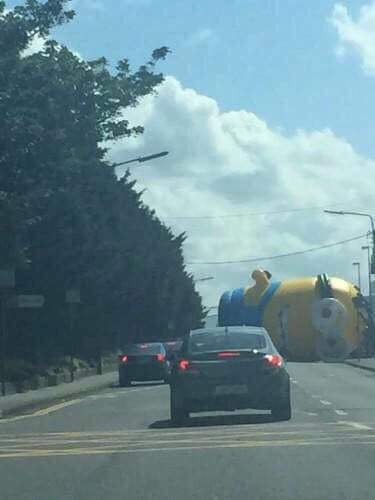 ---
THE NATURE CALLS
Sometimes mother nature needs to act, even if that means to take a whole lane of the road for it. This mother decided it was time to publicly nurse her babies. However, she should have chosen a better spot.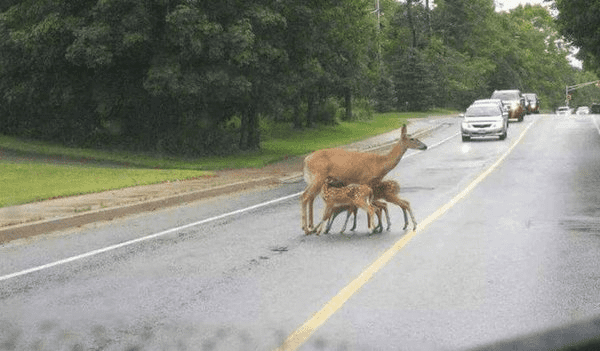 ---
SUPERFAN
Some people love decorating their cars with things they like. But there are some drivers that go way too far when it comes to customization. This driver is obviously a huge fan of Spongebob as we can see by his Patrick tires.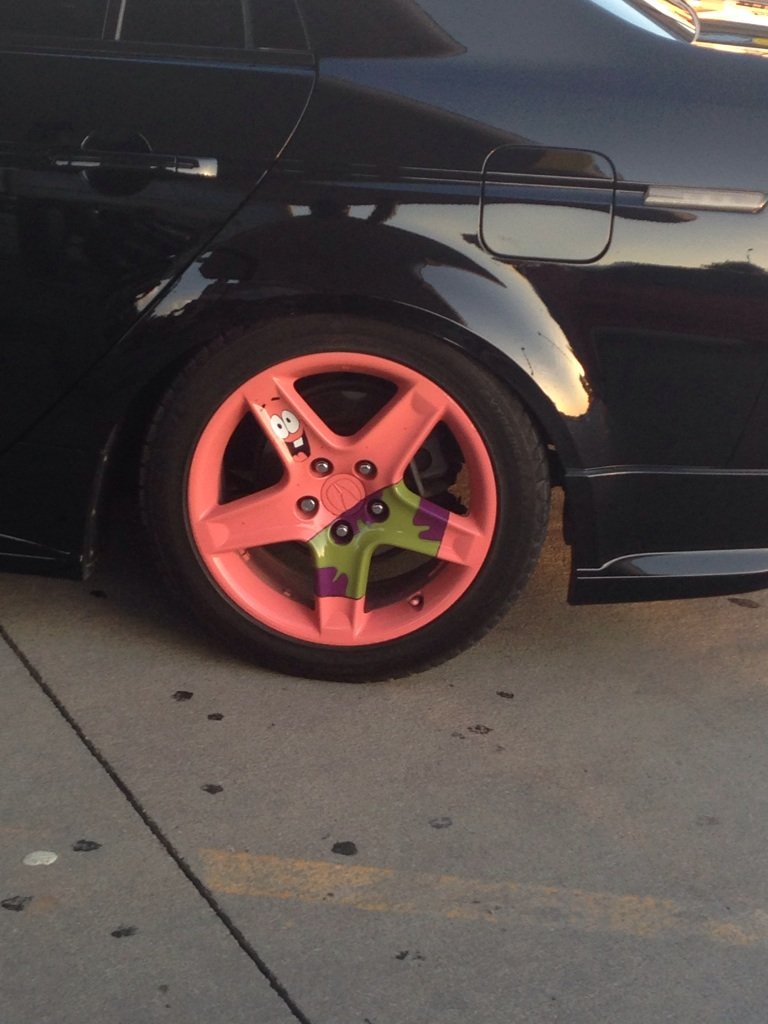 ---
PLEASE FUR-GIVE HIM
We all know that accidents happen. But sometimes it's the driver's fault. In this specific case, it's im-"paw"-ssible to believe that this adorable driver was guilty. Obviously, he will pay for all the damage, it's the "leash" he can do.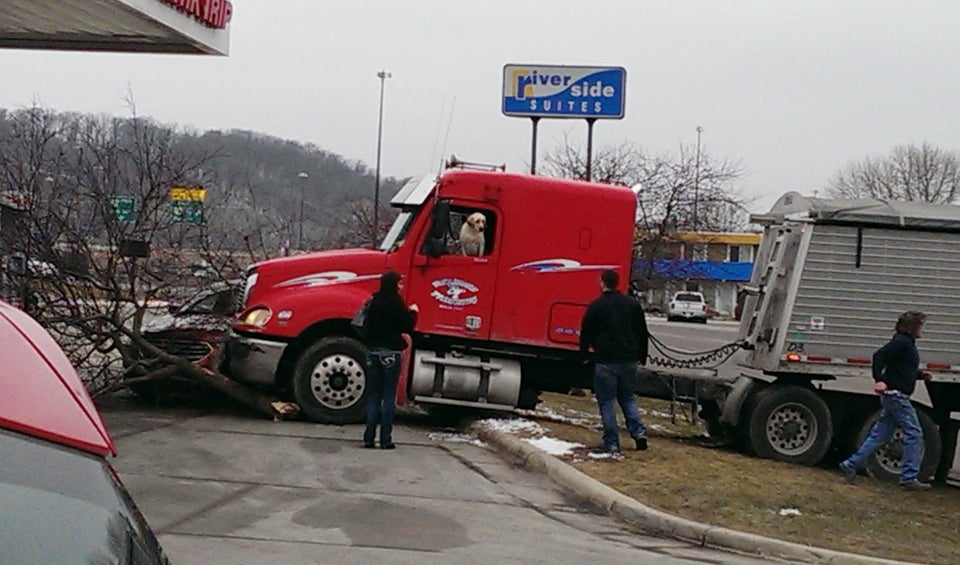 ---
LICENCE AND REDISTRATION
The number one request when your vehicle is pulled over by the cops is "license and registration, please." This guy wanted to place a funny sticker on the window of his vehicle to make a joke about it. And apparently, even the cop who saw the picture found it funny!