Hilarious Windshield Notes Left Drivers Laughing
There are two types of drivers in the world: normal drivers and bad parkers. More often than not, we feel a bit of rage when we do encounter the latter but sometimes they can leave us with a bit of chuckle. Find out how many bad parkers got some funny notes by reading this article!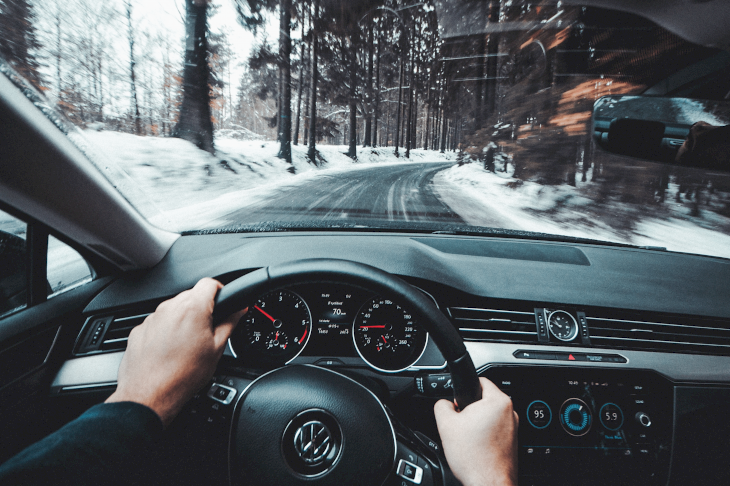 ---
THIS GUY GOT A NOTE FROM THE GRAMMAR POLICE
Okay, there are a lot of bad parkers out there...but there are also people who are forced to take up two parking spots, just like this truck driver. Well, they did try their best to park and explain why they were parked like this. Although, even if they did not get a ticket or a note from the actual police, they did get one from the grammar police, heh!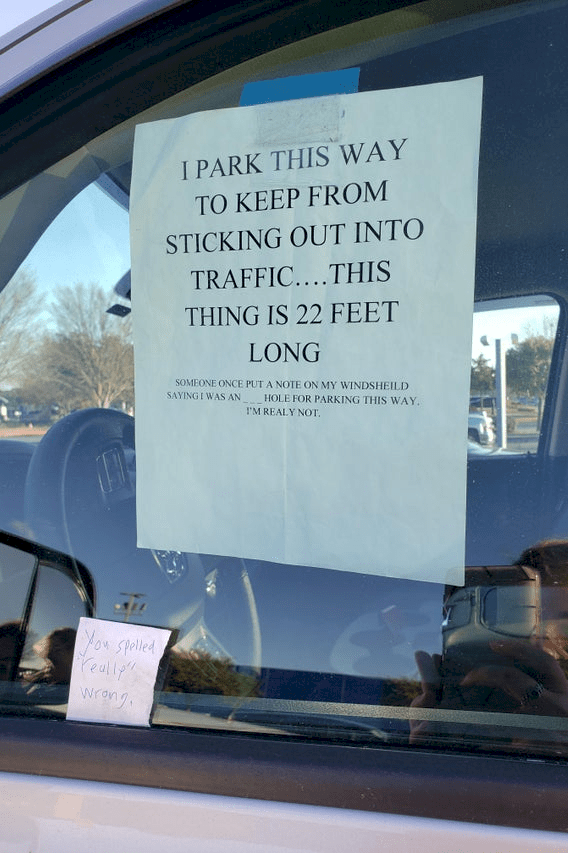 ---
AM I A SARDINE?
Did you read this sticky note in a British accent too? Well, we are not quite sure if the writer of the note is actually British...but it certainly sounds like the most British note of all time. Either way though, we hope that the driver learned her/his lesson and has considered people as humans...and not some sardine!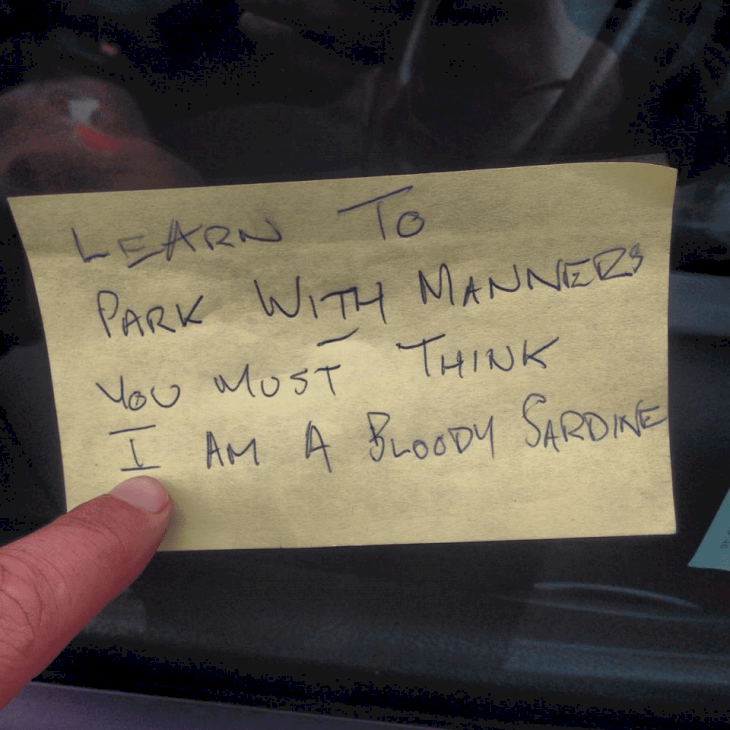 ---
THE INCONSIDERATE PARKER'S PRIZE
Oftentimes, we really can not imagine what goes on in another person's head. However, when somebody parks inconsistently for a consistent number of times then that is when we should ask ourselves (and the driver), "What are they thinking?" Well, another option is to give them this prize in the hopes of making them feel a bit ashamed of their terrible behavior.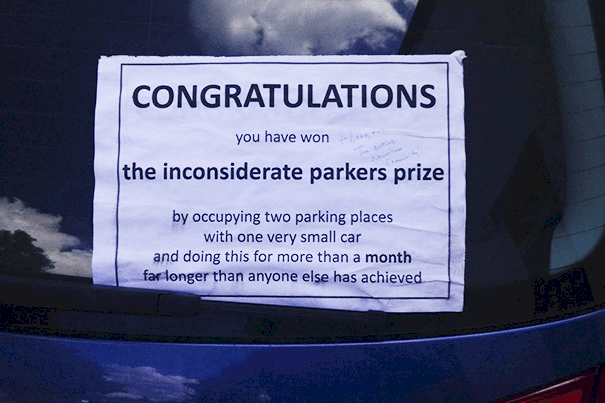 ---
NEIGHBOR'S POTATO ARMY
A tough time can really help bring peoples' innate ingenuity and creativity. This fed-up neighbor really took the time to create their own potato army in order to 'scare off' their bad driver's bad parking habits. Well, we think that it is safe to say that both the giver and the receiver of the threat were equally as amused...heh!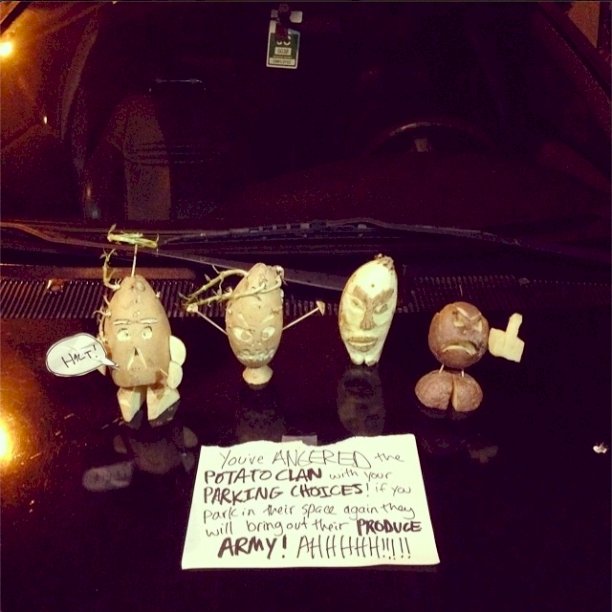 ---
THAT IS, INDEED, A PADDLIN'!
This is a mad neighbor's attempt at a meme and we are so glad he took the time to actually draw something. Well, it is nice to focus your road rage into something a tad bit lighter and funnier to lessen your stress factors...so good job on this note giver! Although, we hope that the bad parker learned their lesson...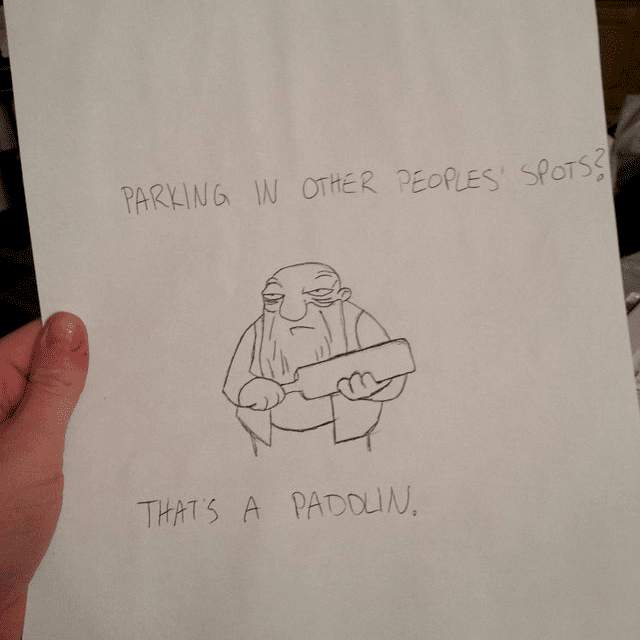 ---
MEME GAME, STRONG!
We do love a good meme creation and this one really took it to a whole new level! Sometimes, instead of beating up our heads and just getting angry about other people's lack of decency, we should just brush it off. A great way to help ourselves feel a bit better is by making memes...and this one is a great example!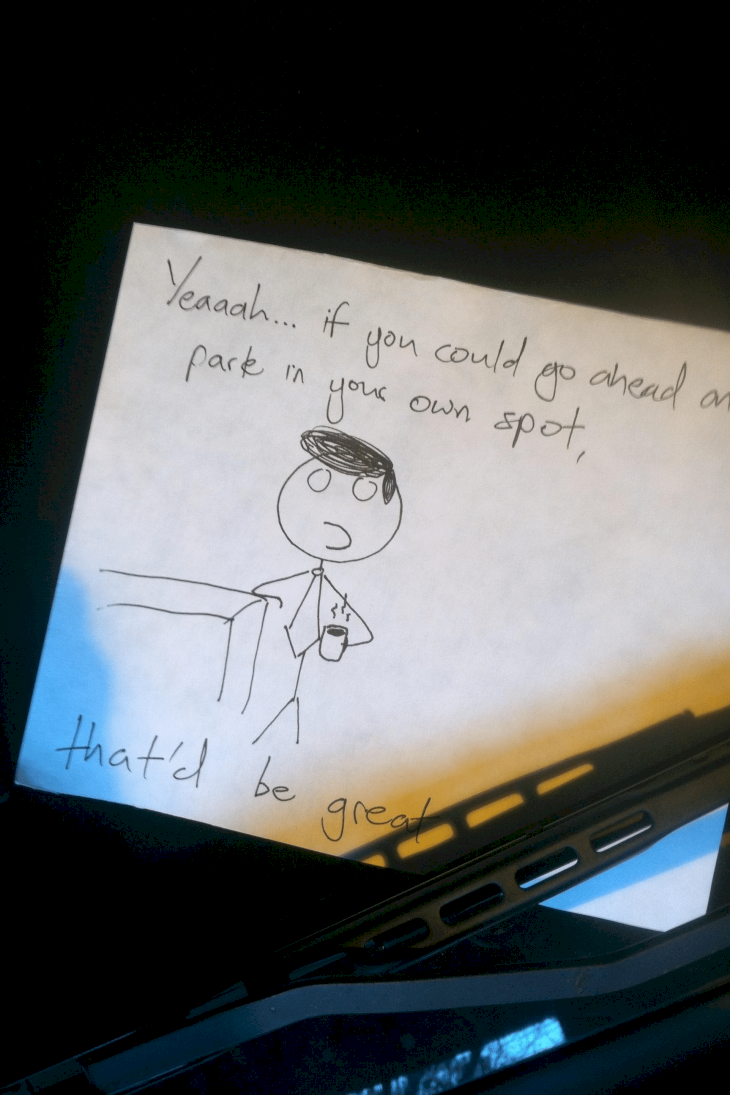 ---
ADOPTING MORE SPOTS
Dogs are not the only ones bad parkers are trying to adopt...parking spots too, apparently. This bad parker had gotten himself a dose of clarity at how bad he parks and well, Spot! If there is one question on our minds today, it is: we wonder how Spot is doing at this very moment?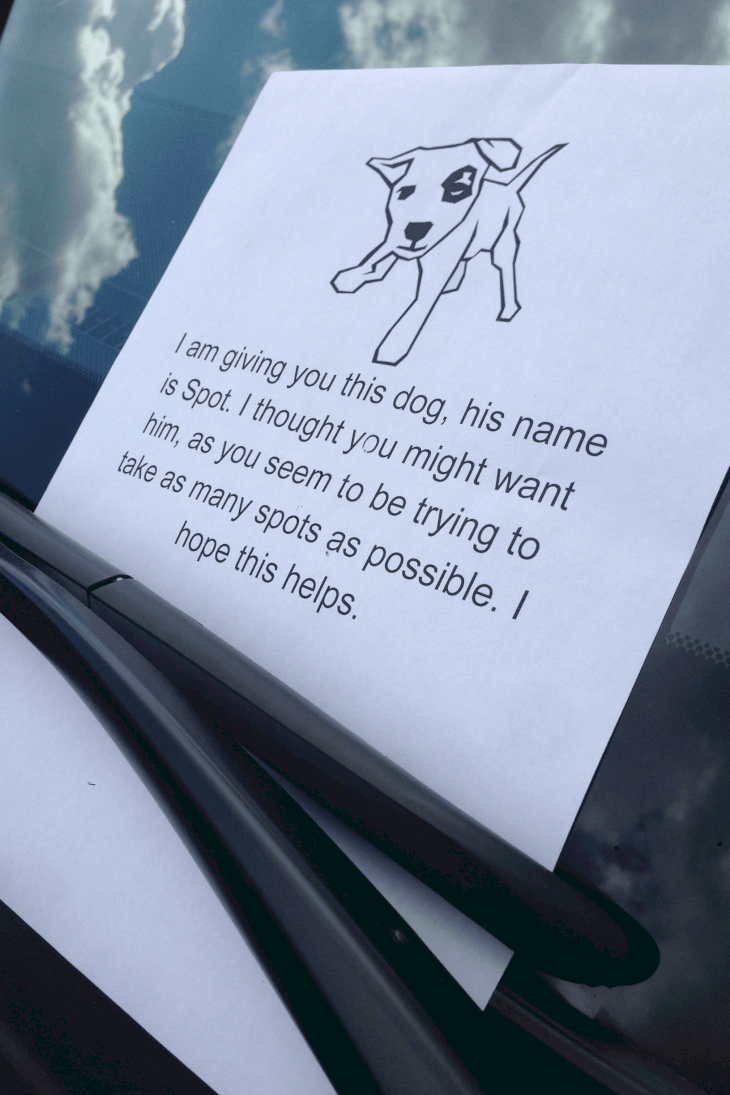 ---
HOPEFULLY, THEY DO NOT DRIVE LIKE THEY PARK...
Honestly, some people park so bad and we wonder how they can actually drive...or how did they eventually get their driver's licenses? Well, this is the case for the receiver of this funny note. We really do hope they do not drive like they park because that would be totally chaotic!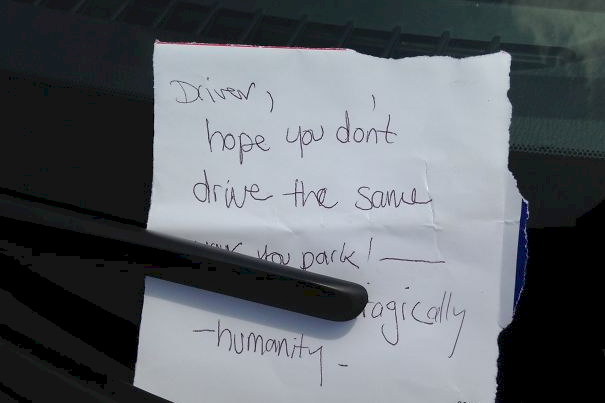 ---
OPTIMUS PRIME DISAPPROVES
Apparently, Optimus Prime can be quite disapproving of horribly executed parking jobs. Well, we can not blame him...because who actually likes horribly executed parking jobs? Maybe next time the driver can actually work on how to park properly before the Autobots come out and get her/him...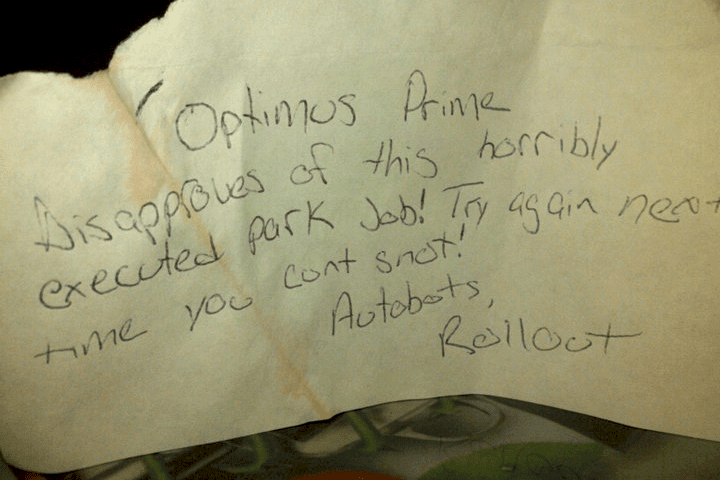 ---
LEAKING GASOLINE...YIKES
Can we all agree on the fact that the smell of gasoline is one of the most horrible and nauseating smells? Unfortunately for the people who live in this parked car's complex, that smell can be inhaled almost every single night. We do hope that the driver has found a new parking spot though and we do hope that he might even get his car checked because gasoline is no joke.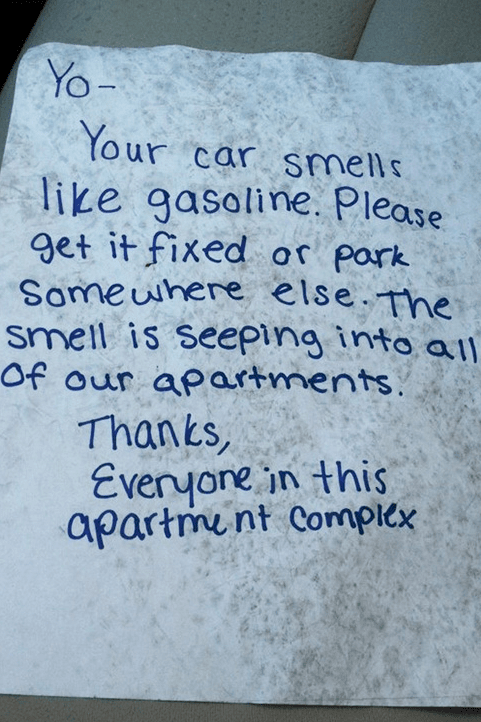 ---
IS THIS AN ANCIENT SCRIPT?
Most people use colorful languages in order to express how they really feel, but that does not seem to be the case for this note's giver. This person has written a note in what seems to be a completely different alphabet...maybe it even is an ancient script? Well, we sincerely hope that they got their point across...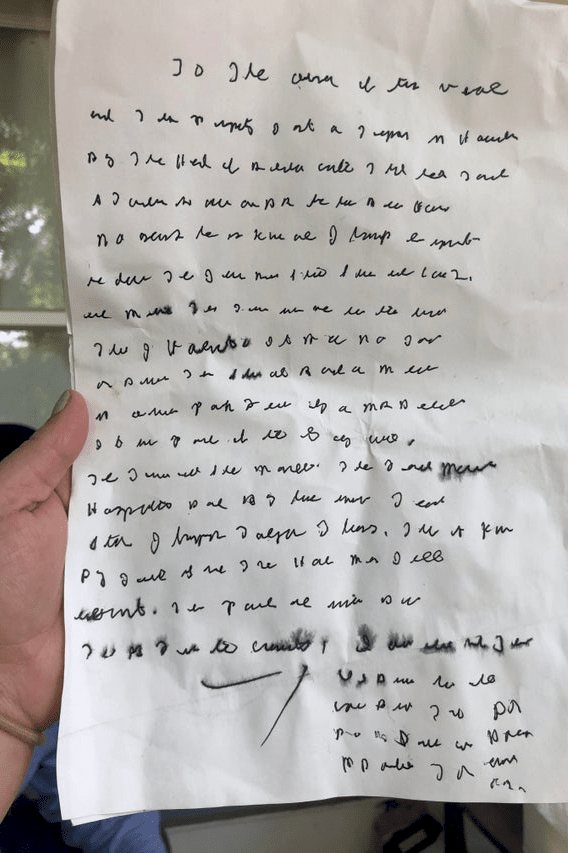 ---
DAUGHTERS CAN DRIVE TRUCKS TOO!
Why do people always assume that a truck can only be driven by a man? Well, this note proved that daughters can also have a really good appreciation for big trucks like this one. Plus, trucks can be such a breeze to drive if you know how to properly drive one!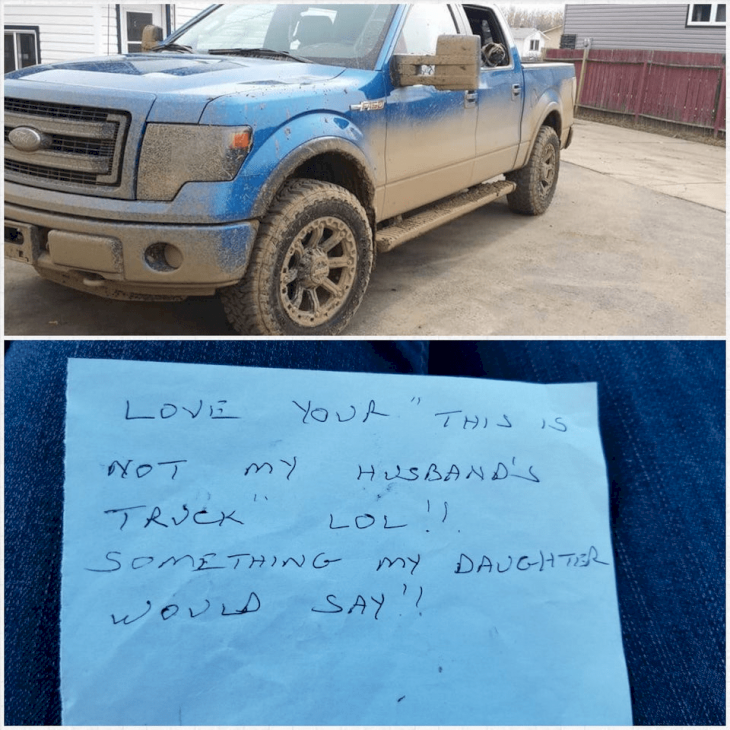 ---
STUDENTS TELL THE TRUTH
On some rare occasions, the notes left by people on their windshields can really tug a heartstring. This note acted as a plea on behalf of the student who was a bit too late to buy their parking pass. Well, we can all just hope that the officer really did not leave this poor kid a ticket...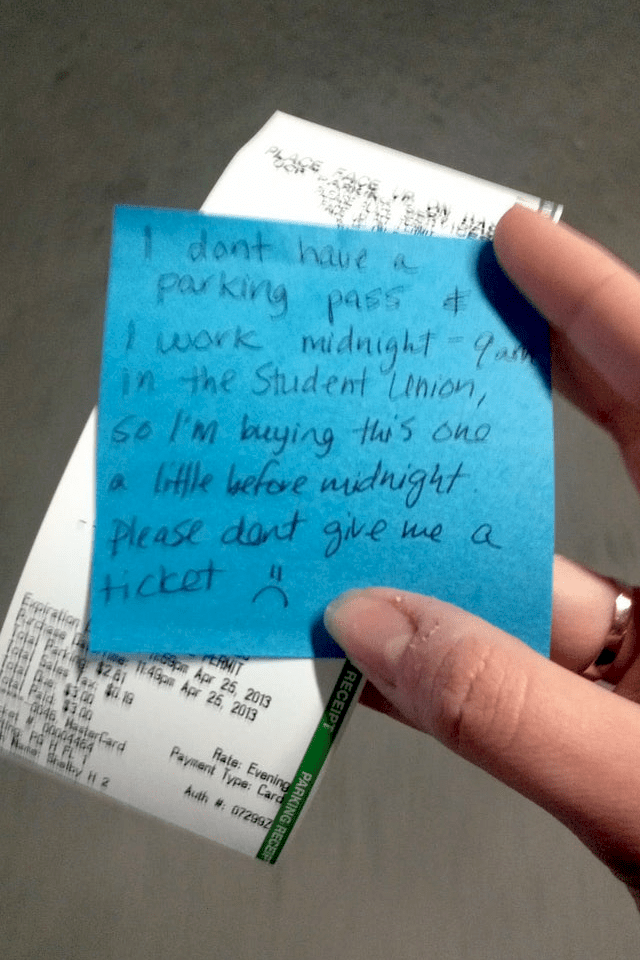 ---
A HIT AND RUN
Sometimes we might feel like nobody is watching us, but come on...this is 2020 and everybody is watching us. This driver might have thought that nobody was watching her/him when they hit a car but they were wrong. The next time that you think might have hit another car, just man up to your mistakes and leave your information...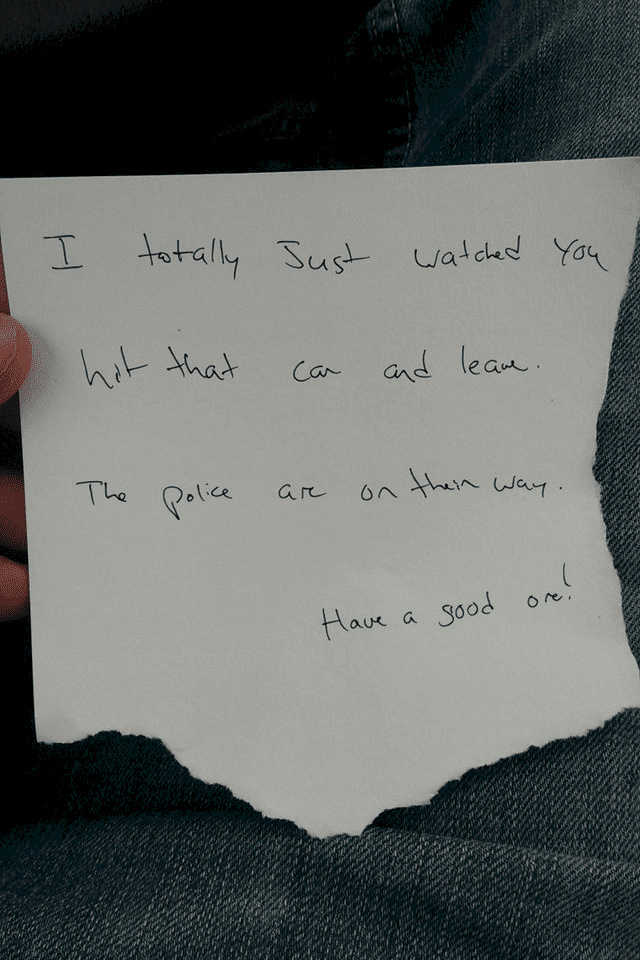 ---
A MORE CLEVER HIT AND RUN
The person who has hit this car has apparently a better trick up their sleeves because they managed to leave a note...but not just any note, a senseless one without any apology or information. Although, we are not going to deny the fact that this is quite a brilliant note. Most people might even take a few notes on how this is really done, heh! 
---
THE LANNISTER'S DO NOT APPROVE
If there is one thing that we approve of, it is memes and references to Game of Thrones. Although if there is one thing that the Lannisters do not approve of, it simply is bad parking. So before this scary family comes out to get you, might we suggest sticking to a much better parking routine?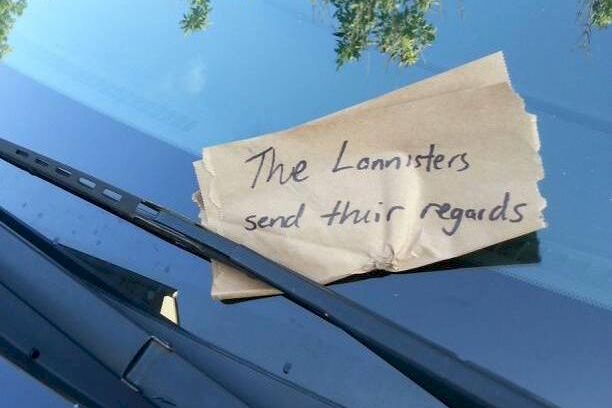 ---
DON'T PARK LIKE A TOOL!
All people are born poetic...some people just do not realize their full potential. Well, this can change when we all encounter a really bad driver who parks equally as terrible. So in times like this, we must all muster our great poetic talents and leave them a note equally as insane as their park jobs.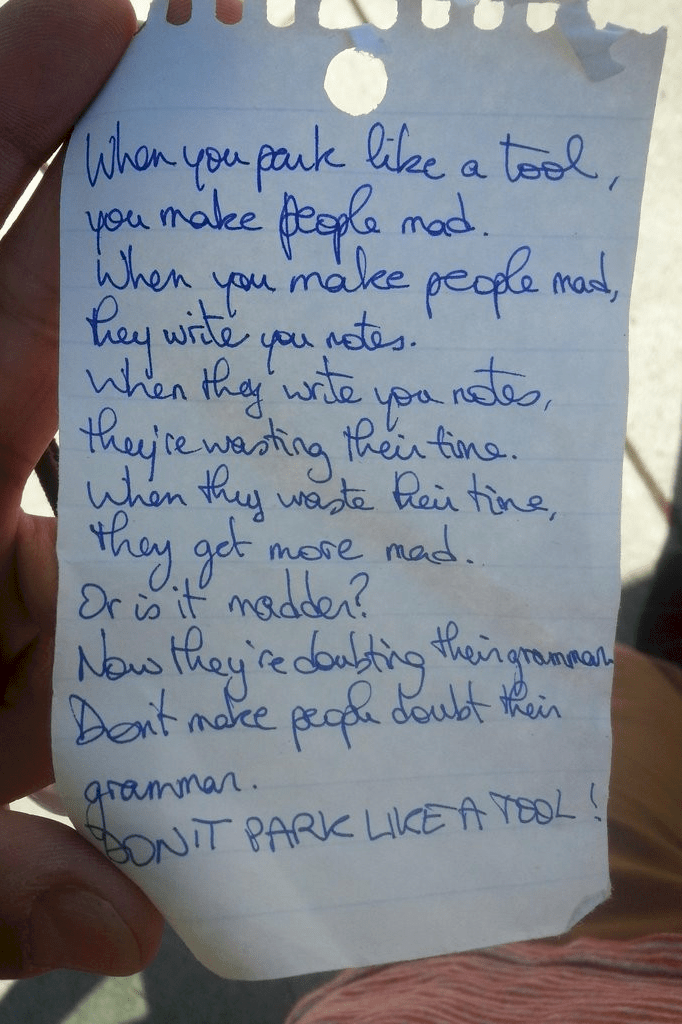 ---
"JUST FOR YOU"
Parking can sometimes seem like a task but come on, it is not that hard...especially if you have been driving for quite a while now. The thing that baffles us is how other drivers park so badly. In some instances, they really do need their own parking slots because they cannot seem to find the right ones on their own…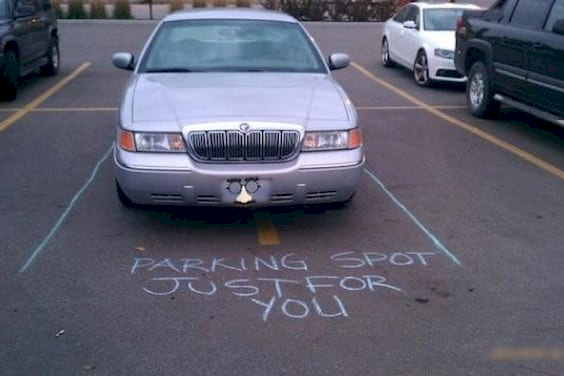 ---
THAT MOVIE STAR FEELING
There are many things in our everyday lives that make us feel like we are in a Hollywood film: being drenched in the rain, sitting alone in the bus, and...sliding on a car hood? We always say to do more of what makes you shine and if this bad parker's car hood is what makes you shine, then, by all means, go for it. Sometimes, bad parking can help people's potential!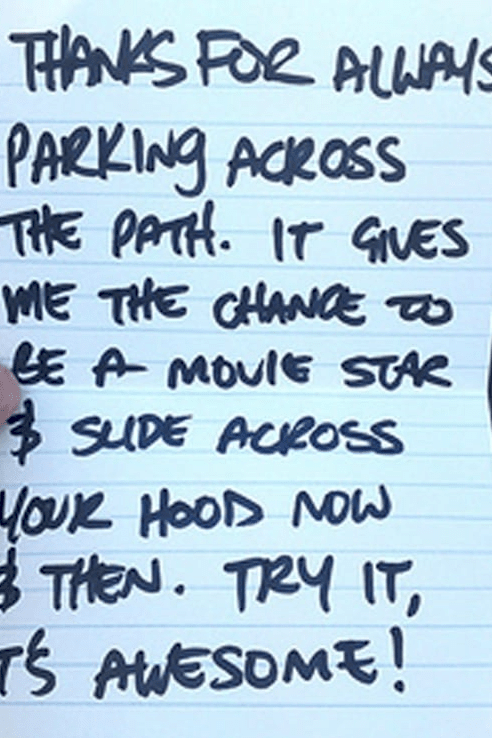 ---
EVEN HELEN KELLER PARKS BETTER…
We do not know about you, but we bet that even Helen Keller parks better than this terrible driver! Sometimes you just have to leave a bunch of historical references just to reiterate how terrible somebody's park jobs are. Well, we are sure that the note giver got their points across well.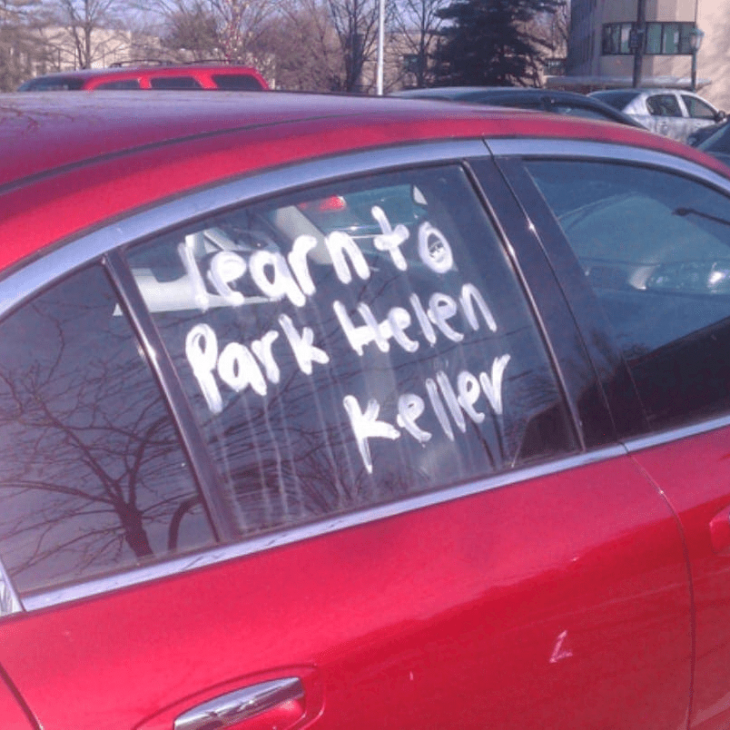 ---
PEANUT BUTTER VS. TOW TRUCKS
If you have a neighbor who has quite the parking lot, then it probably is best to not try and annoy them. First, because they do have a lot where you can simply ask them for permission in order to park your cars there. Second, well...just so they do not go and put an enormous amount of peanut butter on your windshields.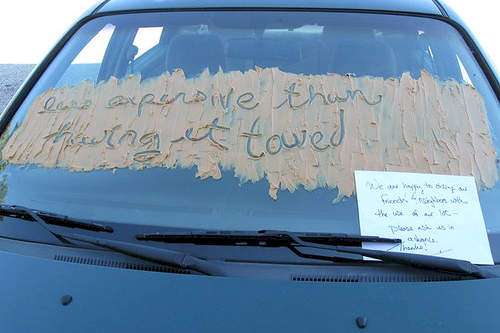 ---
"THE WORLD DOES NOT REVOLVE AROUND YOU…"
Sometimes we find ourselves in a position to simply put our needs first and ignore the needs of others. Although, this does not always have to be the case whenever we are trying to park our cars. Just take a look at this car owner who got a cute little note reminding themselves that the world does not revolve around them.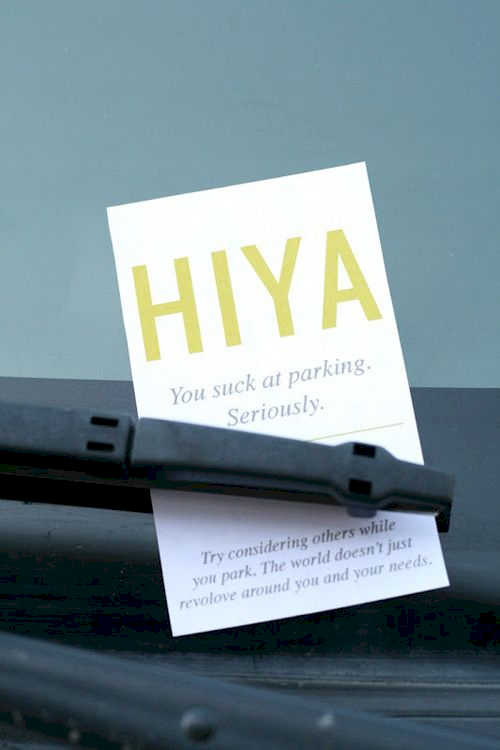 ---
A SNOWY NOTE
No matter what the season is, there will always be that one person who always ends up parking horribly. The upside to having snow in the winter is that you do not even have to use a sheet of paper and a pen in order to leave a note saying how terrible their park jobs are. Nature is giving you liberty by drawing on their windshields using snow...genius, eh?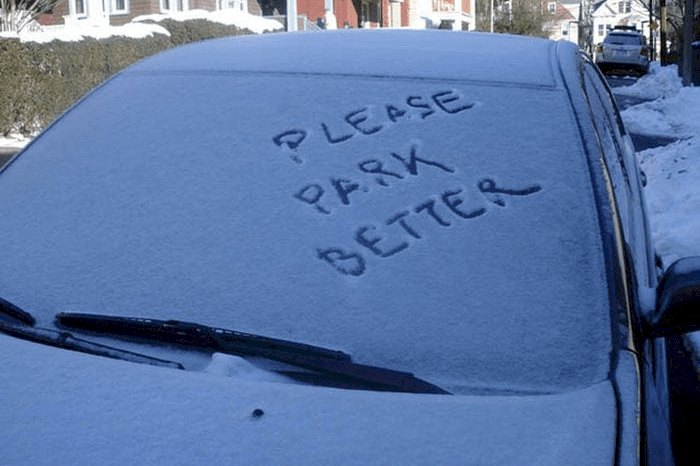 ---
"DEAR BLUE BMW…"
The theory that money cannot buy people decency is proven time and time again, and this time it is all thanks to a bad parking job. How would you feel if you are held responsible for the life of someone's grandma? Well, we hope that the owner of this BMW learned their lesson and never did it again!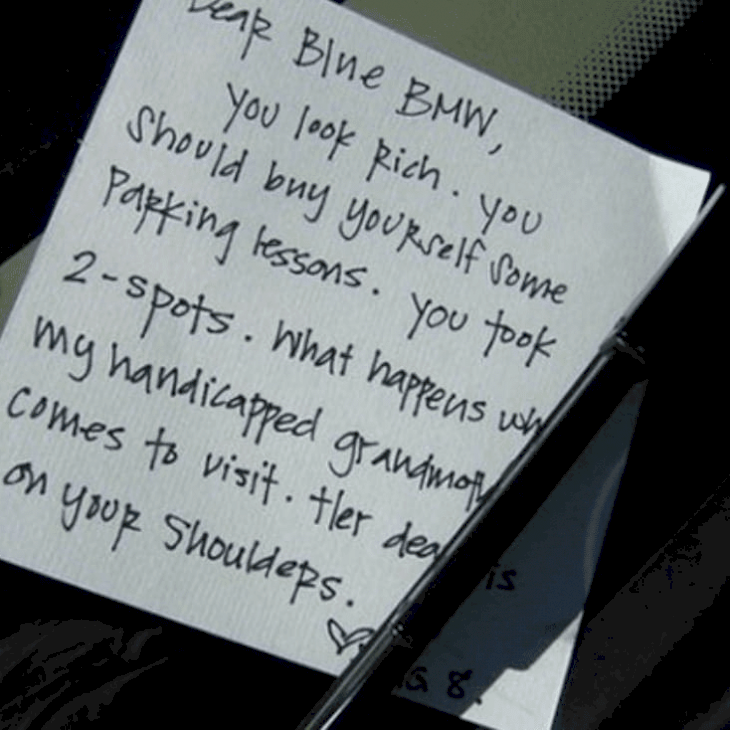 ---
DOGG, YOU JUST HAVE TO GO ALL IN!
More often than not, a small note really is sufficient when we are dealing with people who try to steal our parking spots. However, if they have been doing it for quite some time now, then you really have to go all-in! Just take some inspiration from this guy who painted a windshield in big white letters.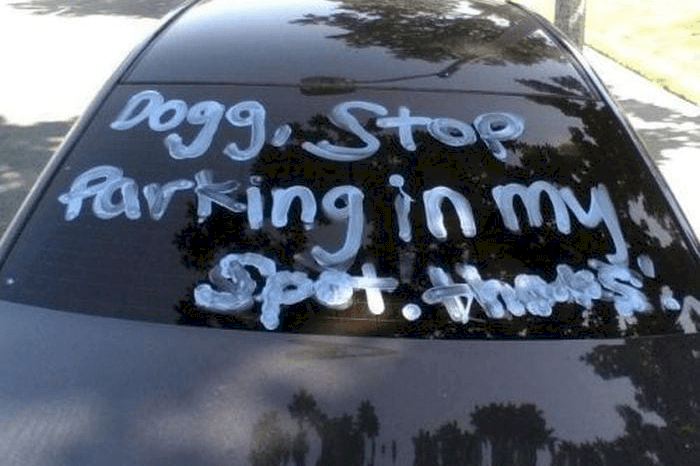 ---
"IS YOUR NAME KATRINA?"
Obviously, we all remember the terrible natural disaster that was Katrina. Although, have you guys met any 'Katrinas' whenever you are trying to park or drive your cars? Yes, these are the people who simply park like a disaster...as per this card's suggestion.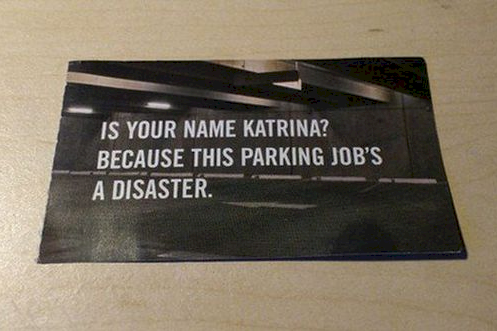 ---
A RIBBON FOR THE BEST PARKING JOB EVER!
Drivers are just like school children; they sometimes behave badly and they do require ribbons every once in a while. This driver who parked so badly and so far from the curb really does deserve this one of a kind ribbon. It is safe to say that this is someone whom we never should aspire to park-like…
---
"HAVE SOME MERCY…"
We all know how horrible it is whenever an officer gives us a ticket...plus, the fine that comes along with it is usually pretty hefty. So we feel for this car owner who has received a bunch of parking tickets in the span of a week! Well, hopefully, they get to pay off the tickets and they were not given any more that day...oops!