Jokes and 'Easter Eggs' from Our Favourite Childhood Shows
Cartoons were a massive part of our childhoods and we have always loved and felt entertained whenever we were watching. However, cartoons seem different when you are watching it as a child versus watching it as an adult due to some of the 'easter eggs' hidden in them. Find out if your favorite cartoon had a cheeky secret by reading this article!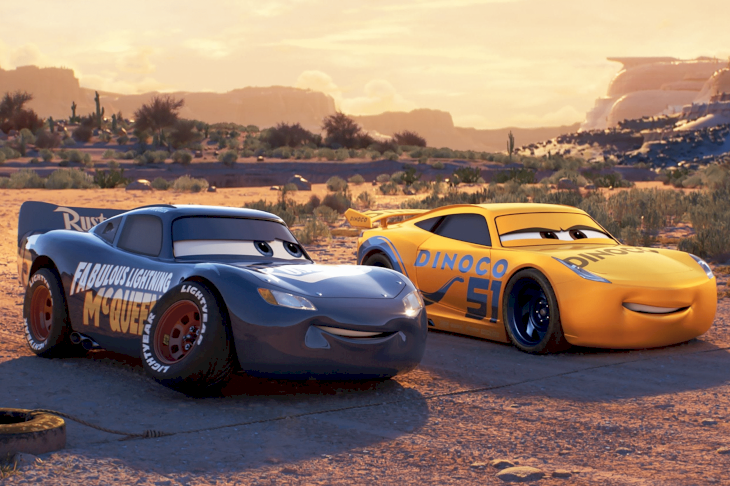 ---
ROCKO'S ONE-ON-ONE HOTLINE
Oh, Rocko, you poor little thing. As children, we might not have paid any attention to Rocko's gig during this episode, but as adults, we know exactly what he was doing. Honestly, how can anybody overlook this joke?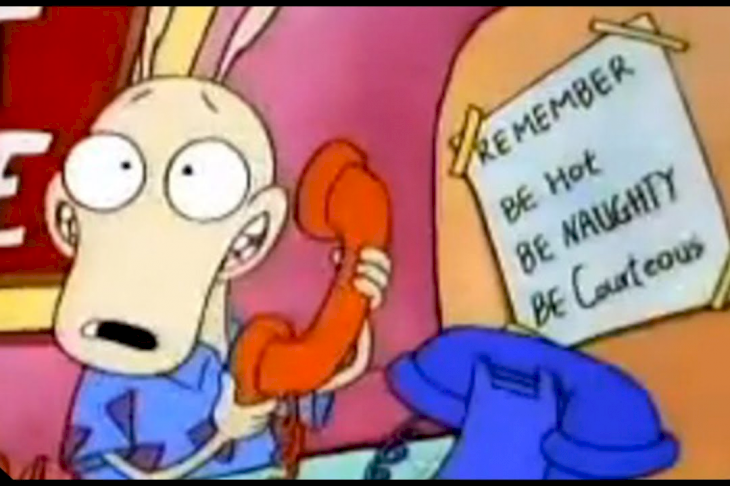 ---
IT IS A 'GIRL' HOUSE
First of all, since when does having a uvula make anything a 'girl'? Undeniably, this film really shows how teenage boys are; clueless, scared, and a tad bit problematic. Although this show really will give you the creeps as a teen, there is no denying that.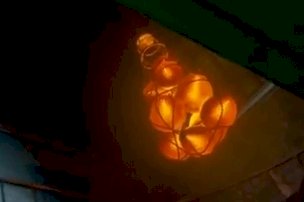 ---
KRONK AND HIS TINY TENT
We are not going to lie, Kronk is surely one of the most fascinating and amusing characters in any Disney cartoon. However, do you not wonder why his tent was so little during that particular scene on The Emperor's New Groove? Well, one might wonder and think about it for a little while. It will certainly give you a giggle as an adult now.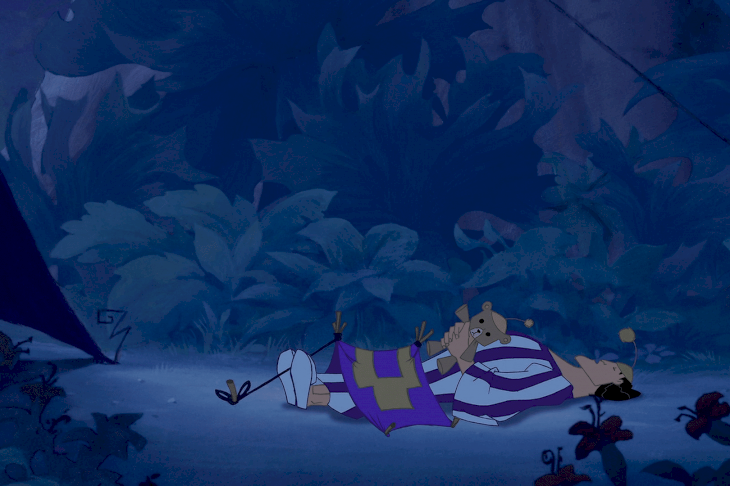 ---
CARS' LEMON PARTY
A lemon party might seem completely innocent as it was shown in this scene from Cars 2. However, if you know what a lemon party actually is, then you might completely change your mind. We urge you to not try and Google what it means...but if you can not resist your curiosity, then Google it alone.
---
DAFFY AND HIS PLAYDUCK MAGAZINE 
When we were children, we might have watched this scene but completely missed the point. As an adult, it might seem like Daffy is in a world of his own whilst enjoying this steamy duck-appropriate magazine. One question though: what was that magazine like on the inside?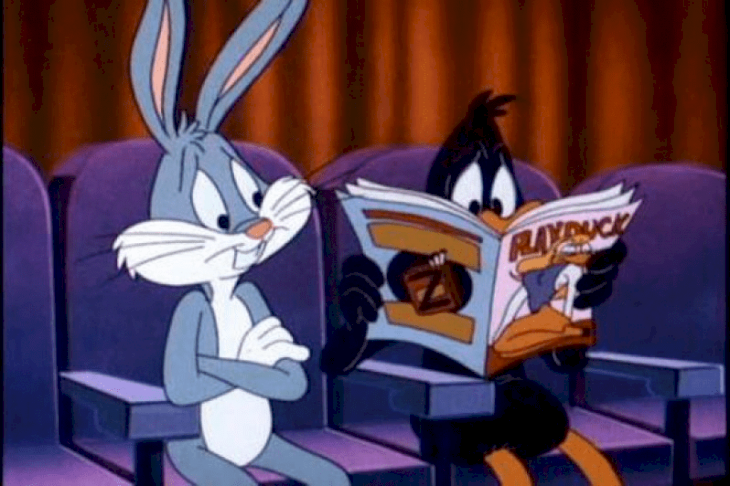 ---
SHAGGY AND MARY JANE
As a kid, we might not have paid any attention to the name, 'Mary Jane'. However, as adults, some of us know exactly what it means. Although the producers of the show do not condone this inappropriate behavior, they might have thought that a bit of a joke would have been appreciated ...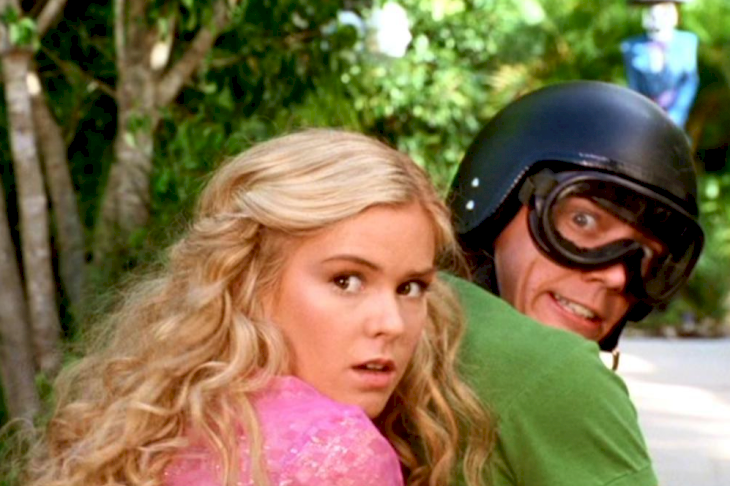 ---
FOOT SIZE DOES NOT MATTER, KRISTOFF
Every child loves Frozen...and maybe even adults too! When the interrogation between Anna and Kristoff became a bit too deep to handle, Anna said that foot size does not matter at all. This might seem like a very innocent thing to say, but we adults know exactly what that meant and it may be a little cheeky.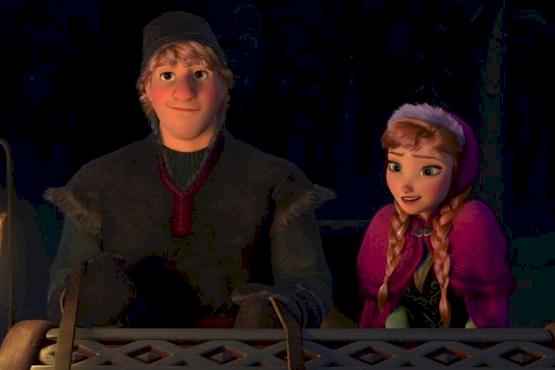 ---
GRANDPA'S WOODSTOCK ESCAPADE
We all grew up watching Hey Arnold! but it was our grandparents who grew up in the era of Woodstock. It was said that Woodstock was one of the best celebrations in the whole world and people engaged in a lot of different habits during that time. So, no wonder grandpa's brain is suffering a little bit now...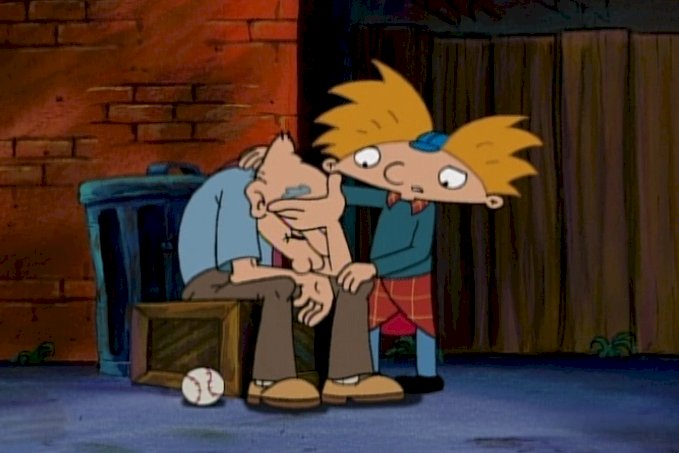 ---
HERCULES MADE A JOKE
That one time when Hercules made a joke and it is not only funny but very intellectual as well. Do not feel bad if you do not get this joke quite early on because it actually takes a bit of light reading into Greek Mythology. However, the gist is that Oedipus kills Hercules' father in order to marry his mother...yikes, that turned dark pretty quickly!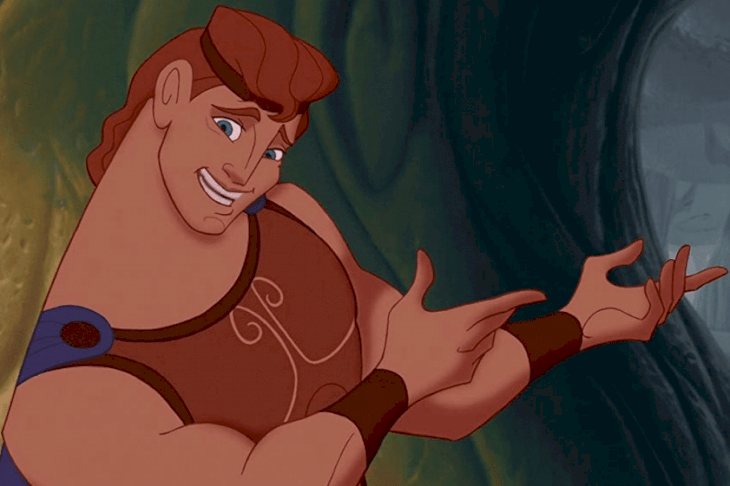 ---
TOY STORY'S DECAPITATED TOYS
When we were kids, Sid's decapitated toys were what nightmares were made of because they were spooky, weird, and simply ghastly. However, as adults, we might find the pun a bit more entertaining. Honestly, what do you call a 'hook' with extremely long legs?
---
THE SANDERSON SISTERS WANT CHILDREN
Hocus Pocus is a Halloween staple and we all know why the Sanderson Sisters desire children. Although this joke might have spooked us a bit when we were children ourselves, we are quite sure that this line made us chuckle as adults. Well, maybe if they were a bit more 'fun', then they might have had a different set of children, eh?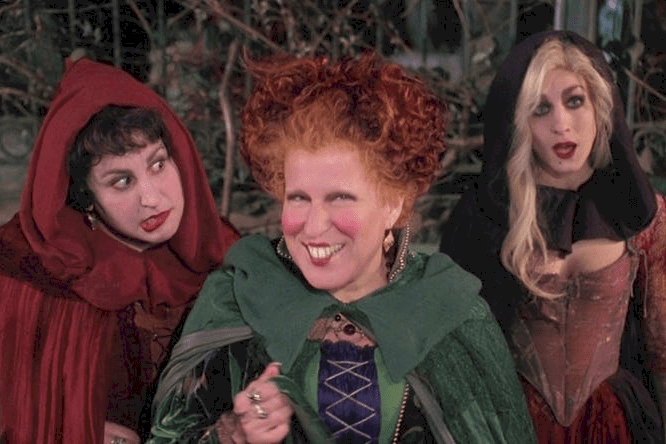 ---
"THERE ARE NO BEARS" IN SAN FRANCISCO
This joke seems a bit naive and even innocent like it really does not have a deeper meaning to it. Although locals from San Francisco know what this line really pertains to...whether it is a good or a bad joke, one can only decide for themselves. If you are still as clueless as we first were, then might we suggest you Google what it really means.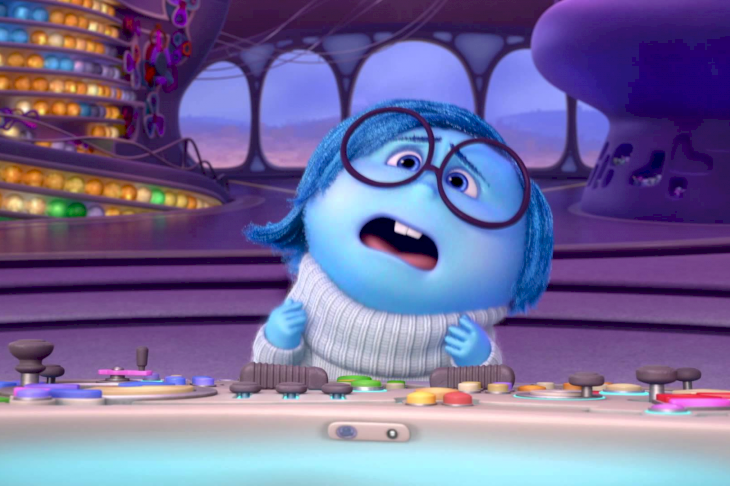 ---
COGSWORTH'S PAINFUL ADVICE
We all grew up watching Beauty and the Beast and we all fell in love with how their relationship has blossomed over the course of the film. Although, when Beast wanted to ask Cogsworth how he can win Belle over, Cogsworth had a bit of painful advice. Well, we do wonder who broke his poor little heart before...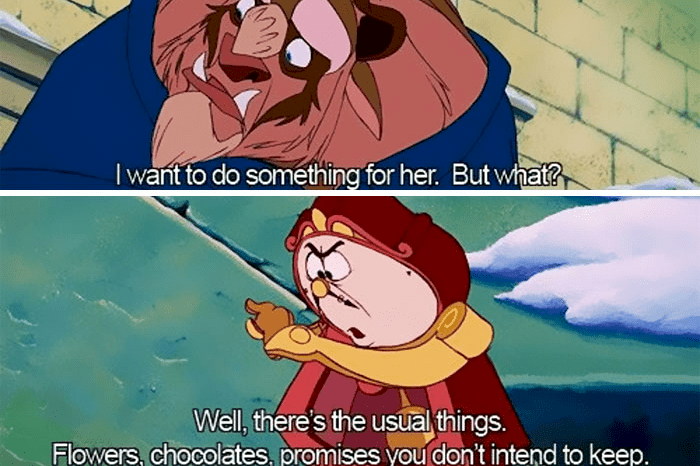 ---
BUZZ LIGHTYEAR'S STAND AT ATTENTION
It is no secret that Jessie is Woody's girl and they are basically the perfect match. Although, it is also no secret that Buzz is quite attracted to Jessie (albeit them being mere toys). In a scene where Jessie flies by Buzz, his wings suddenly burst out and it was standing in attention...well, on second thought, this action might be pretty cheeky as well.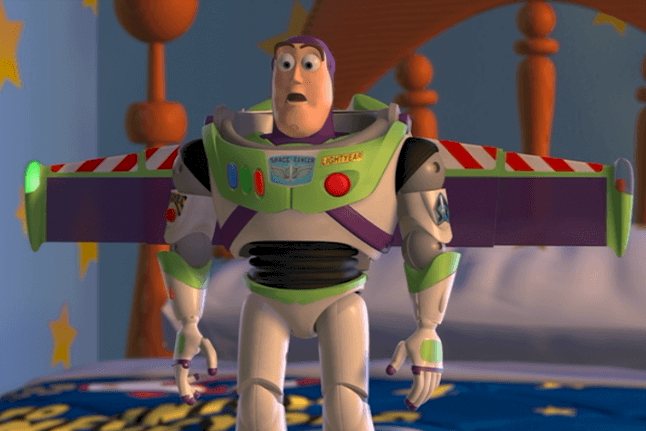 ---
THE BANK OF EVIL
After the economic crash in 2008, Disney thought it would have been apt to show their viewers how banks can be totally evil. Well, inappropriate or sultry jokes are not only Disney's forte, political jokes were too. Disney made various comments that you should lookup for a good little laugh!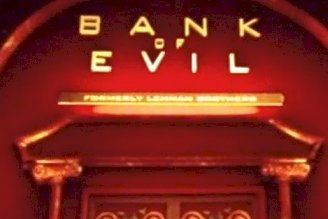 ---
WAIT...CHEEKY MINIONS?
During this scene from Minions, these two minions can be seen rocking a disguise. Well, they were dressed as a woman and a particular Frenchman was 'eyeing' a certain part of the minion's body. If you think that he was trying to look at the eyes or another body part, then that is for all of you to decide for yourselves...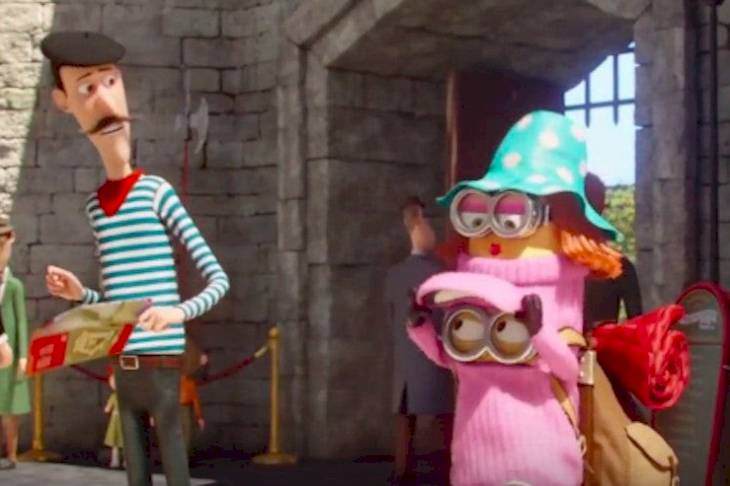 ---
BUGS AND POLLINATING
A Bug's Life is one of Disney's most underrated films...and maybe it was because of such distasteful jokes such as this one. Honestly, pollination with a real bug? Here we are thinking that Disney's show creators were a bit more creative and tasteful than this.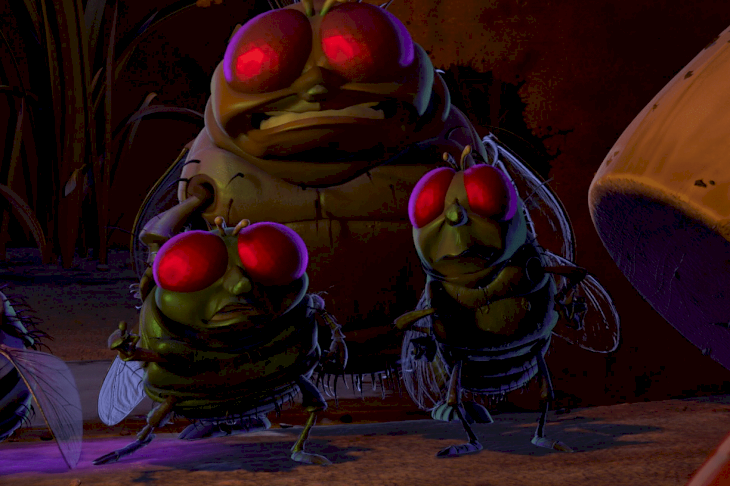 ---
CARS' CONVERTIBLE WAITRESSES
Here is another scene from Cars 2...and now we are wondering what the show's creators must have been thinking whilst making this film. Seriously, a truck stop with convertible waitresses? One can only imagine what it must actually be like in there...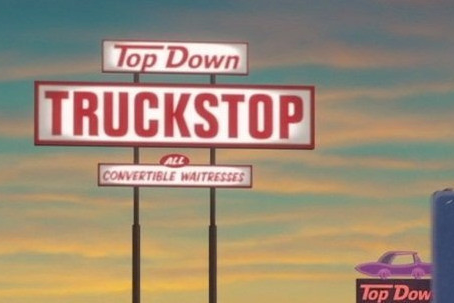 ---
MRS. POTATO'S MOUTH
As a kid, when we saw Mrs. Potato's mouth being stolen by Lotso, we were kind of horrified and amused at the same time. Then, when Mr. Potato tried to defend his wife, we never gave it anymore though. Although, things can seem pretty different now that we are adults...because now we do get the joke!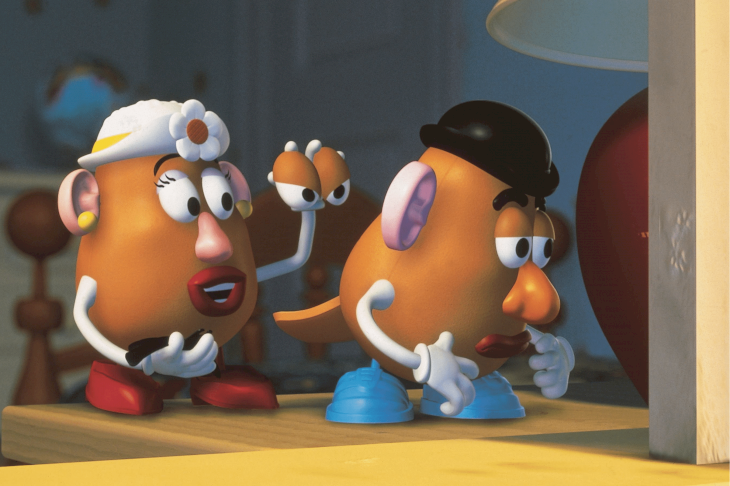 ---
WHAT HAPPENED TO FATHER?
This scene from Three Little Pigs looks innocent like it is just another normal children's cartoon. However, if you paid even the slightest bit of attention to that frame hanging on the wall, then you might know that something was amiss. Well, what happened to the pigs' father?
---
A DOODLE OF MOMMY AND UNCLE ROGER
One can argue that Monsters Inc. was one of the most family-friendly films ever made...although, is it actually? During the scene where Sulley tried to take a peek into one of the rooms, there was a little doodle of a child's Mommy and Roger. Now it is completely up to you to decipher what was happening in that particular doodle.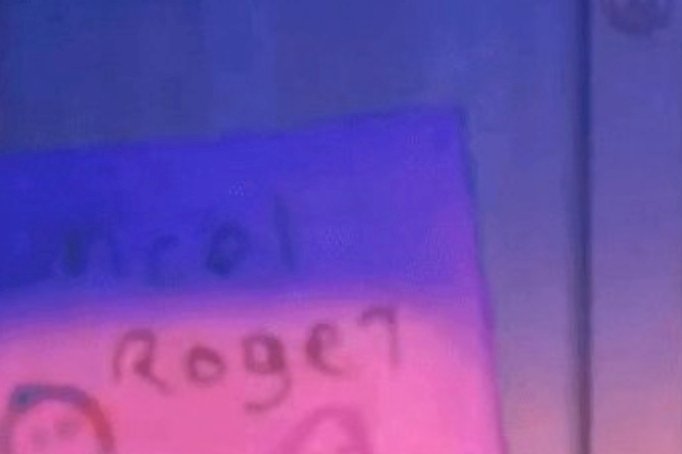 ---
THE LION KING'S POSTER GIRL
We have seen the poster for The Lion King a couple of hundred times...but have you checked it up close and personal? There was an attempt of humoring the viewers by the show creators because there seemed to be a very sultry figure in the poster. If you have not noticed it before, then might we suggest that you go and check on it now!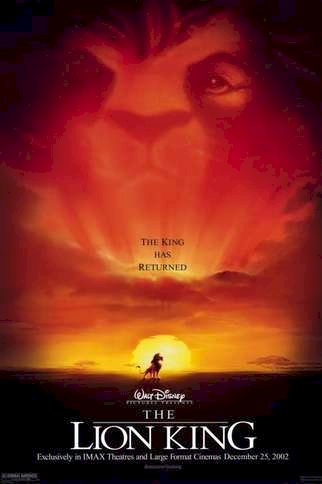 ---
DEXTER HAS A NEW ASSISTANT
We all know how smart and ambitious Dexter is...whilst we know how annoying and nagging his older sister can be. It is to no one's surprise that Dexter might come to the conclusion that he is in need of an assistant for all the experiments that he will be doing. Although, $50 for a dance...is that included in her job description?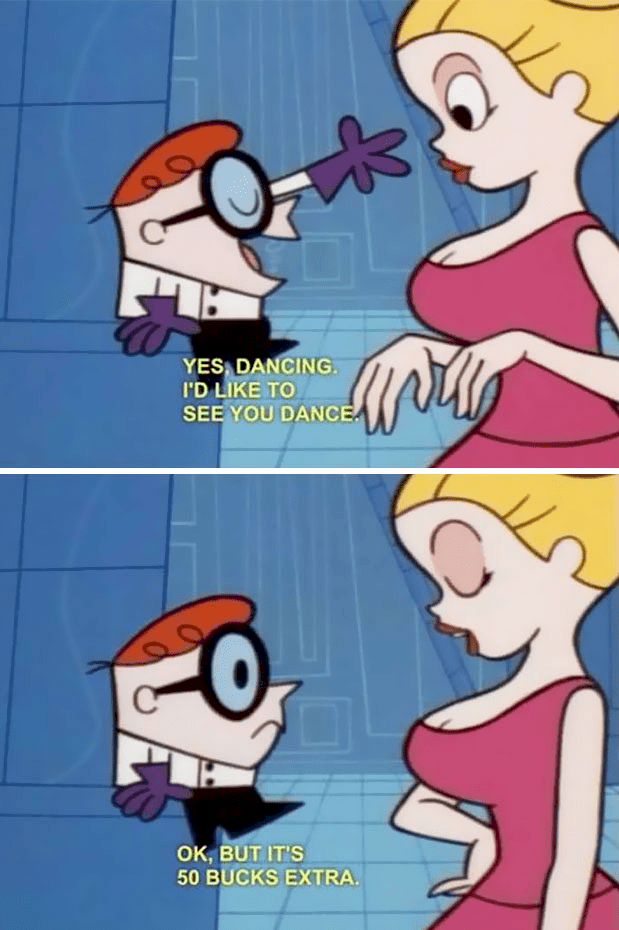 ---
BUNNIES ARE GREAT 
Everybody loves the film, Zootopia because it is as wholesome as it can get...although, is it really? This particular scene shows Officer Judy in a confrontation with a bunny and the bunny said a line that completely stunned her. Well, to the bunny's defense, they are quite great at a lot of other things too!
---
WHAT HAPPENED TO THE MCQUEEN CAR?
In one of the opening scenes in Cars, we might see that a group of 'car groupies' were flashing Lightning McQueen. Now, we all know what 'flashing' really means, right? For children, this is a really subtle show of affection, but for adults, this is quite hilarious at most!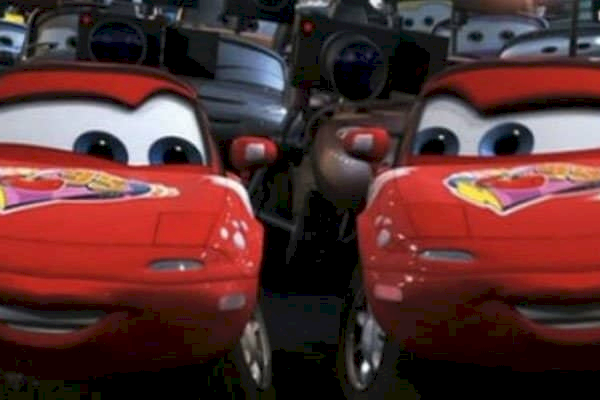 ---
WHO IS NOT AN ACCIDENT, THEN?
Everybody knows how the Power Puff Girls were made, and everybody knows that they were an 'accident'. This particular scene during this episode has surely made children think deeply and it surely made adults burst out in laughter. Now, who is not an accident, then?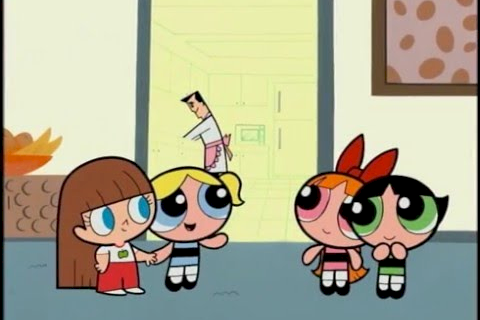 ---
BUILD A BABY
During this scene from Robots, we can see a couple trying to carry a box full of parts they can build their babies with. Honestly, what fun is it to build your own baby? Although, the man did say that, "... the baby is the fun part."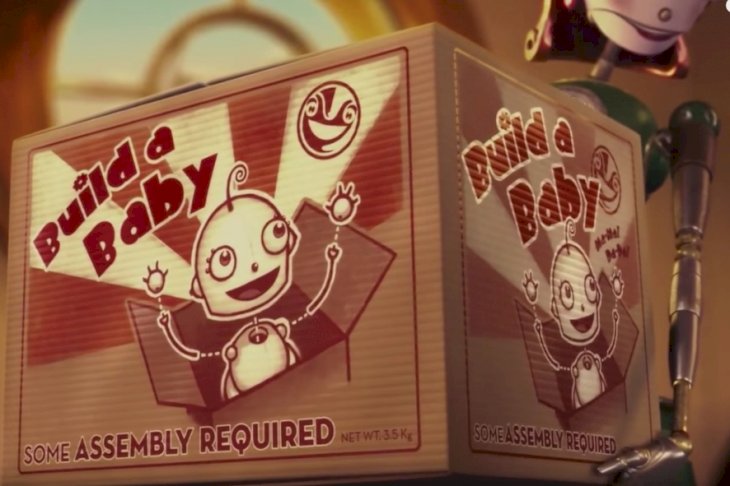 ---
THE FASTEST MAN ALIVE
We all grew up watching the Justice League, and frankly, this is one of the best cartoons of our childhood. It is no secret that all of the superheroes in this show have their different talents, and Flash is the fastest man there is. Although, can is that a strength or a weakness?
---
THE CORD IN RUGRATS…
This joke from Rugrats is probably not the most tasteful joke, but not many people will find it hurtful either...so maybe it is in the sweet in-between. The line shared by these two babies were quite innocent at first, but we all know what they were talking about. Pretty funny that lines like this exist in children's cartoons.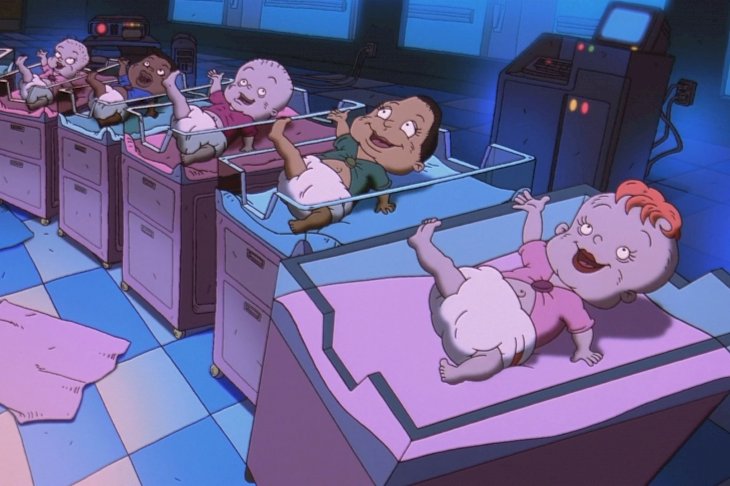 ---
PLUCKING HIS HARP
Another one of Disney's most underrated films is The Black Cauldron. Now, this film really did not hold back any of its quirky jokes. Even if this film is apparently for children, The Black Cauldron has gained even more popularity amongst adults due to their many, many dark jokes.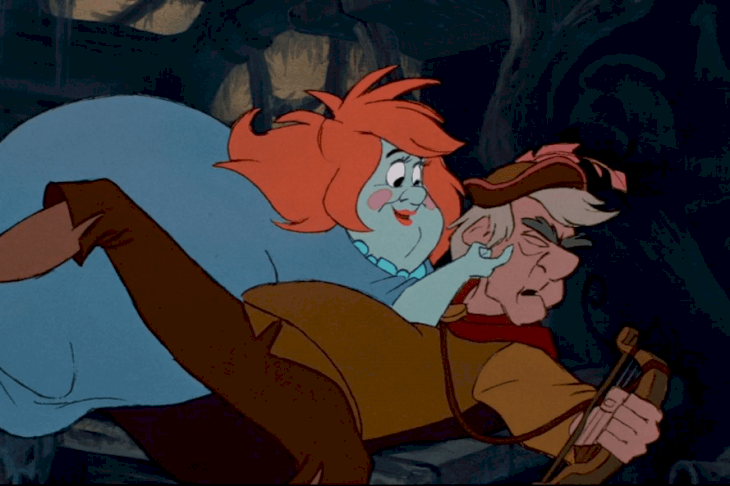 ---
WHAT DO YOU NEED THOSE FOR?
Obviously, The Fairly Odd Parents is really a very odd show...but there was still so much that meets the eye. In this particular scene, Timmy can be seen holding a roll of tissue and he was asking his parents not to go follow him in his room. As children, we can only wonder what Timmy will be using it for...
---
THE INCREDIBLES' PEEPING TOM
By this time, we all know that show creators love giving out easter eggs to their viewers...and this is surely one of them. During the time we first saw The Incredibles, we were all children and we might have no idea what a 'peeping tom' is. Although, now that we are older, then we know exactly what this guy did!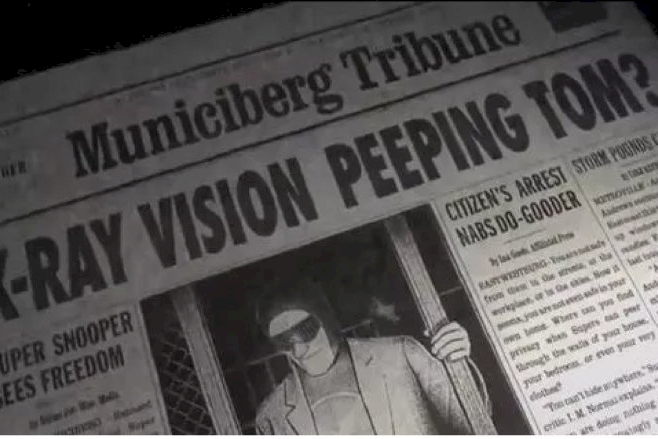 ---
THE MARAUDER'S MAP
If you are a fan of Harry Potter, then you might be familiar with the Marauder's Map. Well, we all know that this map shows every single person at Hogwarts at all times. Although, we can not help but think about what those two people on the side are doing as the credits were rolling...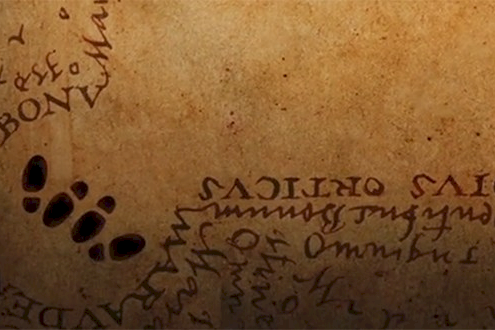 ---
WHAT DID THE LION KING SAY?
Now, we are all for subtle and tasteful easter eggs that the show creators leave for all of us watchers. Although, this particular one from The Lion King was no good at all. It was also not a secret that the production team went under fire for it because it was a really bad call.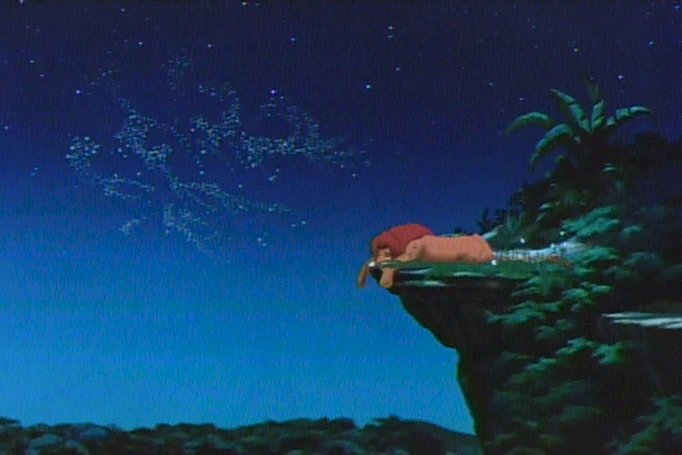 ---
ED'S LITTLE BATHROOM REMINDERS
The show, Ed, Edd n Eddy was a really weird show and we might never know why we even bothered watching it as kids. It is to no one's surprise that the show's creators might even put a note as inappropriate as this one. Although, we admit that it can be quite funny at times…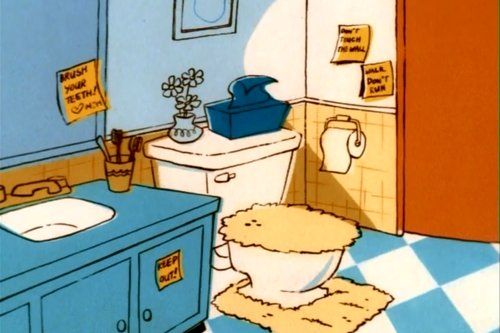 ---
HELLO, LONG JOHN!
Sometimes, our favorite puppets can be a tad bit cheeky as well...what do you expect? In a particular scene from The Muppets, Miss Peggy sees Tim Curry's character and greets him, "Hello, Looooooong John." It is safe to say that we now know more about John and this was something that we never really noticed before.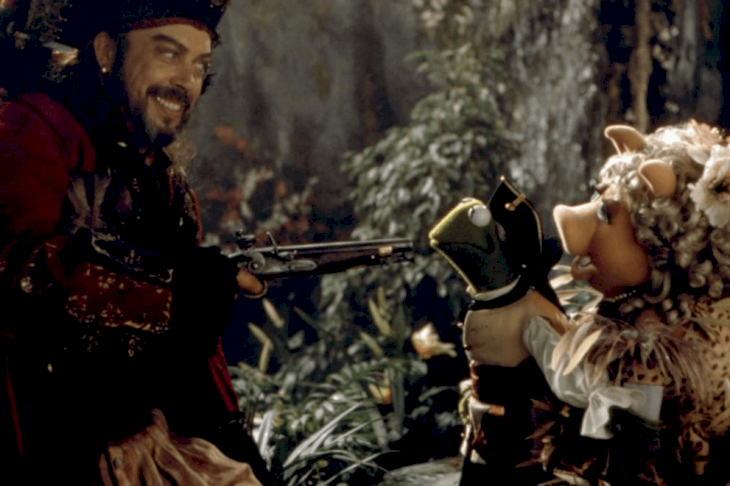 ---
HAIR RISE FROM LITTLE RASCALS…
If you have not seen The Little Rascals, then you are surely missing out! This was one of the most amusing children's films out there, and maybe even children's films need to let out a bit of extra 'steam' every once in a while. During the scene where Alfalfa kissed Darla, a streak of his hair suddenly stood up...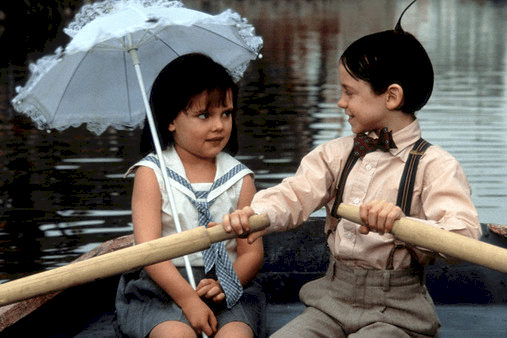 ---
A PANDEMIC AFTER THE KILLER BEES
Another show that was quite good at having inappropriate jokes was The Simpsons...although they were also quite good at another thing: predicting the future. We have no idea how the show creators do it, but they have done it countless times. An example is a simple fact that they predicted having a global pandemic after a series of killer bees...
---
BENGT HOLSTRÖM WINS THE NOBEL PRIZE
The Simpsons does not only predict the futures of celebrities but they also try and predict the futures of Nobel Prize winners. This had happened to Bengt Holström after the show predicted that he was going to win it. Lo and behold, he did...albeit being a joint prize with his fellow researcher, Oliver Hart.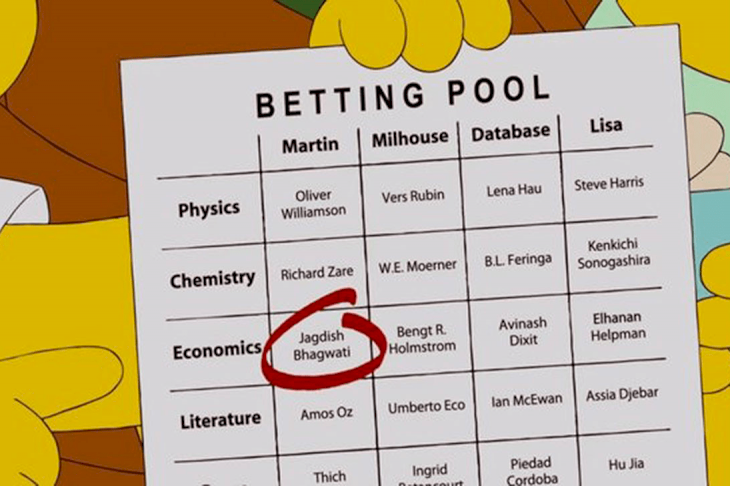 ---
APPLE AND FACETIME
If there is one thing that we know, it is that The Simpsons is way ahead of its time. They had a particular episode that first aired in 1995 where Lisa calls Marge via FaceTime...and this was years before the iPhone was ever produced. Today, our lives are filled with so much technological stuff, but the mystery still continues as to how The Simpsons predicted FaceTime.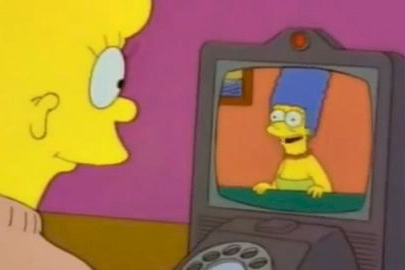 ---
THE FLAMING MOE
We know that The Simpsons tries to predict monumental things, but they also tried to predict the most random ones too. In an episode, Homer and Moe invented a drink called the Flaming Moe which consisted of a mixture of secret cocktails and cough syrup. In reality, a bar owner in New York heard about it and decided to try it for themselves...hence the actual Flaming Moe.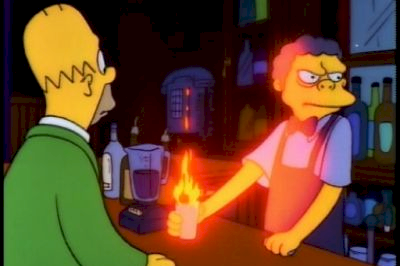 ---
PRINCE WILLIAM'S HAIRLINE
Well, this scene does not really equate to anything quite specific but the critics have found out that The Simpsons tried to predict the receding hairline of Prince William. This goes after Homer and Marge welcomed their third child and then Homer had gone completely bald. Well, critics say that this also happened to Prince William after welcoming his third child.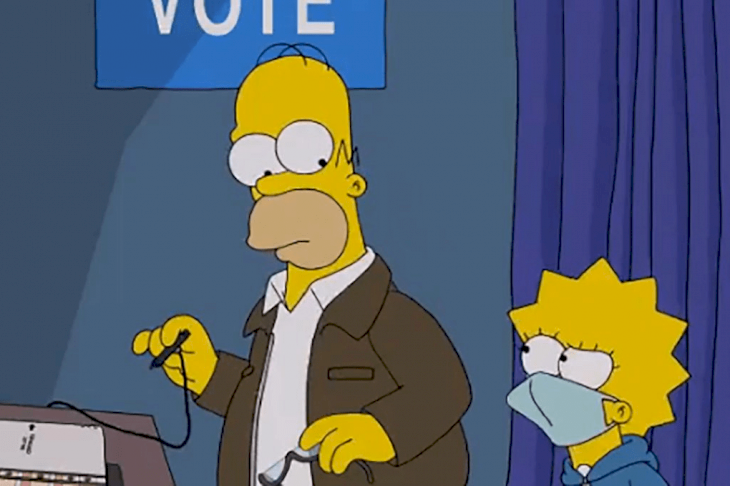 ---
DISNEY FINALLY BUYS FOX
In 1998, the creators of The Simpsons predicted that Disney will eventually take a hold of Fox. Fast forward to 2017, Disney actually bought Fox. Now, how does a bunch of writers predict something as big as this one?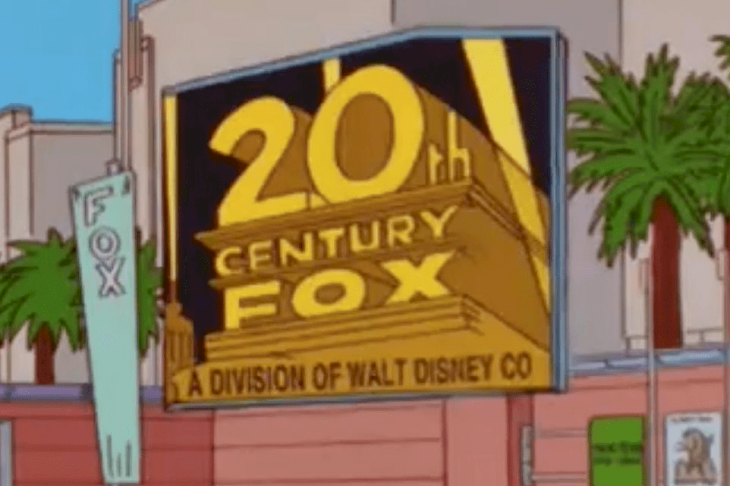 ---
THE LAND OF CHOCOLATE
In one episode, Homer had a vision that he was going to see a place made entirely out of chocolate. He thought that this was going to be in Germany because he thought that it was the 'Land of Chocolate'. What he did not know is that years into the future, China will eventually open a theme park that is made entirely out of chocolate.
---
LADY GAGA'S PERFORMANCE
Lady Gaga performed in a particular episode of The Simpsons wearing a silver ensemble and whilst being lifted up on air...quite literally! In a few years, Lady Gaga rocked the same silver ensemble (in person) and performed whilst being suspended on air. This was for the Super Bowl LI Halftime Show...is it a coincidence?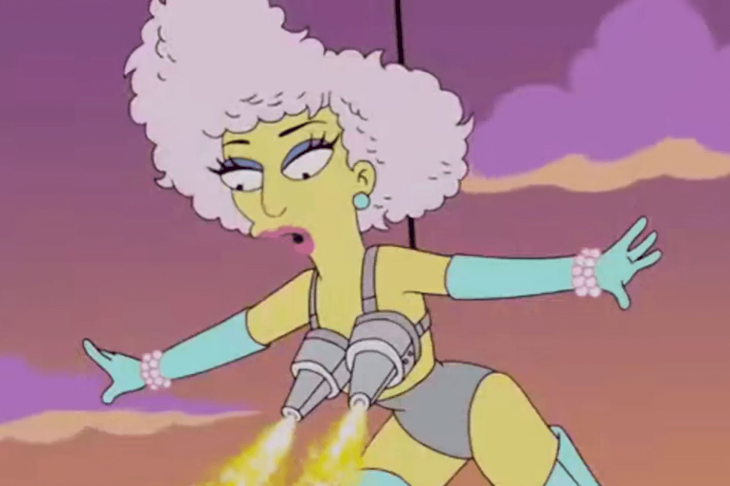 ---
THE SIMPSONS IN...GAME OF THRONES?
There is a particular episode of The Simpsons where Homer and his family find themselves in an alternate universe that quite resembles Westeros. They have witnessed a massive dragon wreaking havoc all throughout the place, and this really resembles what happened in Game of Thrones.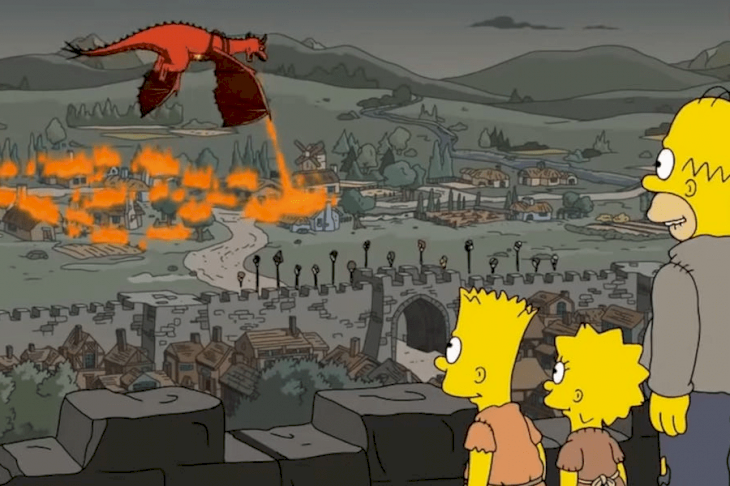 ---
VIVA NED FLANDERS!
Ned Flanders and Homer Simpson did this episode where they both went to Las Vegas to have a good time. Well, it all sounds normal until you realize that this particular episode is extremely similar to The Hangover. We are quite surprised that The Simpsons have not taken up issues with the film's production group.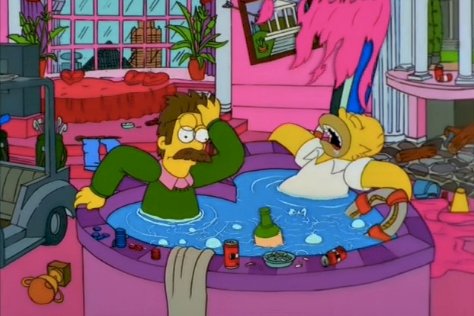 ---
J.C. PENNEY CO. HAS GONE BANKRUPT
In a particular episode, Homer and his family had stumbled into a 'JCPenney's' store which was also quite dilapidated. This store was a direct reference to J.C. Penney Co., and there were not even any doubts about it. Just a few months after COVID-19 spread, J.C. Penney Co. actually filed for bankruptcy...weird!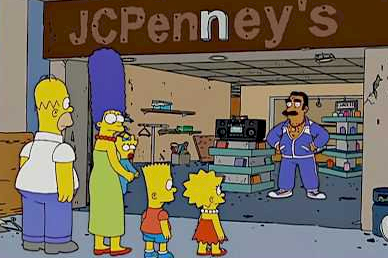 ---
GRETA THUNBERG'S ICONIC SPEECH
During a scene in The Simpsons Movie, Lisa delivered quite the speech to her classmates with regards to climate change and about the earth. Fast forward to a few years later, Greta Thunberg has delivered quite a few passionate speeches about the same topics. Well, it is safe to assume that both Lisa and Greta are amazing girls who are equally as passionate.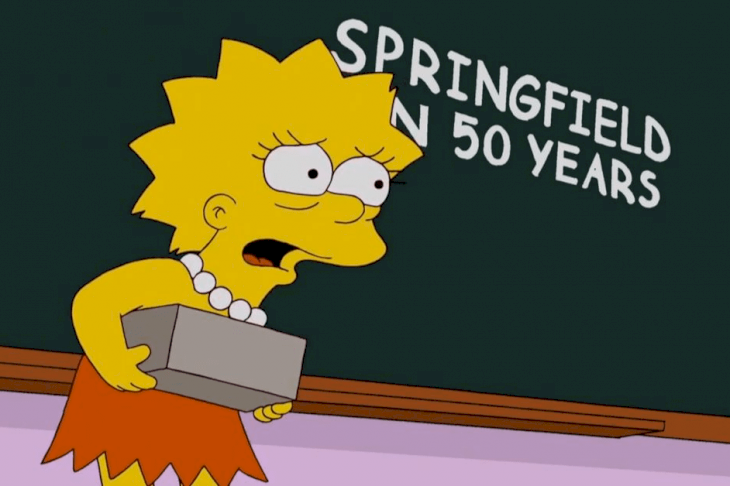 This goes to show that the cartoons and films which we enjoyed in our childhoods were never really as they seem...especially since most shows have easter eggs in them, which makes watching a tad bit more bearable as an adult. What was your favorite cartoon when you were little? Let us know by leaving a comment below, and share this article with your family and friends!
ⓘ We at ENG.AMOMAMA.COM do our best to give you the most updated news regarding the COVID-19 pandemic, but the situation is constantly changing. We encourage readers to refer to the online updates from CDС, WHO, or Local Health Departments to stay updated. Take care!