George Clooney's Private Life: Before And After Marrying Amal
The only actor who can rock a salt-and-pepper look since his early days, is happily married to Amal Clooney for 6 years. But did you know, there was a time when George Clooney was known as the eternal bachelor. But now he's a loving father who cuts his twins' hair! Let's find out about Clooney's past relationships and his current family.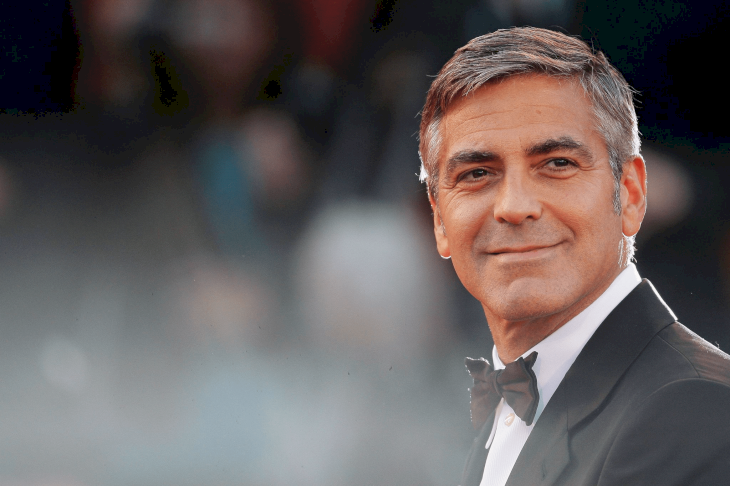 ---
MRS. TRAVOLTA: FIRST LOVE
Before George Clooney met his current lawyer wife, Amal Clooney, he dated none other than Kelly Preston. The actor met John Travolta's late wife in 1987 at a party. The two of them were handled by the same agency. And when Clooney offered the actress a ride on his Harley Davidson bike, "I was hooked," explained Preston.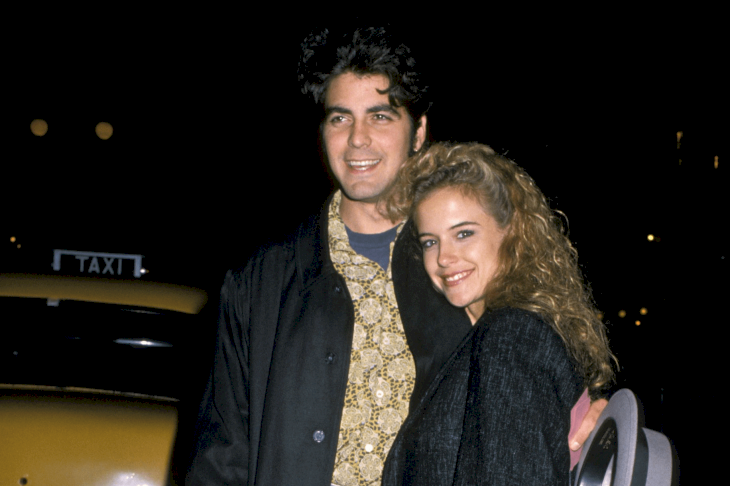 ---
The two moved in together in the very first year of their relationship. It seemed serious even though Preston wasn't ready for marriage. "Let's say it's pretty serious," the actor added. "We bought this house together," Clooney reminded People. But it wasn't meant to be as the couple broke up 2 years later due to different lifestyles.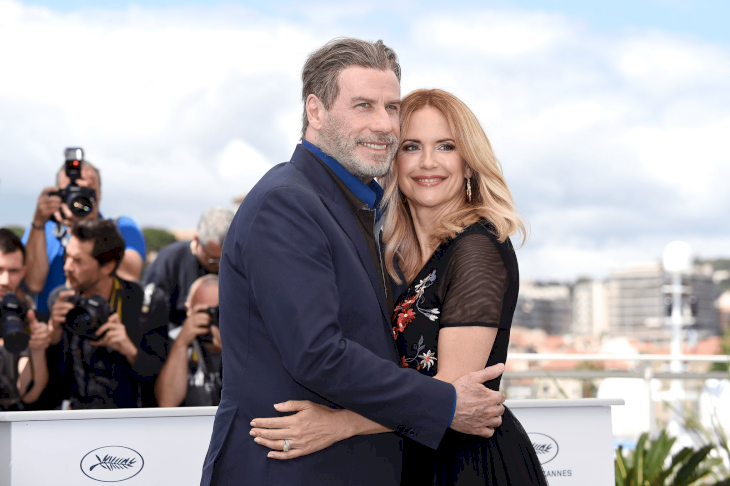 ---
AN UNUSUAL GIFT
If you want to gift a pet, couples usually go for puppies or kittens. But Clooney decided he wanted to go the unconventional route. He gave Preston a pot-bellied pig named Max! And while the actress screamed when she first saw him, it was the poor pig who was frightened. He never went to Preston no matter how much she tried.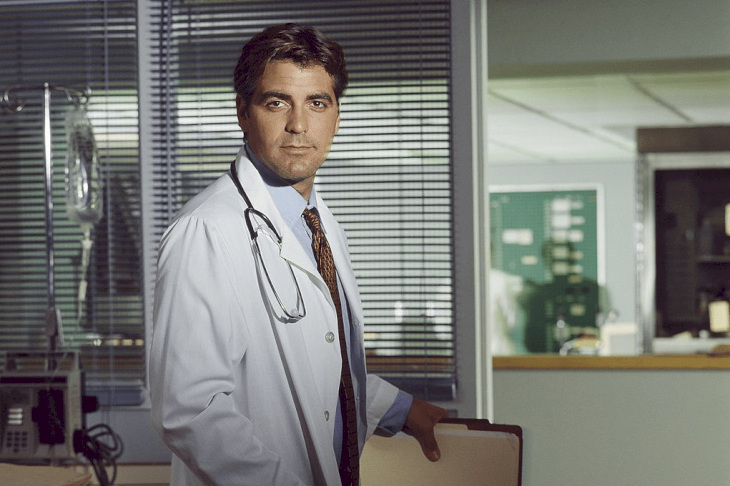 ---
But during the couple's People interview, Max was comfortably sitting with Preston. How did that happen? Well, Clooney had the most ingenious way of getting the two to bond. He put food in Preston's bra and from loving food, Max ended up loving Preston.
---
CLOONEY'S LONGEST RELATIONSHIP
When the couple split, Clooney got the 300lb Vietnamese pot-bellied pig. He even used to joke that Max was the longest relationship he'd ever had since he had him as a pet for 18 years. Phew, that's a long time. The actor took care of Max till it passed away in 2006.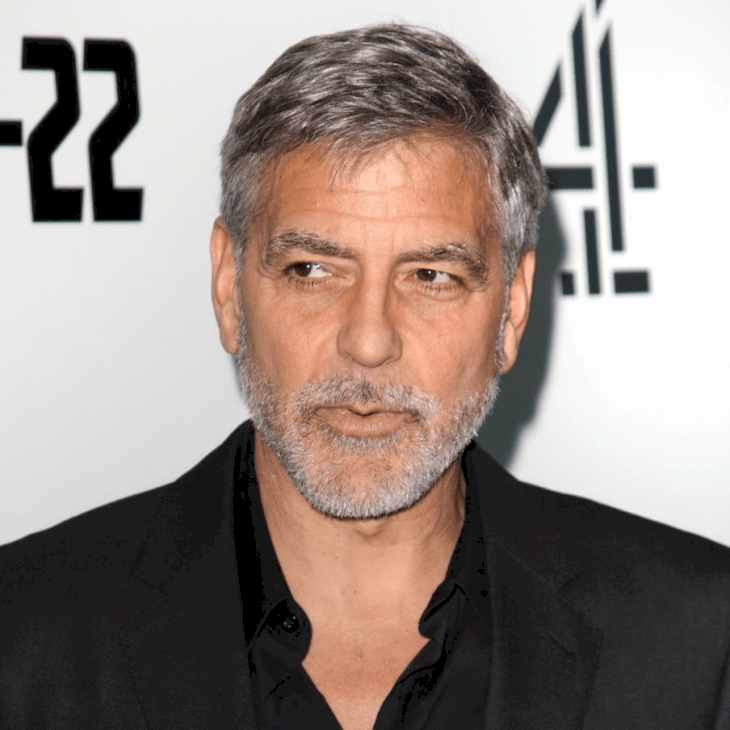 ---
TALIA BALSAM: THE FIRST WIFE
Known for her role in the earlier seasons of Mad Men, Talia Balsam first met Clooney in 1984. The Gravity actor was only 23 at the time. They dated for 3 years before he left her for Preston. But when Preston broke his heart for Charlie Sheen, Clooney went back to Balsam in 1989.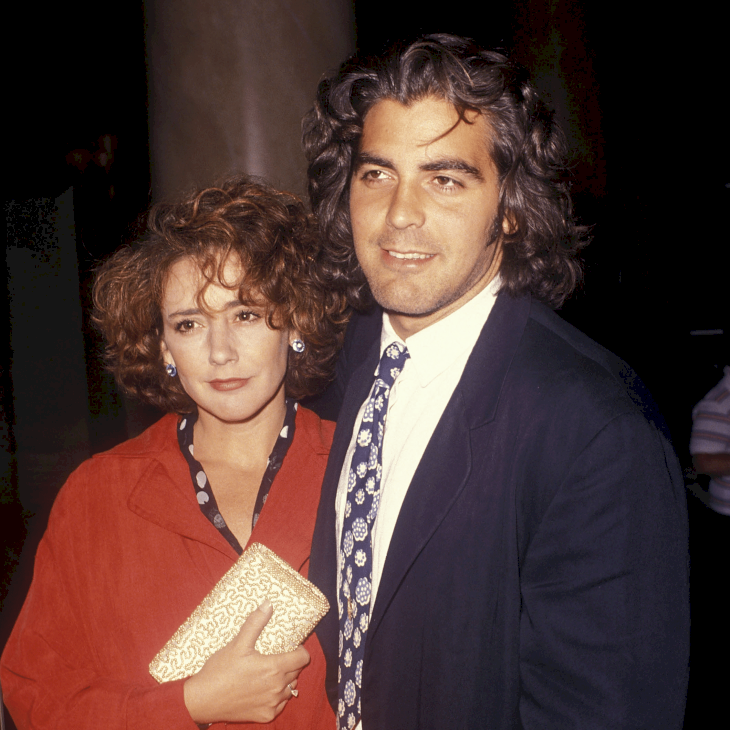 ---
The couple thought that it was meant to be and they immediately tied the knot in Las Vegas in front of an Elvis impersonator. But the couple split up 3 years later. Their negotiations over the settlement ruined marriage for Clooney who vowed to never again get hitched (well, till he met a certain lawyer).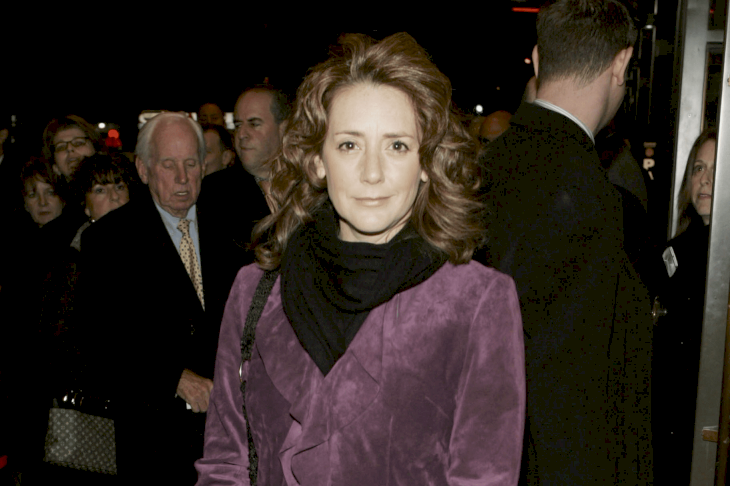 ---
TOO YOUNG TO MARRY
When asked about his first marriage, Clooney graciously takes the blame. He believed that he was too young to have got married in the first place. "I probably – definitely – wasn't someone who should have been married at the point," he recalled in 1996. "I just don't feel like I gave Talia a fair shot."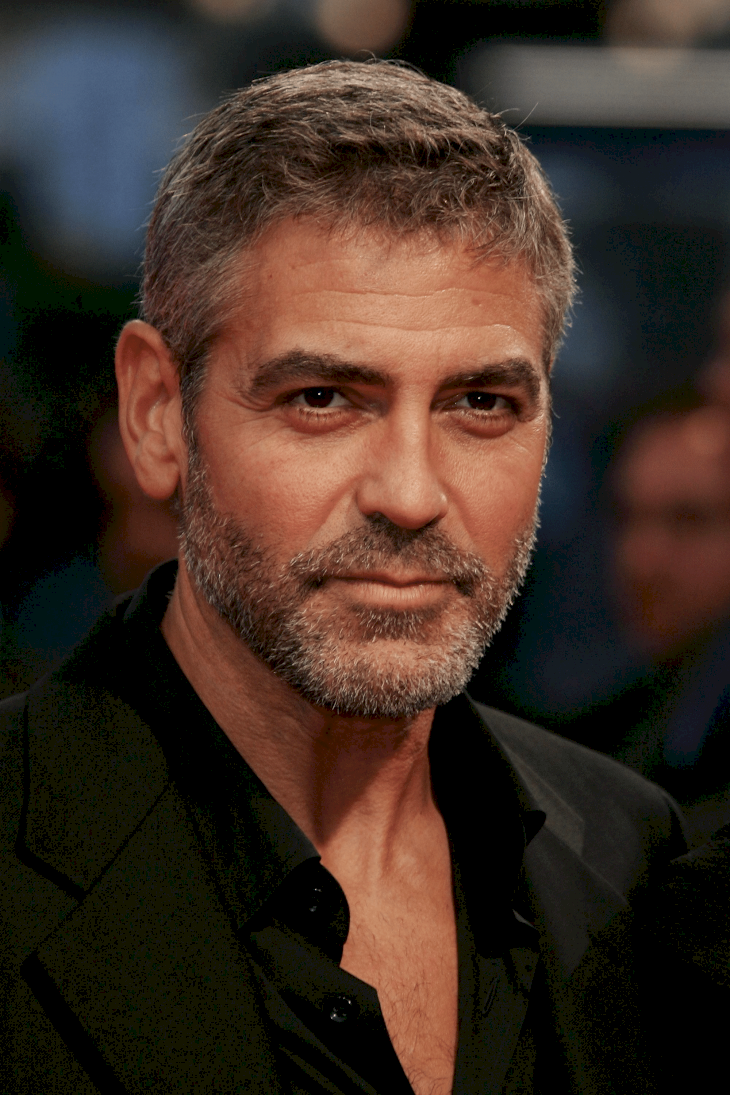 ---
TAKING ADVANTAGE OF THE ER FAME
Clooney reached his peak when he signed on as a regular in the drama, ER. His rising status in turn attracted several women. And the Gravity star dated around 10 women or so! He dated Precious actress, Kimberly Russell in 1994 and it was an on-again-off-again thing till he left her for good in 1999.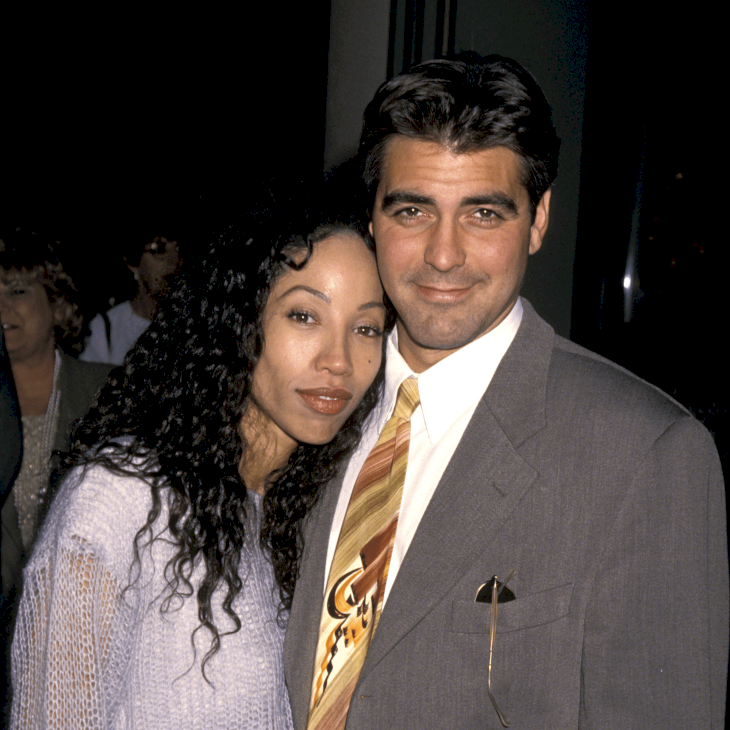 ---
In between, he met Celine Balitran in 1996. She was a law student and they dated for more than 3 years. They first met in Paris where she was a part-time waitress at a café. Soon, she moved in with him in LA. Clooney's busy schedule and constant paparazzi eventually led to their split in 1999.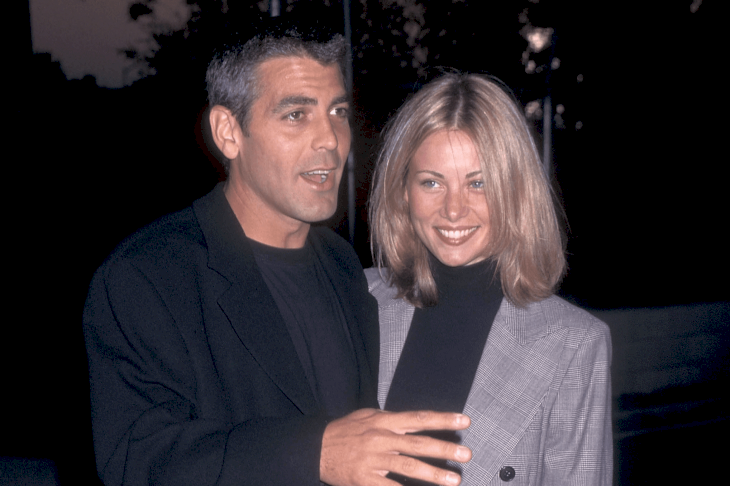 ---
GINGER LYNN ALLEN: THE OTHER WOMAN
Where there's fame, there are attention seekers. Blue film actress, Ginger Lynn Allen claimed that she spent some wild nights with the actor after his first marriage failed. She later threatened to crash Clooney and Amal's wedding in 2014, but don't worry she didn't follow through with it.
---
LISA SNOWDON: ALWAYS COMING BACK
For someone who wasn't interested in committing, Clooney dated a lot. And most of them weren't flings either. After his first marriage, Clooney entered a 5-year long relationship with the model, Lisa Snowdon. The two met on the set of a Martini commercial in Spain and that was it. From 2000 to 2005, the two were an on-again-off-again couple.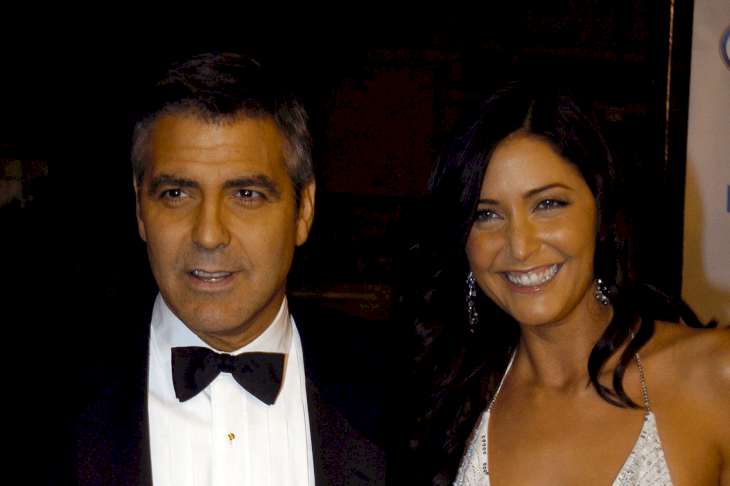 ---
The British model refused to move in with Clooney who resided in LA. Soon, the long-distance relationship became difficult for them. "I don't believe that every man has a moral obligation to settle down and have a family," Clooney said. With no scope of a family in the future, Snowdon finally let Clooney go in 2005.
---
BRIDGET JONES' DIARY: A HOLLYWOOD ROMANCE
The cute, next-door girl actress, Renee Zellweger dated George Clooney!? The couple was actually first linked together in 2001. Then across the years, the two were seen dining together. Zellweger's extremely private life made it impossible for the media to confirm the relationship. Fans did some detective work and guessed that they might have dated in 2003.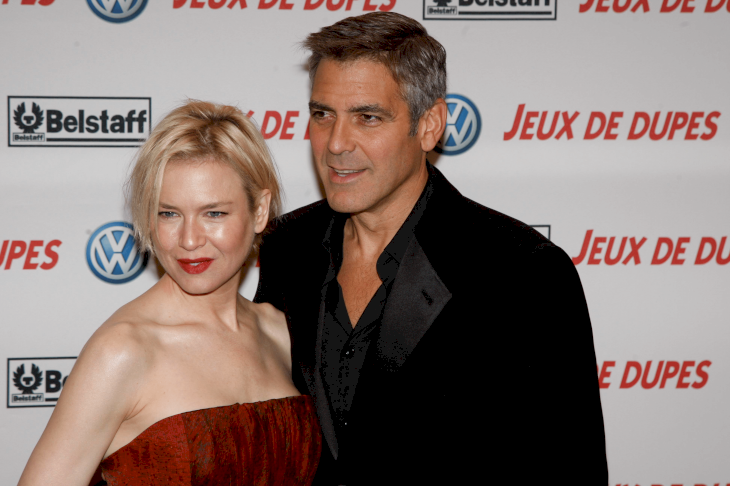 ---
The two later worked together on Leatherheads in 2008. When the interviewer outright asked if they had dated, Zellweger answered sarcastically, "We're married!" She later insisted that they were just friends and she wouldn't jeopardize that. Clooney on the other hand let it slip that the two had indeed dated for "a little bit."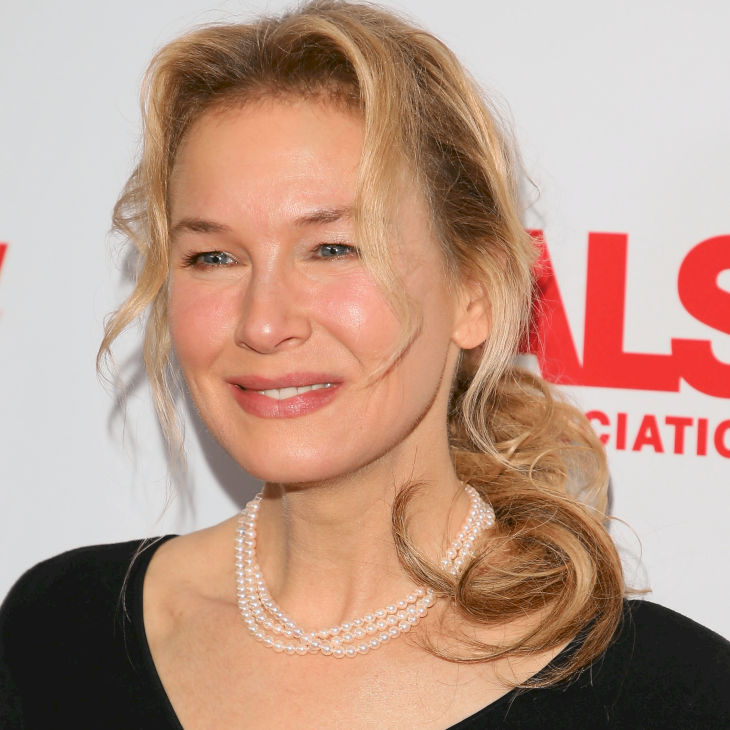 ---
THE 2000s: TIME FOR REBOUNDS
Days Of Our Lives' soap actress, Krista Allen ended up being Clooney's next conquest. The two met in 2002 while he was actually dating Snowdon. But the actor alternated between the two, dating Allen from 2002 to 2004. After he broke up with Snowdon, he went back to Allen in 2006 for some time. And again in 2008…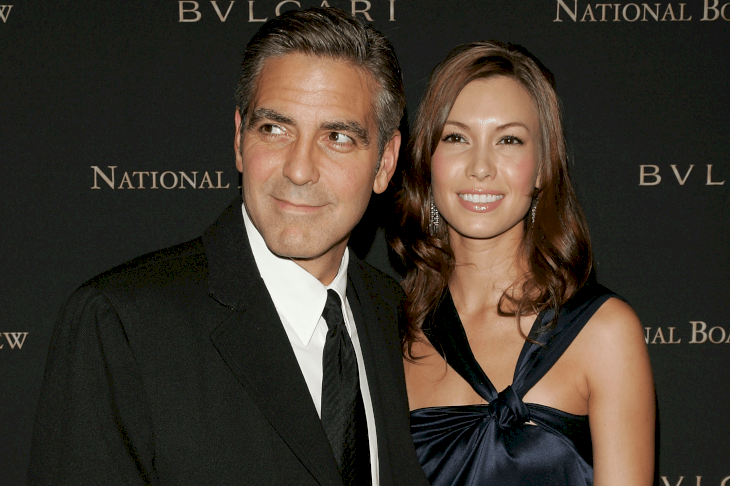 ---
A
source
claimed that the actor really loved Allen. "There's something about Krista that brings [Clooney] back." Looks like Allen was a rebound since he went back to her after dating another waitress in 2007. Clooney met
Sarah Larson
in Las Vegas where she waited tables. When she realized that he wasn't interested in marriage, she left him.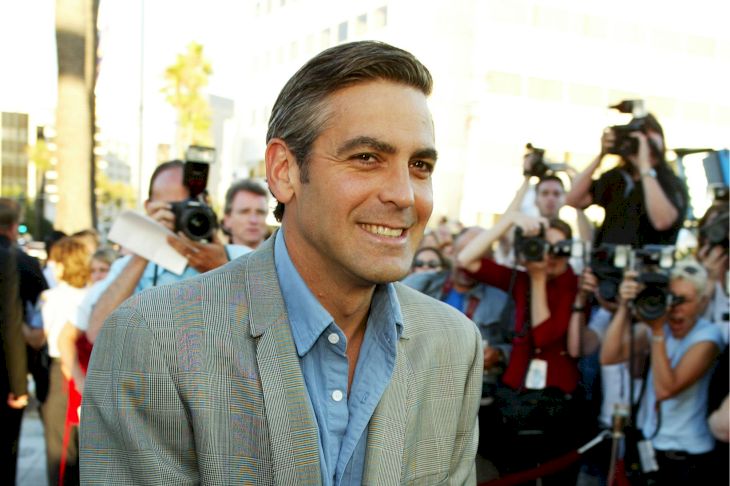 ---
ELISABETTA CANALIS: A ROMAN HOLIDAY
Everyone knows about Clooney's Gatsby-Esque villa located on the shore of Lake Como, Italy. So, it makes sense that he might have met Italian TV personality, Elisabetta Canalis while holidaying in Rome. The two met in July 2009 and made their first public appearance at the Venice Film Festival two months later.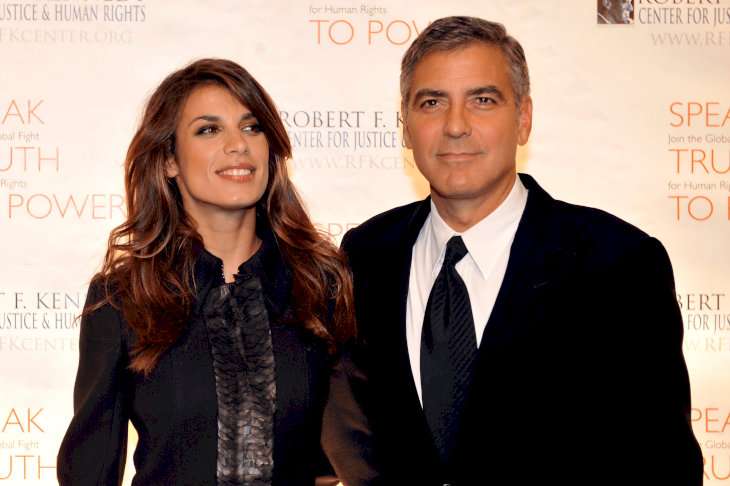 ---
But this didn't last either as marriage was again the reason for their split. But they seem to be on friendly terms. Canalis explained that Clooney was "one of the best people I have met from a charitable point of view...he has been special for me, and very important, just as a father would be."
---
STACY KEIBLER: THE ULTIMATE CHAMPIONSHIP
The professional wrestler and actress, Stacy Keibler was the last woman of Clooney's ladykiller phase before he met lawyer and future wife, Amal Alamuddin. The actor first met Keibler in 2006 where he revealed that he knew her from Dancing With The Stars. That was it for them…till 2011.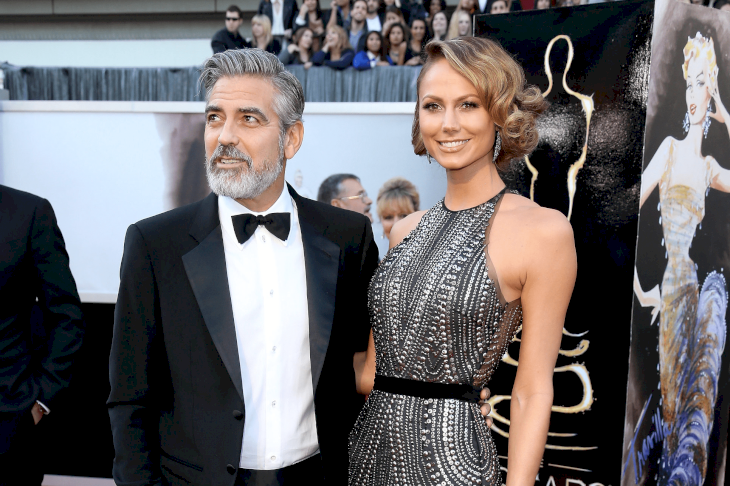 ---
The two were first seen vacationing at Lake Como in July 2011. A couple of days later, Keibler posted cryptic tweets about her time with him, stating that she was the luckiest girl in the world. The relationship seemed to last, as seen the way the two would squash every breakup rumor with a public appearance. Till they didn't.
---
NOT THE RIGHT WOMAN
The two called it quits 2 years later in 2013. Keibler wanted to settle down and have children but everyone knew Clooney's stance on the matter. But they insisted that they would still remain friends after. Even this relationship fizzled out because of Clooney's aversion to marriage. Looks like he just hadn't met the right woman, yet.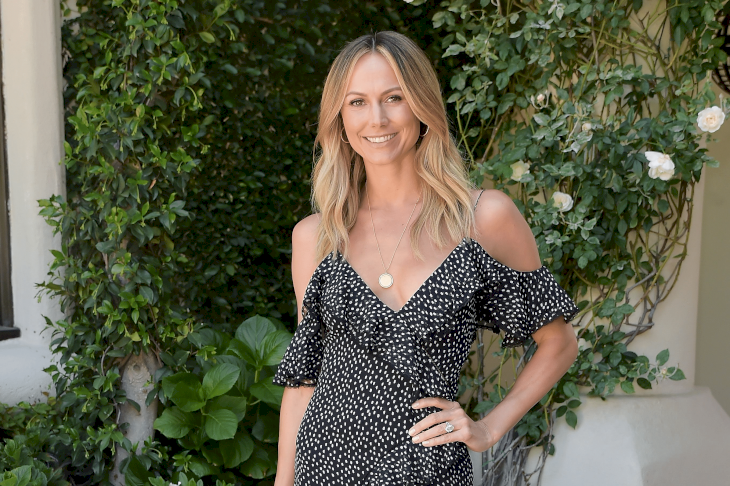 ---
AMAL ALAMUDDIN: A LIFE-LONG ROMANCE
In July 2013, Amal had been dragged to Clooney's house near Lake Como by a friend. The actor remembers seeing her for the first time, "Of course she was beautiful. But I also thought she was fascinating, and…brilliant. Her life was incredibly exciting — the clients she was taking on and the superhuman work that she was doing."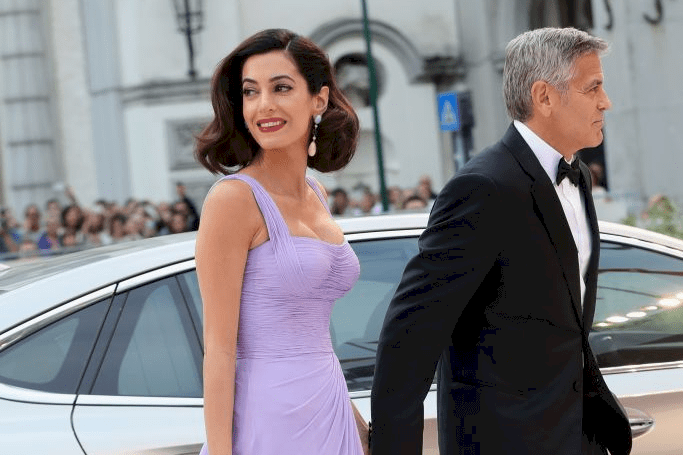 ---
Looks like love at first sight. "I was taken with her from the moment I saw her," Clooney added. But their courtship was slightly old-fashioned. They used to email each other at first. That's not all. Clooney's responses were in the voice of his dog, Einstein and he'd pretend to be trapped and in need of the lawyer's expertise. Interesting…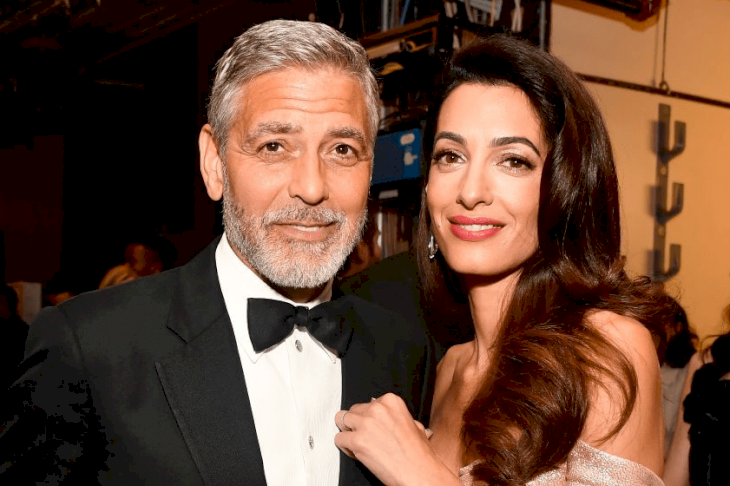 ---
THE FIRST DATE
In October 2013, the pair had their first date. Amal met Clooney at Abbey Road Studios where the actor had a schedule. She booked a reservation at a swanky restaurant in London. What she didn't take into consideration was the paparazzi. But according to Clooney who was surprised, it was the lawyer who handled the situation like a "champ."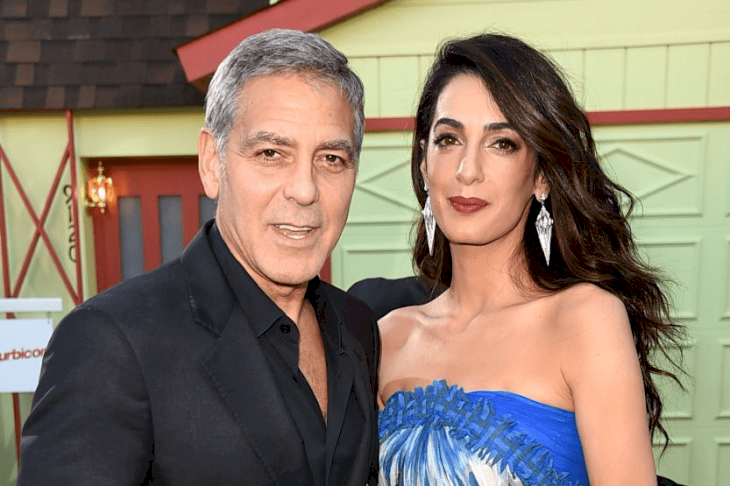 ---
MEANT TO BE
We all know how head over heels Clooney is for his wife. But what about Amal? She described falling in love with him as the "most natural thing in the world." Before meeting her future husband, the lawyer wasn't so sure she was going to ever have a love that made her happy. But meeting Clooney changed that.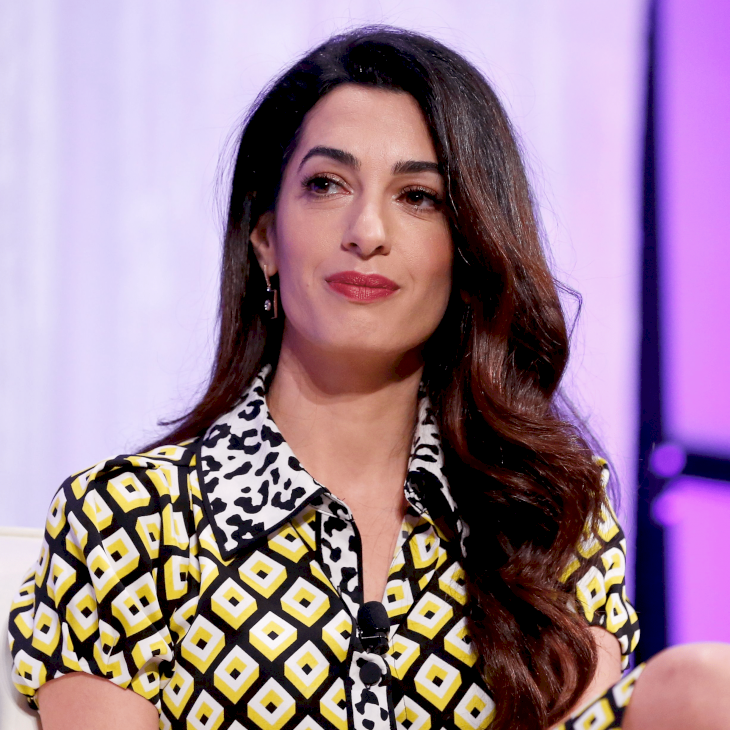 ---
But how did Clooney know she was the one? The couple was on a safari and some giraffes walked up to Amal out of the blue. The actor was content with taking her pictures and just spending time with her. And that's when he knew, "You know, I think I should ask her to marry me."
---
THE BIG QUESTION
Following the safari, Clooney bought a ring. But he didn't take any action till April 2014. The actor finally popped the big question in a romantic way. He cooked his girlfriend pasta and asked her to get the lighter. When she turned, he went down on one knee and "did all the things you're supposed to do."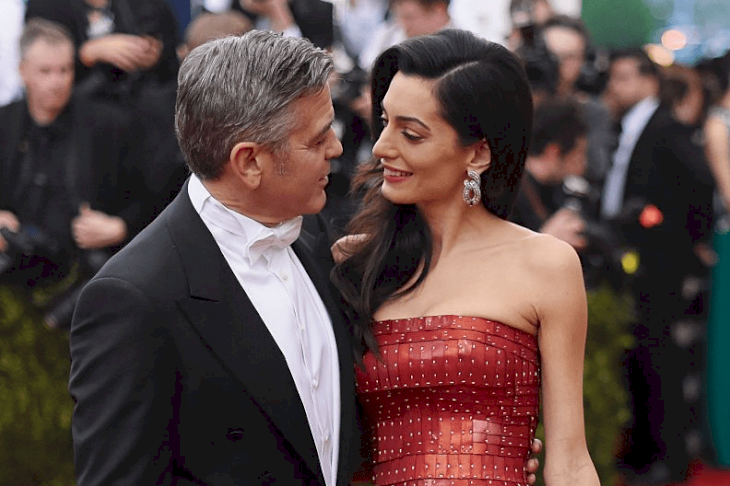 ---
They tried to have a quiet wedding in Venice that September, but things turned out differently. Once the paparazzi found out, the couple decided to embrace it. People and Elle got exclusive information on the event, from the menu to the guests. Regarding the location, Clooney observed, "We met in Italy…we knew that was where we wanted to get married."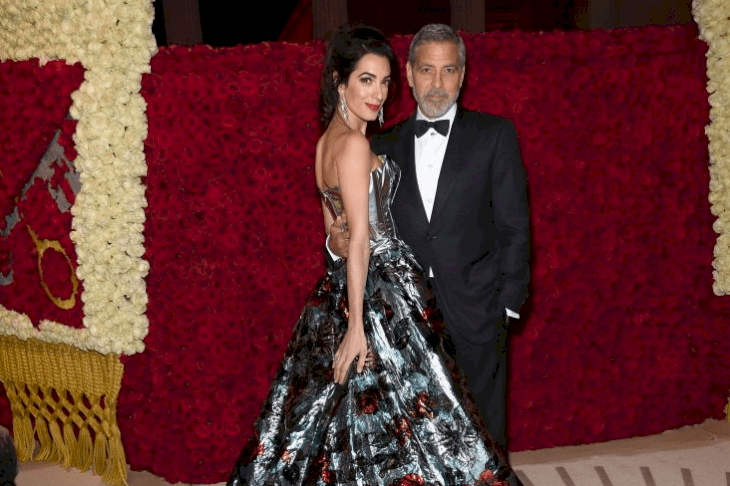 ---
A $100,000 BET
Here's a fun story. Michelle Pfeiffer, a friend of Clooney's, had once bet $100 that he would get married. Clooney had raised the bet to $100,000, confident that he would remain an eternal bachelor. Looks like the Batman Returns actress can finally collect her prize now.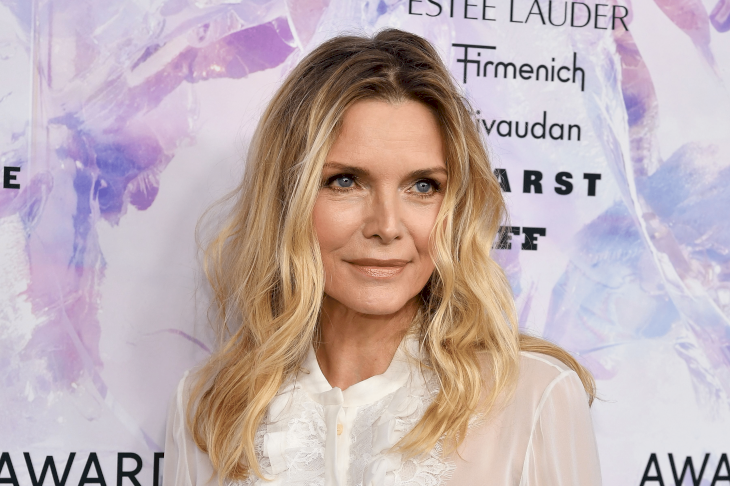 ---
OCEAN'S FRIENDS
Then we have the Ocean's 11 bromances of Brad Pitt and Clooney. But Pitt couldn't make it to the wedding because he was busy shooting in Malta with his then-wife, Angelina Jolie. But the actors' friendship is stronger than ever with Pitt stating that he still owes Clooney a wedding present.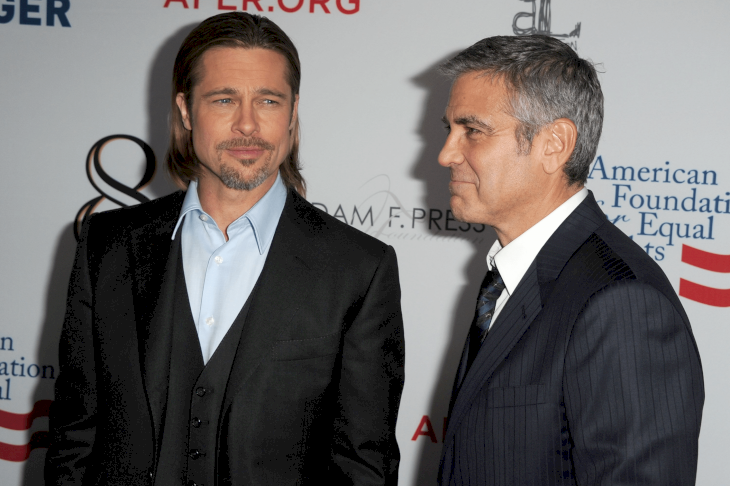 ---
Don Cheadle and Matt Damon too weighed in on the couple. Don misses having young children around and even offered to babysit Clooney's twins. Damon on the other hand was so happy when Clooney told him that his wife was pregnant, that he almost cried. We love their friendship!
you hear that, @leslieodomjr ...? https://t.co/ov1v2xzCL9 pic.twitter.com/79a1EgpbXc

— Don "fascists gonna fascist" Cheadle (@DonCheadle) October 31, 2020
---
JUST RUMOURS
Every couple has their ups and downs. But apparently not this one. When Radar Online claimed that Amal had left Clooney after a fight, the actor decided to speak up. The ridiculous reports stated that the lawyer had taken their children and fled home after a fight. But Clooney assured Hollywood Life that "the story is made up."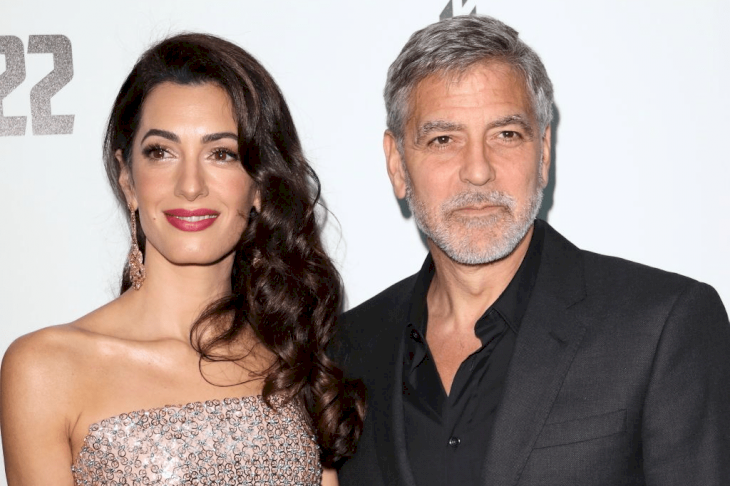 ---
STILL GOING STRONG
The couple shares everything. From surnames to accomplishments. Last year, on the actor's birthday, they celebrated the release of Amal's clients, two Reuters' journalists in Myanmar. They've also added philanthropists to their names, as they donated large sums for the Beirut explosion, and other charities hit by the pandemic like Lebanese food banks.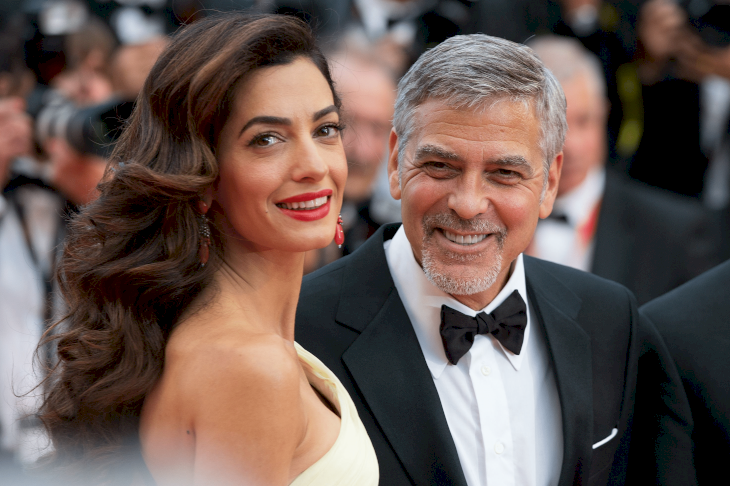 ---
Amal was recently honored with the Gwen Ifill Press Freedom Award and the presenter was Meryl Streep. The lawyer told her, "I can't ever hope to win the number of awards that you've won, but…we have something special in common, which is that we've both been married to my husband," talking about their roles in Mr. And Mrs. Fantastic Fox.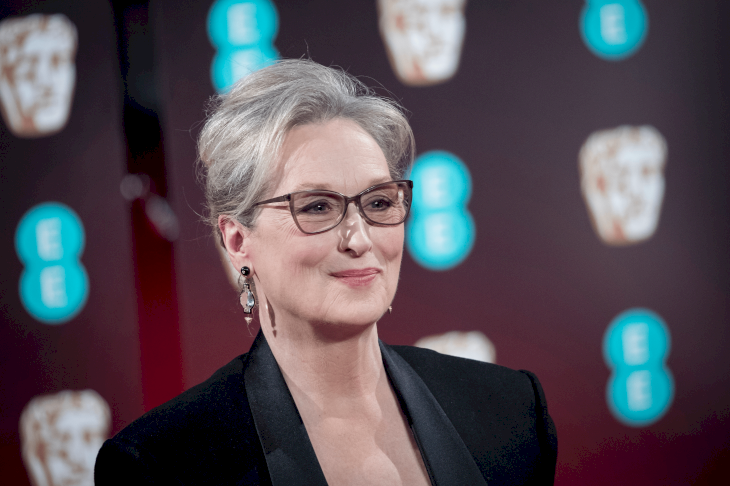 ---
ROYAL FRIENDS
We were surprised when we saw the couple at Prince Harry and Meghan Markle's wedding. But turns out the four are actually friends. When asked about it, Clooney said, "We live not too far from one another and we have dinners and stuff and we're friends with them for all the reasons that you're friends with anybody."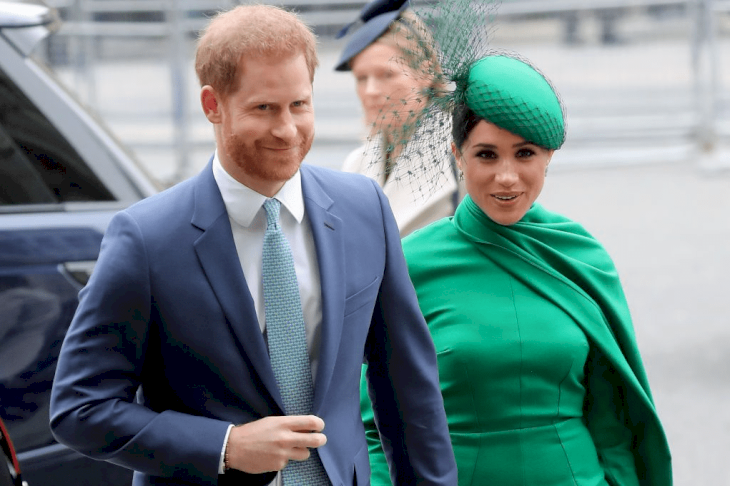 ---
And just a couple of months after the royal wedding, Harry and Meghan actually vacationed with Clooney and his family at Lake Como. The four were there for a week, enjoying the summer sun. "George and Harry have a shared passion for motorcycles and checked out George's collection and they also played basketball together," said the Royal source.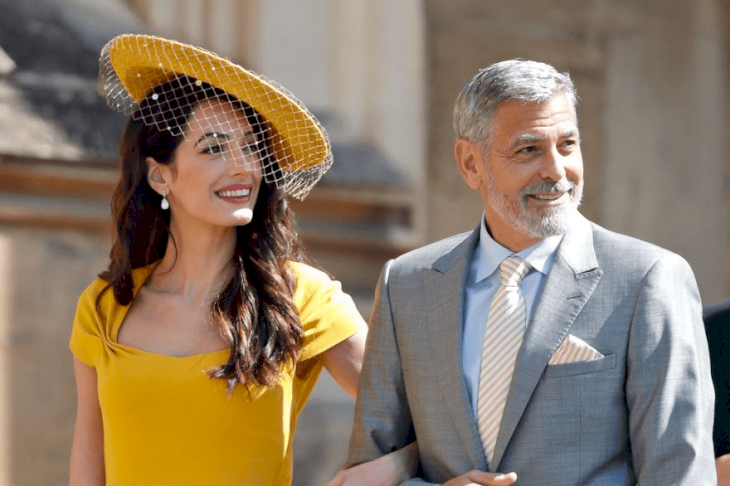 ---
AMAL'S IMPACT
If you might have noticed, Clooney is gradually stepping away from the limelight. And one of the reasons is that he wants to spend more time with his family. "I literally have never seen him happier," producer Grant Heslov, who has known Clooney since the '80s, told GQ.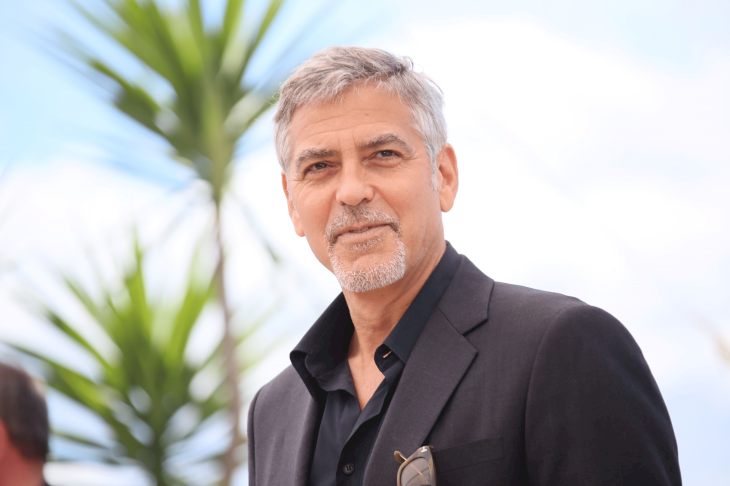 ---
And if anyone remembers the 90s, Clooney had sworn off marriage after his failed one with Talia Balsam in 1993. "I was like, 'I'm never getting married. I'm not gonna have kids," Clooney recalled. Work had been enough for him. He had seemed content with his life. But then he met Amal 20 years later.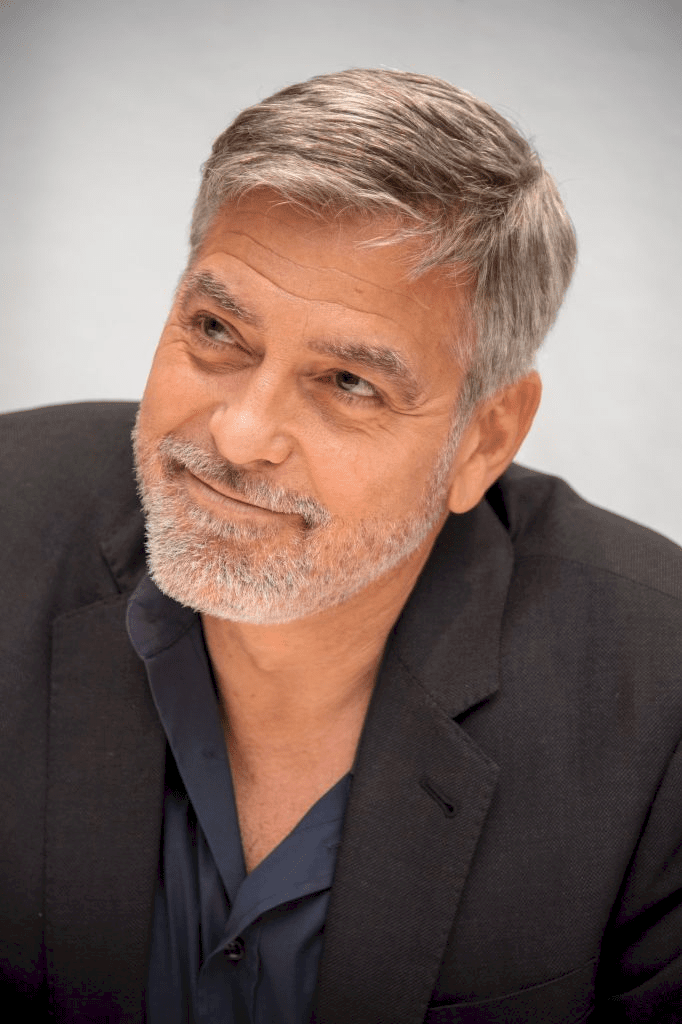 ---
LOVING SOMEONE OTHER THAN HIMSELF
"Oh, actually, this has been a huge empty space." Being married changed Clooney "because I'd never been in a position where someone else's life was infinitely more important to me than my own. You know? And then tack on two more individuals, who are small and have to be fed…"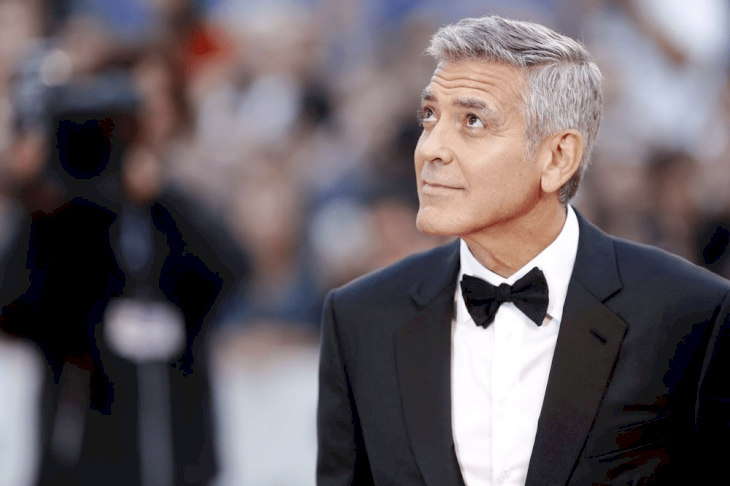 ---
Originally, kids weren't part of the deal. The couple seemed happy with the marriage. But "after the wedding, we just felt we'd gotten very lucky…and we should share whatever good luck we've got. It would seem self-centered to just have that belong to us," explained Clooney.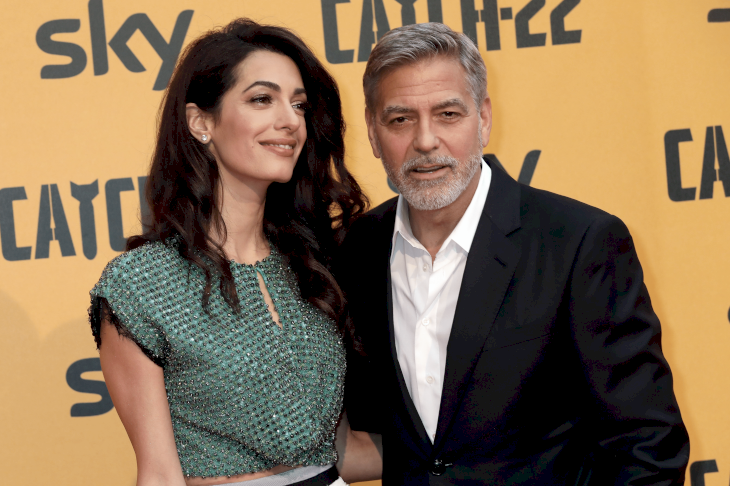 ---
GRASPING PARENTHOOD
The man who had wanted nothing to do with marriage and a family is now married not only for 6 years but also has children. The couple welcomed their twins, Alexander and Ella back in 2017. And he takes them along with him everywhere. His son, Alexander even made an adorable appearance, boasting his Italian linguistic skills during Clooney's GQ interview.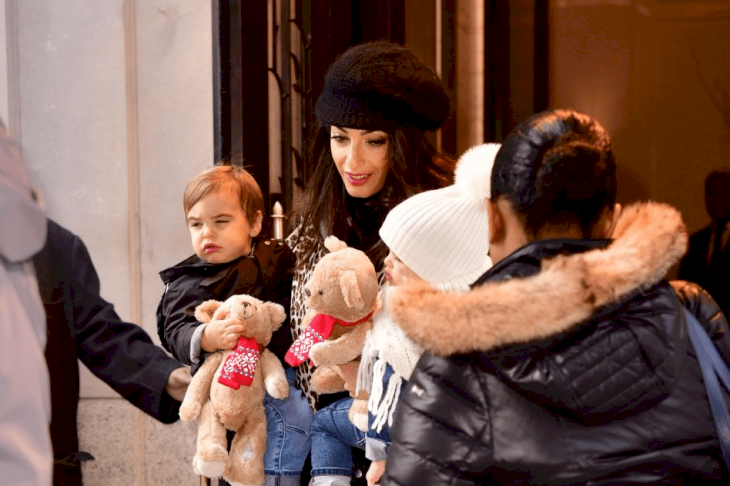 ---
Then we have Ella, who is as bossy as ever. Her parent's joke that she even runs the house! And the lockdown has given Clooney ample time to prove his parenting skills. The Oscar winner cuts his children's hair and is spending time making sure his son doesn't have a strong British accent like his mother.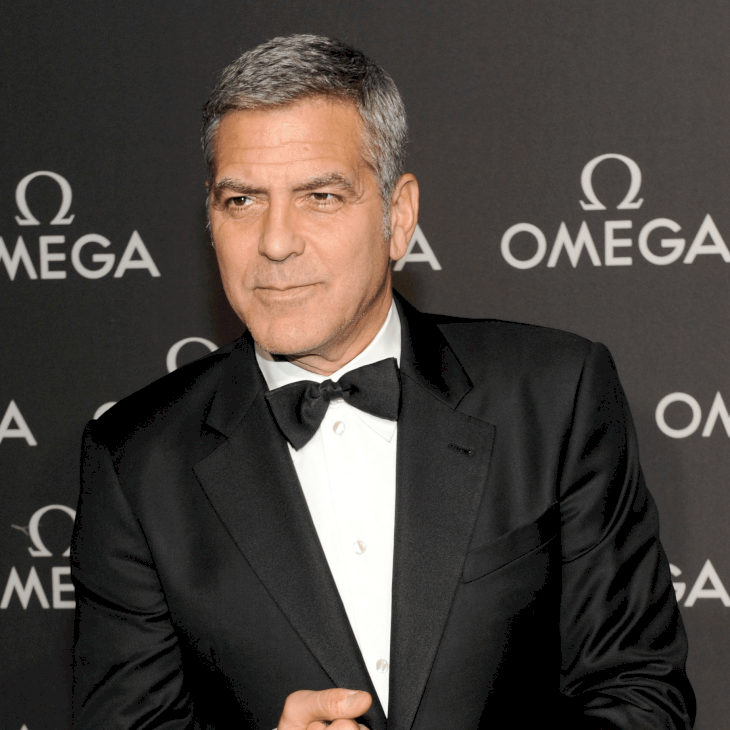 ---
Well, don't waste your time daydreaming about being with him anymore, cause the Ocean 11's actor is a happily married man now. But wow! Looks like Clooney's tight clasp over his private life paid off. We had no idea that he was linked to so many famous women. Did you know that he had dated actresses like Renee Zellweger and John Travolta's wife? Let us know.
ⓘ We at ENG.AMOMAMA.COM do our best to give you the most updated news regarding the COVID-19 pandemic, but the situation is constantly changing. We encourage readers to refer to the online updates from CDС, WHO, or Local Health Departments to stay updated. Take care!