Unexpected Challenges Emma Watson Faced As Hermione Granger
From auditioning 9 times to wearing false teeth, portraying Hermione in the Harry Potter series wasn't an easy feat for Emma Watson. But there were some fun times like the secret crush she had on a co-star. And no, it isn't the one's playing Harry or Ron! Let's find out about Watson's experiences while acting in Harry Potter.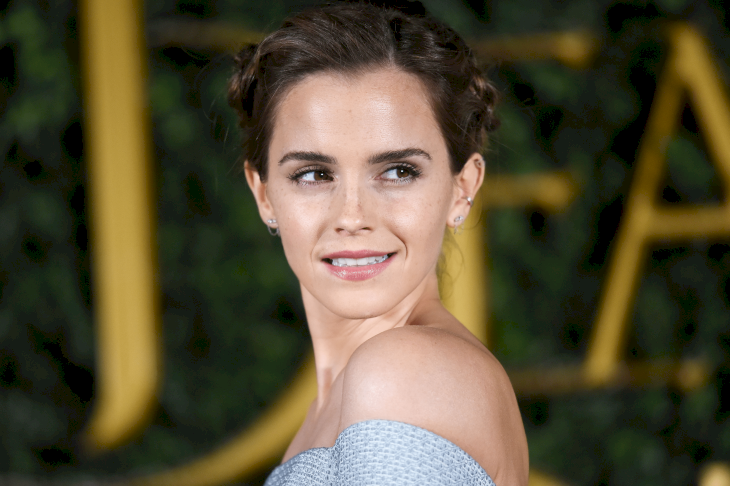 ---
NINE AUDITIONS
Emma Watson's audition for Hermione was in August 2000. Already 20 years ago, where did the time go?! Though the young actress took auditioning seriously, she never really thought she had any chance of getting the part. Apparently, she only tried out because her friends were doing it - and she thought it would make for a good laugh.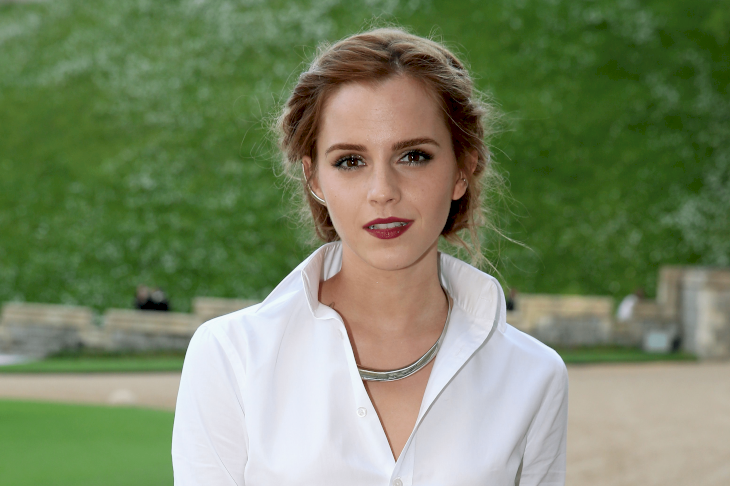 ---
Watson explained why she got into acting, "As a child, I loved being onstage. I loved the lights ... the adrenaline. I even loved learning lines. I was completely obsessive." Thankfully, this dogged nature also motivated her to audition for her very first role. Well, that and a push from her theatre teachers.
---
They added her name to the casting agents' hat when casting for Hermione was announced. You'd think Watson was cast immediately, knowing how perfect she is for the role, right? You're wrong. Well, at just nine years old, Watson did get picked out of a line-up of hopefuls in her school gym.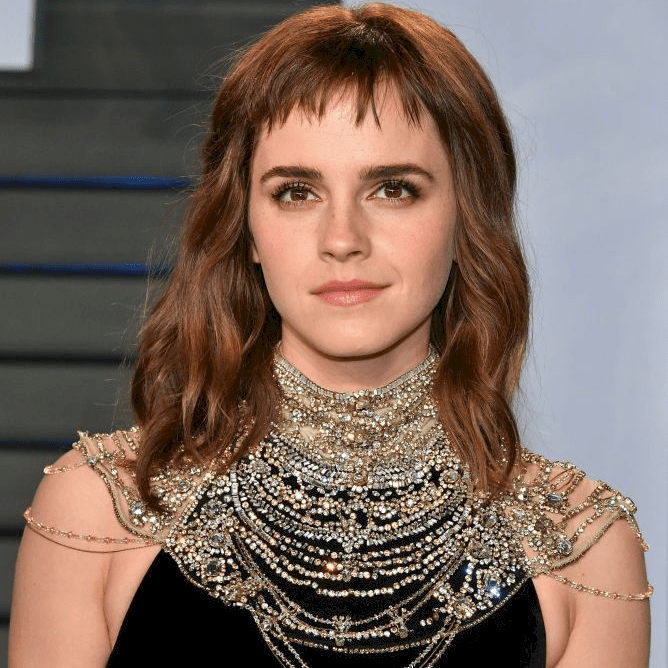 ---
However, she still had to audition for the part over eight times before bagging the role. Surprisingly, writer J.K. Rowling at first thought Watson was too pretty to play Hermione. Now isn't that ironic. "To be honest, [Daniel] and Rupert and Emma are all too good looking. You know, the characters were geeky." Luckily, she was mostly joking.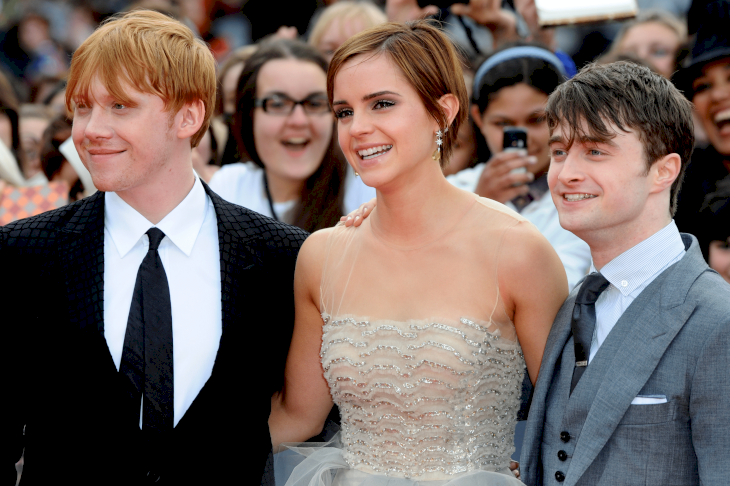 ---
A MINI HERMIONE
While the whole casting process was stressful, Watson enjoyed it. She'd literally sit by the telephone in her house, waiting for each call. Reminds us of a certain bright witch! When they had her in for the ninth audition, she was like, "Wow, nine!" Finally, she was called in to producer David Heyman's office.
---
When he said she was the 'preferred' candidate for the role, she was ready to start obsessing over what 'preferred' meant, but didn't get the time. Before she could say "Immobulus" to freeze time, they'd taken a photograph of her, Daniel Radcliffe and Rupert Grint. Soon after, their casting was broadcast on the Internet.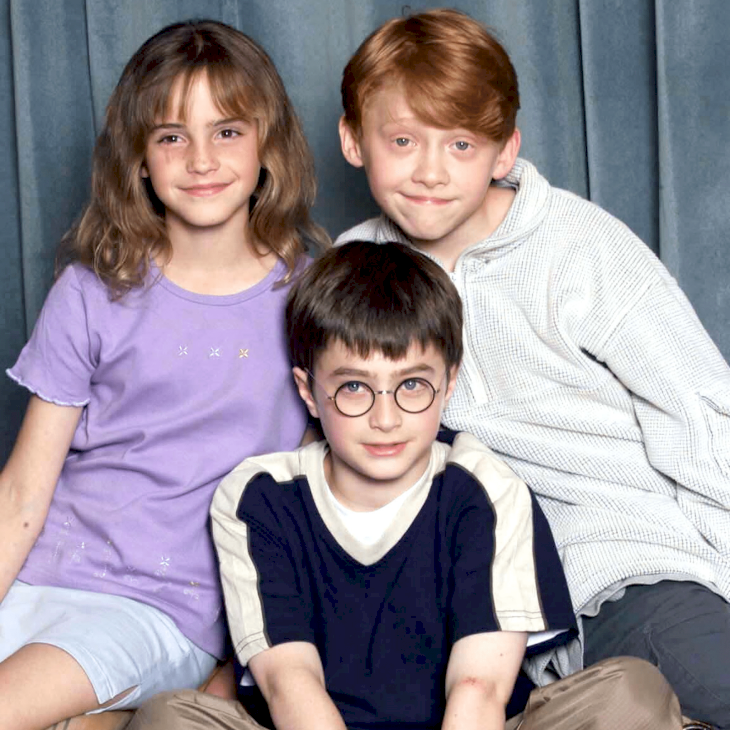 ---
By the time she got back to her house, the press was already waiting outside so they had to move straight to a hotel. Hectic! Before being cast as Hermione, Watson had never done any professional acting. Regardless, she made it look totally easy. Aside from obsessing over things, there were other challenges she had to face on set.
---
GETTING INTO CHARACTER
Watson nails her role as Hermione. One reason is that she shares many similarities with her witty counterpart. We can imagine Watson going "it's leviOsa, not leviosA" as Hermione. When she was growing up, Watson tried to separate herself from the character, but eventually stopped fighting the comparison.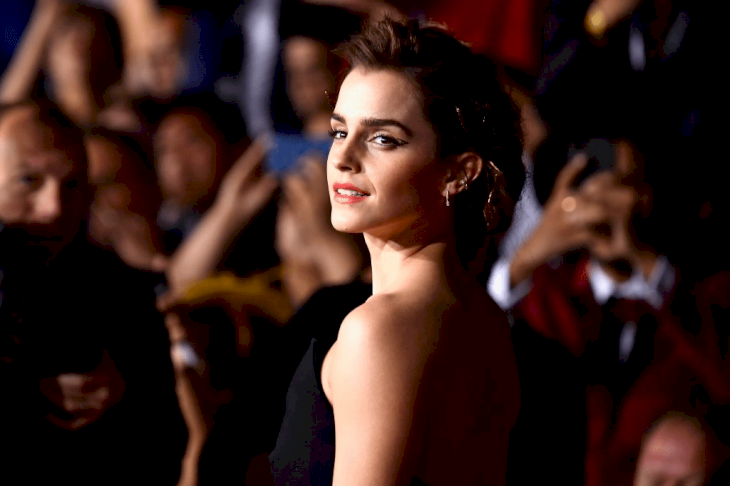 ---
"At first I was trying to say, 'I'm not like Hermione. I'm into fashion, and I'm much cooler.' And then I came to a place of acceptance. There are obviously differences, but there are a lot of ways that I'm very similar," Watson explained. And there's a funny story that confirms just how similar she's to Hermione!
---
During the filming of The Prisoner of Azkaban, director Alfonso Cuarón gave Grint, Radcliffe and Watson an assignment. They had to discuss their characters in an essay. Just like Ron, Grint forgot to write it. Much like Harry, Radcliffe only turned in one page. And, you guessed it - Watson pulled a Granger move and handed in a sixteen-page essay!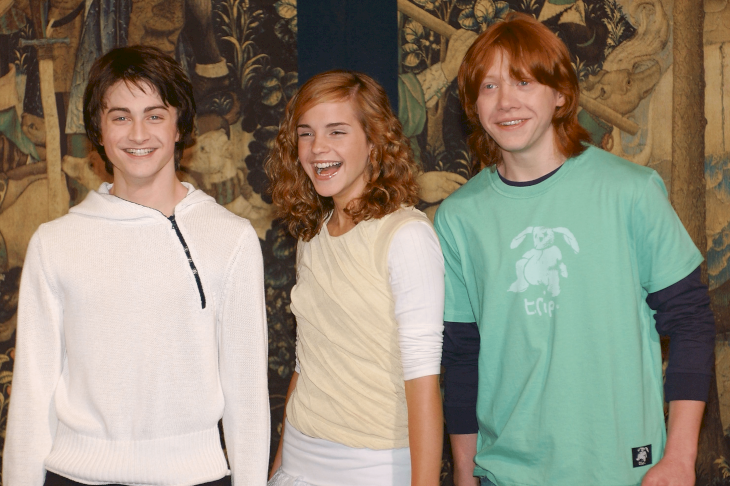 ---
A HAIRY DIFFERENCE
Well, that would make getting into character easy, right? But there are noticeable differences between the two. Starting with hair color! Watson has naturally blonde hair. In order to become Hermione, she had to dye it a darker shade. And if you notice, the stylists gave up cause by the end of the series, Hermione was rocking Watson's natural hair.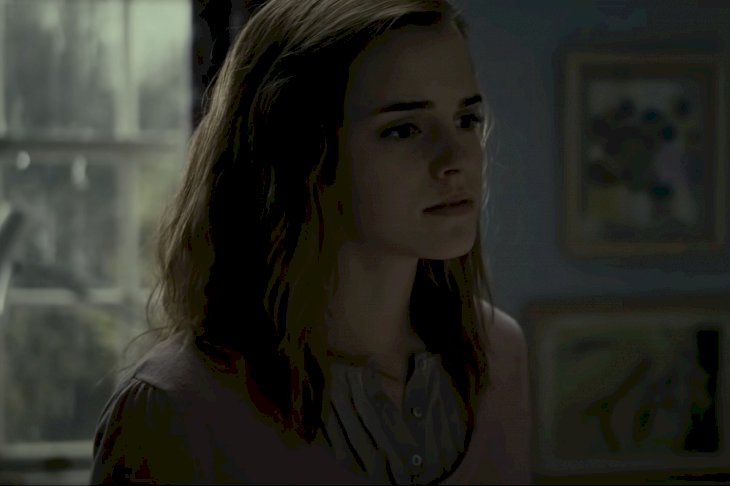 ---
Another change from the books is Hermione's oversized front teeth. It wasn't for lack of trying, though. Poor Watson had to wear false teeth for a while in the first film, The Philosopher's Stone. It's clearly visible when she meets Harry and Ron for the first time aboard Hogwarts Express.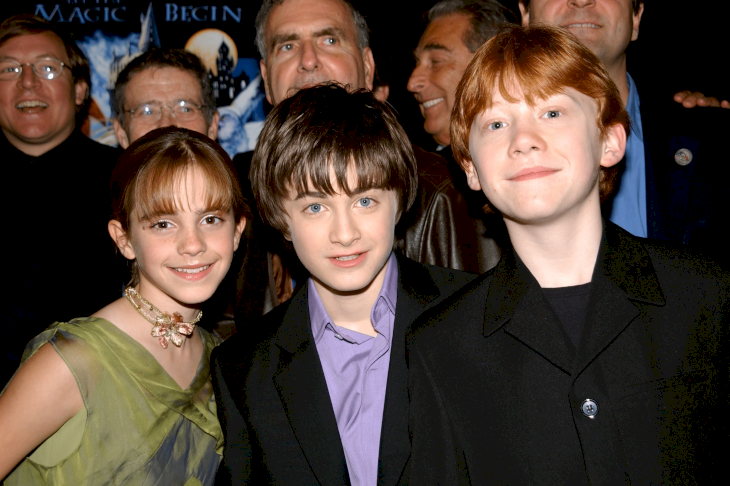 ---
According to Chris Columbus, the director of the film, he realized she couldn't keep acting with them in her mouth. Thank goodness for small realizations. That was just some of the physical changes Watson had to make to get into character. The actress has also admitted to "overdoing" her role.
---
A KNOW-IT-ALL
Like Hermione, Watson was keen on knowing everything, to the point of it becoming quite tiresome for everyone else. She actually ended up reading and memorizing everyone else's lines along with hers! The outtake clips from the first movie of her mouthing Radcliffe and Grint's lines along with them are comedy gold.
---
Of course, Jimmy Kimmel dug this up in an interview. Watson was totally mortified. She responded, "This is actually quite traumatic for me because I created issues because of this. Because I would ruin takes. Chris would be like, Cut Emma you're doing it again. As a result, the cast and crew had to reshoot Daniel and Rupert's scenes."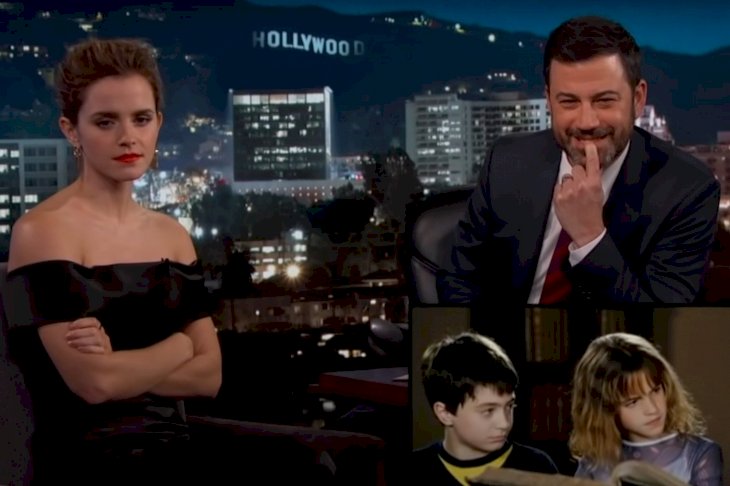 ---
She added, "I couldn't help myself! I was such a loser. I really love those books, I really wanted to do my job well. And I kinda overdid it." We're pretty sure it was endearing for her fellow co-stars. Especially, considering that Radcliffe used to have a little crush on her.
---
Yeah, Radcliffe once mentioned that between the filming of the third and the fifth film, they were the only "boys and girls" they knew, so he might have felt attracted towards her. However, it settled down. Watson on the other hand wasn't immune to one co-star's charms. And it's not who you'd think!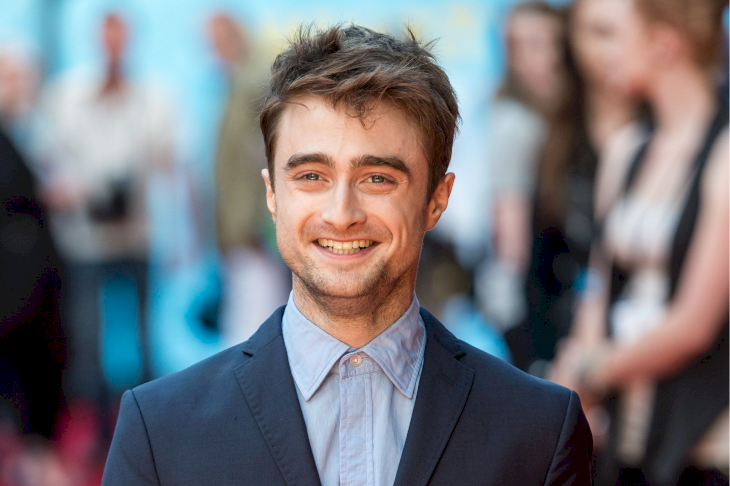 ---
SECRET CRUSH ON A CO-STAR
Well, obviously not so secret anymore. Did Watson have feelings for her on-screen boyfriend, Grint? Actually, it's neither him nor Radcliffe. While filming the first two movies, Watson fell under the spell of Tom Felton. He played her rival house member, Draco Malfoy. Yup, Watson's admitted to having had a huge crush on Felton when they were kids.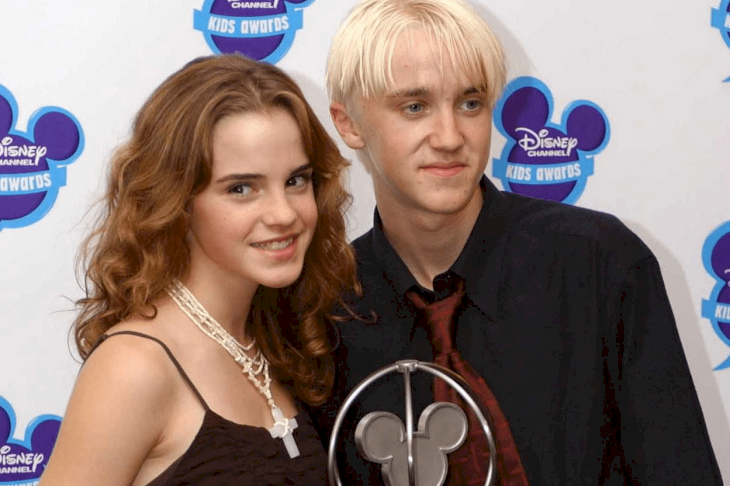 ---
"We love a bad guy and he was a few years older and had a skateboard. And that just did it, really. He used to do tricks on it. He was so cool," Watson reminisced. Felton heard about it through the grapevine, and responded, "We've been friends for a long time and it's very flattering."
---
Felton went on to add, "I had a little boy crush on Helena Bonham Carter [who plays Bellatrix]." Oops! Fast forward to today, and Watson and Felton are great friends who can laugh together at the folly of youth. There was one awful incident between the two, though while filming the series!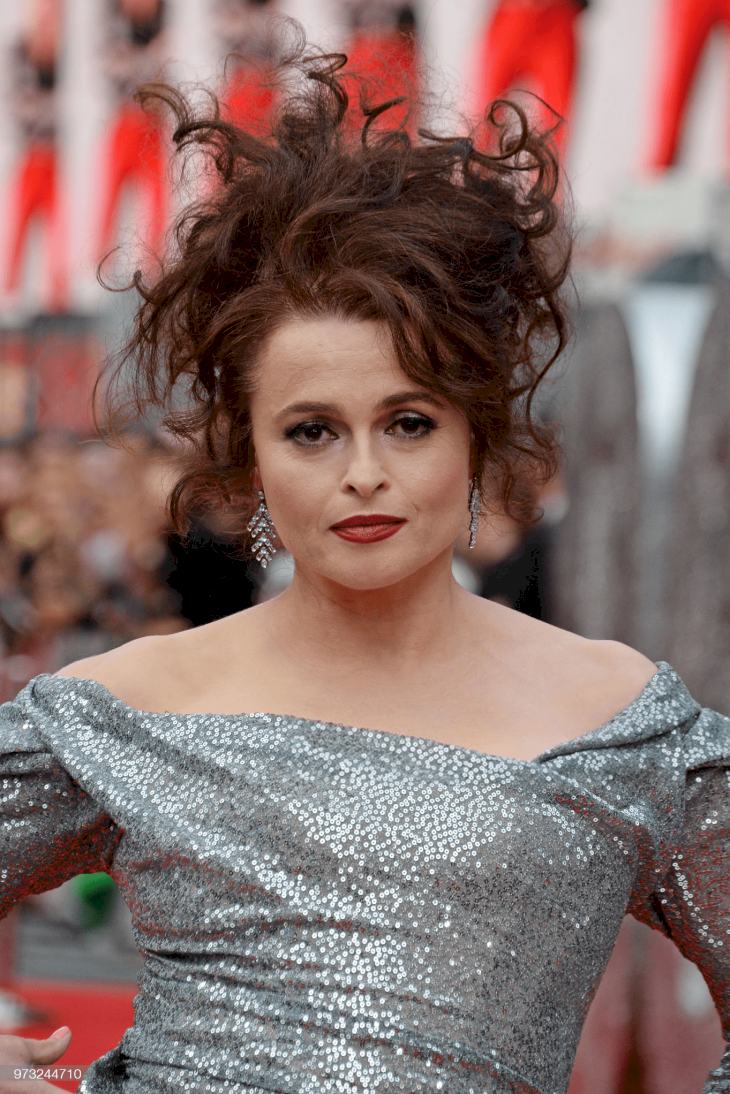 ---
You'll remember that one scene where Hermione threatens Draco and then punches him in the face. Let's just say that behind the scenes, things were quite realistic. Instead of a "movie slap", as Felton calls it, "She just went... and she just smacked me right across the face. Which completely took me, I didn't know what to do."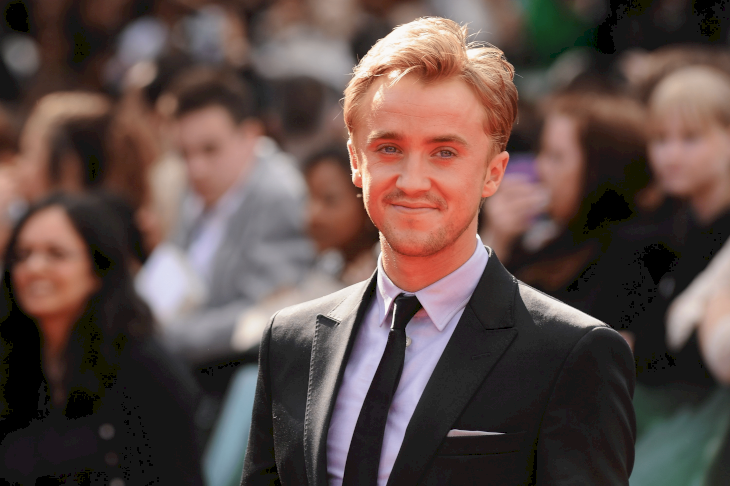 ---
Turns out it was just an accident, nothing more. When asked about it, Watson said, "I feel terrible. I feel really bad. I'm not really sure what I was thinking." As you can see, the role demanded more than just book smarts but also some physical action. And romantic scenes…
---
FUNNY AND EMBARASSING MOMENTS
Like probably any child actress in the world, adult Emma Watson is embarrassed to watch her younger self in the movies. There's one specific issue she had with Hermione that irked her. When she looked back at the earliest films, her hair is what she used to see at first. In fact, it was one of her major regrets.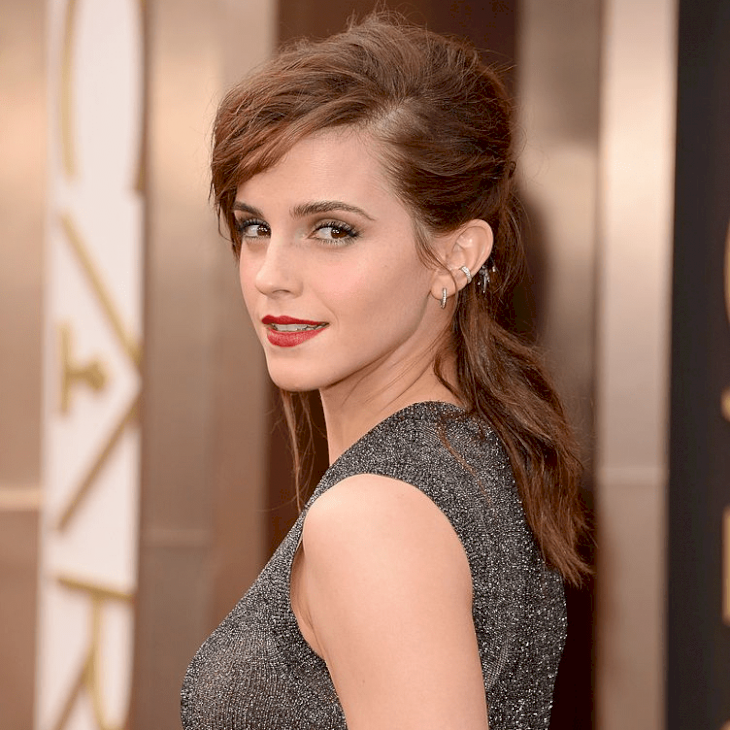 ---
"When I see the images of the first Harry Potter, I immediately think of how ugly my hair was." Thankfully for her, the character experienced a transformation over the years. But the Beauty and the Beast actress also came to the realization that feeling beautiful has nothing to do with what you look like.
---
Hopefully, she'll look past Hermione's wild hair next time she rewatches. On another note, the cast had lots of fun while filming. Grint always missed his mark, making everyone laugh. He even shared how they had something special made for his broom. "They made this little seat for me, they kinda took a mould of my chair area."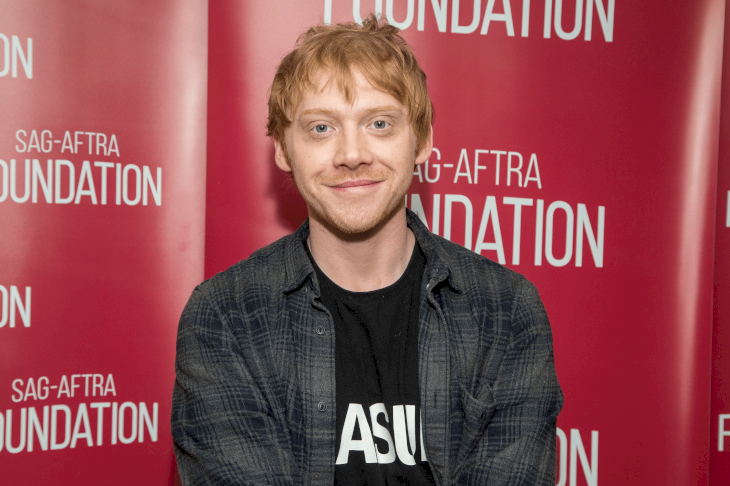 ---
"He had a bum cast. I also had a bum cast," Watson elaborated. When asked to recall one of her favorite lines, she said, "I'm going to bed before either of you come up with another clever idea to get us killed or worse, expelled." Watson said she got so much joy out of that goody-two-shoes scene.
---
LAUGHING AWAY THE AWKWARDNESS
There were other scenes that turned out to be not just funny, but also super uncomfortable to film. Watson, Radcliffe and Grint basically grew up together and considered each other like siblings. So, it's not surprising that it was pretty weird for Watson to kiss both of them while filming Deathly Hallows.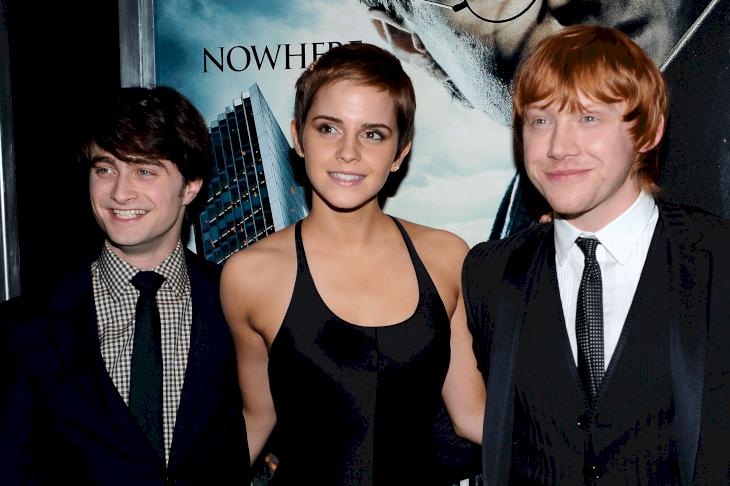 ---
But her dance scene with Radcliffe in the 7th instalment turned out to be perfect, silly and spontaneous. What stands out in her mind, though, is the long-building kiss between Hermione and Ron. Behind the scenes, both the actors were dreading it. "Believe me, we both wanted it to be over equally as much as the other," Watson said.
---
"We just got through it by laughing a lot. It was good, he's a nice kisser," she added. The other thing that helped make the scene more bearable? The director says it best, "[Watson] knows that rather than doing 27 takes, she knew if she committed really early… we'd get it." More proof that she's a smart girl.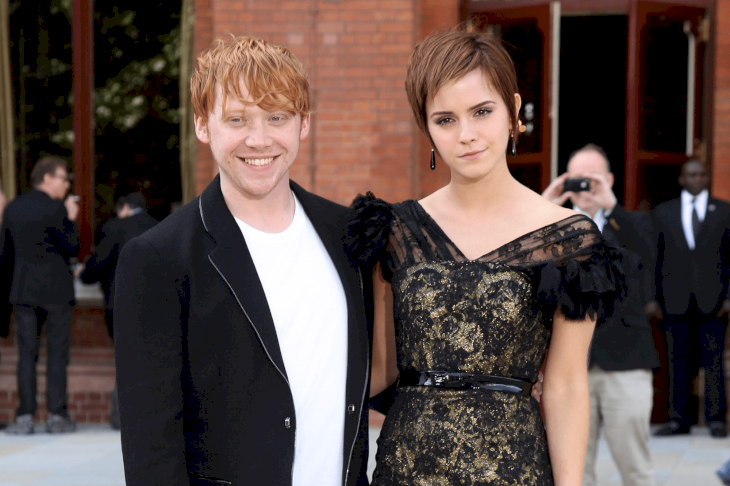 ---
EMMA'S DARK SECRET
But there's always a dark side. Filming The Order Of The Phoenix made Watson want to quit the franchise. In her own words, "I hate to sound whiny but it was horrible, this has definitely been the most intense, gruelling period of film-making I've ever done."